This week I whipped up a batch of something my kids named "Wonka Bars" and I'd like to share the recipe with you!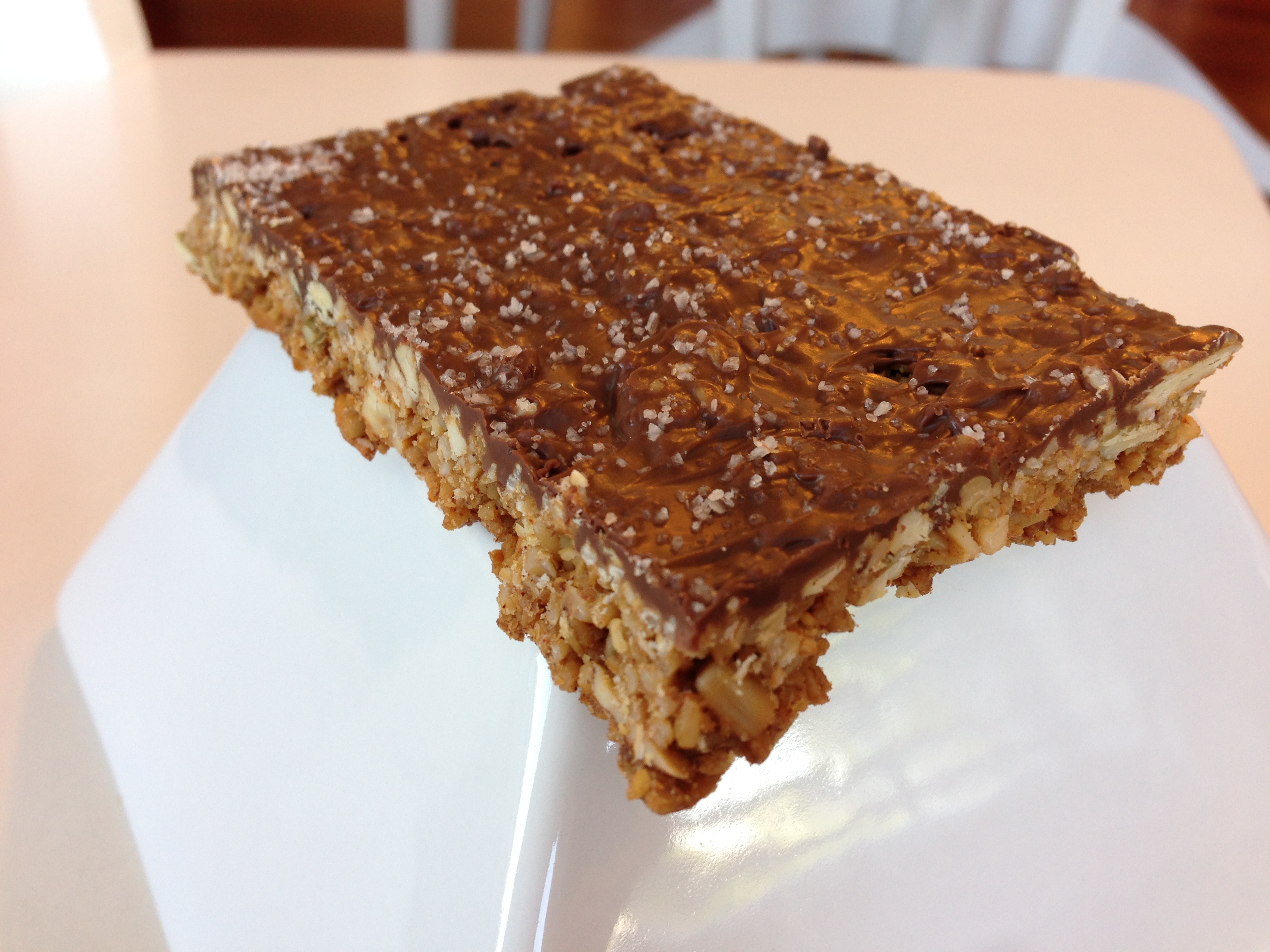 I began experimenting with making my own "granola bars" last winter.  Some recipes worked.  Some didn't.  Some we just didn't like.  Finally I started finding ways to change them around a bit and make them better suited for our family.  During this process I made a batch and added a little topping of chocolate and sea salt, my kids instantly named them "Wonka Bars" (because we'd recently finished reading 'Willy Wonka & the Chocolate Factory').  The name stuck.
Before I explain the recipe, let me just give a little justification for the fact that I use chocolate in this recipe.  As you know from reading this blog, Bring Mae Flowers is supposed to be a chronicle of my journey toward making my family healthier.  So why chocolate??  Well… here's the thing…  Going from unhealthy to healthy is tricky sometimes.  And when it comes to granola bars, THIS is what my kids were used to: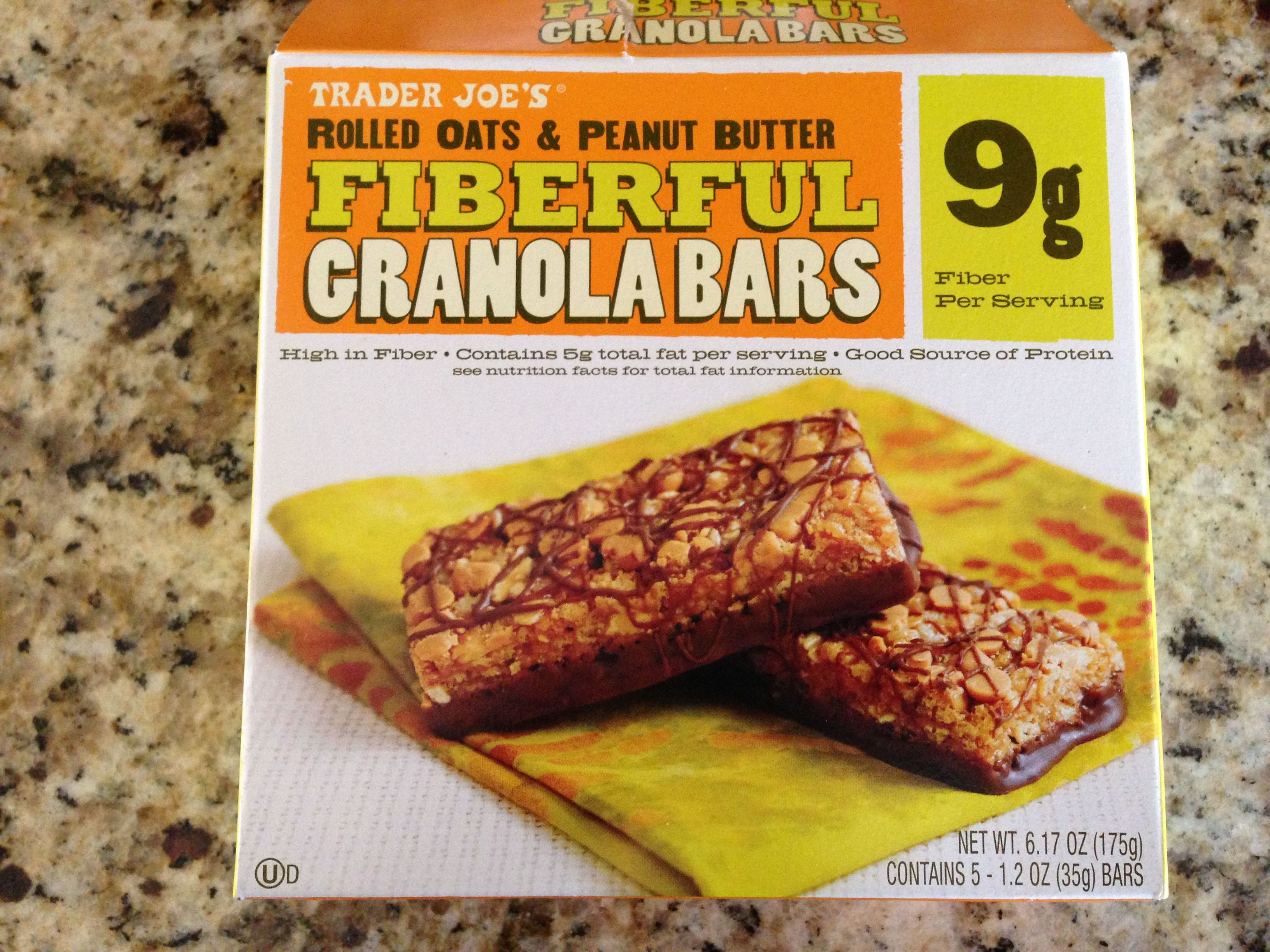 So I felt like I needed them to enjoy the new version of granola bars and in order to do that I wanted to make them look as "friendly" to a child's eye as the old packaged bars.  Thus the chocolate topping.  As you'll see in the recipe, it's not a lot of chocolate so I'm not super worried about it (plus I've made them for myself without any chocolate on top and I love them just as much "plain"), but thought it needed a little explanation.
Here's my version of a granola bar.  First, the ingredients.  (It looks like a lot but now that I've made these so many times it doesn't even phase me because the process is easy.)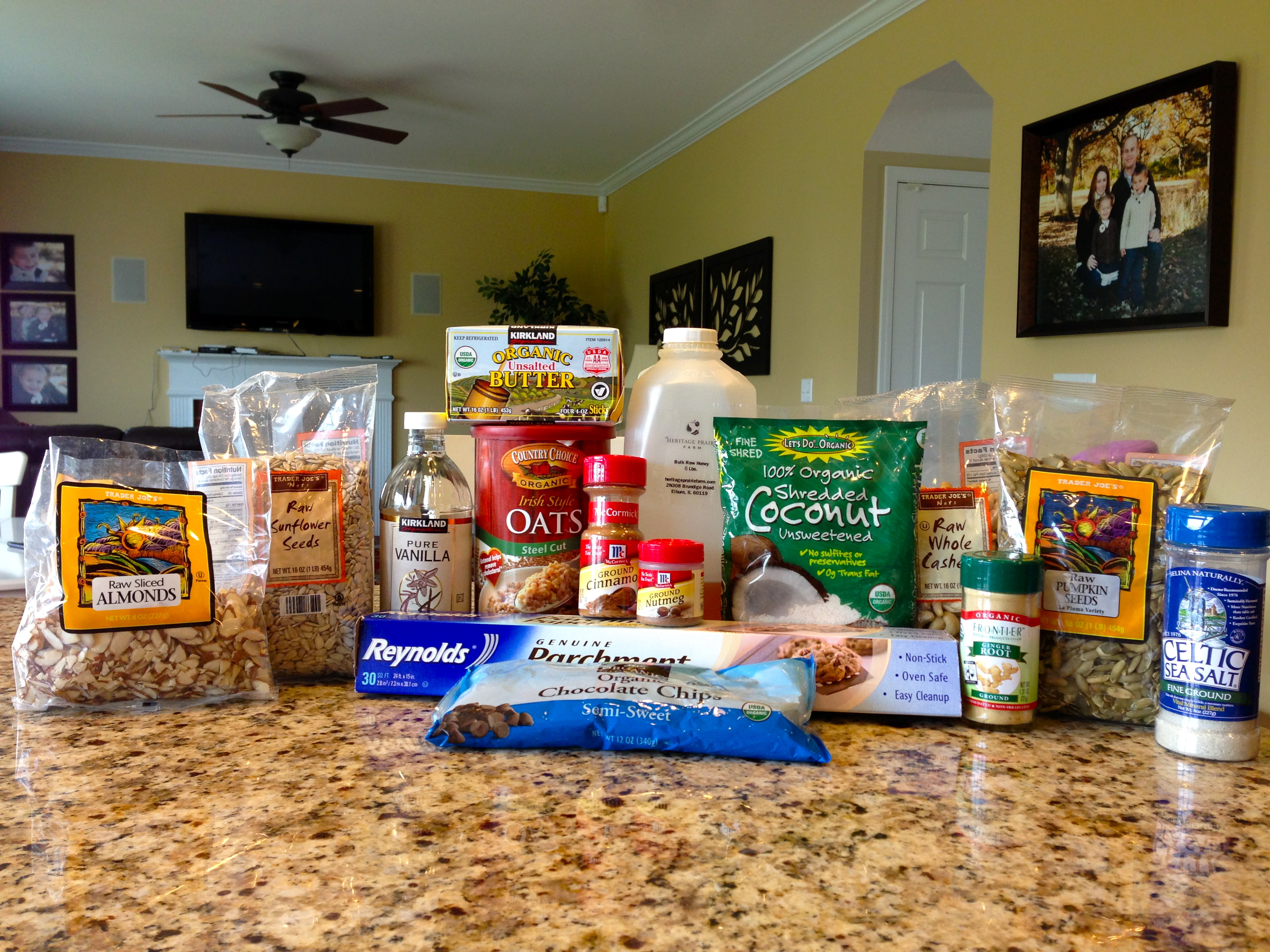 Ingredients:
2&3/4 cups steal cut oats
1/2 cup pumpkin seeds
1/2 cup sunflower seeds
1/2 cup sliced almonds
1/2 cup raw cashew pieces
1/2 cup unsweetened coconut shreds
2 teaspoons cinnamon
1.5 teaspoons ground ginger
1/2 teaspoon nutmeg
5 tablespoons UNsalted butter
1/2 cup raw honey
2 teaspoons vanilla
1 teaspoon salt
1&1/3 cups chocolate chips (dark chocolate bits are great too)
1-2 tablespoons sea salt (reserve for topping and sprinkle on as desired)
Instructions:
In large mixing bowl, add all oats, nuts, seeds, and spices.  Mix.  It'll look a lot like bird seed at first.  Don't fret!  The end product does not taste like bird food!  Ha!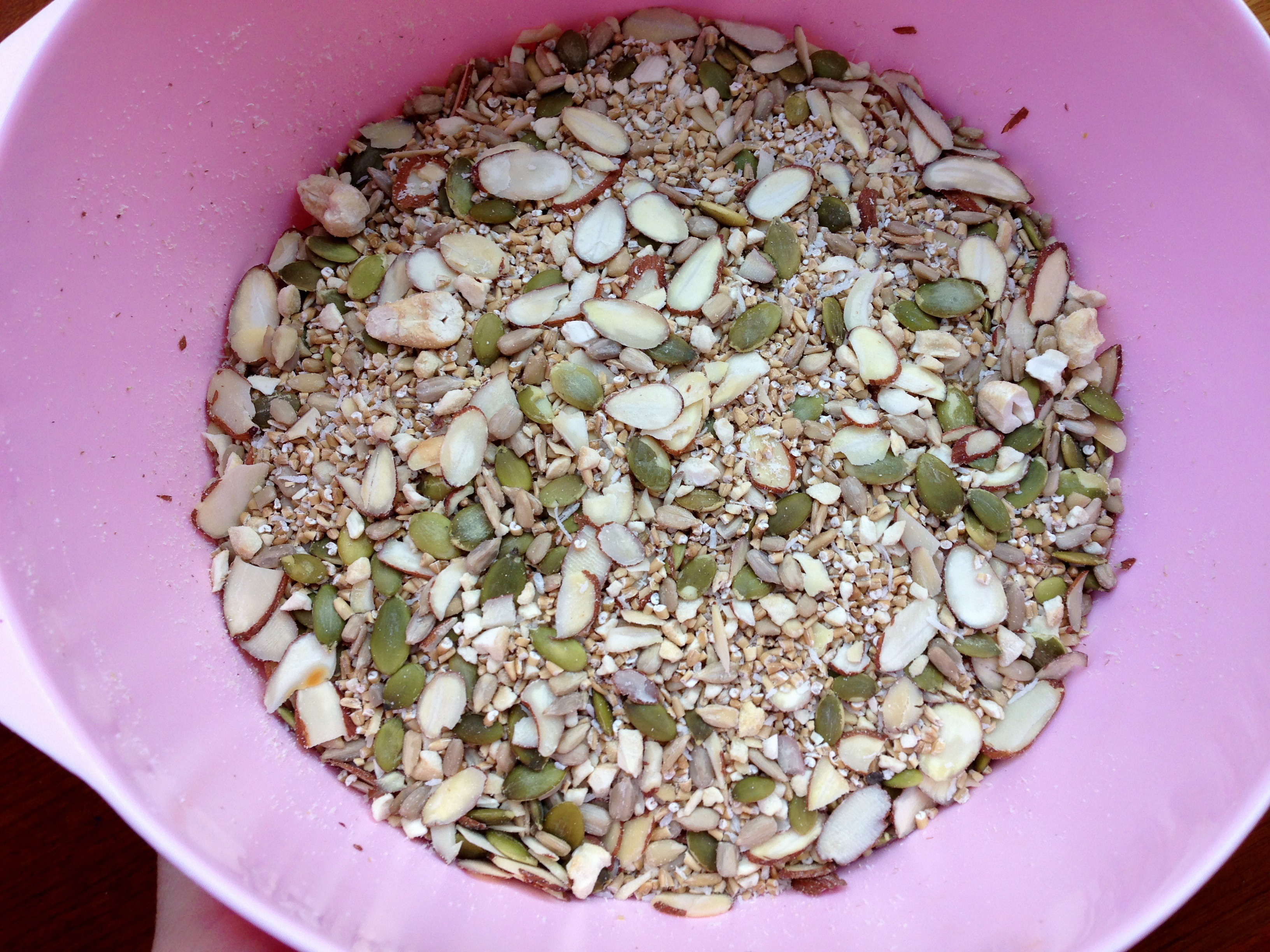 In pot on stovetop melt butter.  Add honey, vanilla, & salt.  It'll look almost like a caramel-y sauce.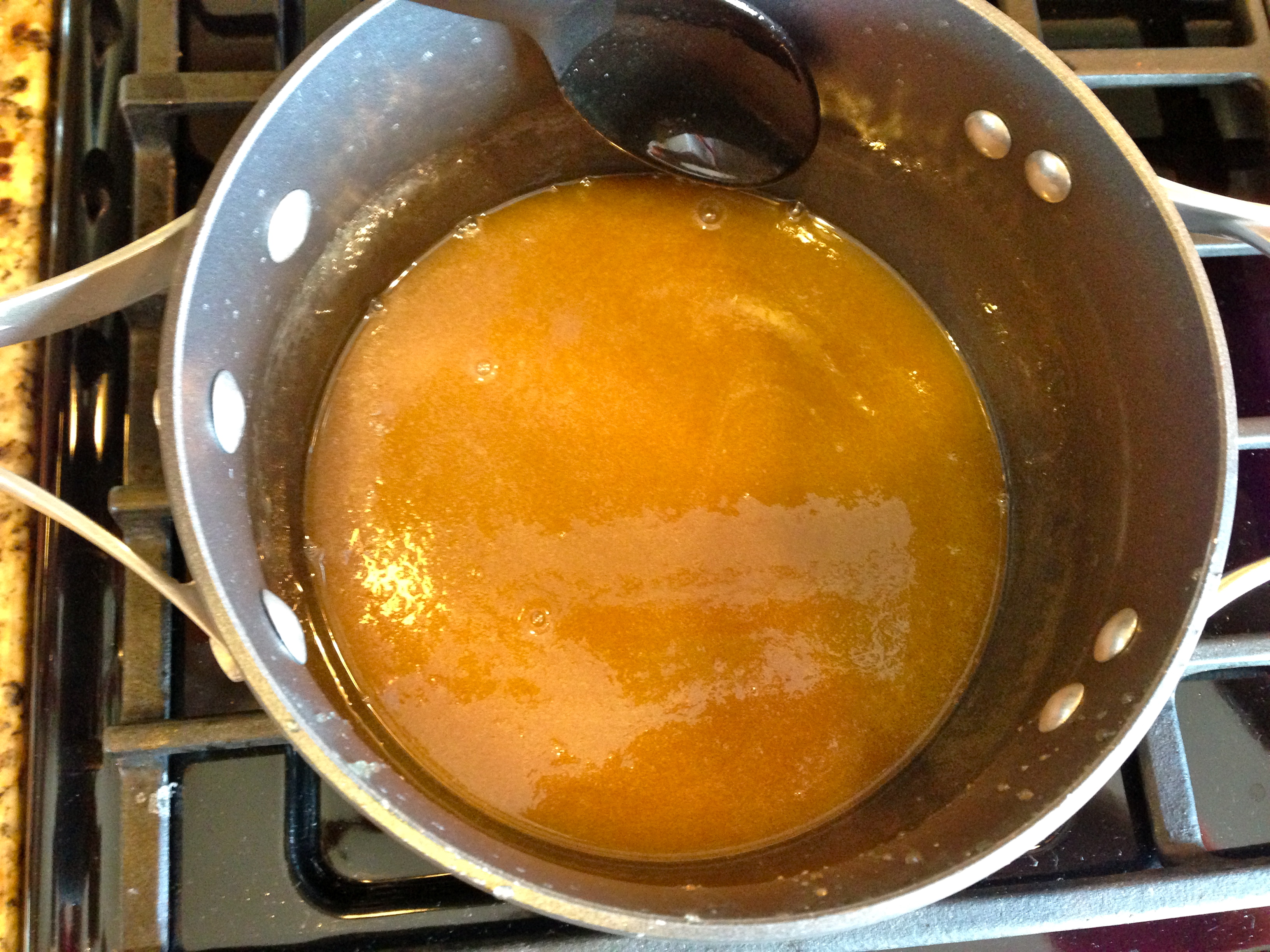 Pour warm mixture over dry ingredients and mix until well coated.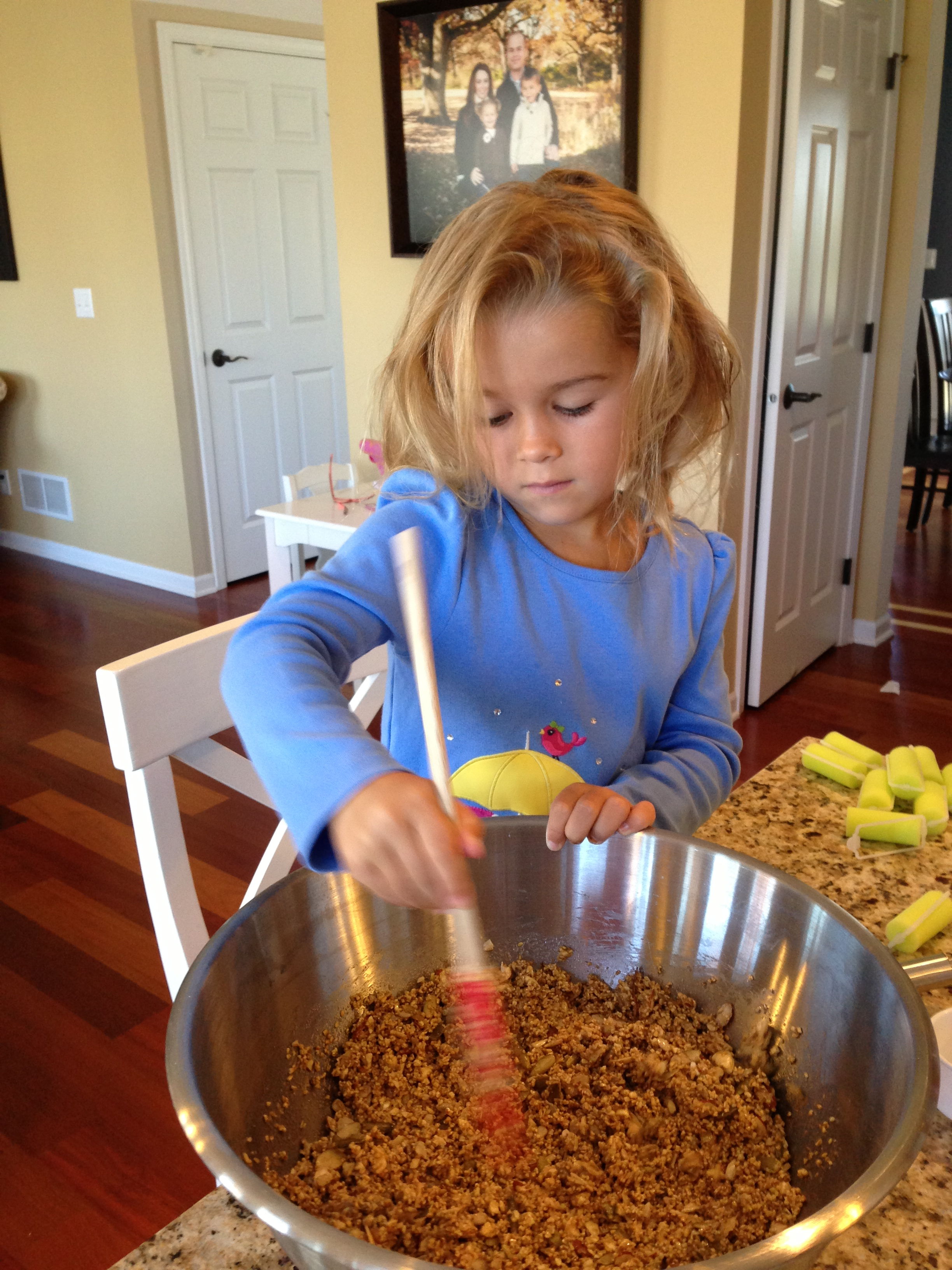 Cover large pan with a layer of parchment paper and pour mixture on top.  Use a spatula to spread mixture evenly over pan.
Note:  It's important to have the right size pan for the recipe you use.  These Wonka Bars are a crunchy recipe.  It's not a "cereal bar".  It's a "granola bar".  (Similar to the Oats-n-Honey granola bars by Nature Valley.)  So my experiments with these recipes made me realize that if my bars were too thin, they fell apart.  If they were too thick, they were hard for the kids to crunch into and therefore the kids were less interested in eating them.  So based on the recipe ingredient amounts listed above, you'll want a large pan about 18×12.  The exact pan I use is about a half inch smaller than those dimensions.  If you don't have a pan that large, you'll need to adjust the recipe accordingly or you will end up with granola bars that are too think and less enjoyable to eat.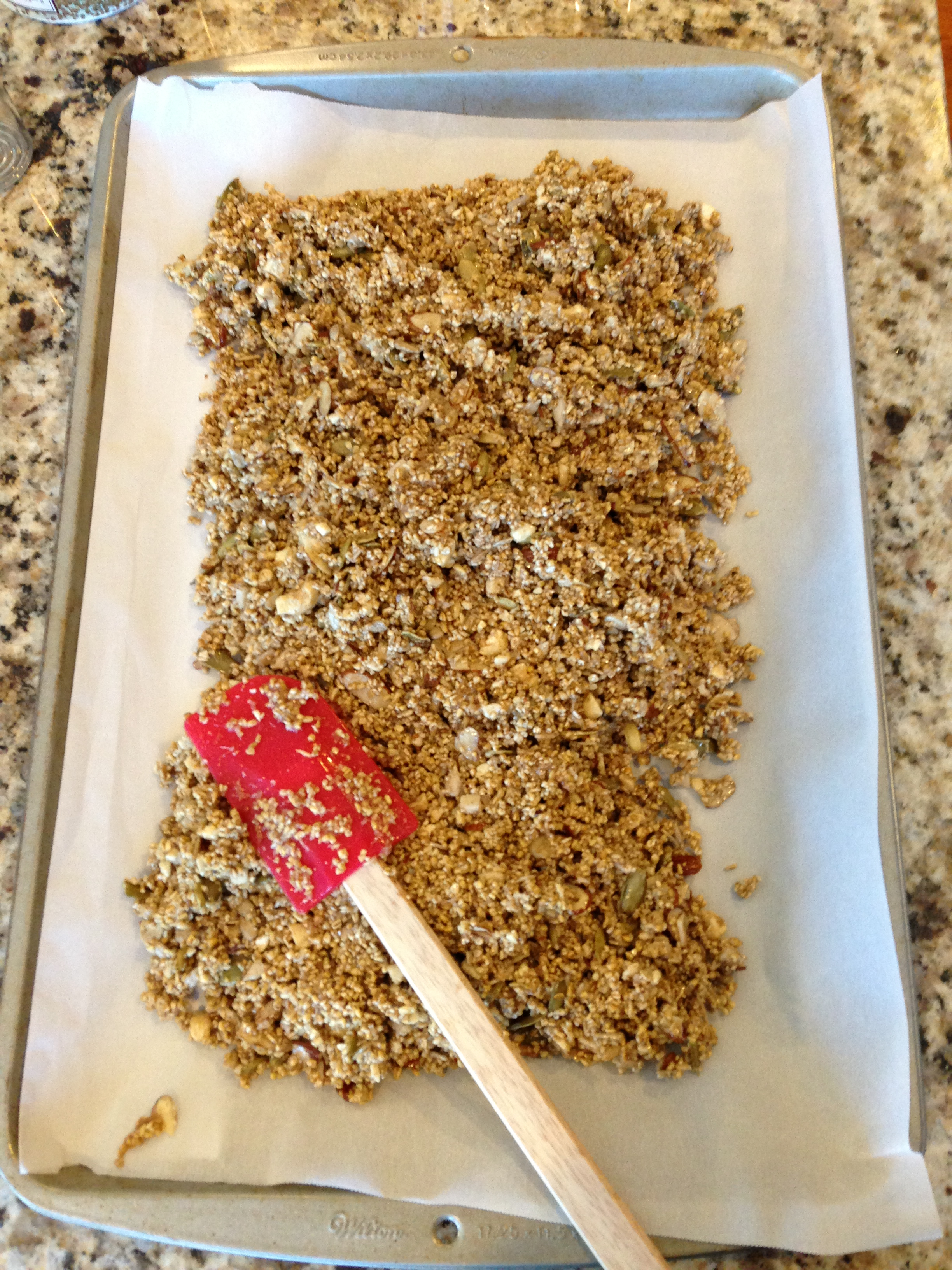 Bake at 200 degrees for just over an hour.  (I find an hour 5 or an hour 10 seems about right with my oven and the size of pan I use.)
Remove pan from oven and set out to cool.  Immediately sprinkle on chocolate chips.  Allow a few minutes for them to melt and then spread them around similar to frosting.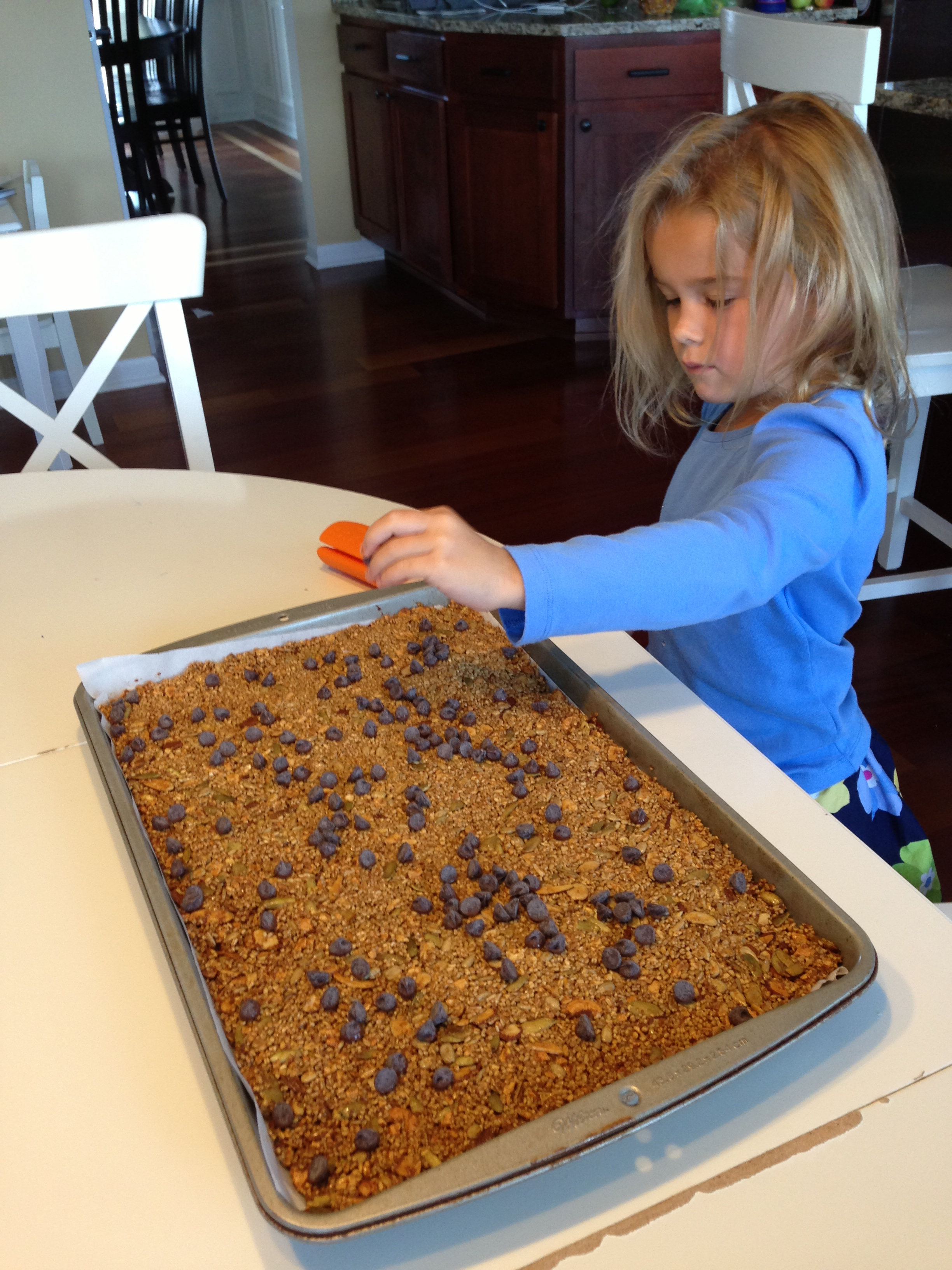 Let pan cool at room temperature or, even better, put pan into refrigerator to cool.  Sometimes I even set it in the basement for an hour because it's the coolest place in my house.  When chocolate is cool but not yet hardened, sprinkle with a coarse sea salt to add to the topping.
The sea salt is key so don't forget it.  Trust me!
Once completely cooled and the topping is completely hardened, I use two large knives to cut into servings.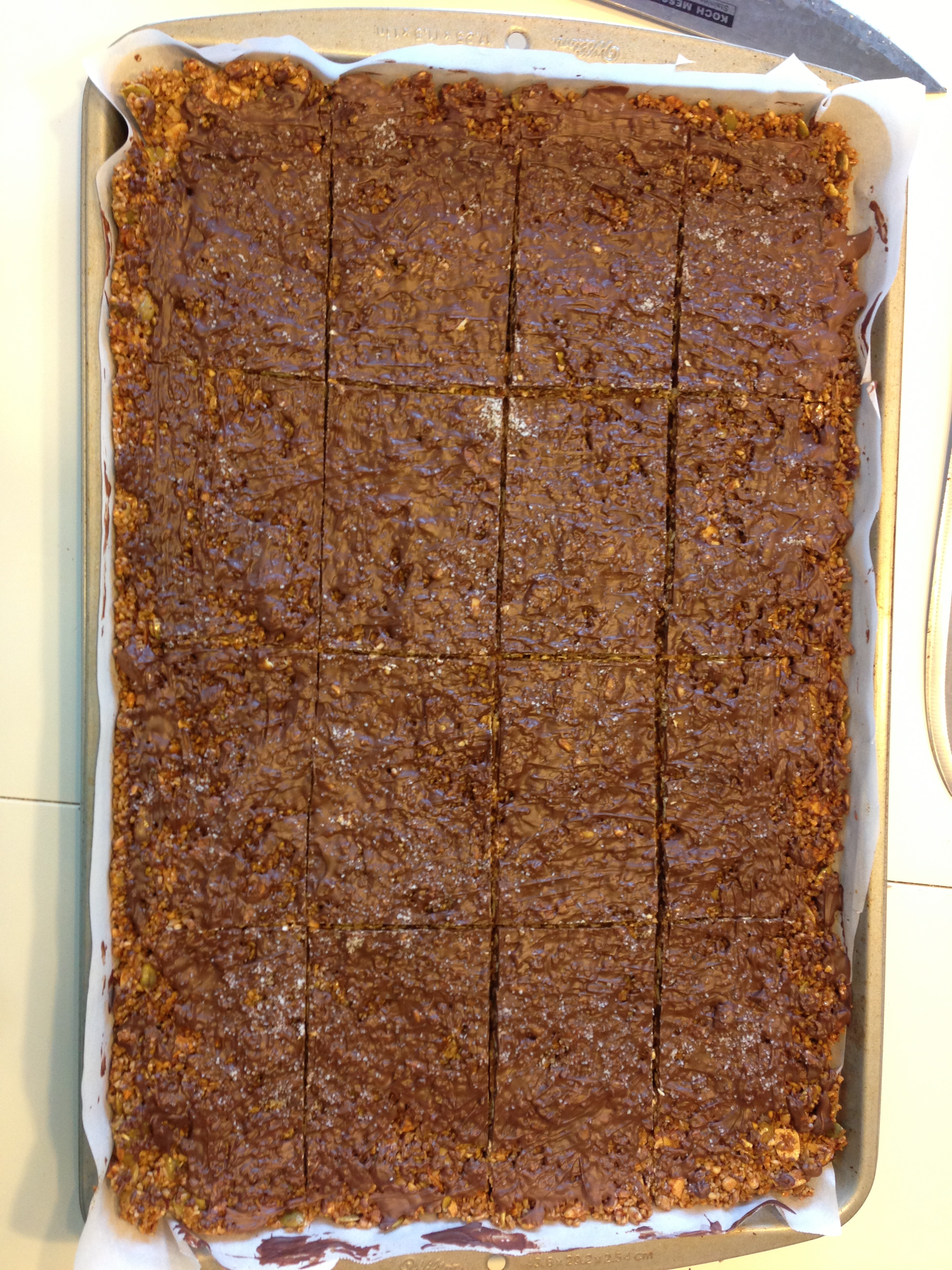 Then I make up some easy "to go" baggies and toss them in the fridge.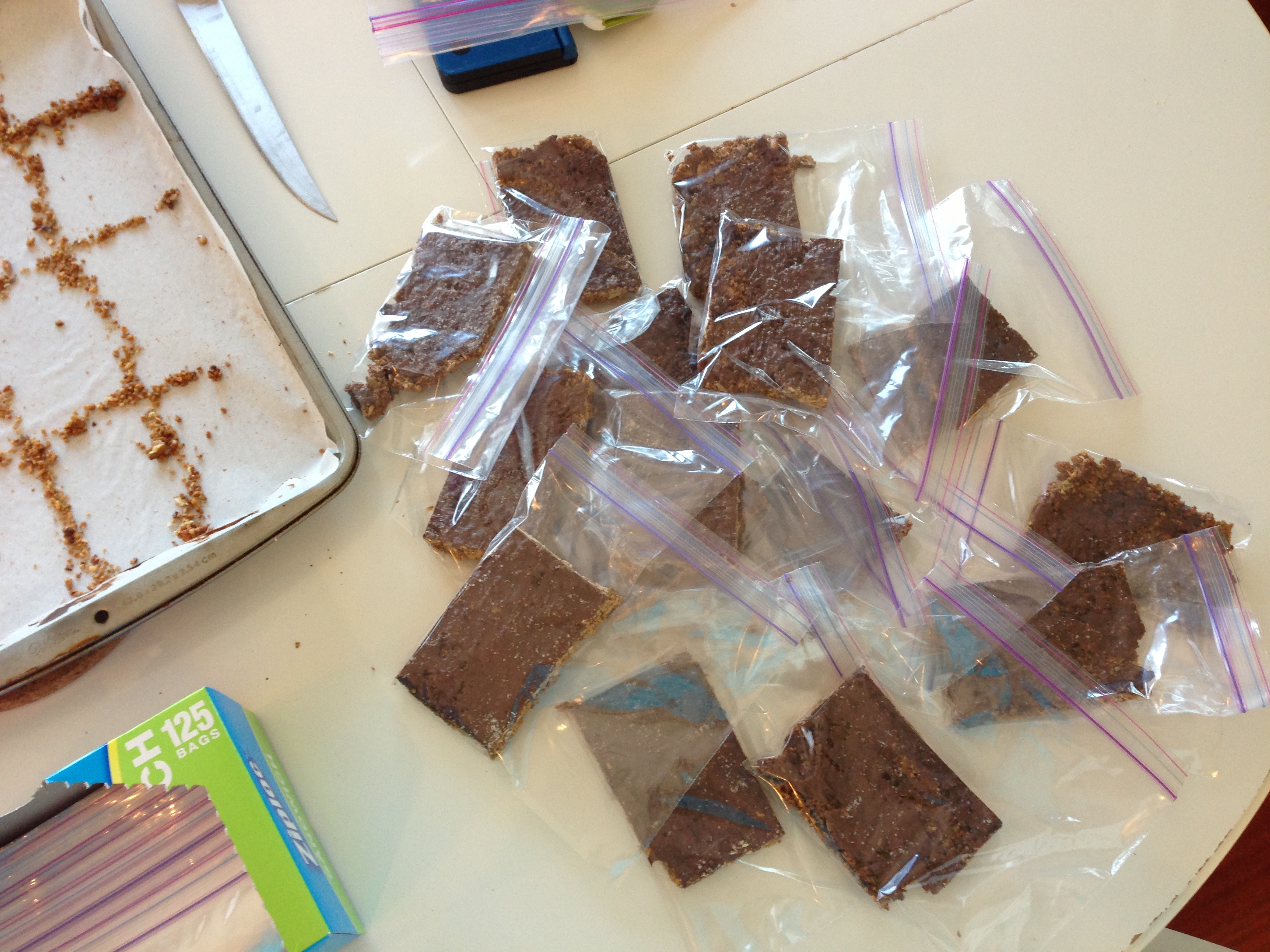 Sometimes my husband takes them for breakfast.  Sometimes the kids and I grab one as a snack during the day.  Sometimes I even treat myself to one at night after the kids have gone to bed as a "dessert".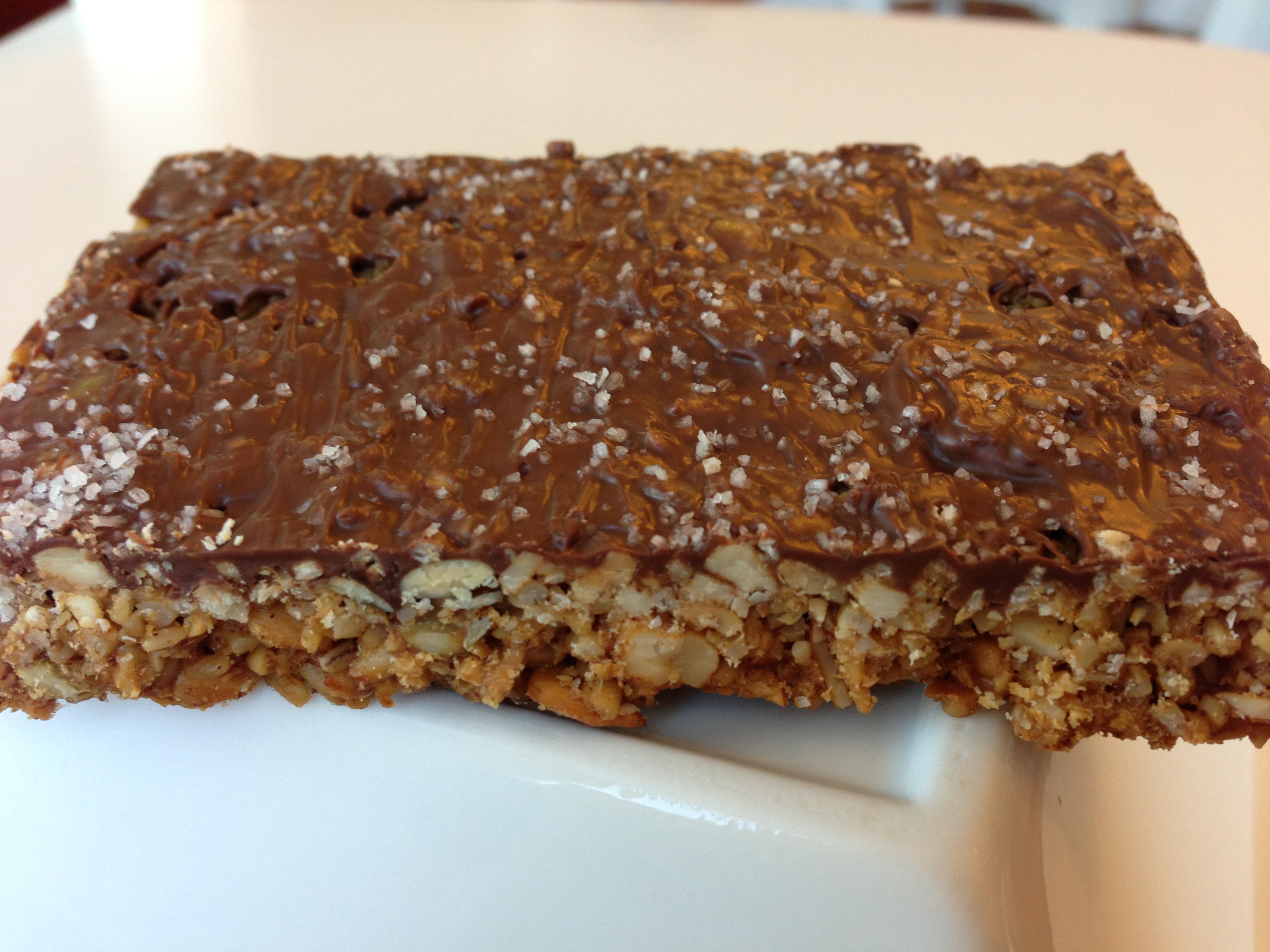 If your family likes granola bars, try this recipe out on them and let me know what they think!