Things are a-changin' around here.  Again.
In my journey toward better health for my family I'm always making changes to our diets for the better.  We've come a long way!
I've told a bit of this story before, but for those of you who are new around here:  we used to eat just like the "average" American family.  It was lots (and lots!) of refined carbohydrates – mostly in the form of crackers, chips, white bread, and sugary cereals.  There were very few fresh vegetables in our house.  There were a select few fruits on hand for lunches.  And our protein sources came from wherever we felt like it that week, but it never even occurred to us to buy organic meats or dairy.
Then our first child was born.  When Bubba was 6 months old we began feeding him solid foods.  That's when we started transforming our family's relationship with food.  Babies can be very motivating, can't they?  We mommas only want the best for them!  It was kind of like my first baby lit a fire under my butt for health!
It's been about 6 years now.  So where are we at?  Well, somewhere in the middle, I guess.  We've made progress.  Lots of it!  But we aren't exactly planting our own organic farm or eating seaweed sandwiches for every meal, so that's why I say we're in the middle.
I'll be honest, sometimes that's exactly how I feel about this journey.  Like we're "stuck" in this category of folks who don't really belong with any group on either end of the spectrum.  We're too "healthy" to fit in with the "average American" crowd any more.  (I know one person who thinks it's truly weird that my kiddos eat a side of bell peppers and hummus.)  But we aren't quite "crunchy enough" to fit in with the truly pure, fully organic crowd.  Do any of you feel that way, too?  It's like I already have eliminated many bad foods (easy example, I haven't bought old-school white pasta in at least 3 years… all whole grain, baby!)  But, my kids still snack on a cup of good ol' Cheerios at least once a week, and while Cheerios may have some whole grains in there, the perspective of those on the extreme end of the spectrum is that Cheerios aren't exactly a "pure" choice.  So I don't feel like I fit in, except with some of you Bring Mae Flowers readers.
But, I can't worry about that all too much.  I'm all about progress, not perfection.  There will never BE perfection.  There can only be information and a choice made to change and improve.  So that's what I'll keep on doing.  And I hope you'll keep doing it with me!
So that all brings me to today's post… it's all about cheese.  First of all, I'm originally from Wisconsin so I'm guessing you can figure out how much I like cheese.  Now take my interest in cheese and multiply that by a thousand, and that'll give you an idea of how much my husband likes cheese.  He's the guy who puts cheese on everything.  He's the guy who can be found standing in front of an open refrigerator, his head tipped back, literally shaking a container of cheese into his mouth.
Now take the image of that guy, my cheese-loving husband, and imagine what his face looked like when I told him last month that we were all done buying pre-shredded cheese at the grocery store.  Yep.  I think he about choked.  I think 'Taps' played in his head.  There was a period of mourning.
But he trusts me.  And he has always supported the healthy changes I've made over the years for our family, because he knows I'm doing the right thing for all of us, and he also knows that he's way too busy to research this stuff and make the changes on his own.  I think that's pretty normal, though.  We mommas are generally the nutrition decisision makers of our households.  Which is why it's even more important that we do a good job… our family's health is dependent upon what WE buy at the grocery store!  That's very motivating to me.
After my husband was done mourning the loss of his beloved pre-shredded cheese, I told him to fear not!  He was married to a Cheesehead after all… did he really think I meant we were giving up cheese completely?  Heck NO!!!
What I meant is this:  We were not going to buy any cheeses that were pre-shredded.  (And I also added in there that we were also not buying any cheeses that have been dyed orange, but I didn't want to break all this news to him at once.  He was in a very fragile state.  Baby steps.)
Why?  Well, like I said earlier, it's all about information, learning about the foods we eat, and making educated choices about our nutrition.  The fact is, when I bought pre-shredded cheeses at the store, I had never once looked at the ingredients label.  I mean, I thought it was just simply cheese, right??  WRONG!
The ingredients on a package of cheese should be pretty simple:  some milk, some salt, and some cultures to turn it all into what we know as cheese.  But that's not what's on the label of most pre-shredded cheeses.  Check it out – I snapped a photo of the back of our last two bags of pre-shredded cheese.  This one is a Mexican blend:
Do you know what all those ingredients are?  Exactly!
Here's the same problem with an Italian blend: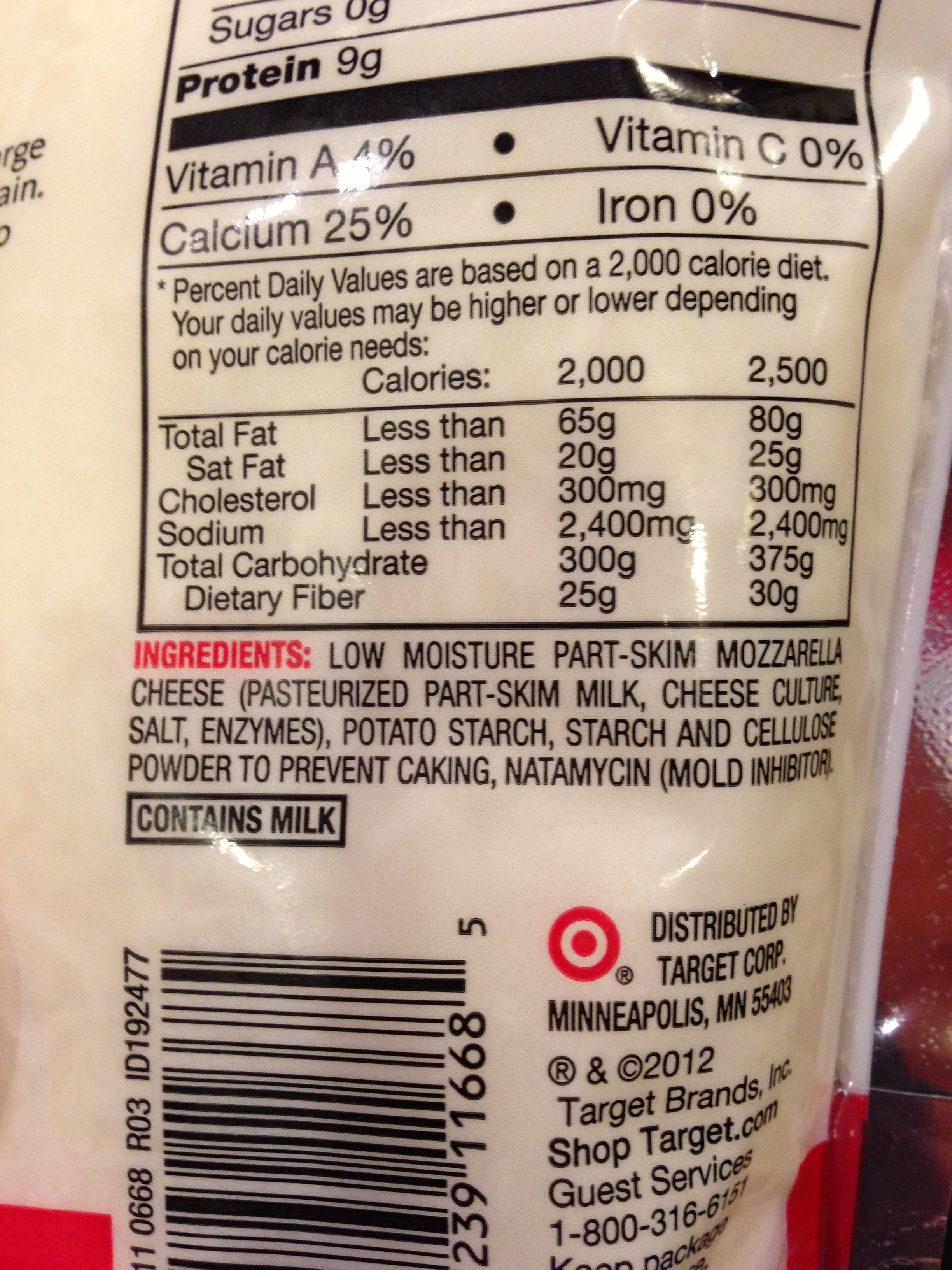 What I discovered is that I have no idea what half that stuff us, but I know what it's not – real cheese!  Plus, one of the ingredients, cellulose, I discovered is actually wood pulp.  Yep, that's right – a side of oak with your sharp cheddar.  No really though, cellulose (wood pulp) is added to cheese that's been pre-shredded (even organic brands) to help it not clump together while it sits in its package at the grocery store waiting for someone to buy it.  Now, in my research I did not find anything that says cellulose is necessarily harmful, but it just didn't sit well with me.  I'll take my cheese with a little less hickory, thank you very much!  (Interestingly enough, another reason food manufacturers sometimes add cellulose to products is to increase the fiber content on the nutrition label.  You all know I'm a sucker for high fiber foods, but even still… nope.  Not gonna do it any more!)
Here's what a real cheese label should look like: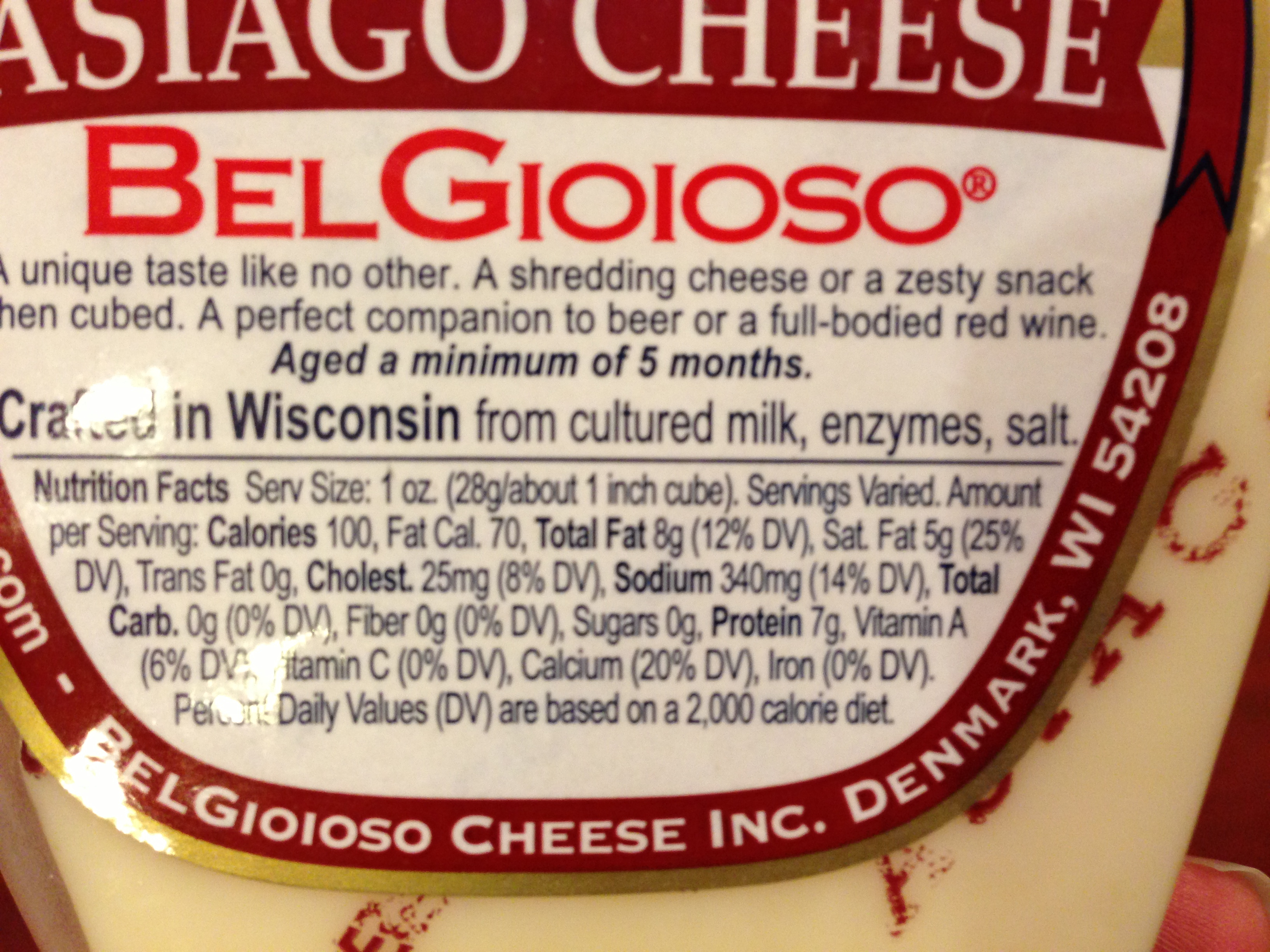 And another example: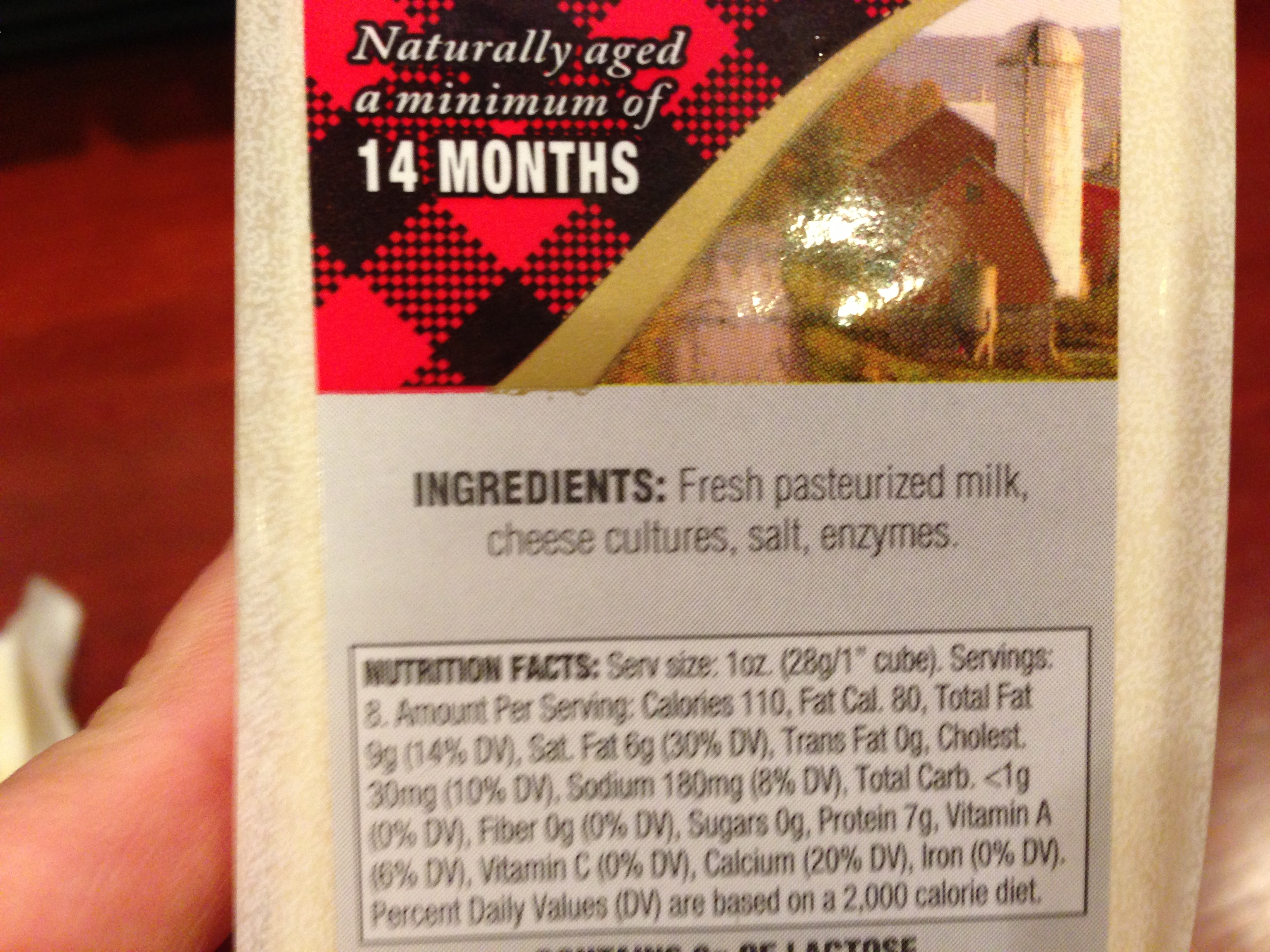 I now have quite an assortment of block cheeses going on.  In the past, the only time I ever bought blocks of cheese was if I was hosting a gathering at my house and I was planning on serving sliced cheese to go with an appetizer.  I never bought it for the purpose of using as shredded cheese.  Not any more!  And now that we've made this change, I realize that buying the pre-shredded cheese was obviously a convenience factor, right, but you know what?  It's not all that much of a time saver.  Already this week I've used shredded cheese in a few meals (I made some quick eggs for the kids for lunch today and added some cheese in, I made a pork version of the taco muffins, etc.) and it took me all of about 40 seconds to shred the cheese I needed for each of those meals.  No joke.  So the wood pulp is totally not worth it for the sake convenience.  I'm admittedly a super lazy cook, but I'll take my laziness elsewhere in my kitchen battles.
There is one exception to my rule though.  I was talking with my local "cheese man" – the guy who sells cheeses, eggs, etc at all our local farmers' markets.  I ran into him at a local farm near my house and got to talking all things cheese with him and I asked him about this, knowing I was going to be writing a blog post about it.  He said that when he sells something like a grated parmesan, he simply grates the cheese and puts it into a bag for his customer.  So I guess sometimes I might indulge if it's from a source like this.  😉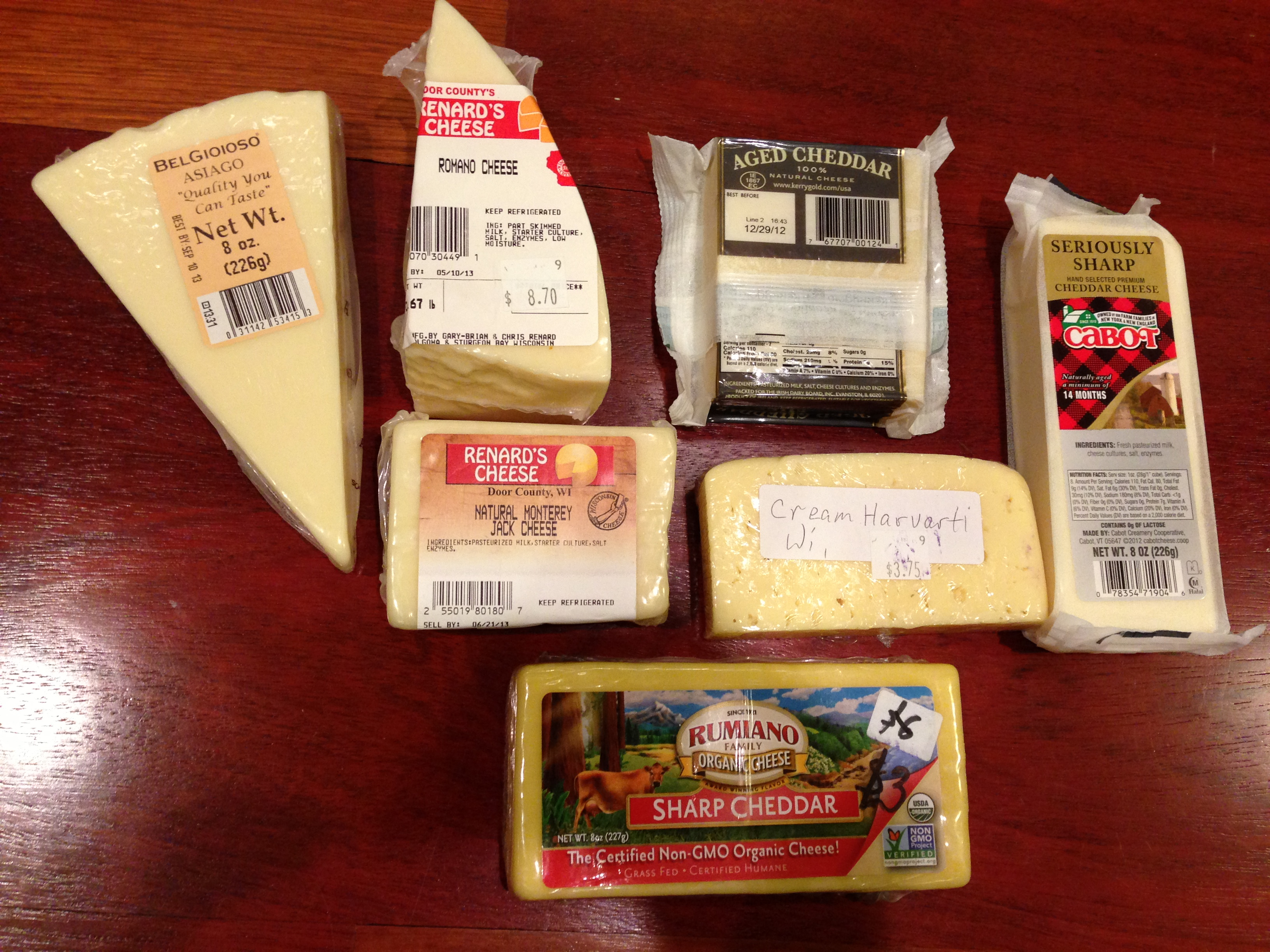 I'd like to hear from you about a couple of things from this post:  First, now that you know what cellulose is, what do you think about it being in your foods?  And secondly, where do you fall on the spectrum of healthy eating and how do you feel about it?