Bienvenido A Miami!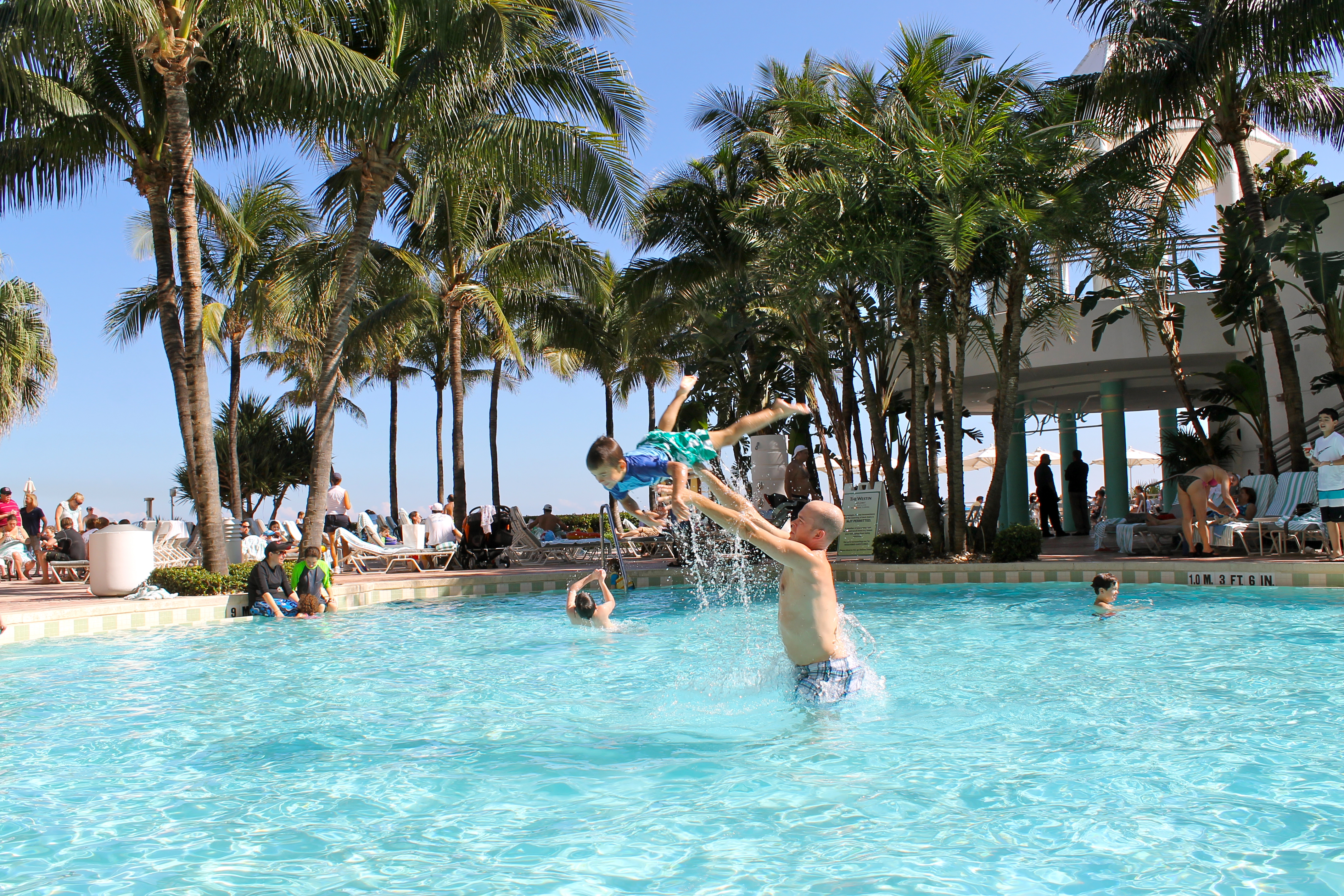 We are back from a quick trip to enjoy some fun in the sun!  We planned this trip on a whim just about two weeks beforehand.  My husband and I were going through our calendar (Google Calendar) and realized that the kids didn't have school on Friday/Monday, my husband would be in Miami until Thursday afternoon and also didn't have work on Monday, and we had no really important plans for the weekend… seemed like the perfect excuse to head on down to the sunshine state!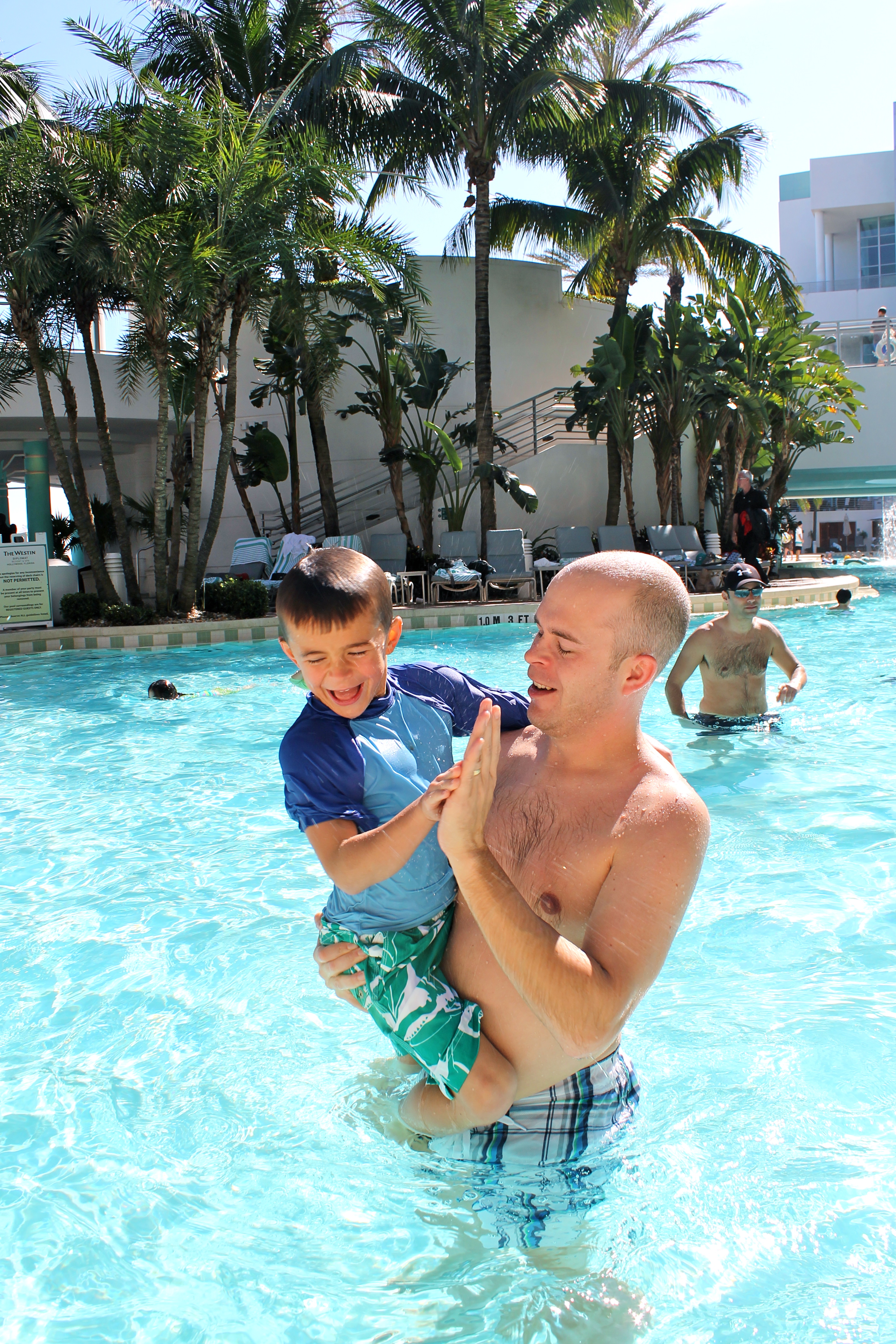 The kids and I flew down on Thursday afternoon and my husband picked us up at the airport.  This was my first time flying with the kiddos all by myself.  I am NOT a fan of flying so this was a real test for me… and it all worked out just great!  I think it really helps that my kids are very used to traveling by now – they've each been doing so a few times a year since they were 7ish months old so they know what to expect.  Plus, I let them each eat a lollipop during takeoff so they look forward to that special treat… it's the little things in life, right?!?!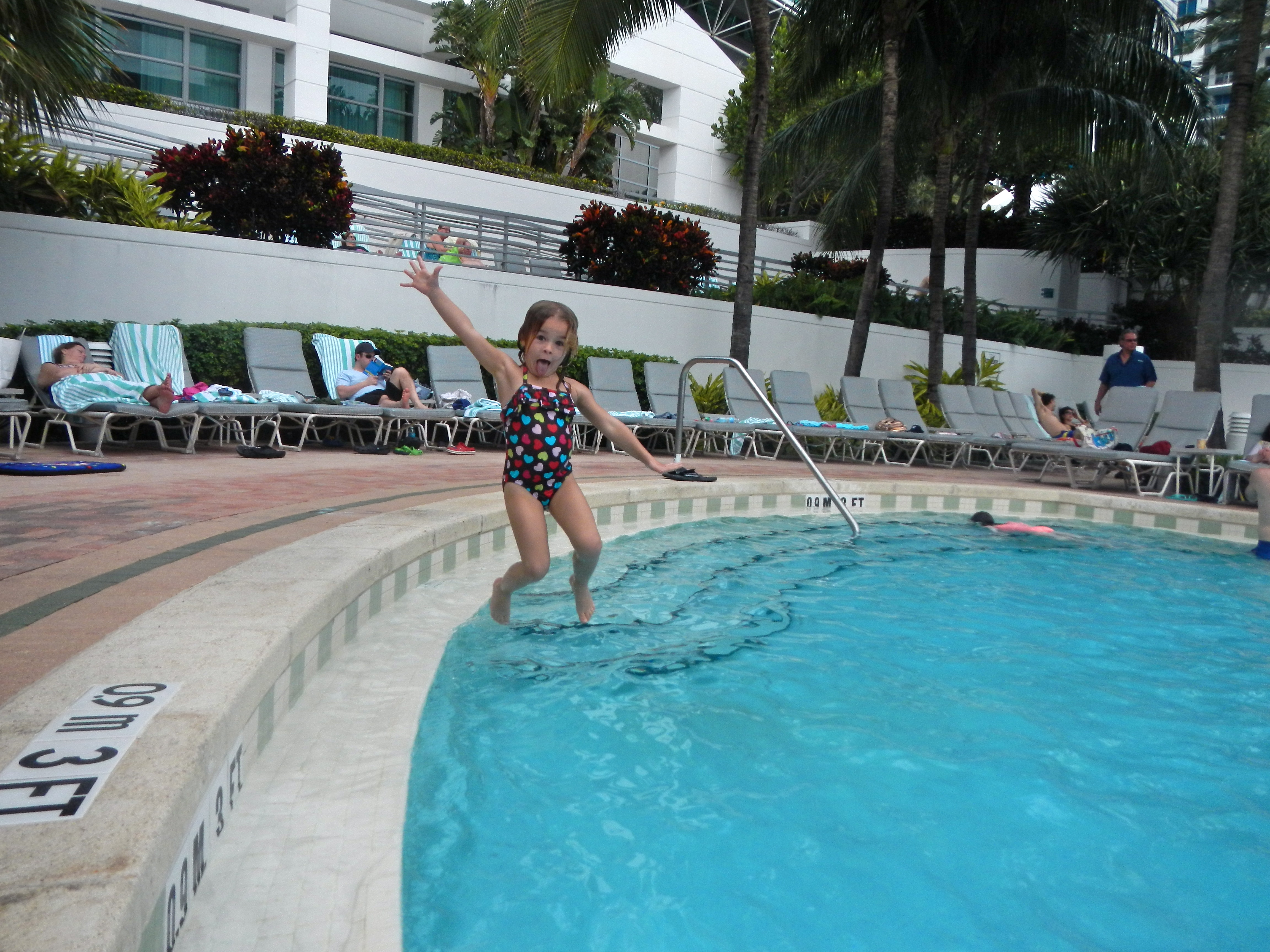 The Miami area was great!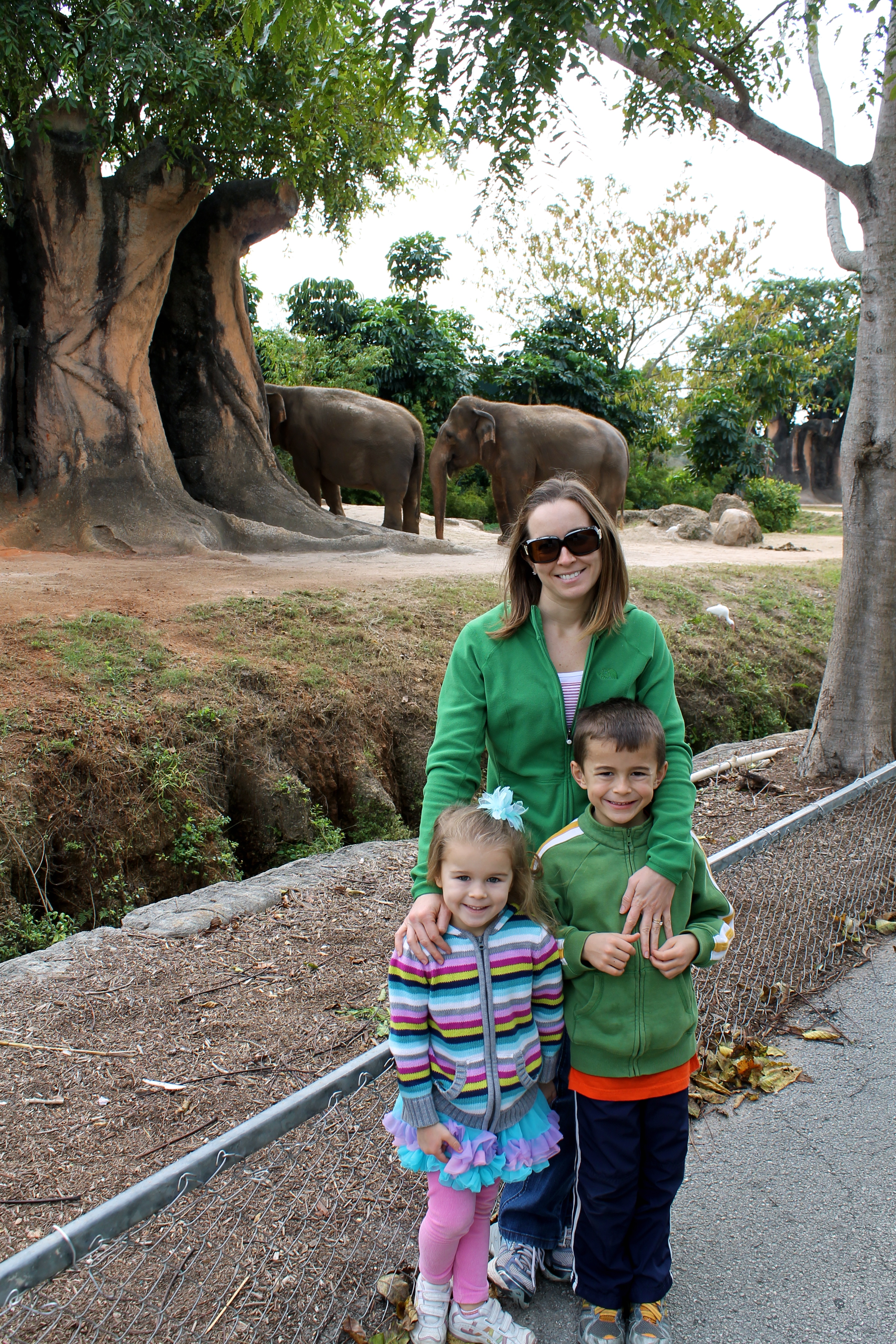 Our first full day was "cold" (high of 72 and mostly cloudy) and the rest of our time there it was 78-82, pretty sunny, and relatively humid… a welcome change from the 9-degree midwest winter temperatures we left behind!  Since we knew that first day wasn't going to be an ideal beach day, we used it to do some touristy stuff that didn't involve being on water.
First we checked out Zoo Miami.  It is spread out through a pretty expansive property… so much so that the zoo rents out these super cute family bikes to help folks get through it.  We thought they looked cool and they ended up being a hit.  My son was particularly obsessed with being in the driver's seat!  And let me give you a piece of advice:  stay off the roadways approximately 10 years from now because he is a terrible driver!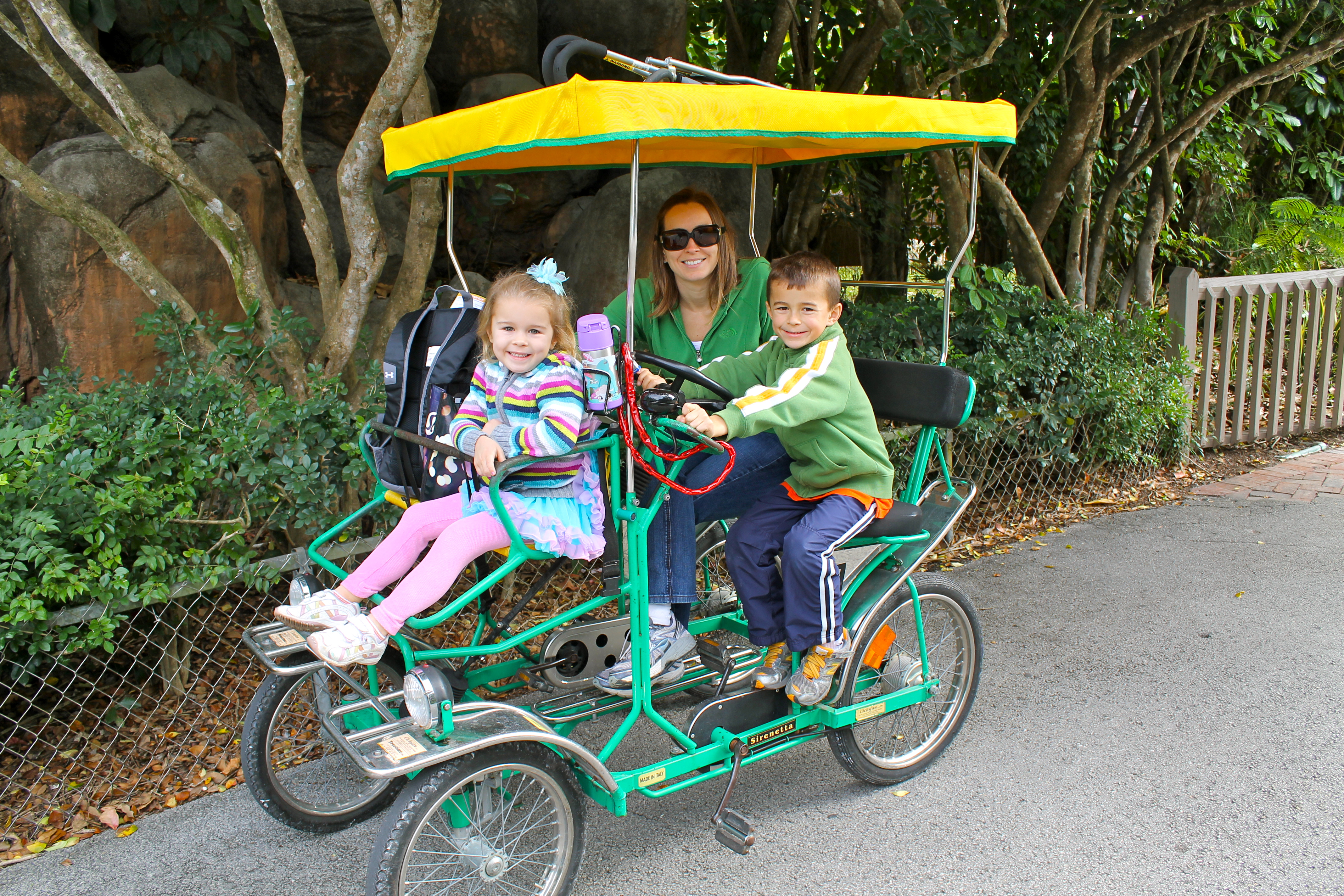 We ended that day in downtown Miami and had a hard time choosing what we wanted to do for dinner.  We are all big fans of good food and love to try new things when we can.  We had done a bunch of research ahead of time on restaurant options.  My husband and I finally narrowed that meal down to either Mexican or sushi and we let my son pick (because my daughter was all tuckered out and asleep in the car after such a busy day) and he chose Mexican.  We went to what I would call a "hip" Mexican spot called El Vato.  It was good – not great – but then the desserts came out.  (I think this is another reason my kiddos like traveling so much… they know we often order desserts when we're on vacation!)  We ordered some churros and strawberry apple pie.  Well, let me just tell you that the churros were the BEST EVER (think warm, fresh, and drizzled with caramel) and that strawberry apple pie (which wasn't really "pie" it was more like a warm strawberry/apple pie filling inside a thin pastry that was wrapped up like a little sweet burrito) was equally as amazing.  I still can't decide which one I liked best!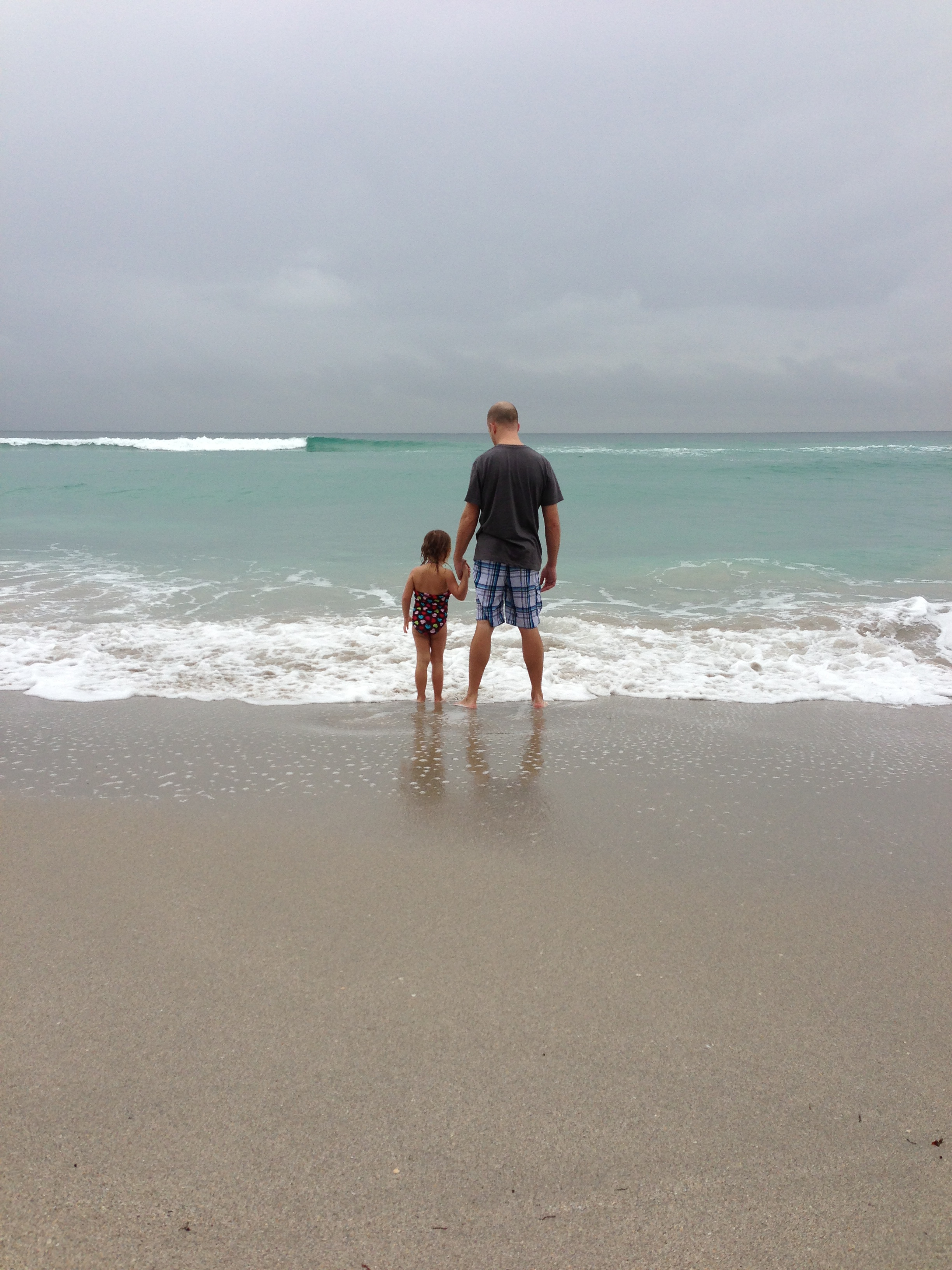 The next day began with some beach and pool time.  It was cloudy in the morning but plenty warm so we made the best of it.  You know kids don't really care much whether it's sunny or not.  Give them a pool or a beach and they're all set for hours.
They all had fun playing with the underwater camera.  Here's Bubba doing the "gangnam style" dance: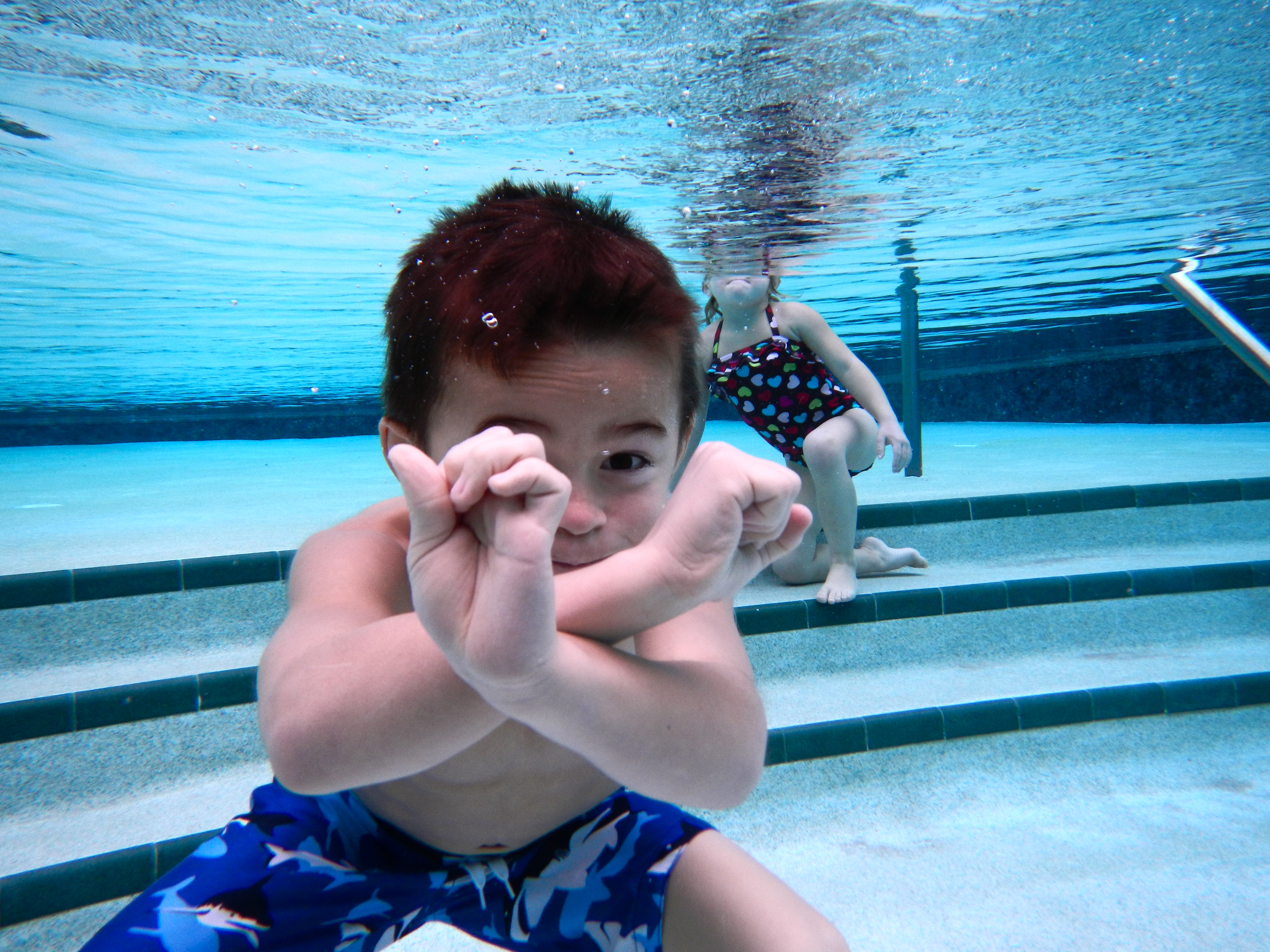 We got our sushi fix for lunch that day and then it was time to do some more adventuring.
Later that afternoon we checked out an Everglades tour.  Just like with food, I'm a big fan of trying to give my kids experiences that are unique to the places we visit.  I mean every major city has a zoo, right, but I'm talking experiences that really represent the area.  Before any big adventure, we ususally head to the library and check out some books on the area we are going to and that usually gives us some good ideas about what we might like to learn about while we're there.  For example, last year we spent a long weekend in Dana Point, CA and in our research we learned they had a lot of tide pools there.  So the whole focus of that trip, for my kids, became seeing and experiencing the tidepools they had learned about.  For this Miami trip, a lot of our reading mentioned the Everglades, so we just had to include that in our adventure.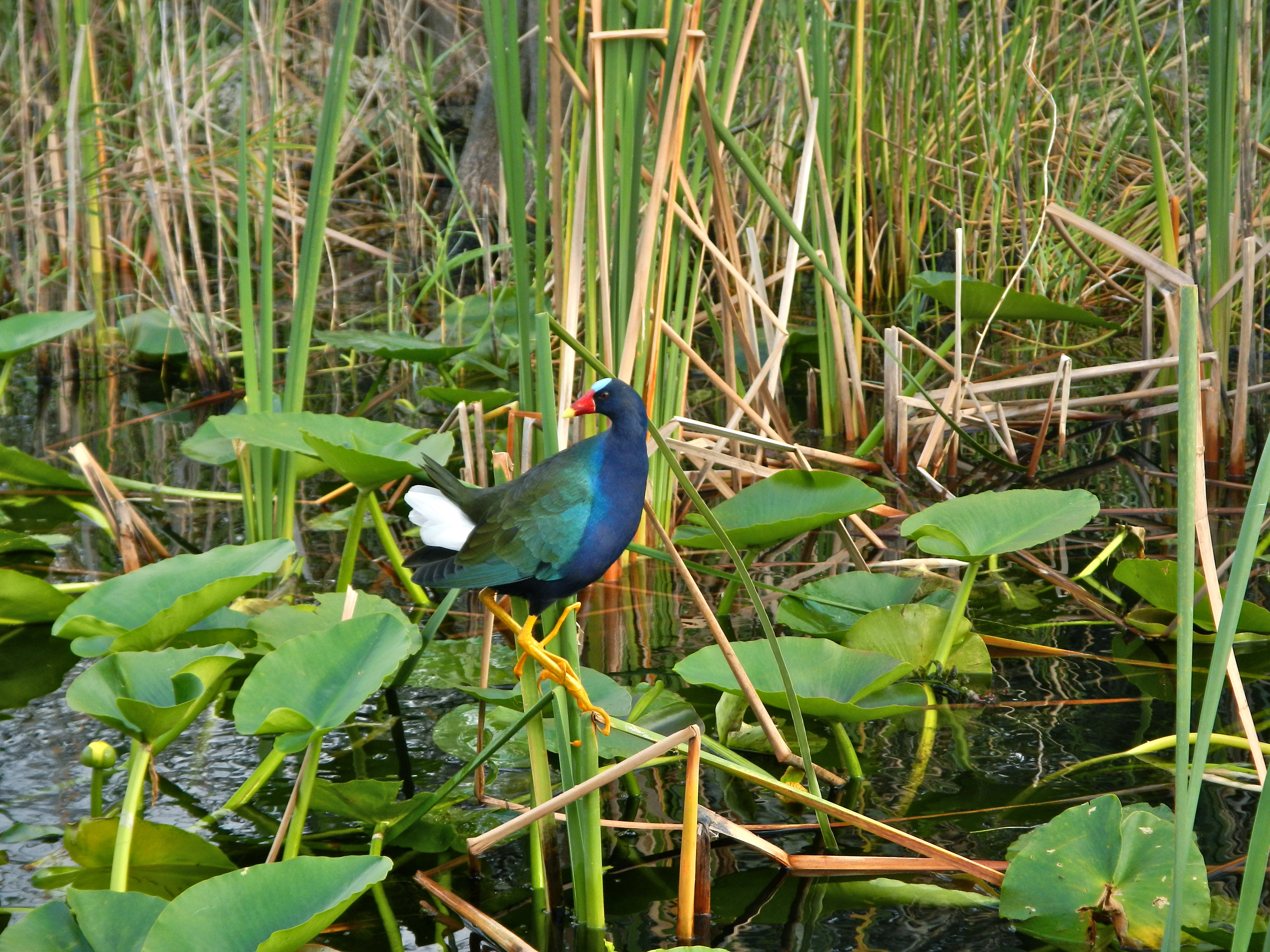 Just like our books taught us about, we rode an airboat and saw some awesome wildlife.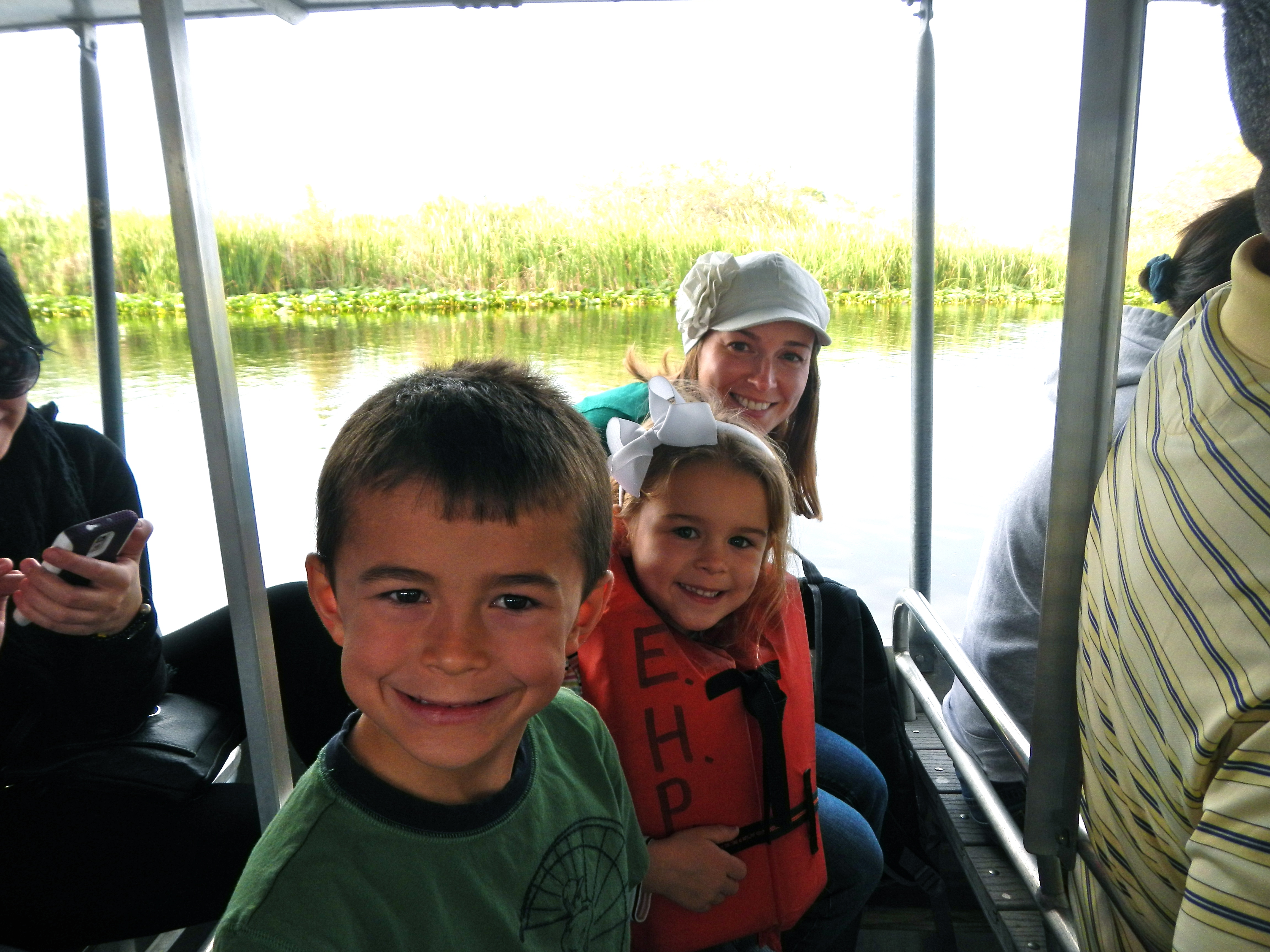 We learned that the Everglades is not a swamp, it's actually a river that just has a REALLY slow current.  Also, it is super shallow – like a foot or two deep!  I didn't know any of that, so I was glad we had read up some before heading there.  I always love to see how it makes the kids feel so smart and empowered that they've got a little bit of knowledge on a subject before they really dive into it.  The great thing was that we learned even more about the Everglades once we began our tour.  We had a knowledgable guide and I found it to be a great lesson in ecology for the kids and for me as well!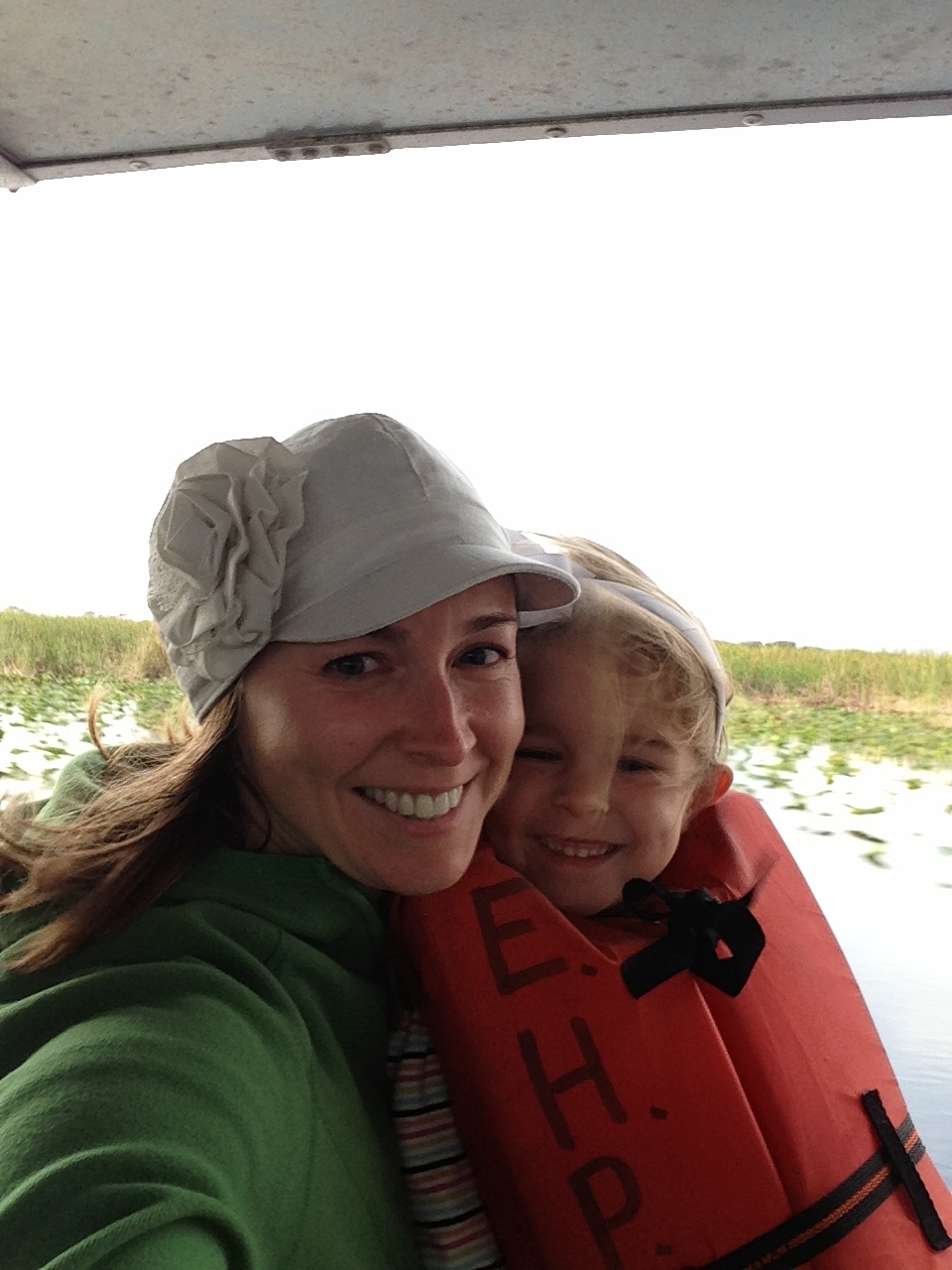 The 'gators were cool but frankly I found them quite scary!  This guy came WAY too close the boat, if you ask me!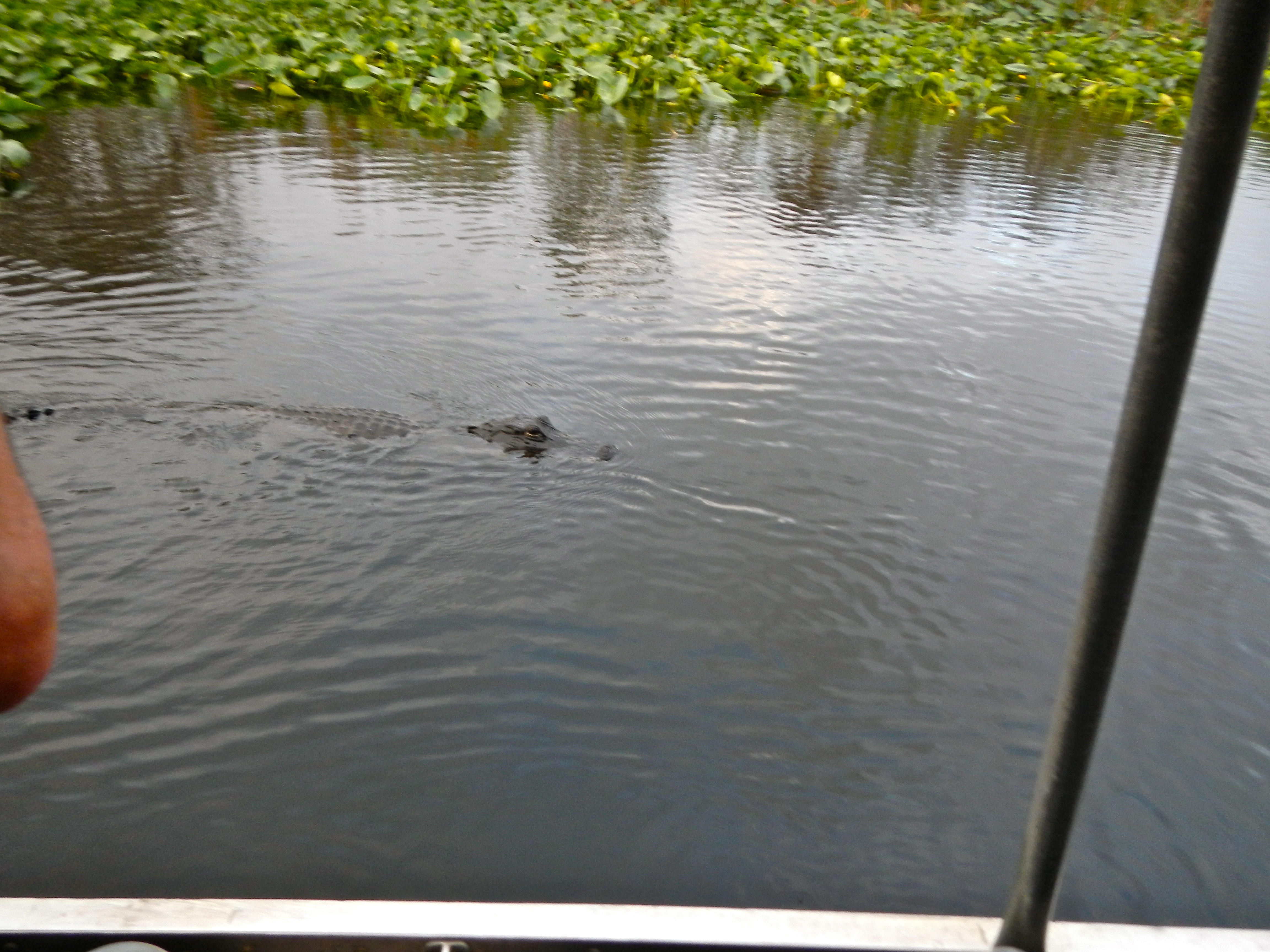 I was fascinated by the whole cycle of life and power struggle that happens with all the creatures within the Everglades.  I also learned a lot about all the non-native plants and animals in the Everglades, how they got there, and their effect on the area.  Fascinating.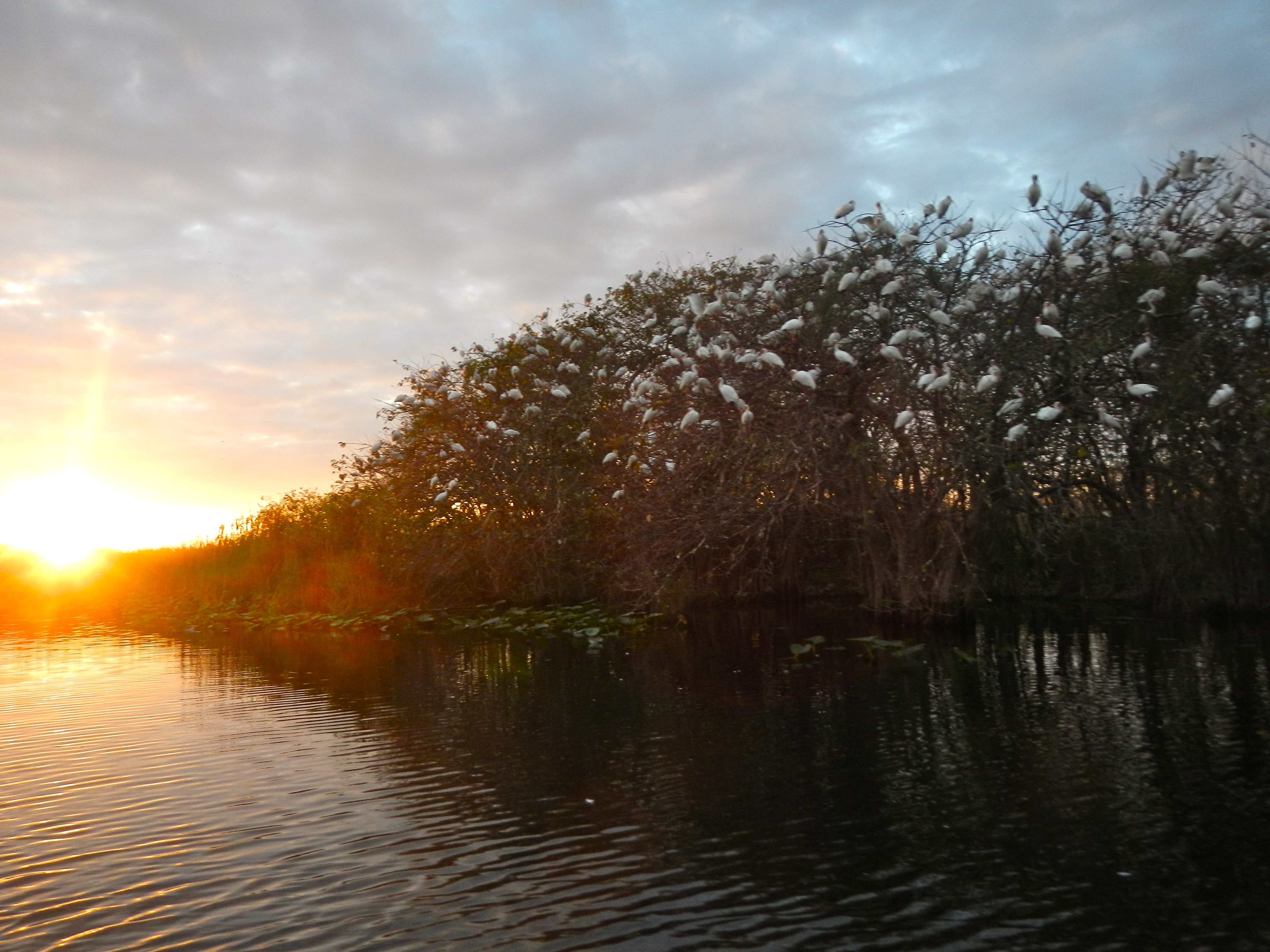 That night we decided to eat what the Miami area is known for – Cuban food!  We checked out a spot that was deemed both authentic as well as highly rated and it was really good.  This was my first time eating traditional Cuban cuisine and I was surprised by it… I assumed it would be a lot like Mexican food, but in reality, it was a lot more like my traditional Wisconsin "supper club" food than Mexican.  Interesting, right?  Yes, of course there were rice and beans, but I was so struck by the similarities between the rest of our plates with a more German/Polish style.  I ordered the traditional pork, the kids each ordered some type of steak and chicken dishes and my husband did some steak as well.
In the end, I would just like to say that the Cuban pork was, BY FAR, the best pork dish I have ever eaten in my life.  If I had any clue how to make pork taste like that, I would cook it a lot more often!
Birdie was in love with almost everything on her plate… so much so that after a while she lost all sense of table manners and just started grabbing handfuls of food and shoving it into her mouth.  I guess it was "finger lickin' good".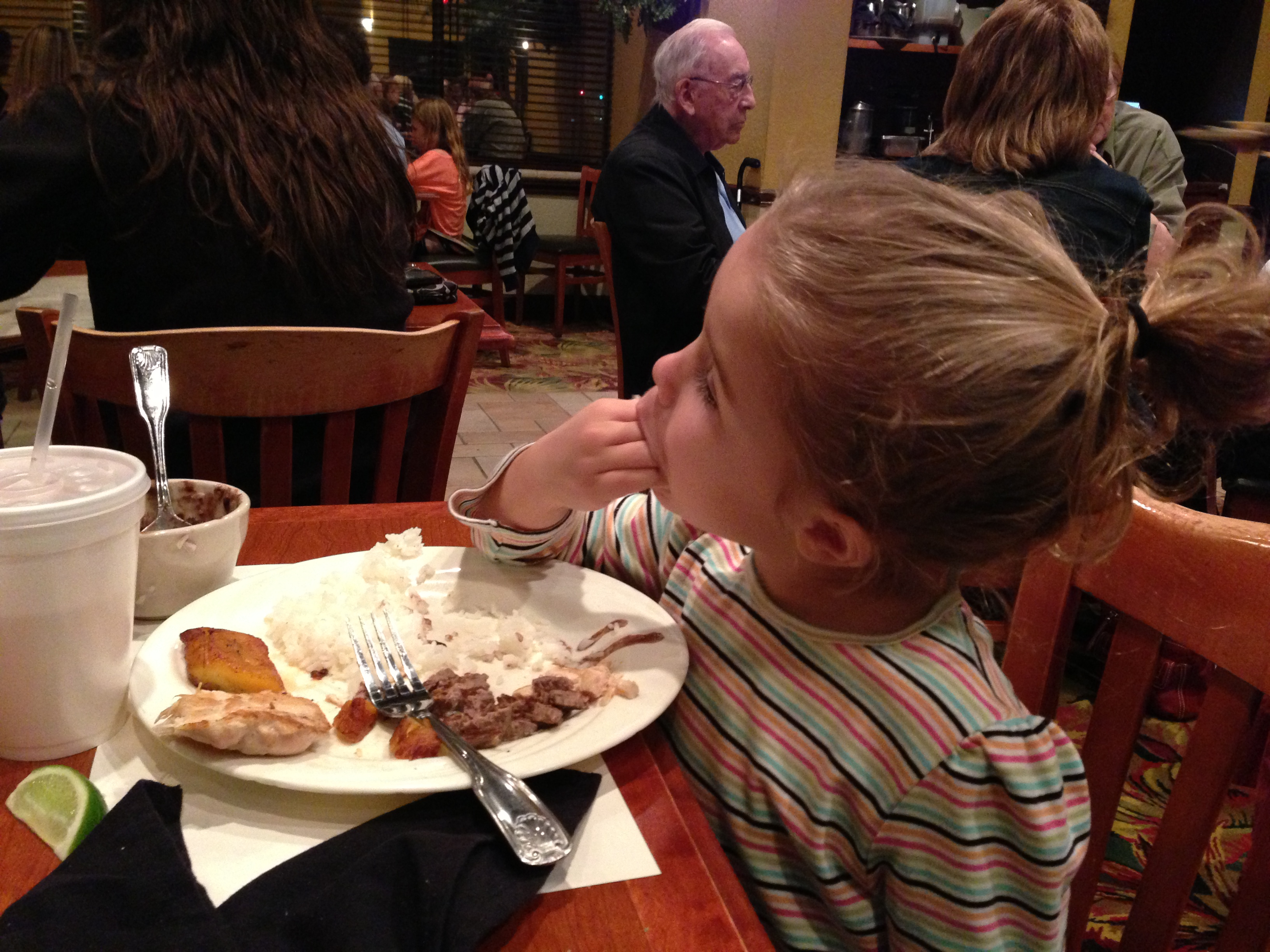 The next morning we fueled up and headed out to a natural area that offered a unique canoeing experience.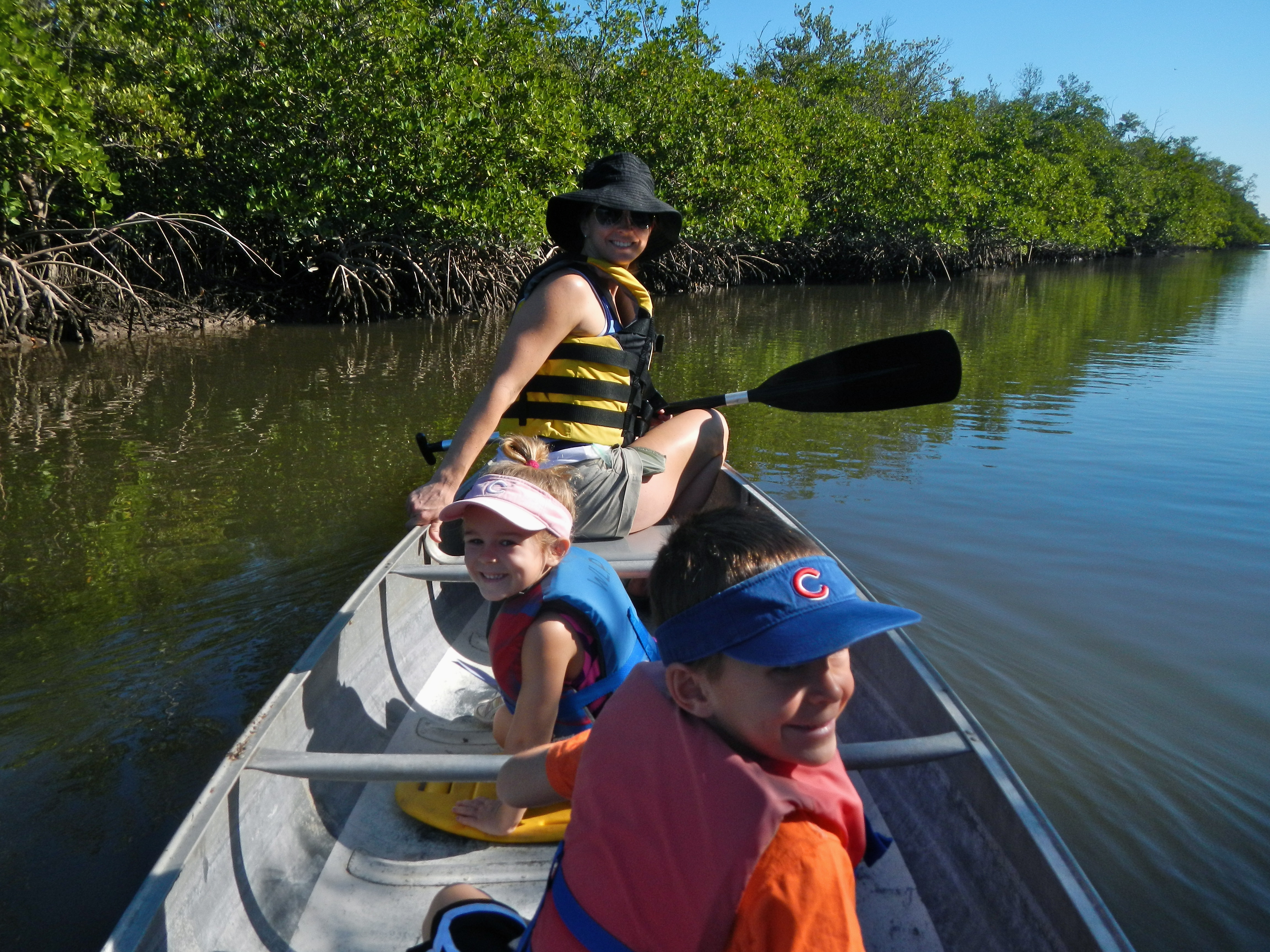 Folks can rent canoes and then ride through some mangrove trails.  Think hiking trails except on water.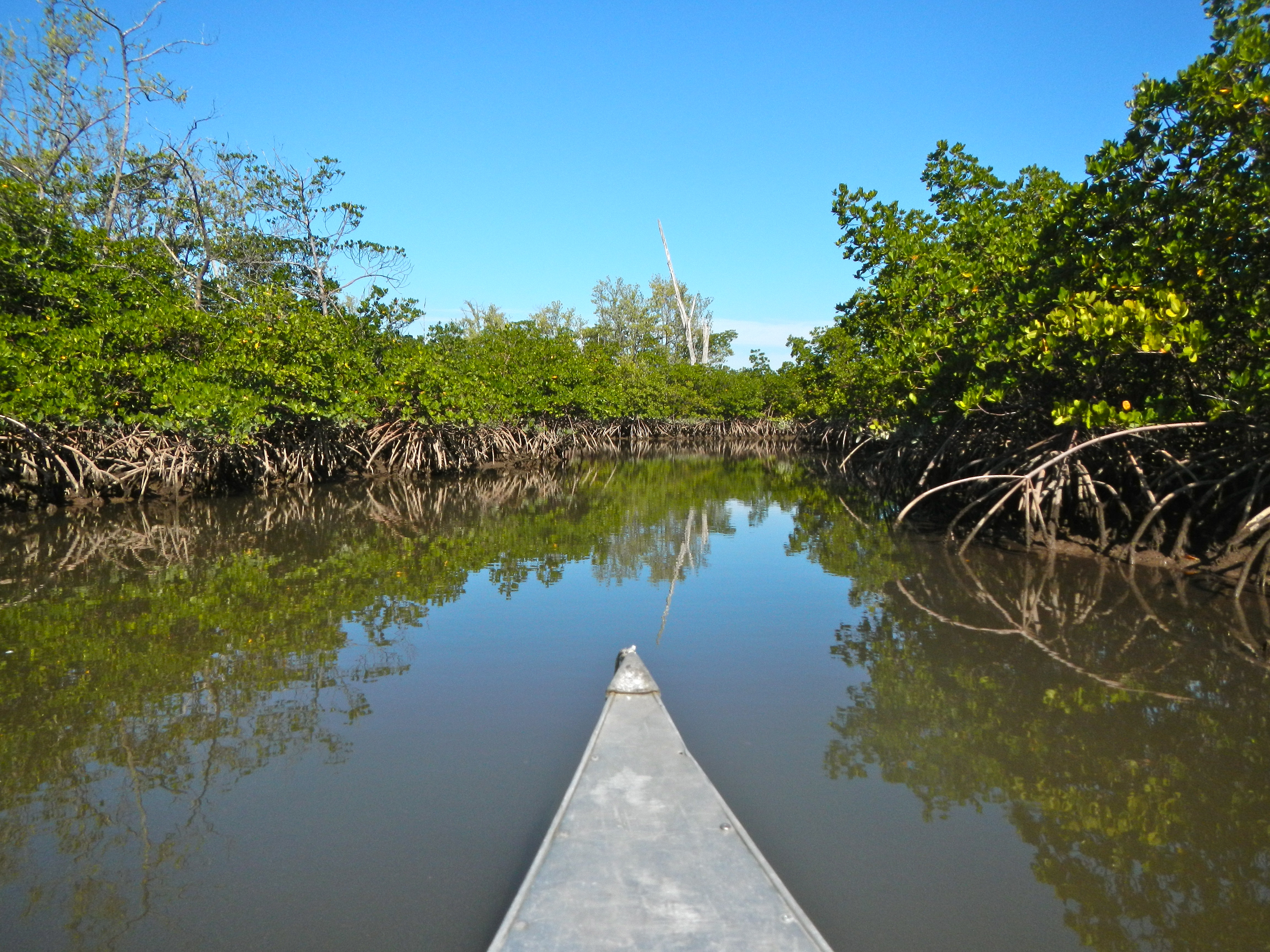 It was very beautiful, peaceful, and unique.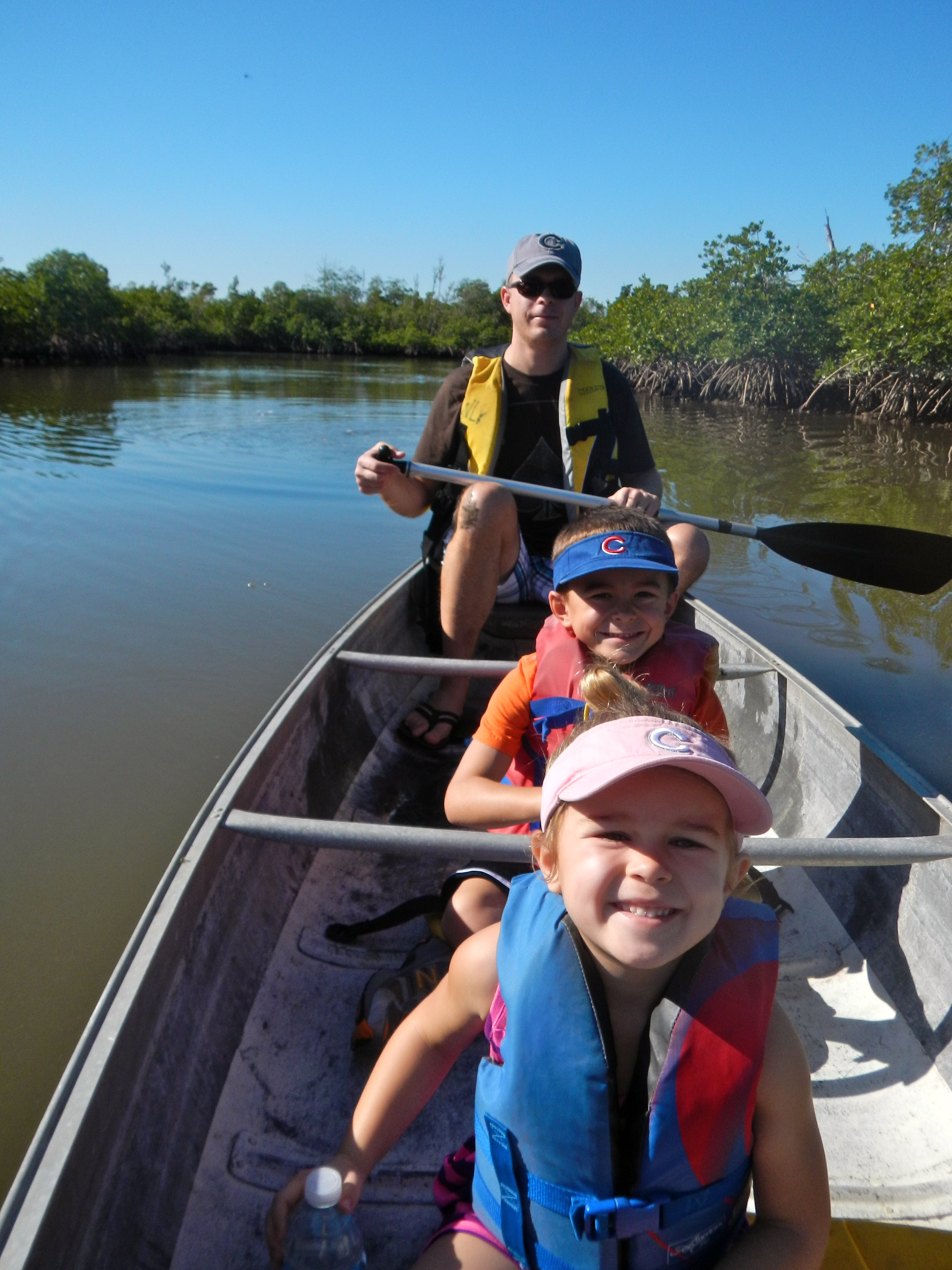 I believe this picture might have been taken somewhere around the time we got lost.  No, seriously, I'm not even kidding.  We had a map and it seemed pretty easy to just follow the water trails, but we definitely got off course at least twice.  Ooops!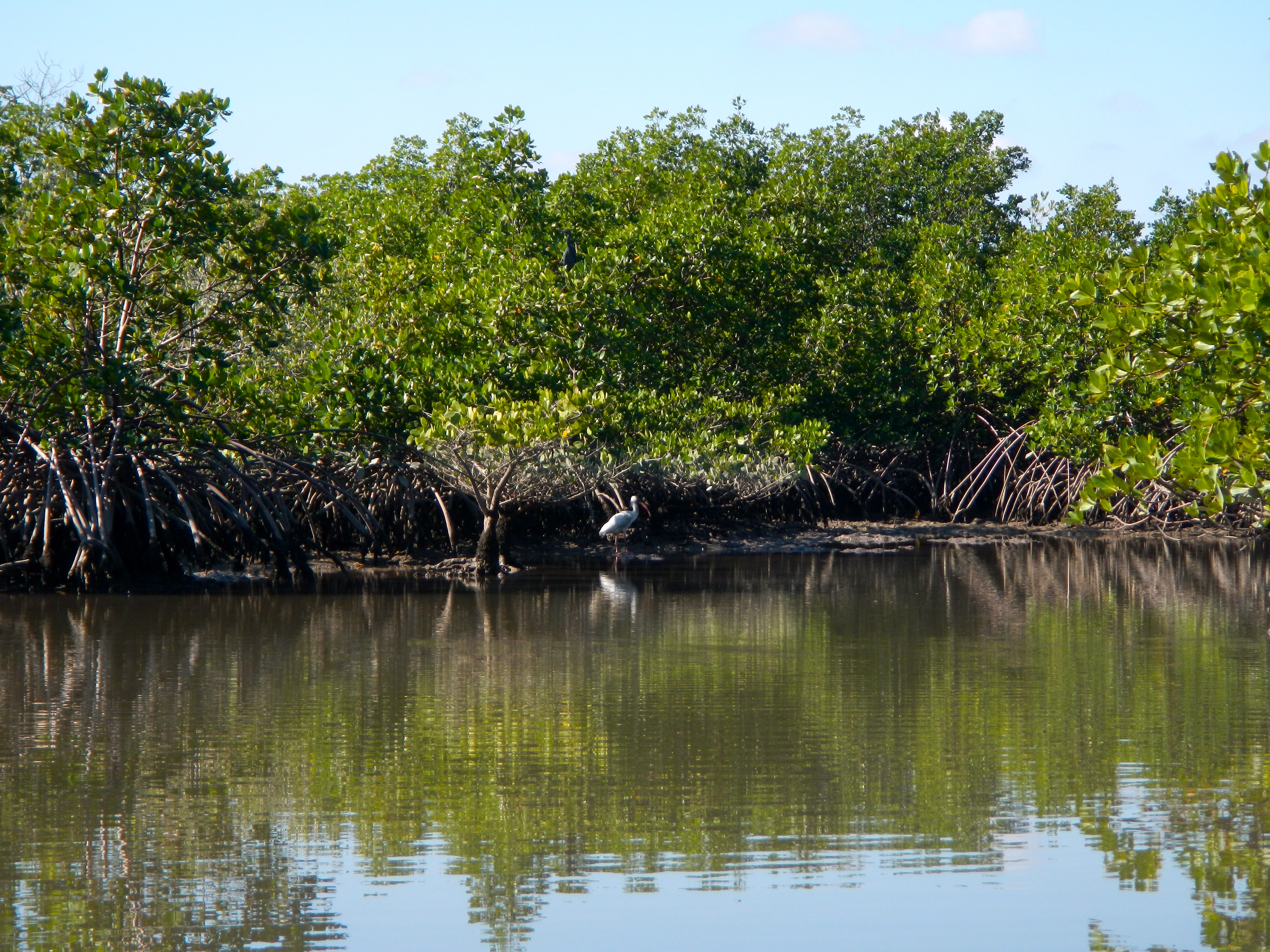 I'm pretty sure if anyone asks my kids about going canoeing in Florida, neither of them will tell you about the cool birds we saw, what the mangroves were like, etc.  No, no, I'm pretty sure they'll start giggling and telling all about how Mommy and Daddy got lost.  Kids!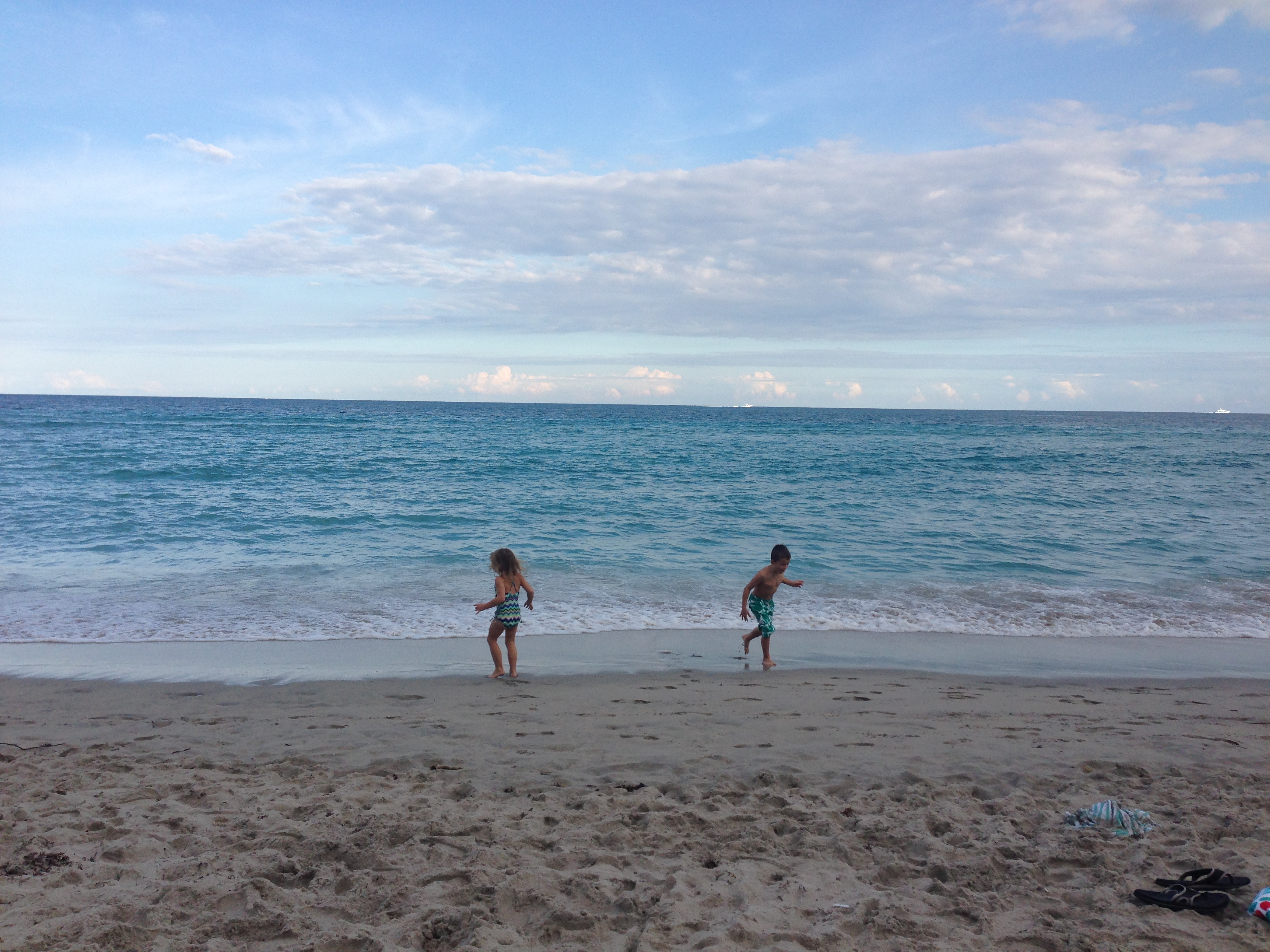 We enjoyed some more beach and pool action that day.  It never gets old, does it?!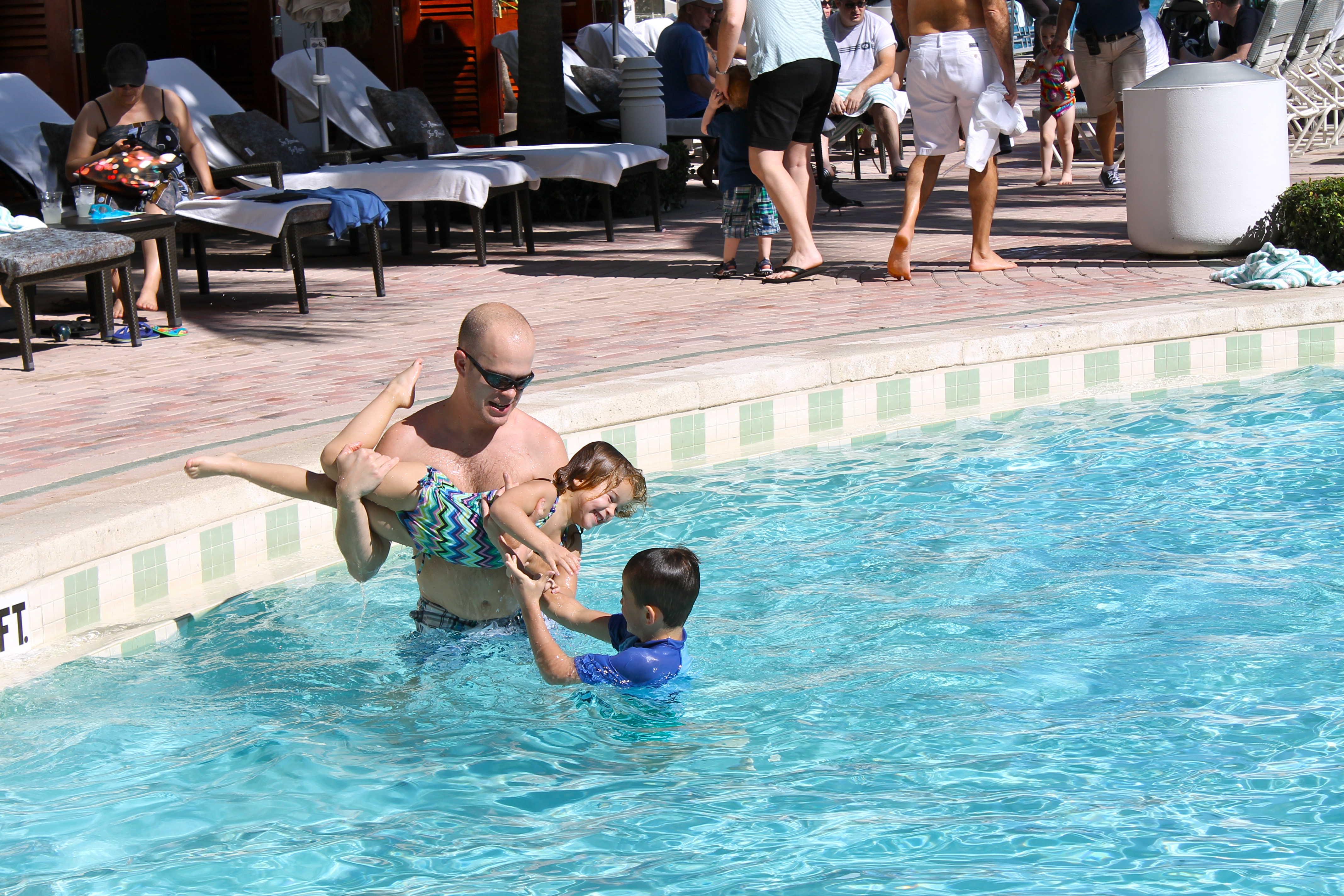 Later we took lessons to learn all about stand up paddle boarding.  This was our first time and we really liked it.  Well, I should say, most of us liked it.  Let me explain.  We got to our lesson, got a quick overview from our instructor and headed out into the ocean.  My son sat on my husband's board and my daughter sat on my board.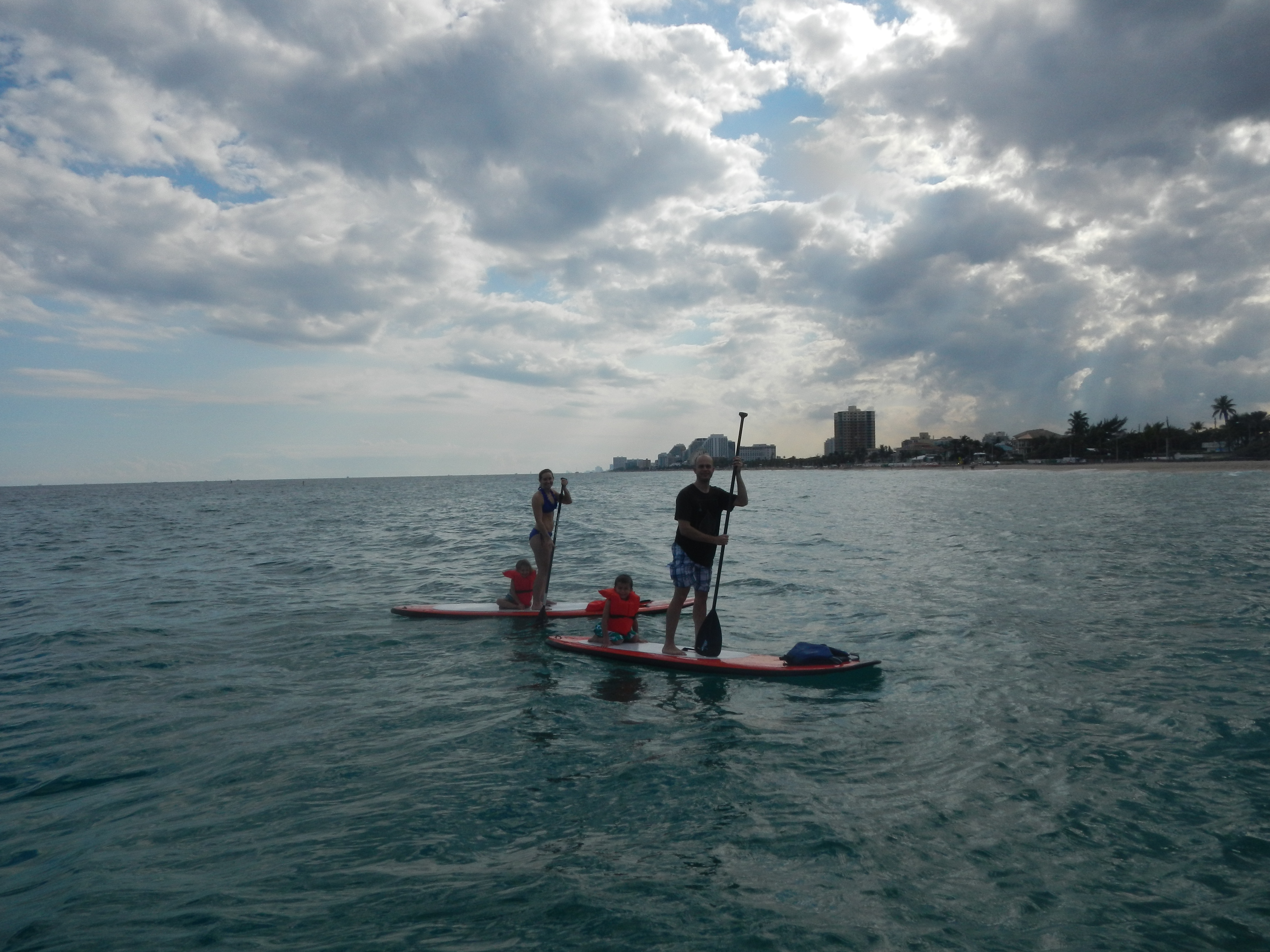 My husband and I both found it easier than we had anticipated to stand up and get into our groove.  He fell just a couple of times, which my son thought was HILARIOUS.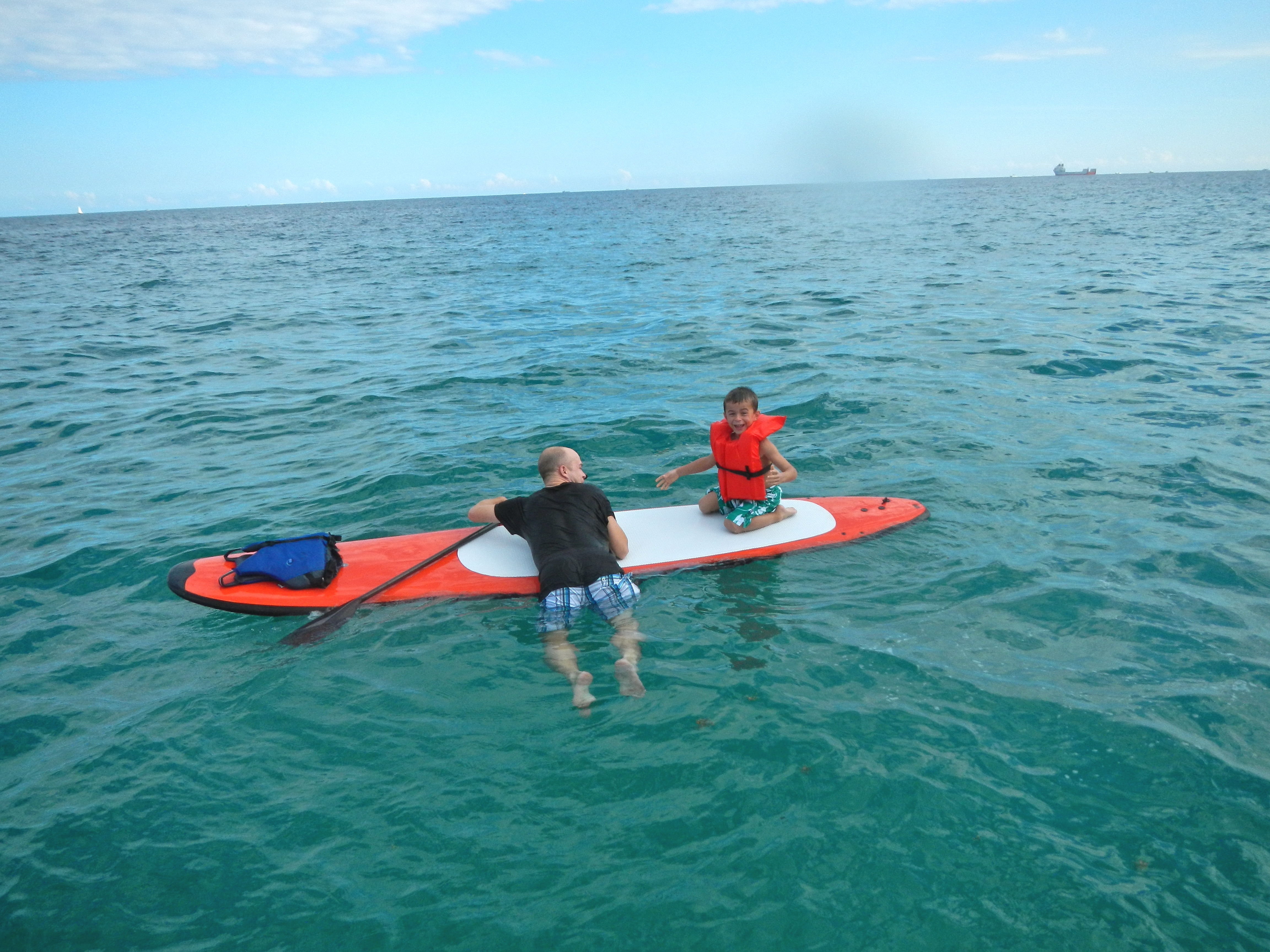 I was all fine and dandy for about a half an hour.  My daughter and I were talking, laughing at my husband, and just having a good ol' time.  And then out of nowhere, I fell in.  It wasn't one of those long, slow-motion falls where you feel it happening and just can't do anything to stop it.  No, it was like – BOOM! – I was underwater before I even knew what was happening!  My daughter didn't fall in at all.  She was still dry, sitting in her spot, holding onto her little handle, looking at me when I surfaced.  I swam back to the board, hopped back on, and off we went.  And that's when I heard it… crying.  I'm still not exactly sure what my daughter was crying about (she couldn't really articulate the reason and I couldn't exactly sit down and have a whole heart to heart to figure it out because, you know, I WAS ON A STAND UP PADDLE BOARD OUT IN THE MIDDLE OF THE OCEAN!) but I *think* it just really upset her to see her mommy fall in.  She kept asking through her tears, "Mommy, what if you fall in again?!" and I just laughed and said, "Well, then I'll just hop back on the board again just like I did that time!".  She was kind of on edge after that, nervous laughing and such, so we only stayed out about ten more minutes and then ended it.  I didn't want to traumatize her, but I didn't want her to think we were "giving up" just because we fell in once.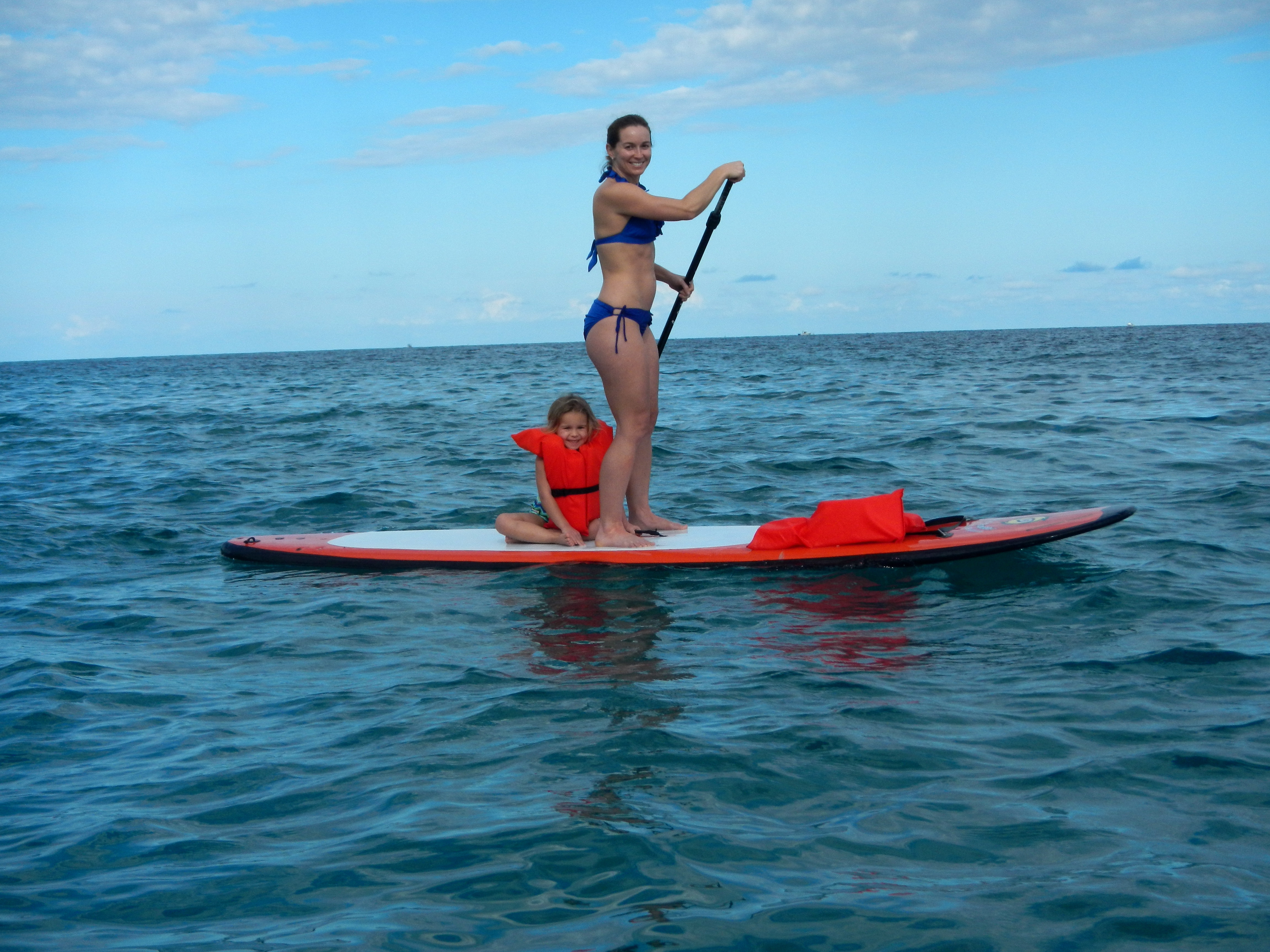 All in all, I would TOTALLY do stand up paddle boarding again!  I didn't think it was much of a workout at all (the only body part I felt I was working out was the arches of my feet – it was a weird feeling!), but I did think it was a very cool experience and I'm so glad we exposed our kids to that.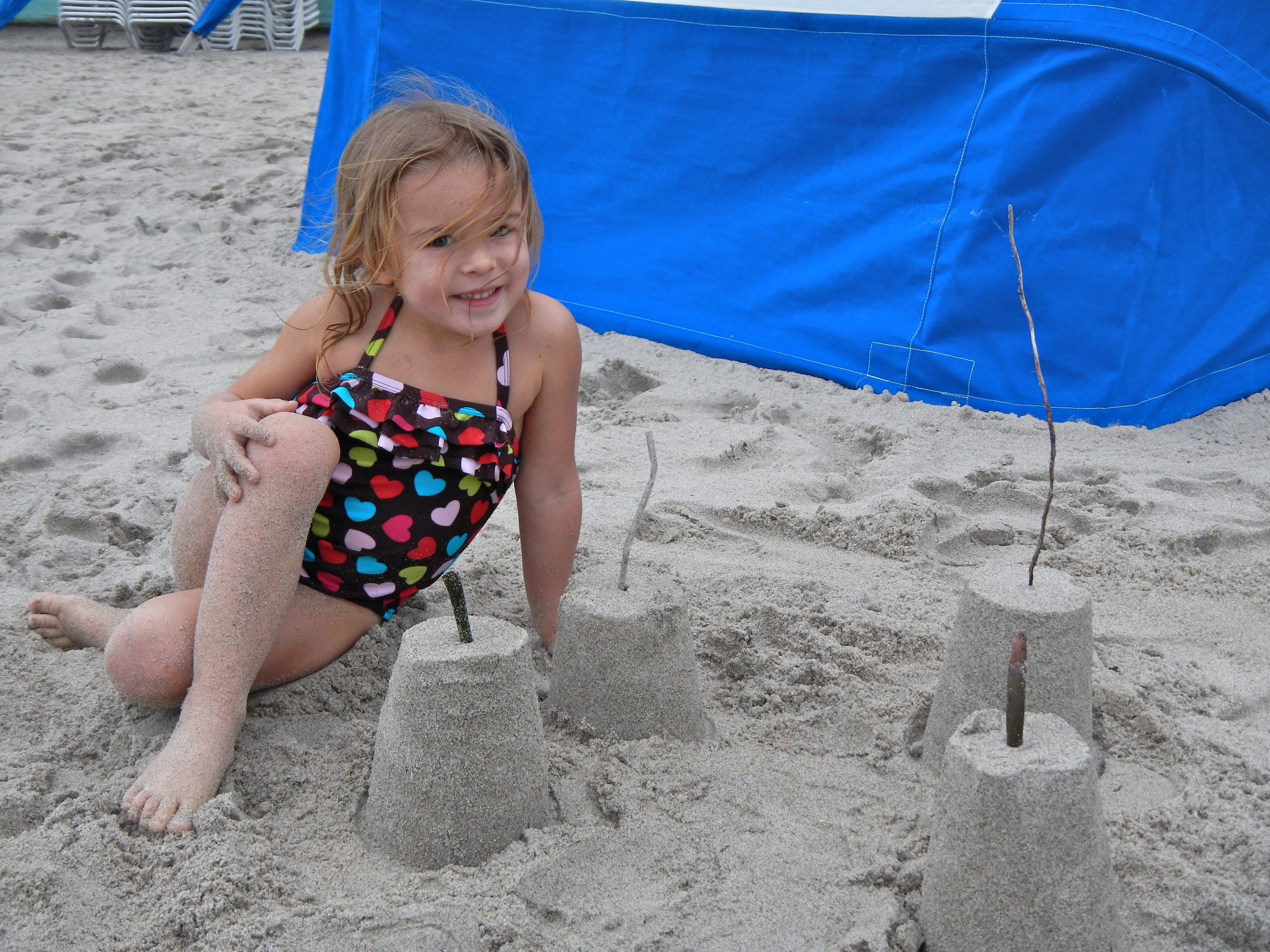 Our last day was really only a partial day because we had to catch a 3:30 flight home, so we just let the kids get some more fun in at the pool before we packed up and left.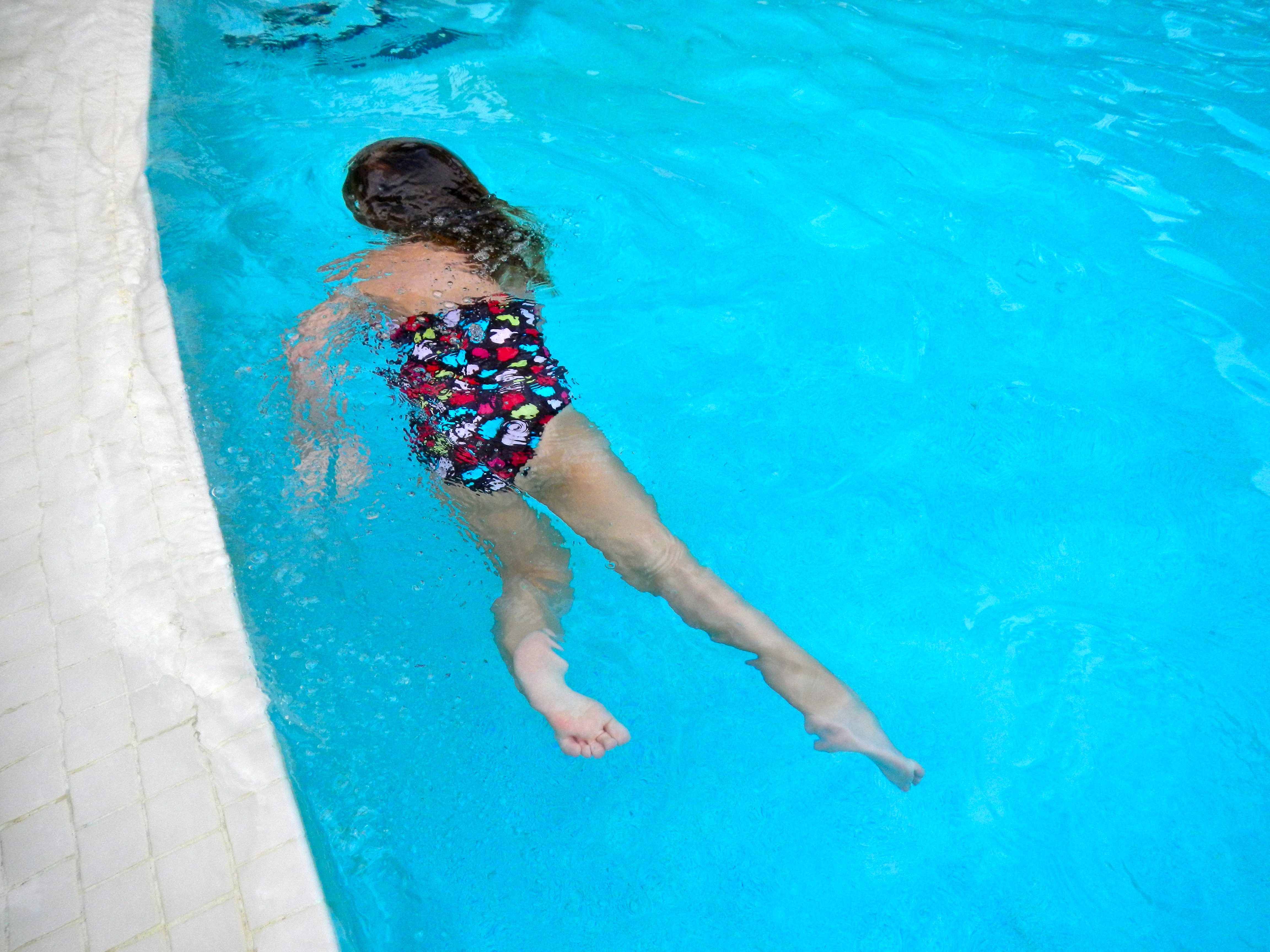 My daughter is such a fish now and my son just loves to be tossed every which way into the air by my husband.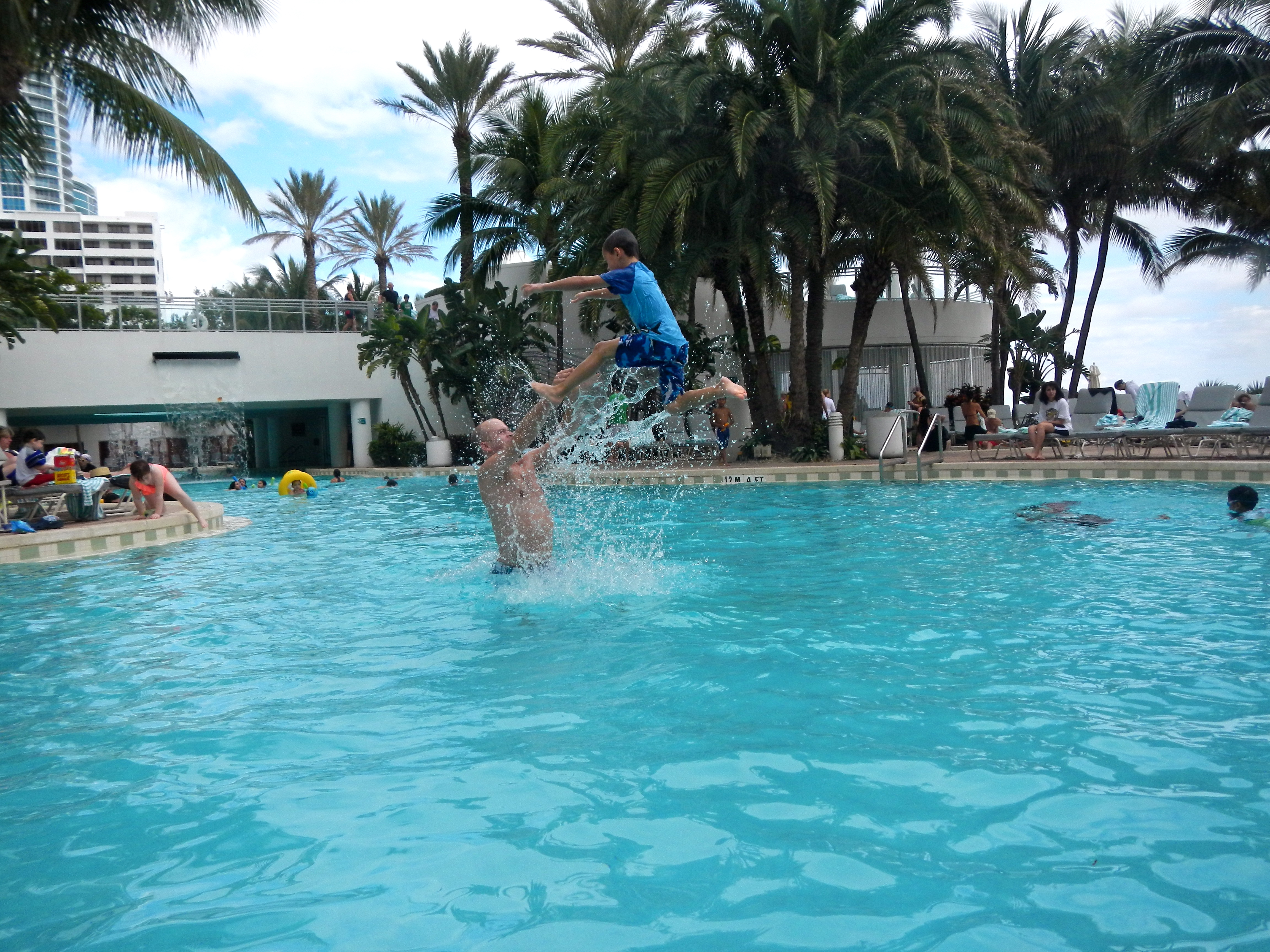 Of course I snuck in a few runs on the beach during our time down there.  I didn't realize how much different the sand would be than the beach in Siesta Key, Florida.  I ended up running barefoot because I found running in shoes in this type of sand to be really difficult.  It was nice to have that freedom though because then I could run in the dry sand or down in the surf if I wanted to get a few splashes and cool off as I went.  The ocean sure is magnificent!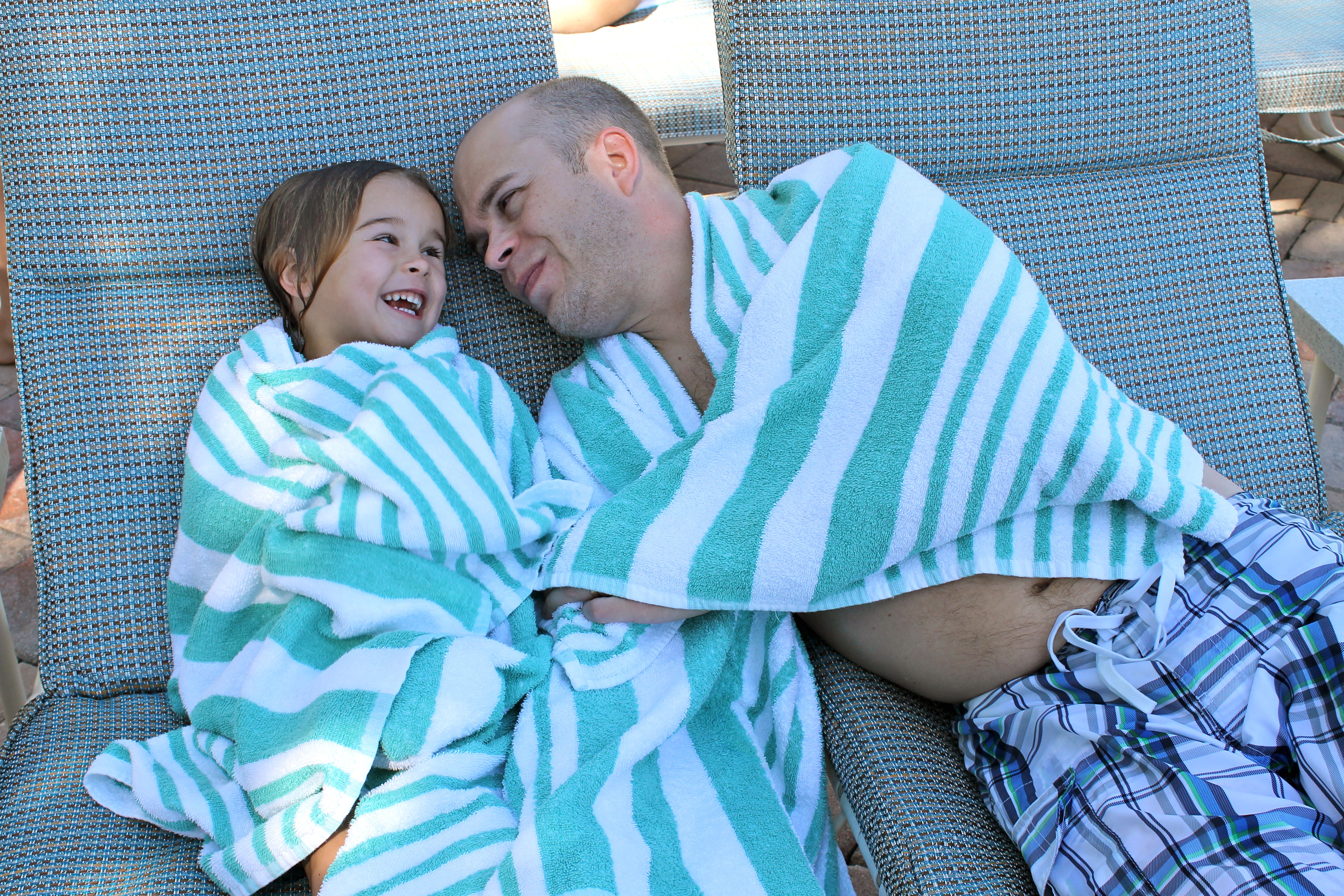 We were all exhausted at the end of each night, which is one sure sign of a great adventure.  My favorite photo of the trip is below and shows just how tuckered out the kiddos were: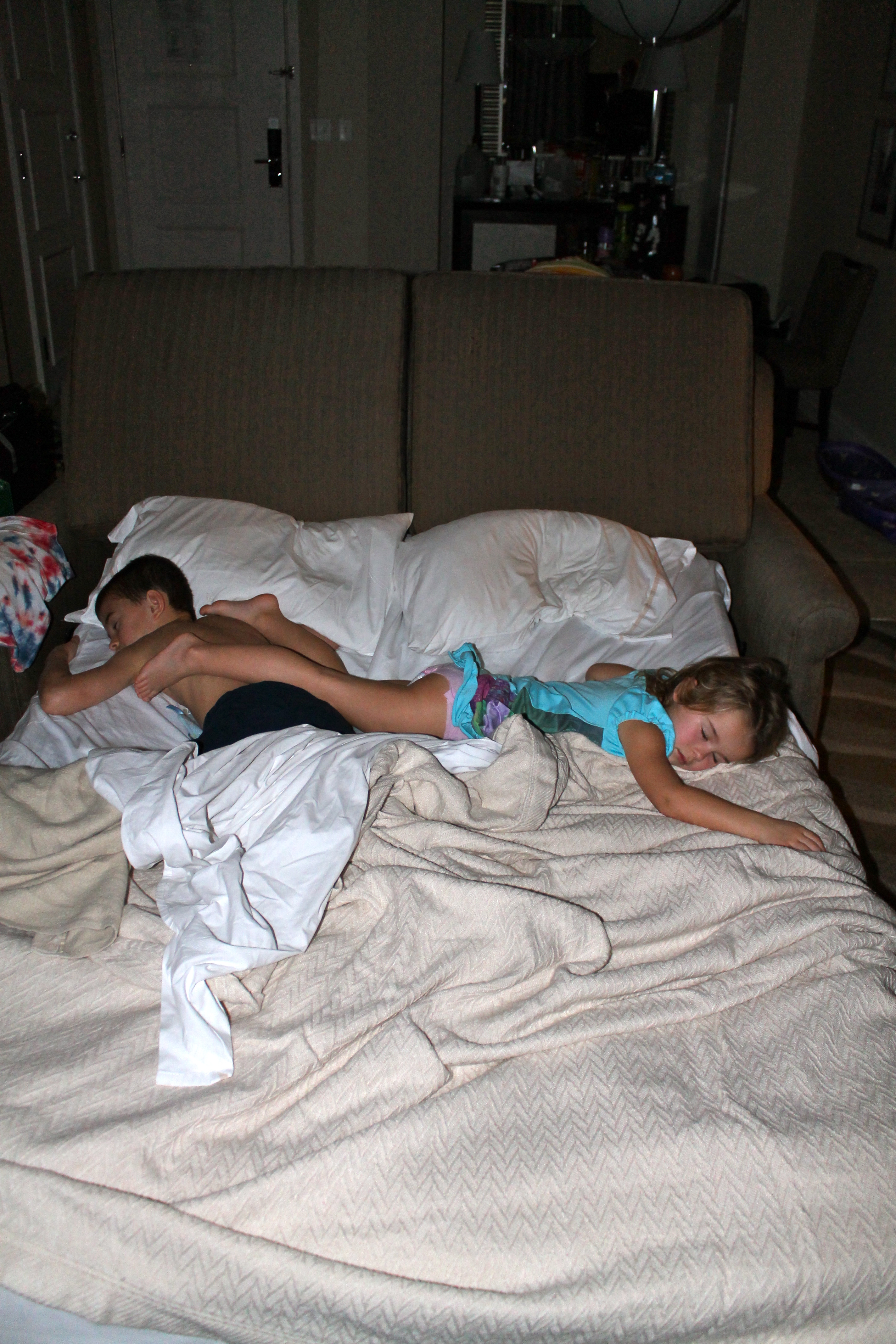 I love adventuring with my family.  We see, we laugh, we experience, we snuggle, we learn, we giggle…  it's just the best.  I love my family!