Pumpkin pancakes are delicious and at my house we eat them year-round.  Why?  Because I've found that adding a little flavor (could be something besides pumpkin – banana?  blueberry?) to our pancake batter was an easy way for me to make the switch to healthier, whole grain pancakes instead of those made with white flour, etc.
Long ago, I used to buy whatever box of pancake batter was on sale at the grocery store.  Which meant I was basically buying the junk foody kind… the brands with refined, white flours, etc.  Back then I didn't know any better, really.  But I was all proud of myself for making my son "homemade" pancakes once per week or so.  Things went on like that until Birdie was born and she pretty much rocked our world.  (You can read about that here.)  In dealing with a toddler and a not-too-happy infant, I bought my first box of frozen pancakes in the freezer section of the grocery store.  And the purchasing of those frozen pancakes continued far too long… until my little girl snapped out of her funk… okay, even longer than that.  😉
In time I realized I needed to both stop buying the frozen pancakes as well as the boxed mixes – because both seriously lacked any semblance of nutritional value for my kiddos.
So, I tried making some whole grain pancakes.  Once again, I was all proud of myself for recognizing that changes needed to be made and for taking the Mommy-reigns and going for it.  And ya know what happened?  It was a total bust!!!  I think the kids were in culture shock from such a change in both flavor and texture going from their old junk pancakes to the new healthy version.
So I employed one of my favorite tricks, the ol' halvzies trick – the same one I use for pasta sauces and almonds – I made batches of pancake batter using half old white flour mix and half new whole grain mix.  And it worked pretty well!  But then I discovered something that worked even better.  Adding flavors!!  By adding some flavor to my whole grain pancake batter, I no longer needed to use any of the white flour mixes because my kids were so busy gobbling up their breakfast raving about how their pancakes tasted like pumpkin bread.  SUCCESS!!!
So here's what I've been doing ever since making these changes.  First I gather up my ingredients: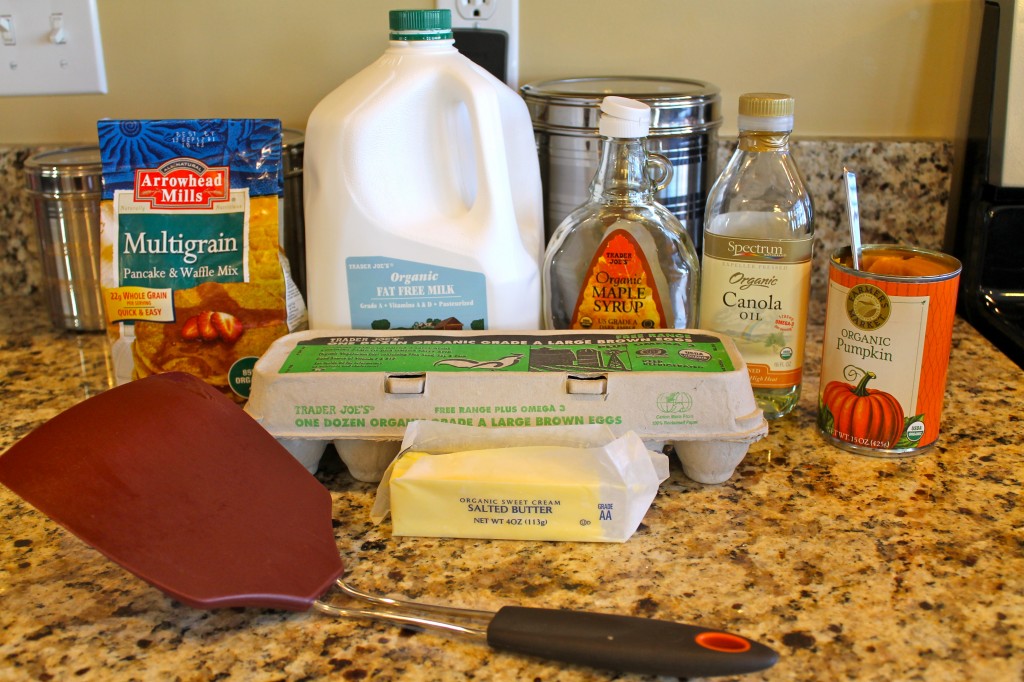 Sometimes I have "helpers":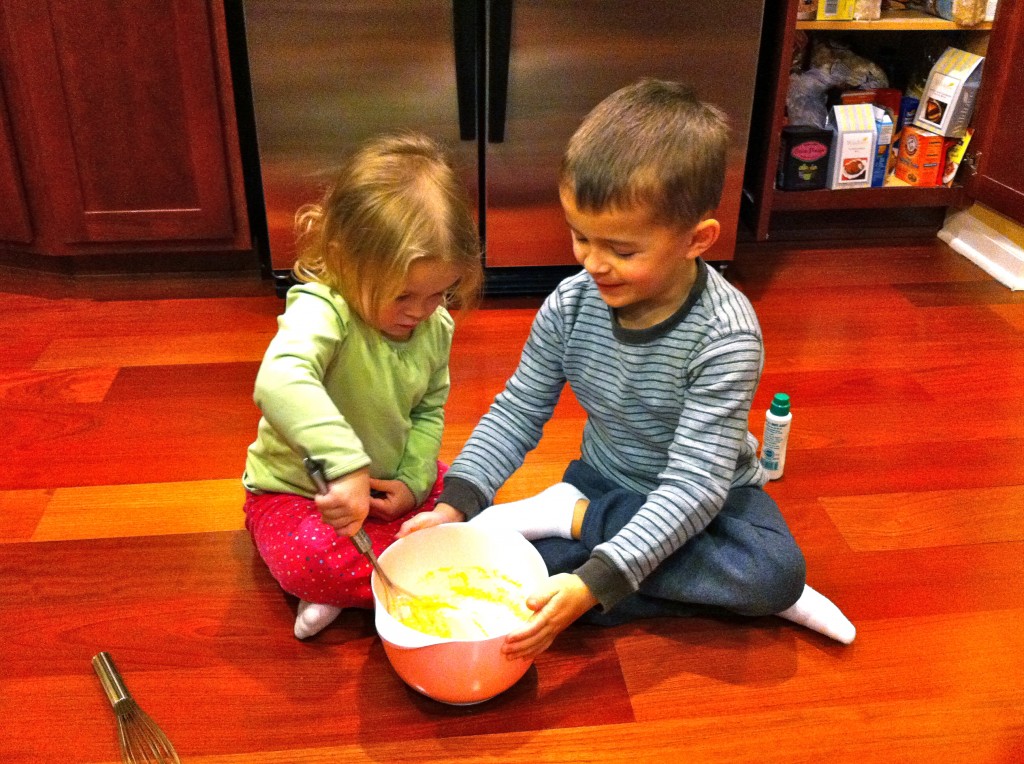 My kids "help" me a lot in the kitchen.  Yes, it makes things take longer and is a LOT messier, but it also makes my kids curious about food and interested in trying new foods out.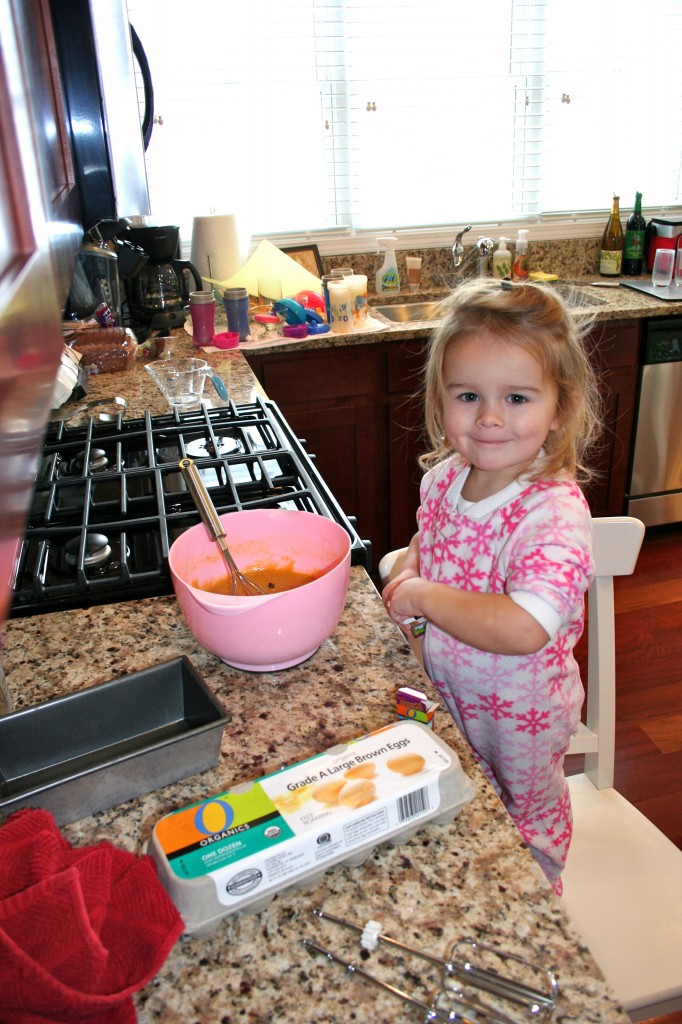 After mixing up at least 2 batches worth (sometimes more), I make a LOT of pancakes on my skillet.  (It always takes a few pancakes to get my skillet heat just right.  Does this happen to anyone else???)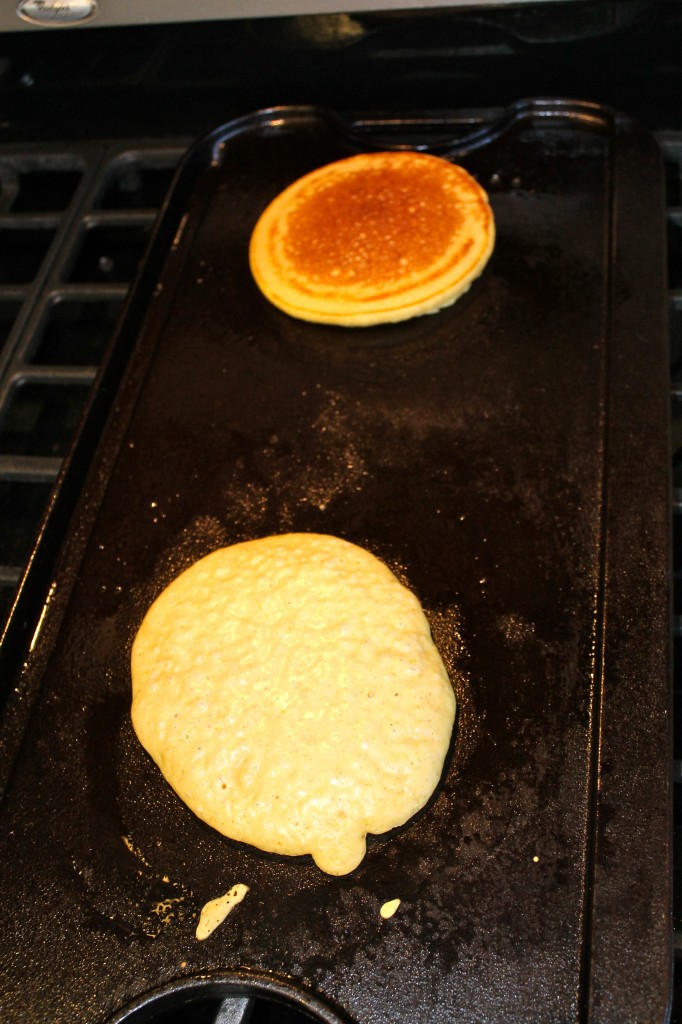 We eat quite a few that day, of course, but I package the rest of them up and label them: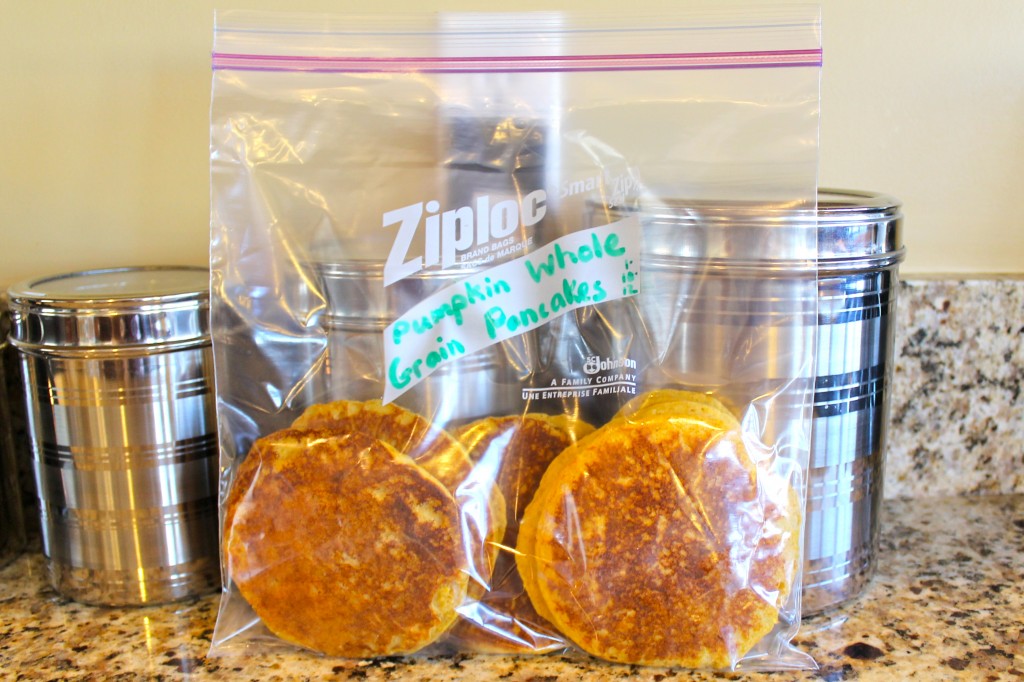 I toss a few bags of these into my freezer and – Voila!  Frozen pancakes!!!  This solves a couple of problems:
1.  My kids are now eating pancakes with lots of nutritional value due to the whole grains and the pumpkin.  Makes me feel good knowing I'm doing the right thing for their little bodies and brains.
2.  I have my own "frozen pancakes" at the ready so any morning when my kiddos are in the mood for pancakes, I don't have to make them from scratch!  I just warm them up and they're ready to go.  Yay!
Now I make these about twice a month.  This is a small change, but one that I'm glad I didn't put off.
Do you flavor your pancakes?
~Mae
Don't forget to "like" the Bring Mae Flowers Facebook page to keep up with new posts.  Lots more simple health changes to come!