My husband loves them!  My kids love them!  I love them!  Protein Energy Ball Bites are a lot like indulging in a hunk of delicious cookie dough but they are healthy enough to be a great snack or meal!  Check it out!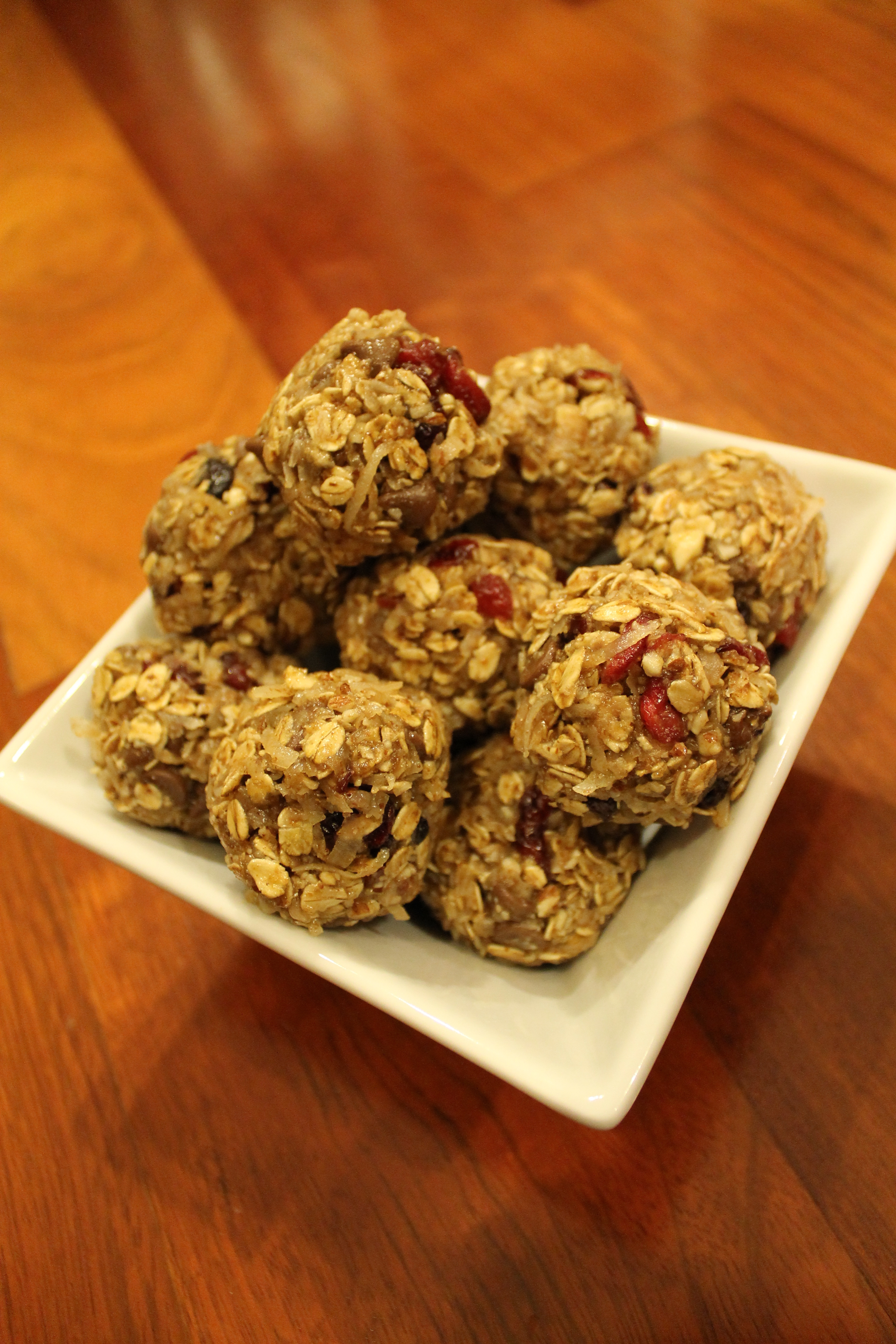 My husband recently started working at a new company.  (Remember our awesome Summer of George in between his jobs?)  He takes the train into the city most days.  Babe takes the super-duper early train and gets up at what he refers to as "dark-thirty" so he can get to his office and get going with his day.
This means that there are a LOT of hours between when he wakes up and when he eats lunch, thus he truly needs to eat breakfast.  (Really though, everybody needs to eat breakfast!)  Babe's breakfast has to be something convenient and on-the-go, because he's not going to get up any earlier than "dark-thirty" just so he can eat.  We thought about a few different ways to solve his breakfast dilemma – granola bars, nuts, smoothie drinks… and then I decided to try making something I'd heard about.  I mixed up my first batch of Protein Energy Ball Bites for him to see if that would work.  Babe LOVED them and thought they were easy to eat on the train so they were our winner!
To begin, I started looking through a few recipes along these lines on Pinterest (do you follow my boards on Pinterest yet?  Follow mine so I can follow yours, too!)  I finally settled on a combination of a few of the recipes because I just couldn't decide on one.  I picked out certain ingredients from each that I thought Babe would like the flavor of, and that would be healthy all at the same time.
I'm several months into making these for Babe and would like to note that I have made each batch slightly differently each time.  Sometimes I add more of one thing and less of another.  The last batch I made omitted the raisins and instead used dried cherries because Babe wanted to try that instead.  So if you want to make Protein Energy Ball Bites for your own family, don't feel restricted.  Just put in some healthy ingredients with flavors your family prefers and add a healthy binding agent or two to make it all stick.
Here's the recipe I used the first time.
1 cup shredded coconut (unsweetened)
1/2 cup chocolate chips
1 tsp pure vanilla extract
1/4 cup ground flax seeds
1/3 cup honey
1/4 cup natural peanut butter
1 1/4 cup oats
1/2 cup raisins (or dried cranberries!)
Pinch of sea salt
1/3 cup maple syrup
1/2 cup chopped almonds
2 tbsp PB2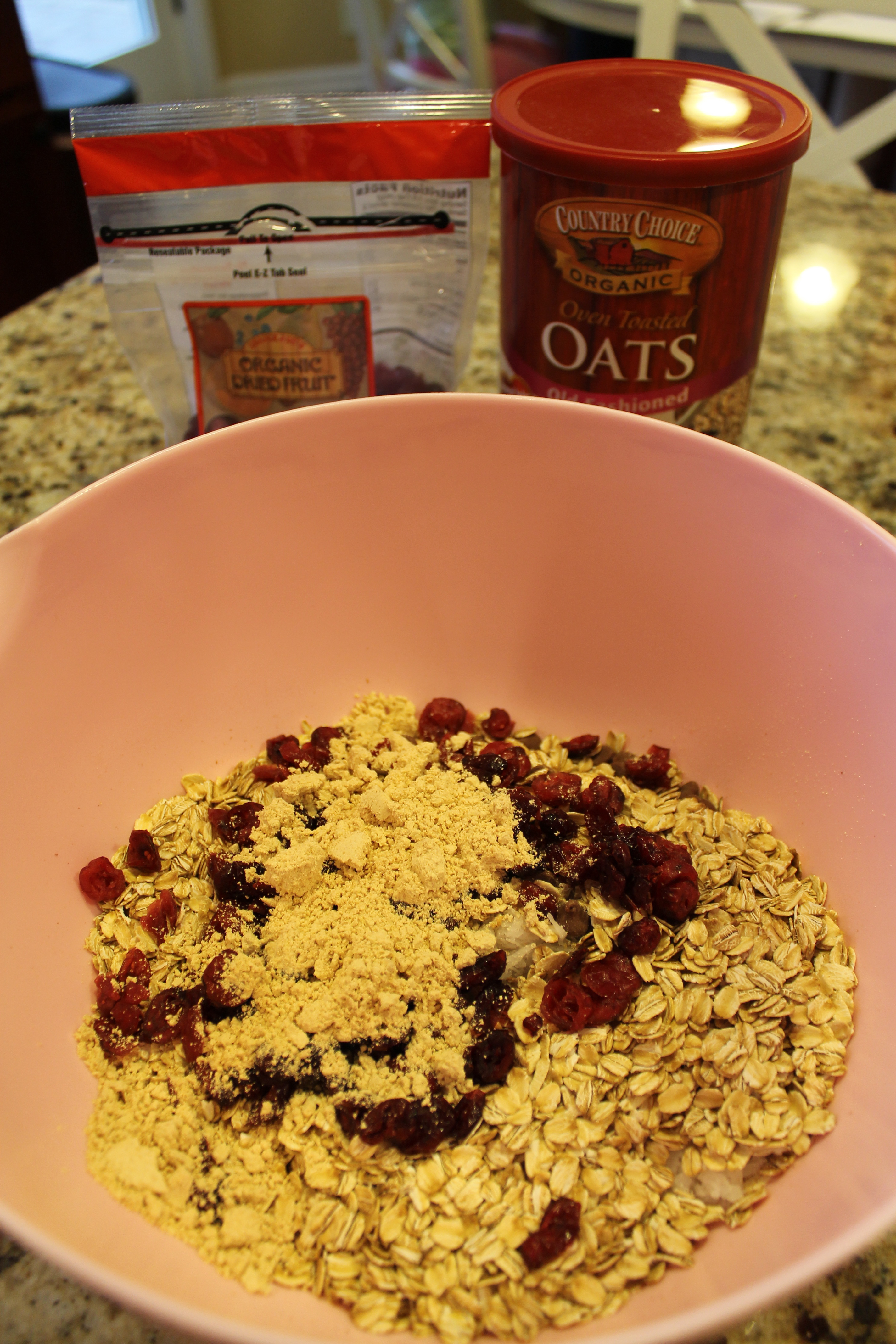 Mix all ingredients in large bowl.  Put bowl into fridge for a bit (maybe 10 minutes or so – just enough time to clean up the ingredients and get ready to make the balls) because the colder the mix is, the easier it will be to form into balls.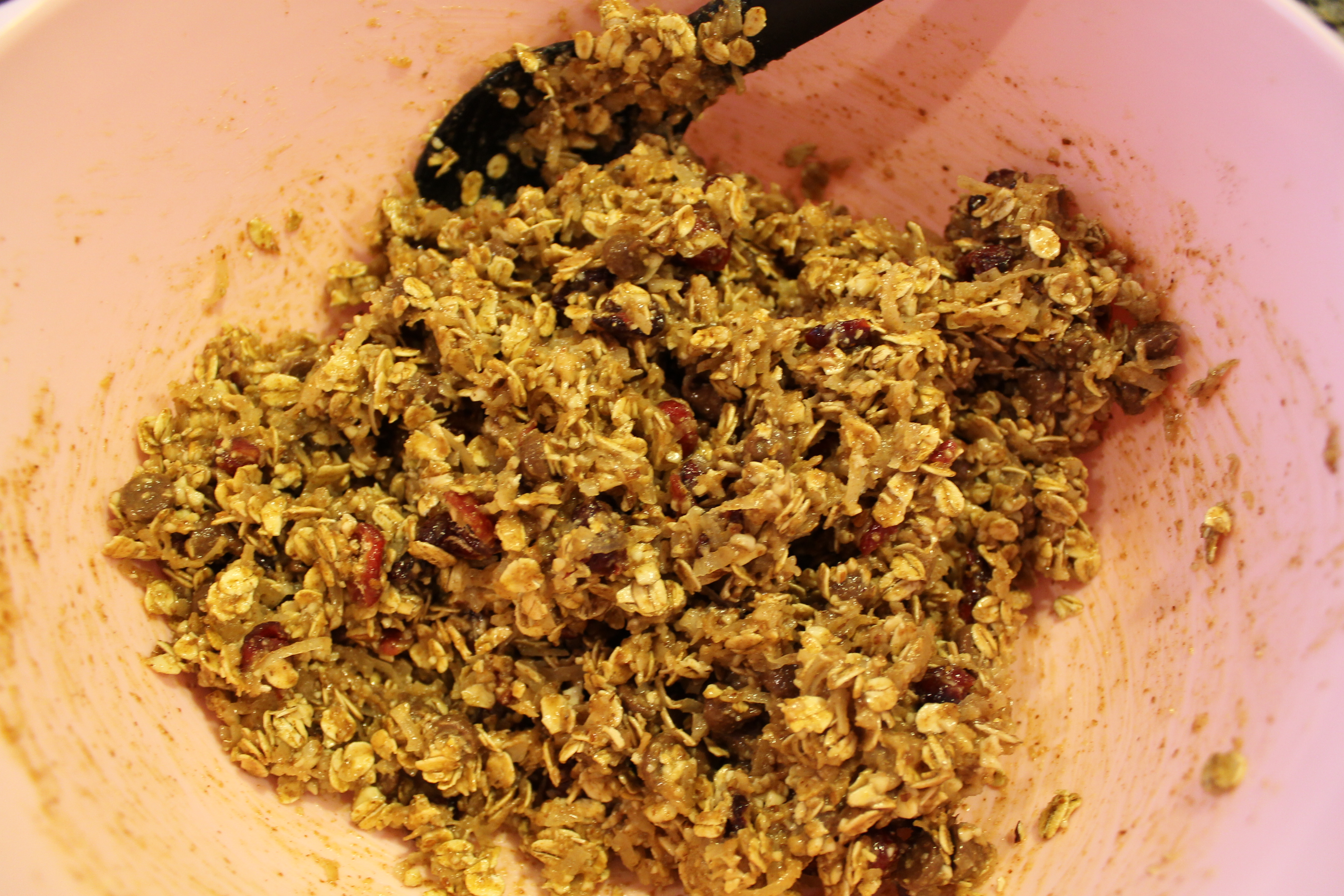 Form into small balls with hands.  I use a measuring cup to ensure they are all uniform in size: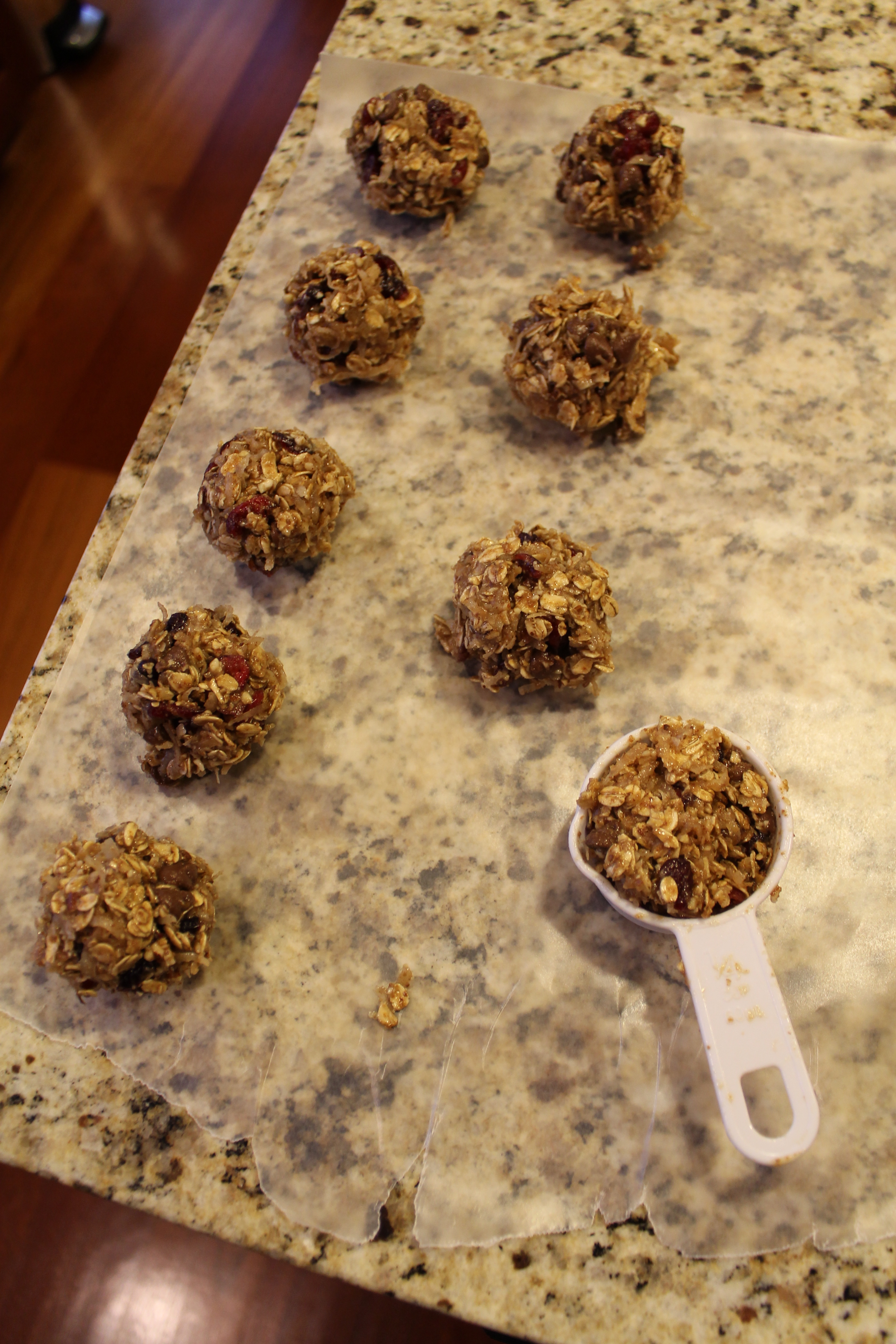 Put the ball bites into the fridge for a bit to help them set their shape: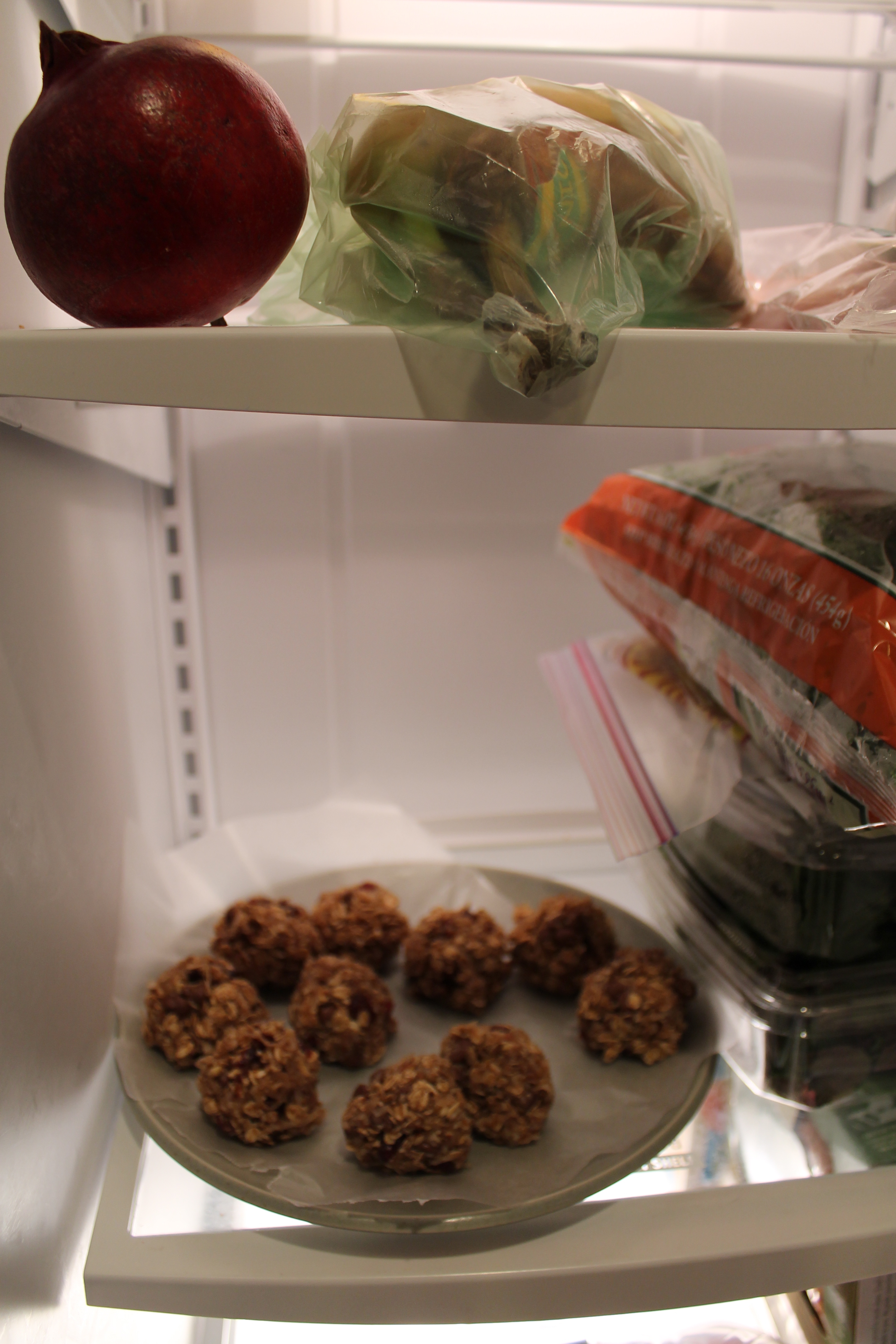 And then… enjoy!!
I make a large batch or two each time and put each Protein Energy Ball Bite into a little "single serve" baggie.  That way Babe just grabs one out of the fridge each morning and eats it later while he's on the train.  I leave a few in the fridge and I freeze the rest to keep them fresh: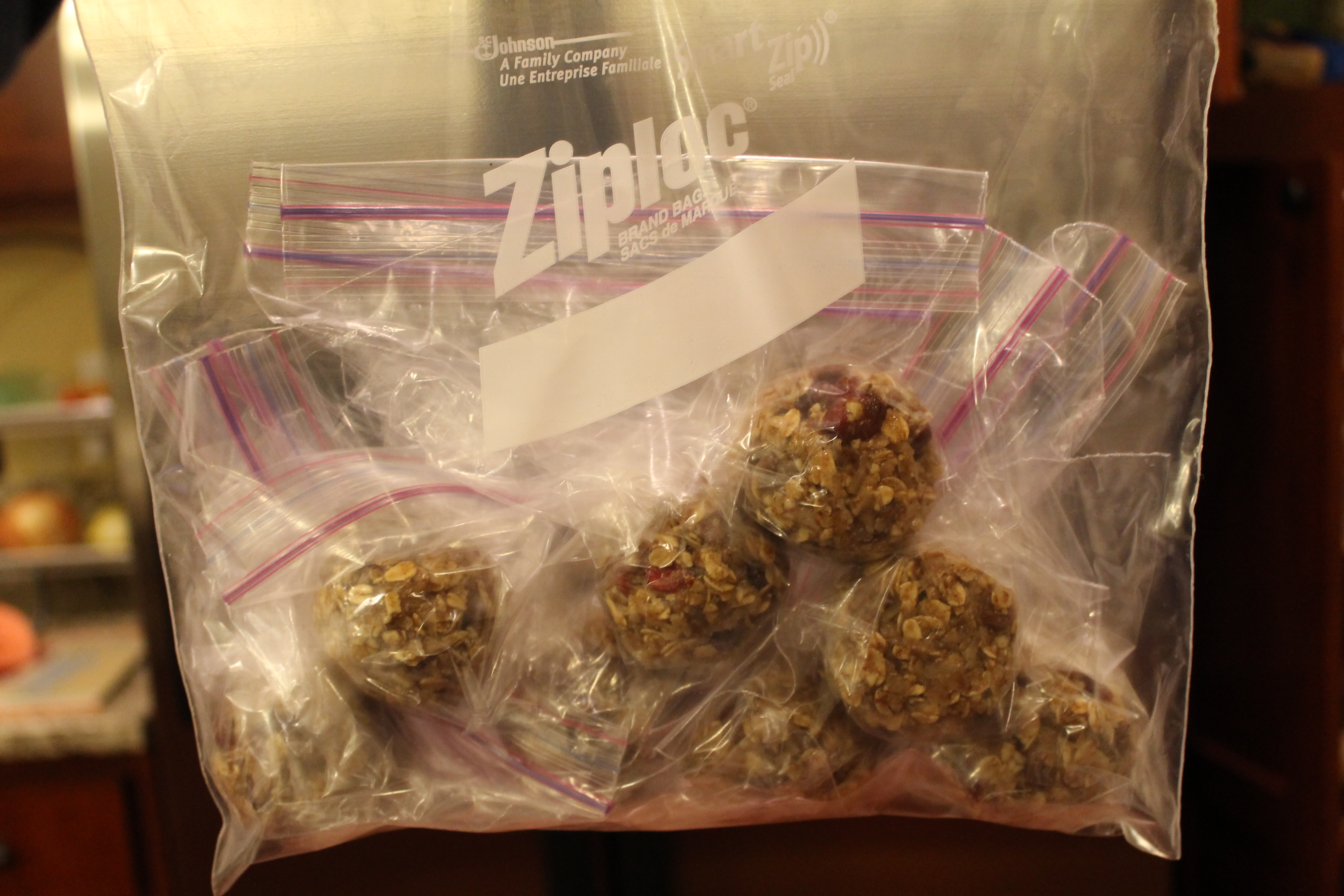 Now my husband has a handy, healthy little breakfast to eat on the go each morning and I feel good knowing I know every ingredient in it.  Oh, and did I mention they are so seriously delicious that my kids beg for them?!?  It's like eating an oatmeal peanut butter cookie that just never made it into the oven.  Yum!!
I shared this recipe with a woman I sometimes work out with and she told me the other day that her family is addicted to them, too!  So funny!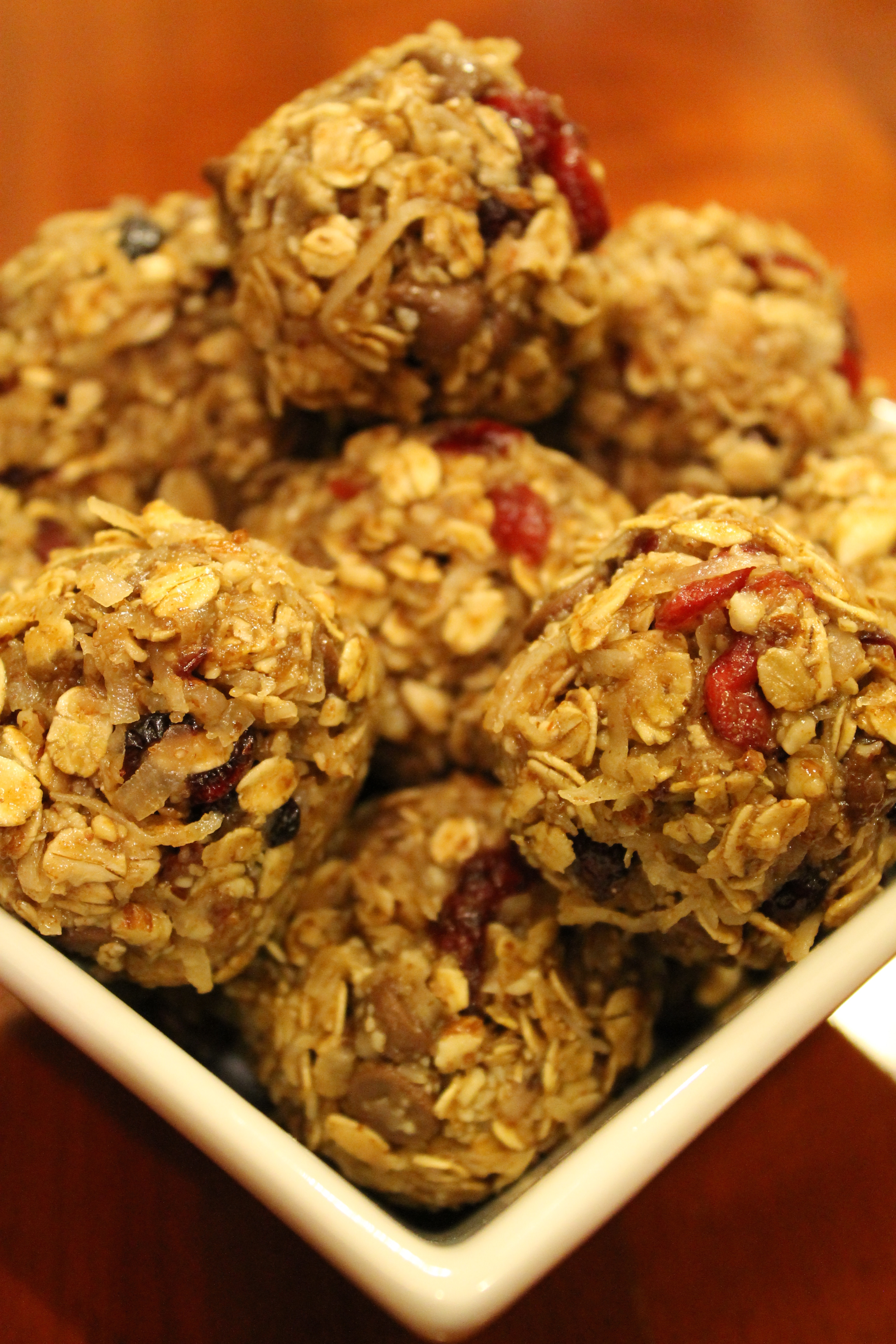 If you are looking for a good breakfast or snack to eat on the go, give this recipe a try!  You will not regret it!
What do you do for quick snacks & meals on the go?