Happy Friday, Everyone!
The weather here isn't so happy.  It's been raining for days.  We stayed in this morning and the kiddos helped me bake some muffins.  Seemed like a good thing to do on a cold, dreary day.  We tried a new recipe (thanks to Google!) because I had some overripe bananas.  I wound up selecting to make a healthy version of banana-pumpkin muffins because the recipe called for whole wheat flour, no oil, and I already had some frozen pumpkin in baggies in my freezer for mornings when I make pumpkin pancakes.  The kids love mashing bananas so any kind of banana bread recipe is extra fun for them!  The muffins turned out pretty good in terms of flavor, although I think I underbaked them just a tad.  It's always hard with recipes that give a time and oven temperature based on baking a loaf, because we always make that kind of thing into muffins and mini-muffins because that's the shape we prefer, so I'm always trying to guesstimate the time change from a loaf to muffins.  It's always interesting!  Also, next time I plan to add some nuts.  (If you are interested, this is the recipe I chose to use.)
Anyway, back to today's topic – a new Friday Favorite Thing item:
Safety Tattoos!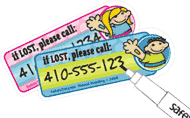 I wanted to share this item with you today because it has been on my mind since we recently got back from a family trip to Disney World.
Safety tattoos are basically little temporary tattoos for kids that you put on your child's arm with a little water.  When you buy them, you personalize them with your cell phone number.  That way, if you are out at the zoo or at a baseball game or somewhere "big" and your child gets separated from you, s/he can show their tattoo to an adult and that person can call you and say, "Don't worry, I found your child, he's standing in front of the penguin exhibit" and you can run over there and rescue them.
I bought my safety tattoos when Bubba was just about one.  I think they are such a great tool to use during those years when your child is old enough to walk, but not old enough to be able to give information like his/her parents' names and cell phone numbers to an authority figure.
These are what mine look like: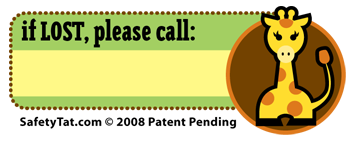 I chose a cute little giraffe because it was "unisex".  (And obviously, mine isn't blank, it has my cell phone number on it in the yellow space.)
Thankfully, even though we've gone to "big" places with the kids and had them wear their safety tattoos, we've never had to truly use our safety tattoos.  And fingers crossed we never will!
There are lots of companies that make these.  The company I bought mine from was called SafetyTat and I was very happy with my experience with them.  You can check out their website by clicking here.  The basic safety tattoos come personalized – I got 24 for about $20.  They offer all different designs – you can even customize with warnings like, "Nut Allergy!", "I'm non-verbal, please call", "Diabetic", or "I have Autism, please call".
There you have it!  Another Friday Favorite Thing from Bring Mae Flowers!  Is this something you could use with your family?  Is this something that would make a great gift for a baby shower or a one-year-old birthday party?  I think so!  What do you think?
To keep up with what I'm doing to live a healthier life and to make sure you see the next Mae's Favorite Things Friday Post, make sure to "like" the Bring Mae Flowers Facebook page here!
Enjoy your weekend, everyone!
~Mae