Admission:  I'm a recovering scented fabric softener addict.  For real.  I once had a specific brand and scent I was addicted to and it was discontinued.  I literally drove to a half-dozen stores to attempt to stock up.  I cannot believe I ever did that.  Ask my husband… it was ridiculous.
Soon after that, I learned a little about laundry soaps and fabric softeners.  As a mom, I was so concerned about what I was putting in my children's bodies in terms of nutrition, but hadn't even thought once about the fact that the laundry detergent I was using was filled with toxic chemicals.  And what I learned kind of freaked me out.
First of all, I've come a long way with the "scent" factor.  I used to think that when I could smell that certain scent, be it from fabric softener or other household cleaners, that what I was smelling was "clean".  But actually it's just the opposite.  What I was smelling was a chemically produced scent to make me THINK something was clean.  Clean has no smell.  Think fresh air.  THAT'S clean!  It has no smell at all!  My laundry smelled like cucumbers and I thought that meant it was "fresh" but actually I was inhaling some random perfumes or dyes that a company added and was telling myself that my clothes smelled "fresh".  Now that I'm so used to what "clean" and "fresh" ACTUALLY smell like, I almost gag when I walk past the laundry aisles at Target.  That whole aisle REEKS of perfumes and fake smells.  Nasty.
Did you know that when you do laundry, the detergent &/or softener doesn't all wash away?  I didn't.  Toxic chemical residue is left on the clothes.  The clothes hang all over the skin all day long.  (Plus you sleep on your sheets at night which have been laundered as well.)  With our skin being our largest organ, it only makes sense that our skin soaks in this toxic residue, which can cause irritation to sensitive skin, allergies, and possibly worse because some some mainstream detergents contain carcinogens.  Freaky!  Someone once told me that a scientist can actually tell what kind of laundry detergent you use by analyzing a blood sample.  Super freaky!
The first products I ever fell in love with from Shaklee were the laundry supplies.  There are so many great things about them (some of which I'll list below) but the best thing about them is that they make me feel like I'm doing the right thing as a mom by using them because they're natural and non-toxic.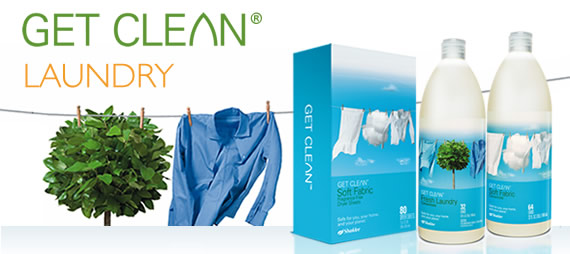 The Shaklee Get Clean Fresh Laundry line is hypoallergenic, fragrance free, biodegradable, contains no phosphates, no chlorine, no dyes, etc.  It's also compatible with all HE machines… score!
Here's exactly what I use (with links if you want to learn more):
1.  The Fragrance Free HE Compatible Concentrate (liquid)
2.  Nature Bright Laundry Booster & Stain Remover
3.  And I go back and forth between the Soft Fabric Concentrate and the Fragrance Free Dryer Sheets
My laundry comes out looking beautifully clean and I know when my kids run around in their clothing their skin isn't soaking in scary toxins.  It's one less thing for me to worry about.  I worry a lot so this is a very good thing.  😉
The Shaklee Get Clean Laundry Concentrate is just what its name suggests… it's concentrated!  So the Shaklee bottle is 32 ounces and it actually lasts as long as one of those gigantic jugs people lug out of the grocery store.  I only use ONE OUNCE of the concentrate per load.  Do you know how small one ounce is?  I didn't.  It's not a lot.  And you don't need to use a drop more than that because it's so concentrated.  Love that!
A lot of people think "natural" cleaners are more expensive.  This is not the case.  (First of all, even if it was the case, I'd make an argument with any of my close friends that it was worth the extra money for the toxicity reasons stated above, but since I'm going to break down the price comparisons here for you, I won't have to argue with any of you!  HA!)  I'll do all the math for ya… check it out…
Let's start with laundry detergent.  Shaklee's Fresh Laundry Powder is a decent price at 17.1 cents per load as compared with a name brand like Tide which would come out to be 18 cents per load.  (I will admit… I haven't tried the powder.  Why?  Here's my lazy admission… I'm not sure how to use the powder in my HE machine and I have just always been too lazy to find the owner's manual to look it up.  So really, I am THAT lazy.  So I bought the Fragrance Free HE Compatible Concentrate (liquid) and liked it right away and just never made the switch to powder.  I do need to look into it though… better put "find washing machine owner's manual" back on my to do list… for about the millionth time!  Ha ha ha!)
Let's say for the comparison of the fabric softener component, that a person is already using something "green" like Seventh Generation's fabric softener.  That costs 14.9 cents per load.  The Shaklee Get Clean Soft Fabric product still beats that price at 13.5 cents per load.
The laundry stain remover is the biggest deal in town.  If a person uses a product like Shout Triple Acting Stain Remover to take out kids' constant stains, it's going to cost about $17.02 per gallon.  The Shaklee Get Clean Nature Bright will only cost $2.29 per gallon.  So awesome for the pocket book!
If you are interested in trying these products I would encourage you to give it a go.  There's a money back guarantee so there's really nothing to lose.
Unless you really like toxins.  Kidding!  (Sort of.)
Here's a link that will take you directly to the laundry products on my Shaklee site if you want to poke around.
So there you have my favorite thing(S) for this week!
What do you think?  Have you made the switch yet to a chemical free way of doing laundry?
Have a great weekend,
Mae