Lentils???  Yep, lentils!!  We've all heard by know how we should be incorporating more lentils into our American diets, right?  Lentils are a great, meatless way of packing our meals with protein and an amazing source of fiber as well!
Today I just have to share with you one of my new favorite recipes!  It's fast, simple, easy, delicious, and healthy!  It's called Lentil Bruschetta Dip.  My kiddos call it "Pizza Dip on a Chip" because it rhymes, but I decided to stick with the original name for my post.  (Although I think the kiddos are onto something… their name does sound more appetizing!)
I'm telling you, it is so good – I crave it!  We had Halloween candy in the house over here for a week and I was craving this recipe even over the chocolate… that's gotta tell you something, right?!?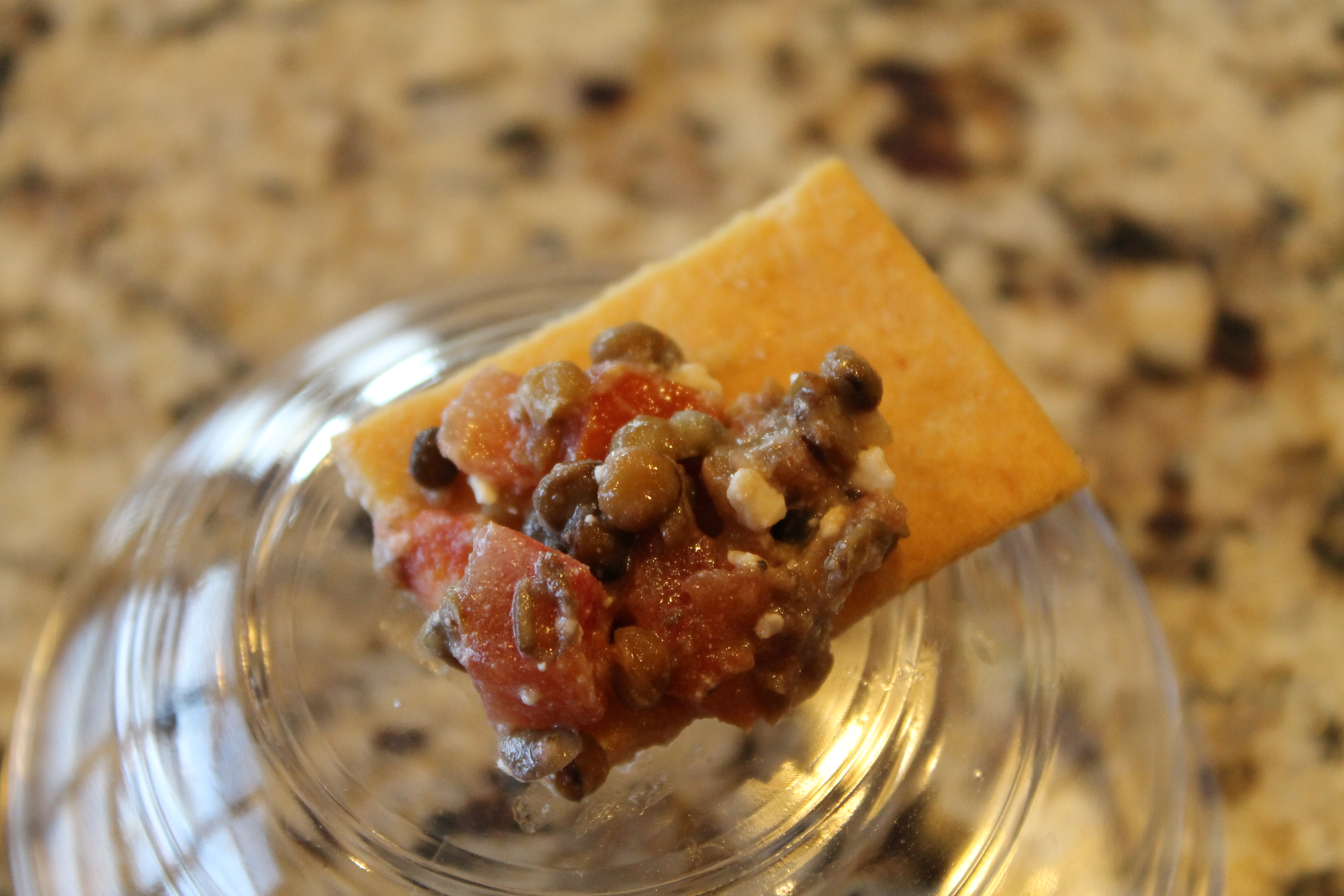 I was first introduced to this recipe by the fine folks at my local Trader Joe's at their little taste test stand in the back of the store.  They always have something out for customers to try.  It's hit or miss with me.  But on the day I tried this recipe I was sold immediately!  Yum!
Okay, want to know how easy it is?  It only requires 3 ingredients (Now that's my kind of recipe!):
Take 1/2 the package of Trader Joe's steamed black lentils, 1 tub of Trader Joe's fresh bruschetta, and 1 tub of Trader Joe's crumbled feta with Mediterranean herms and dump them all in a bowl.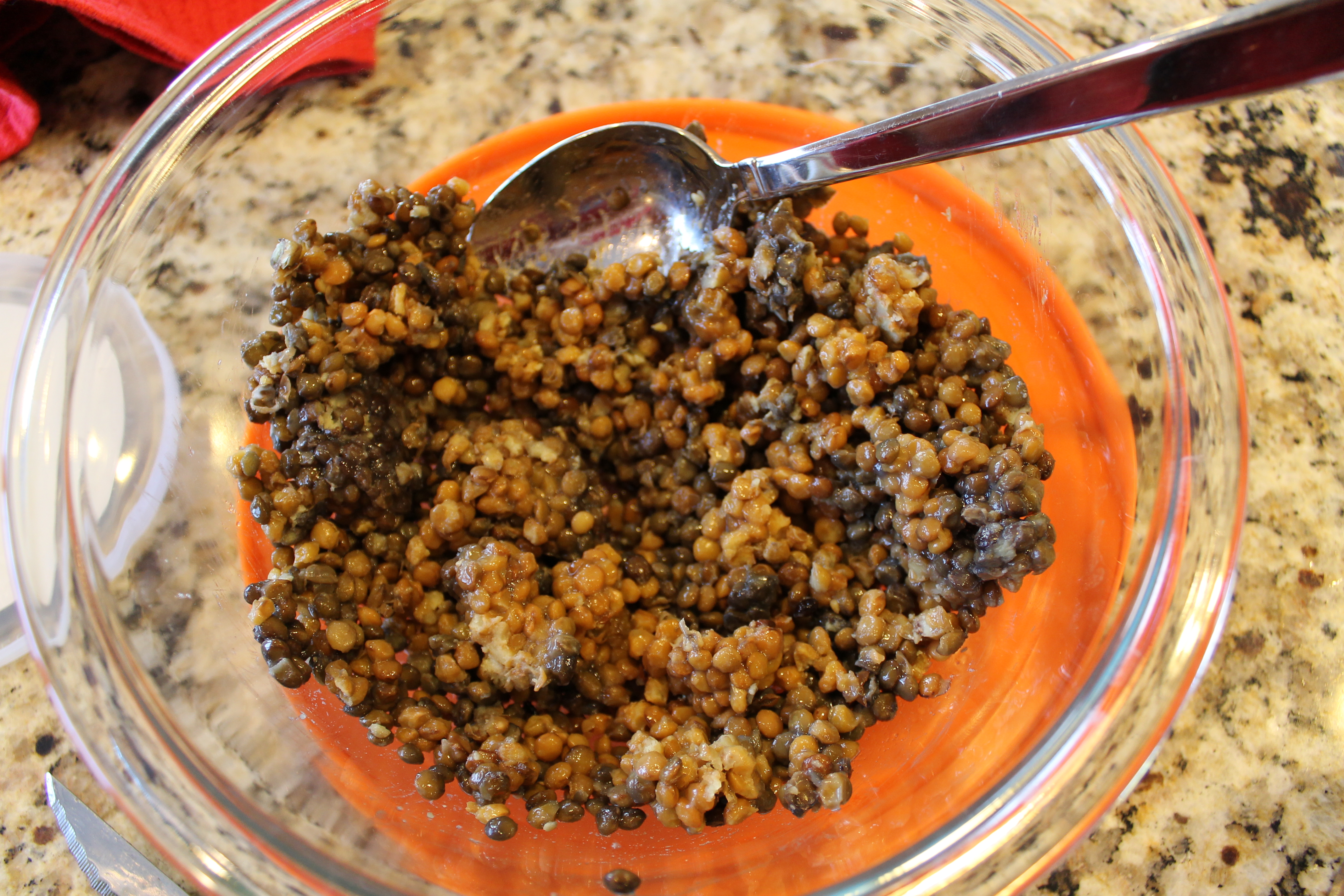 And then you mix them all up.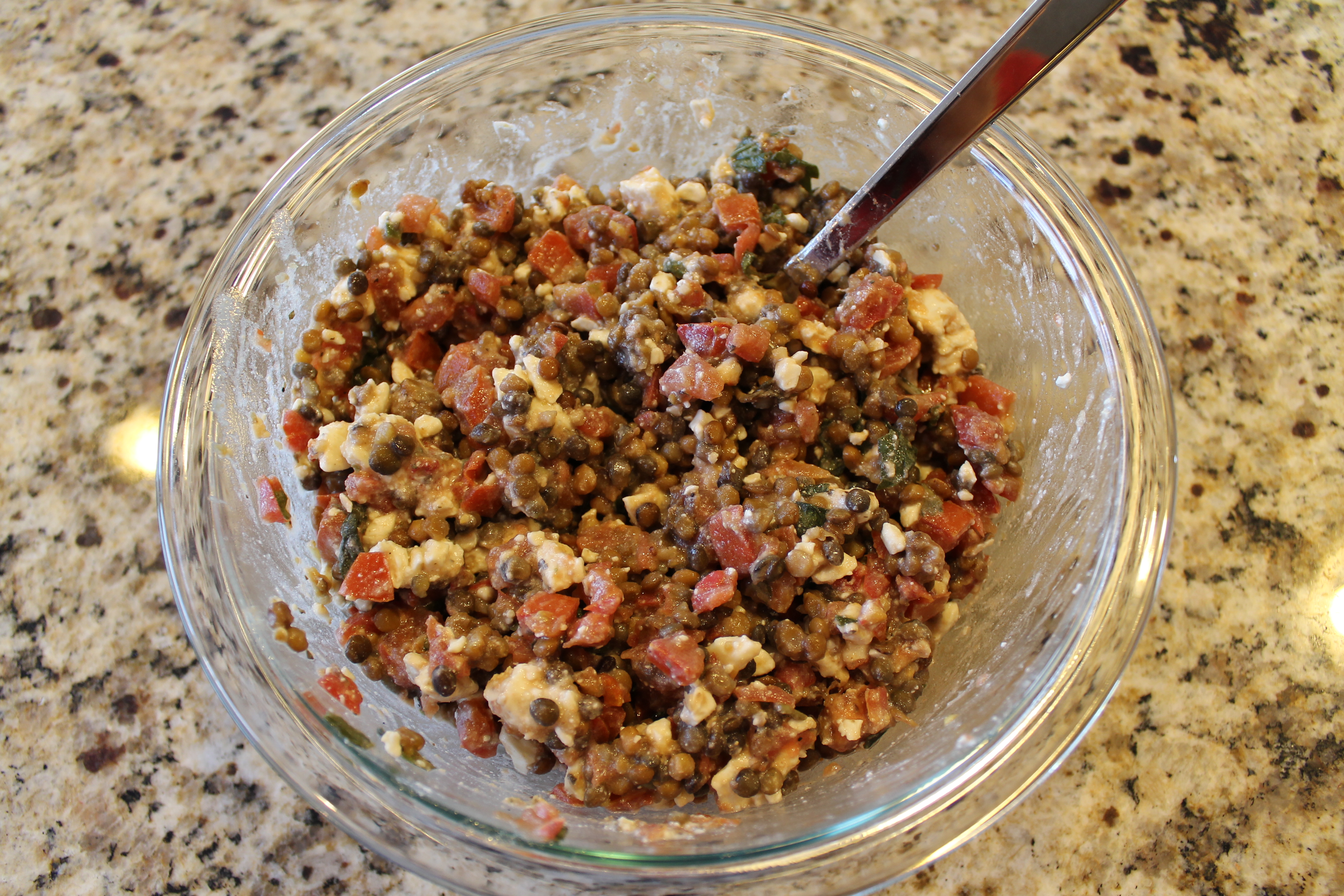 And then you eat.  (Well… technically you are supposed to chill it for 20 minutes to let the flavors combine, but I'm usually impatient and hungry and excited because I know how yummy it's going to be so I rarely can stand to wait… I just dig in.)
So I know this recipe is called a dip, but I actually have used it as a meal quite a bit as well.  No, really!  The lentils are packed with protein and fiber, so for me, this is a perfect little recipe!  Here was my daughter's plate one night last week: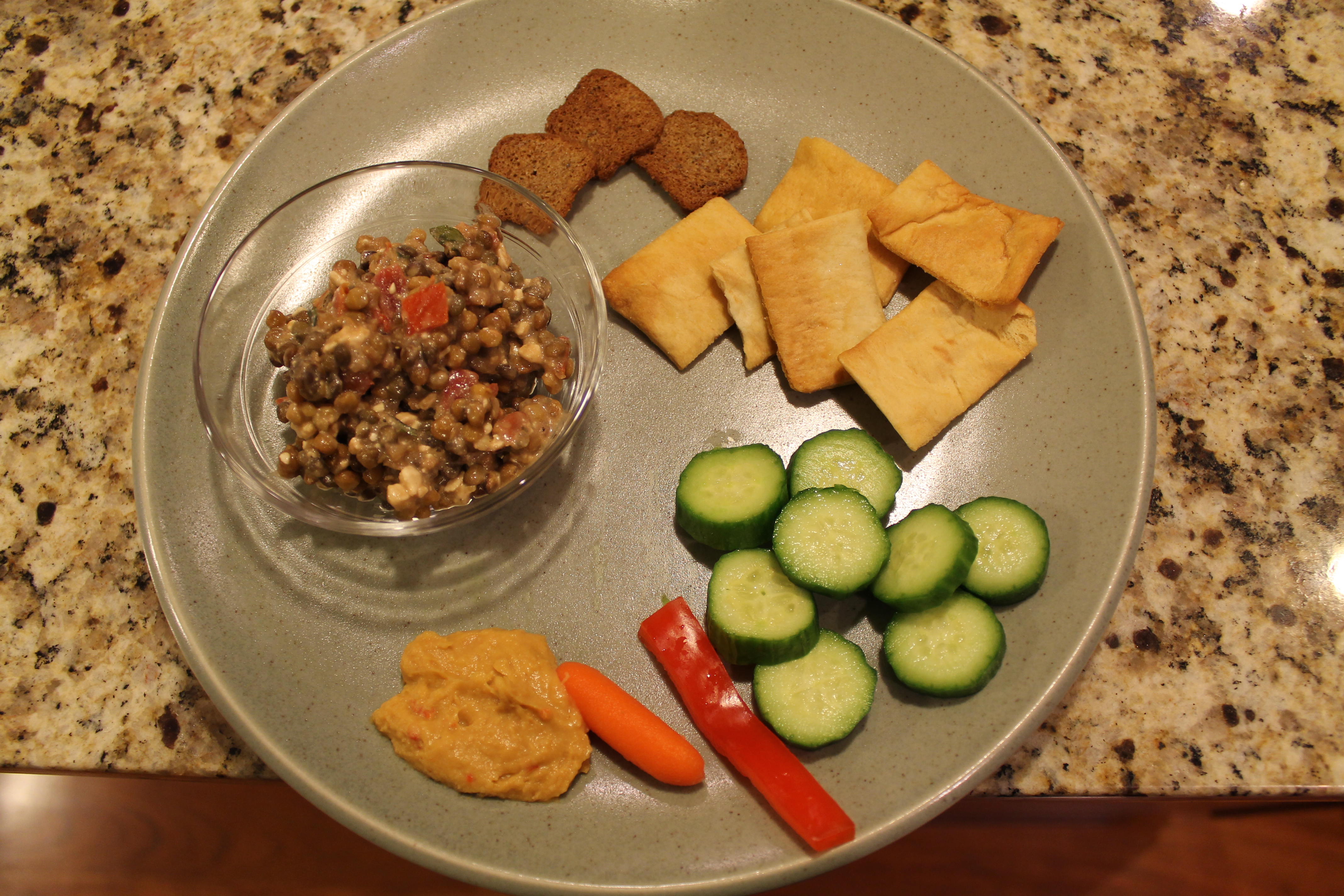 Obviously, the healthiest thing would be to dip veggies into it.  But I went with a couple of other options to see what I thought was best.  I bought some pretty standard pita chips and some little rye crisps that caught my eye because my husband loves anything rye.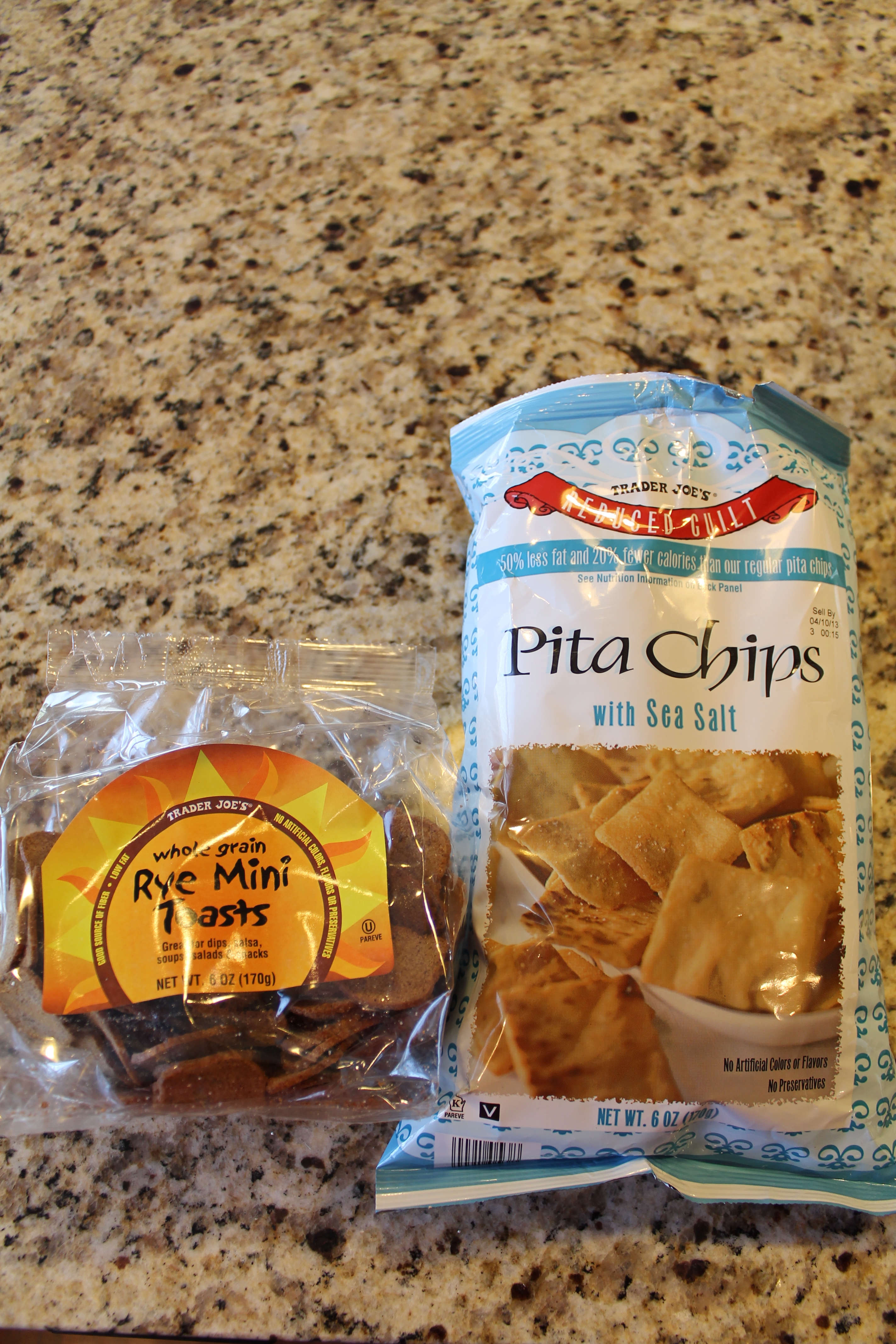 Our family unanimously agreed that the pita chips worked better for this.  (But those little rye crisps were tasty little buggars!)
Now, you know me, I have to go and analyze everything.  So here is a look at the ingredients and nutritional breakdown of this dish:
Pita chip ingredients and nutrition label (not the greatest – thus why it's best to eat this dip with veggies and skip the carbs: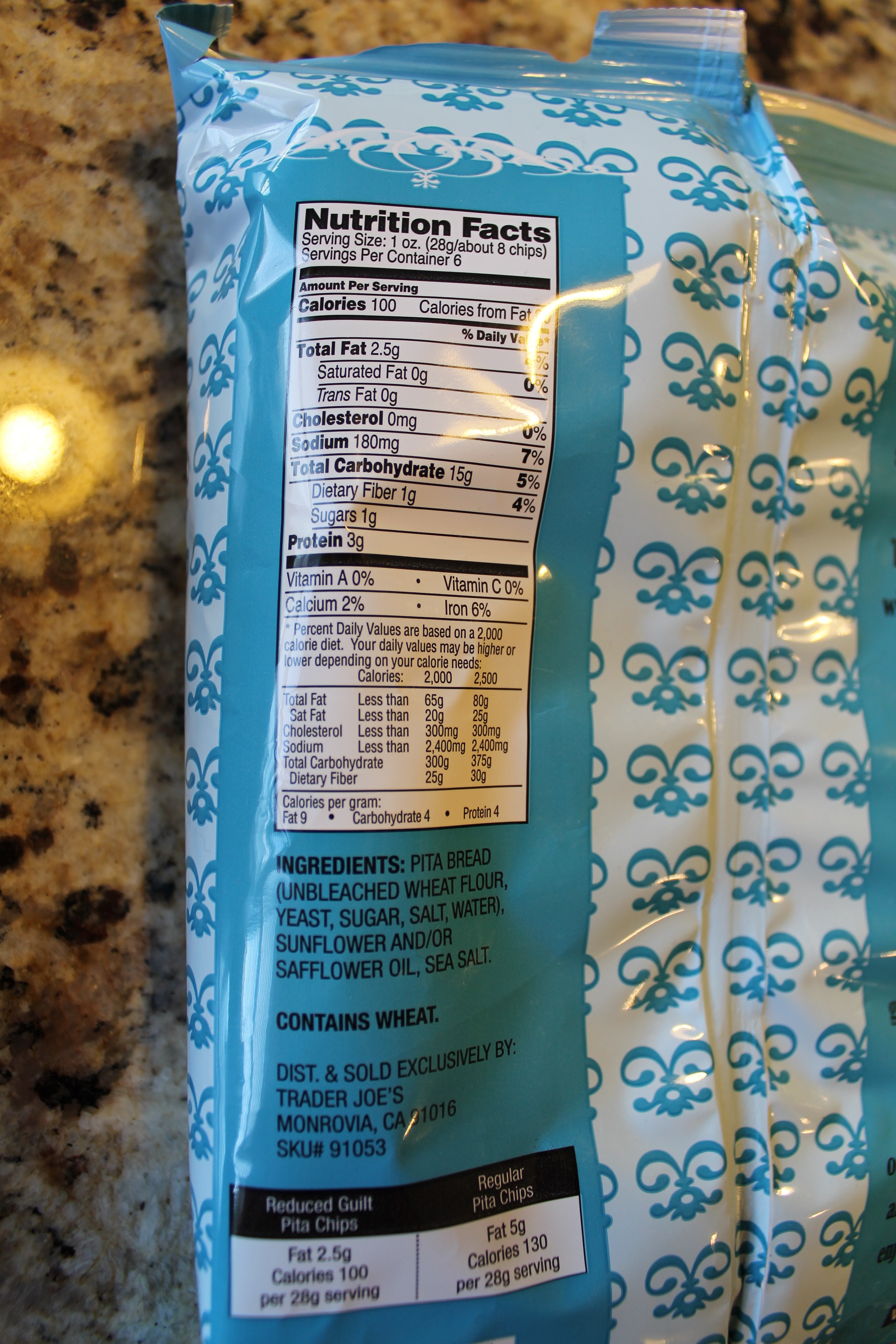 The rye crisp ingredients and nutrition label: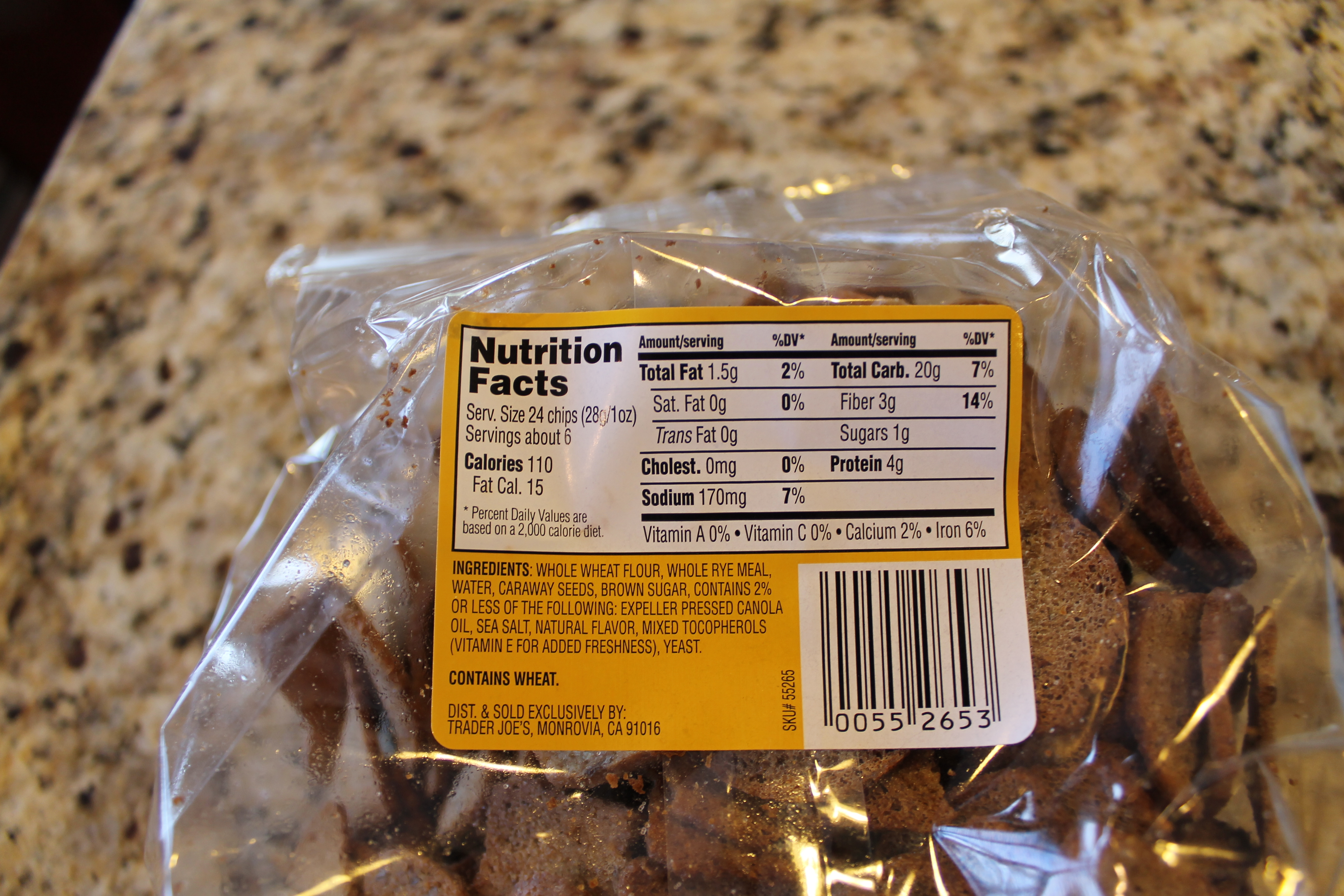 Steamed black lentil ingredients and nutrition label (Wow!  8 grams of fiber and 9 grams of protein in just a 1/2 cup!  Awesome!):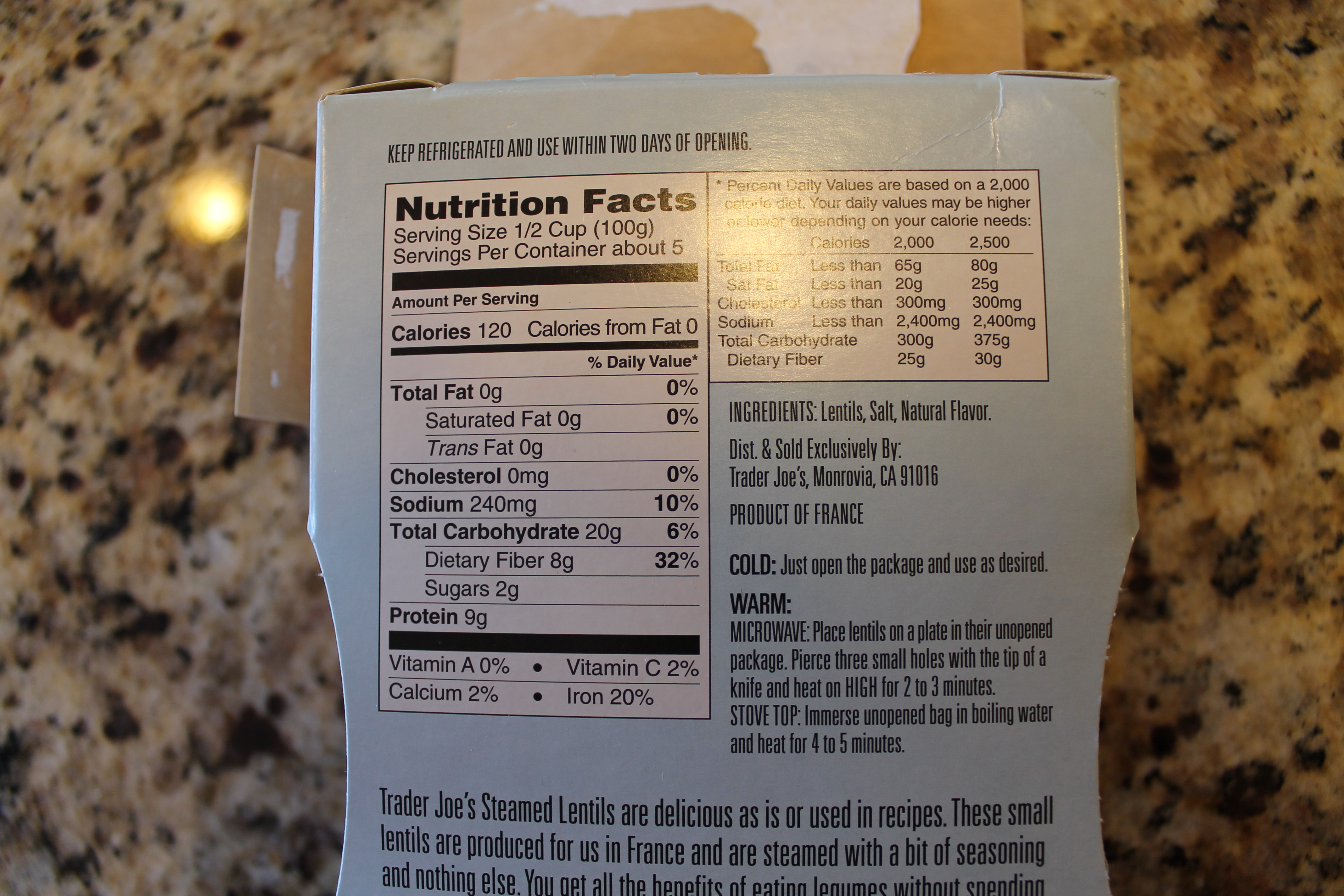 Feta ingredients label: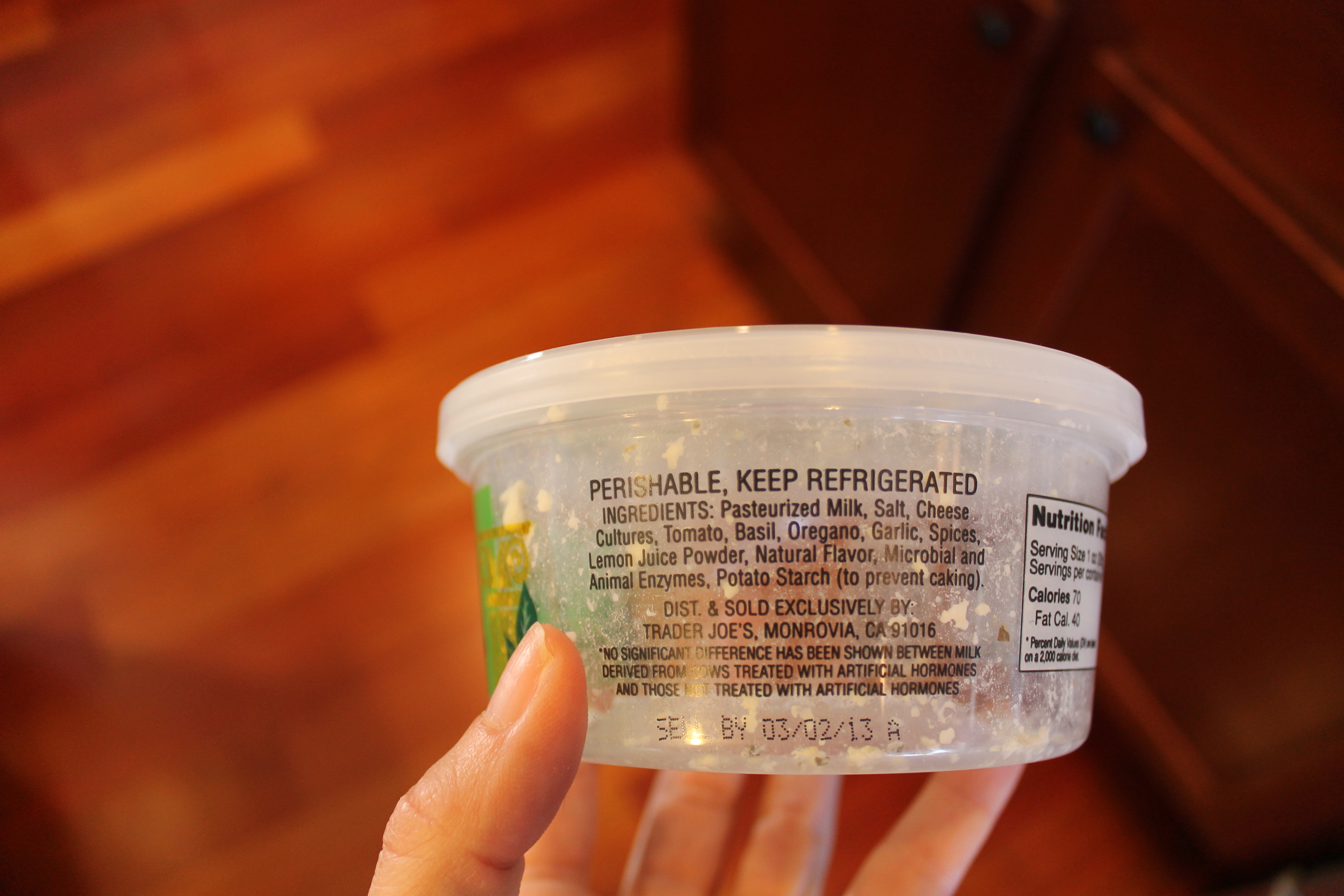 Feta nutrition label:
Bruschetta ingredients label: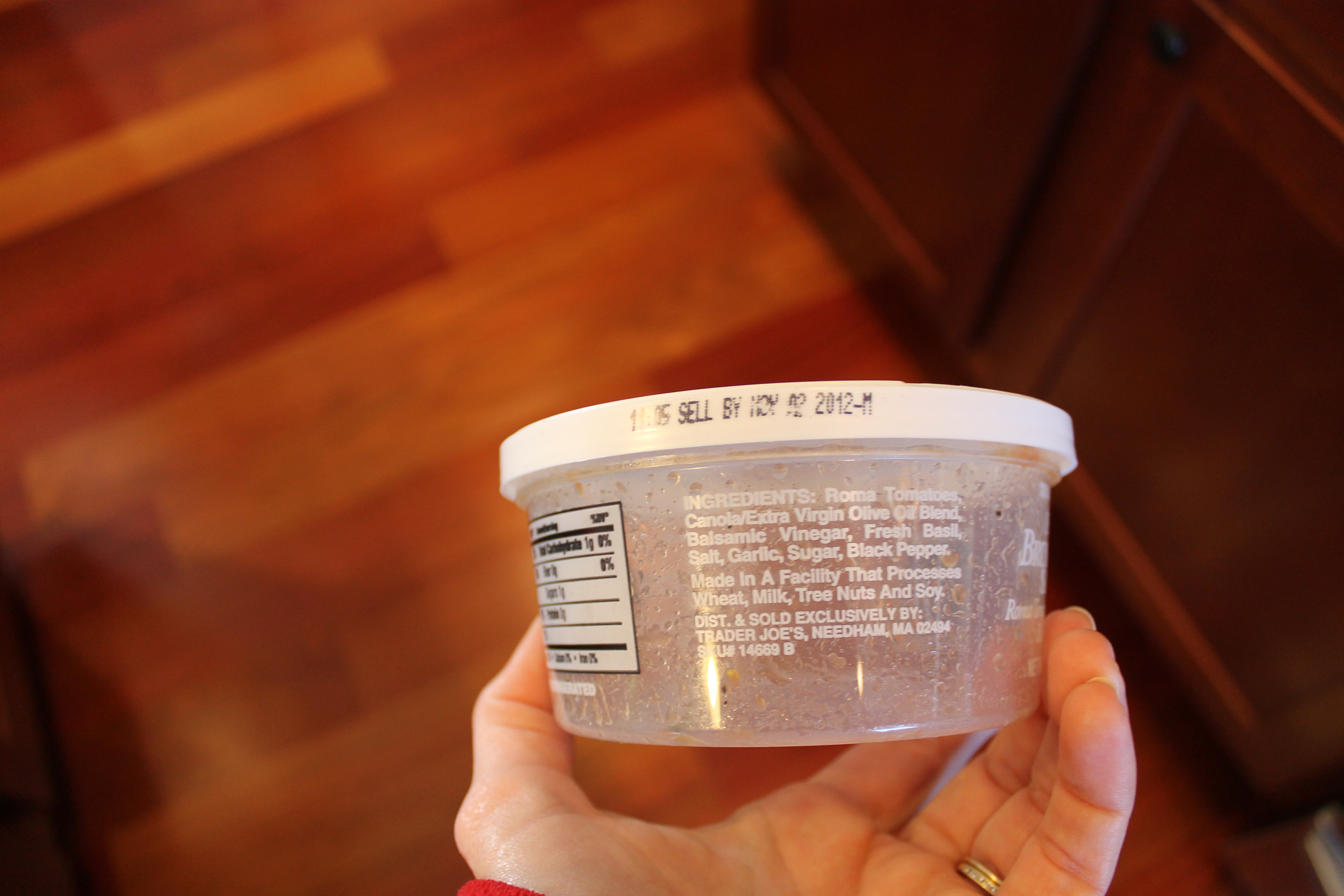 Bruschetta nutrition label: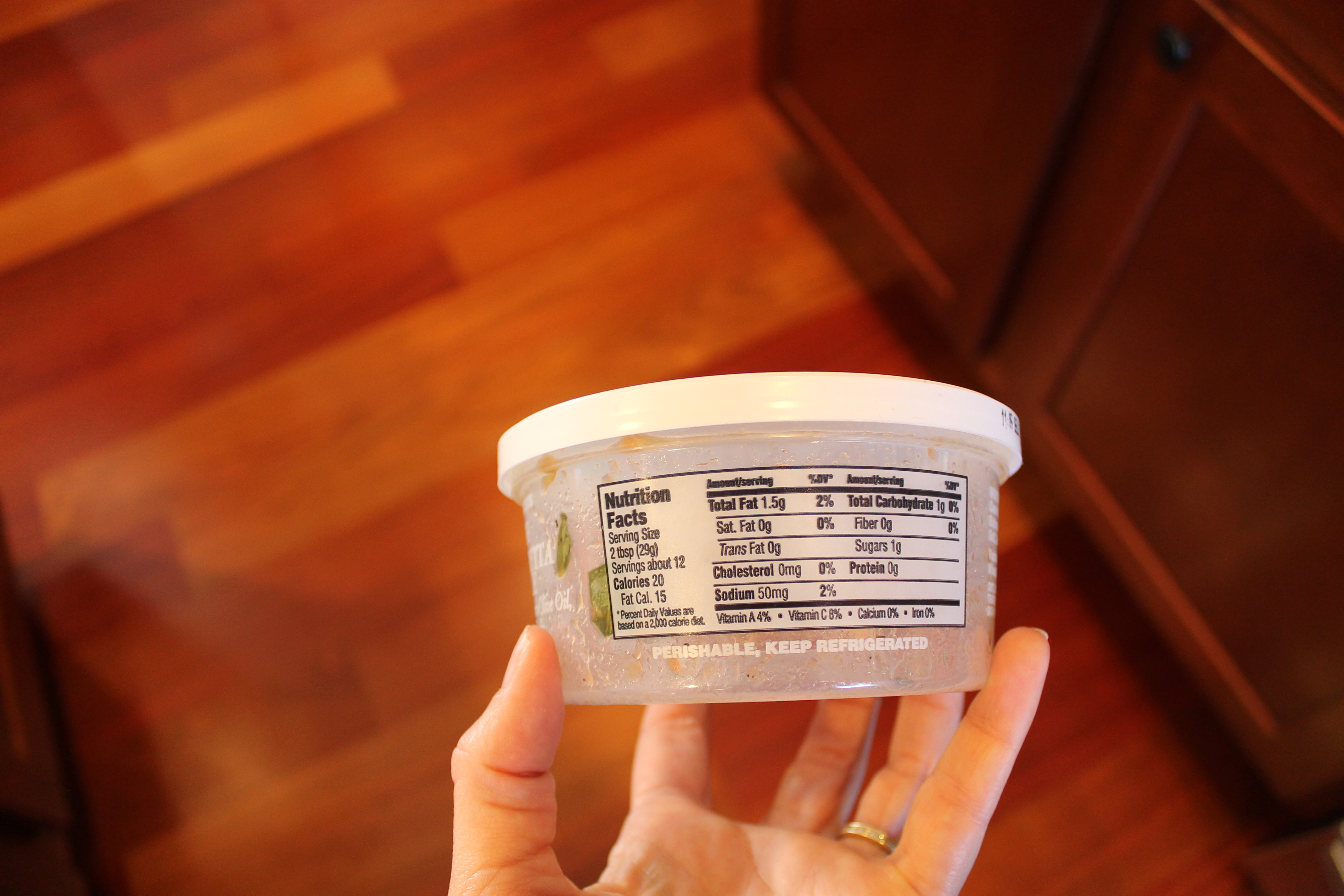 And I went ahead and did the math for you… check it out… if you make this dish according to the proportions I listed and you then divide your bowl of yumminess into 4 "meals" here's the breakdown of what you are getting.  (I divide mine into 4 small containers and pop it into the fridge and eat then I eat a serving whenever I feel like it!)
Calories:  240
Fat:  10.5g
Saturated Fat:  4.5g
Cholesterol:  22.5mg
Sodium:  810mg
Carbohydrates:  18.5g
Fiber:  5g
Sugars:  5.8g
Protein:  14.6
This is a great, healthy option to bring along to all the upcoming holiday parties!
Have you ever made anything like this with lentils?  What's your favorite way to use lentils?
~Mae