I've been MIA.  Here's a post to show why!  (Warning:  this post is picture heavy!)
I didn't post last week because we went on vacation to Siesta Key, Florida, which is a little island right off the coast of Sarasota on the gulf side.
This is what our week looked like:
Birdie had fun in the pool with Babe.
She just can't get enough!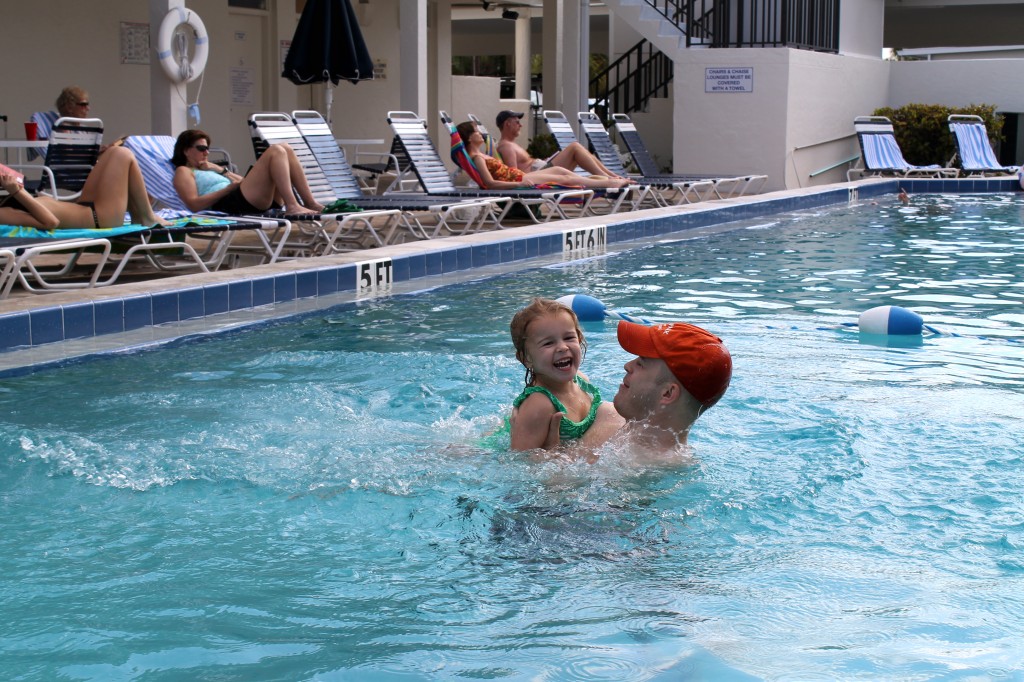 Bubba tried surfing… it ended up being a lot more body surfing than anything else, but he had fun.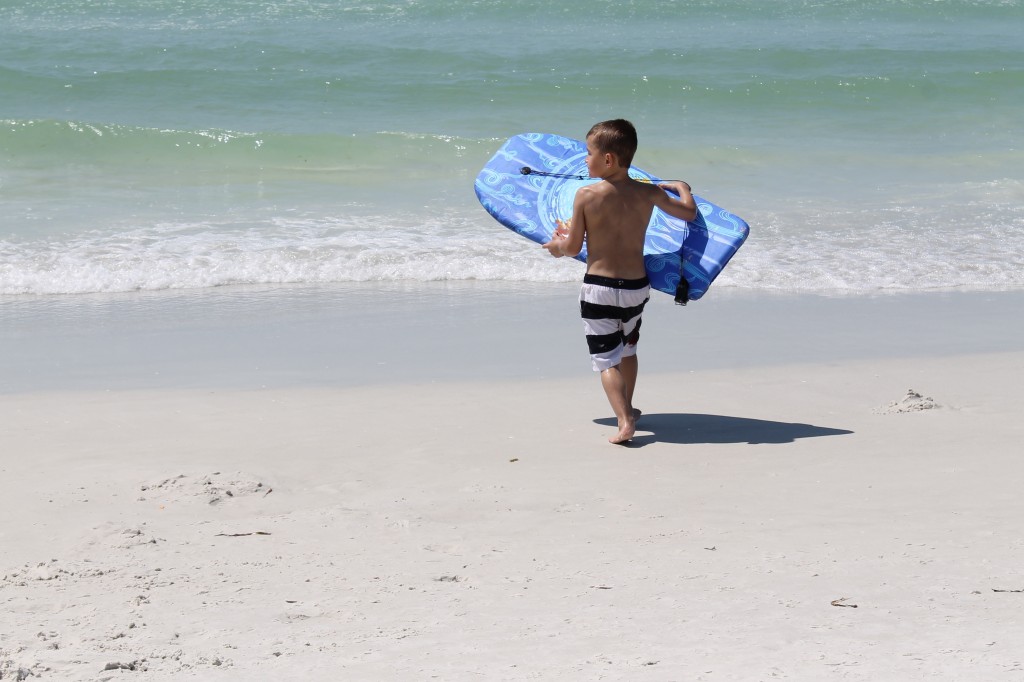 I attempted (ha!) to pull him back and forth through the surf… talk about a workout!  It is SO hard!!!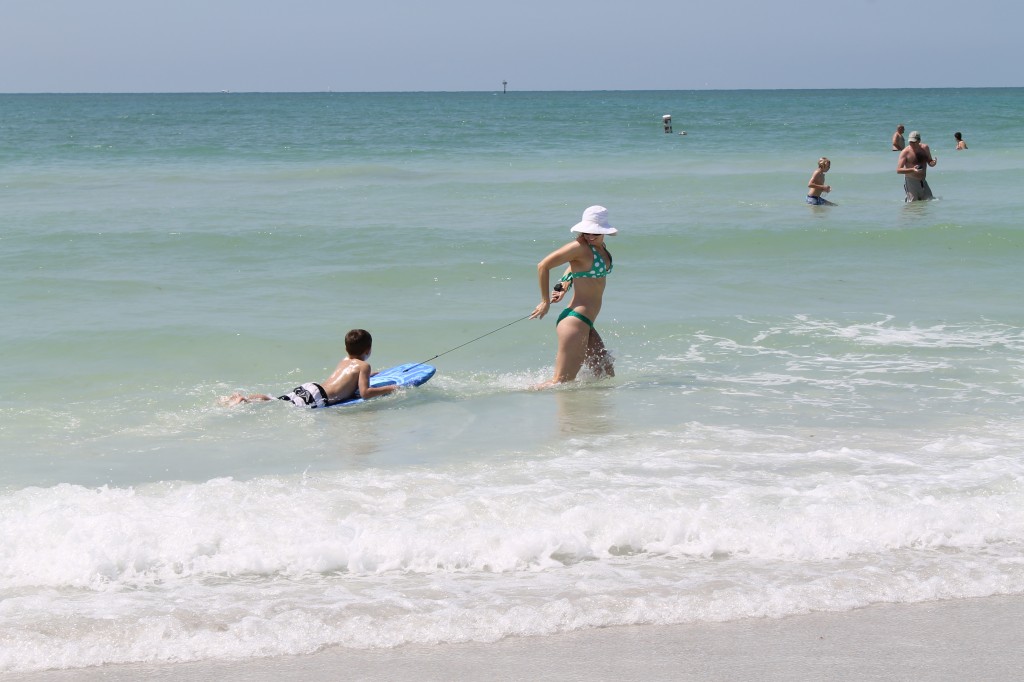 Birdie and I donned our matching (unplanned) bathing suits and hats.  I had to get a photo to use as currency with her some day in the future.  😉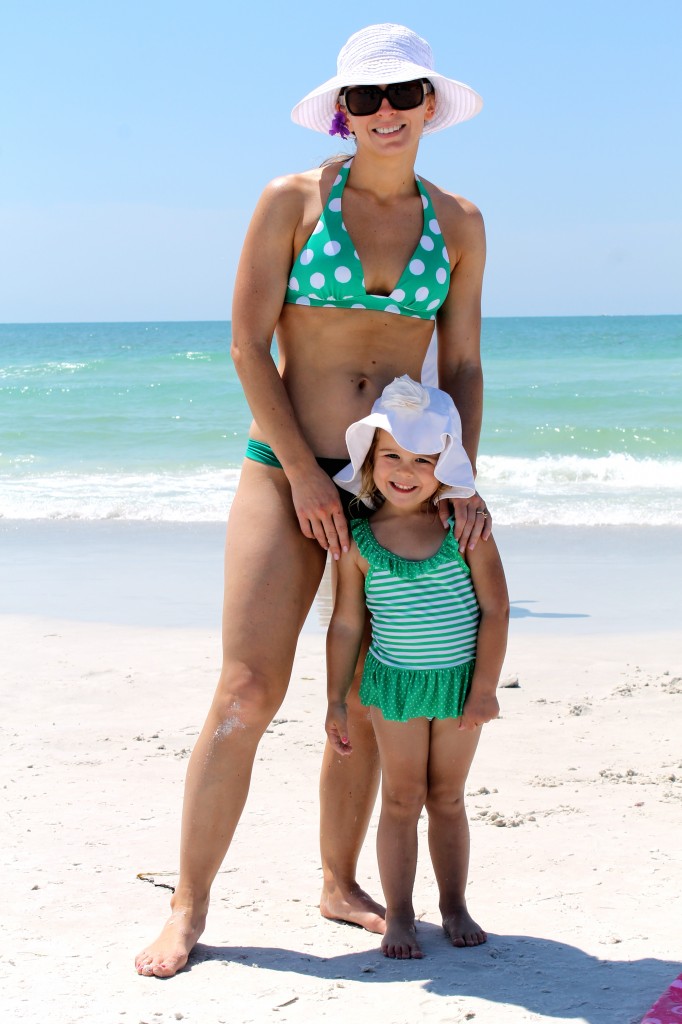 We danced to a caribbean band while we waited for our table at dinner one night.  The best part was when Bubba took my hand and said, "Mommy!  I'm going to teach you how to box step!" – which apparently he learned on an episode of Curious George.  It was adorable… he really knew what he was doing too!  I was laughing the whole time.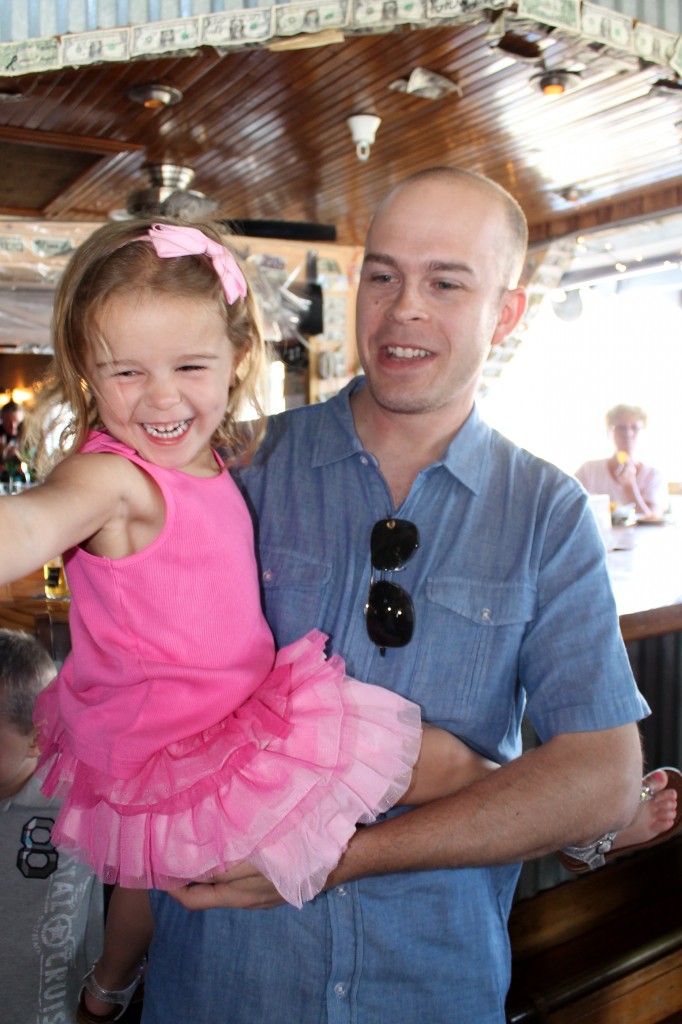 A rare glimpse of my handsome guy actually smiling for my camera instead of trying to block my shot with his hand, scowling at me, etc.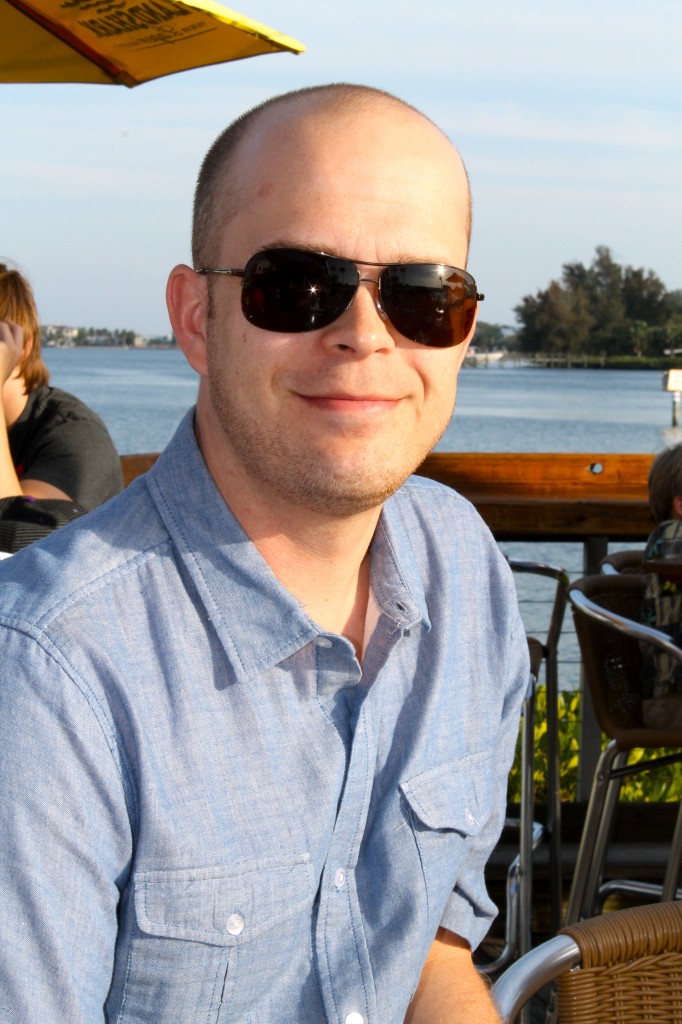 Family trips are exhausting!!!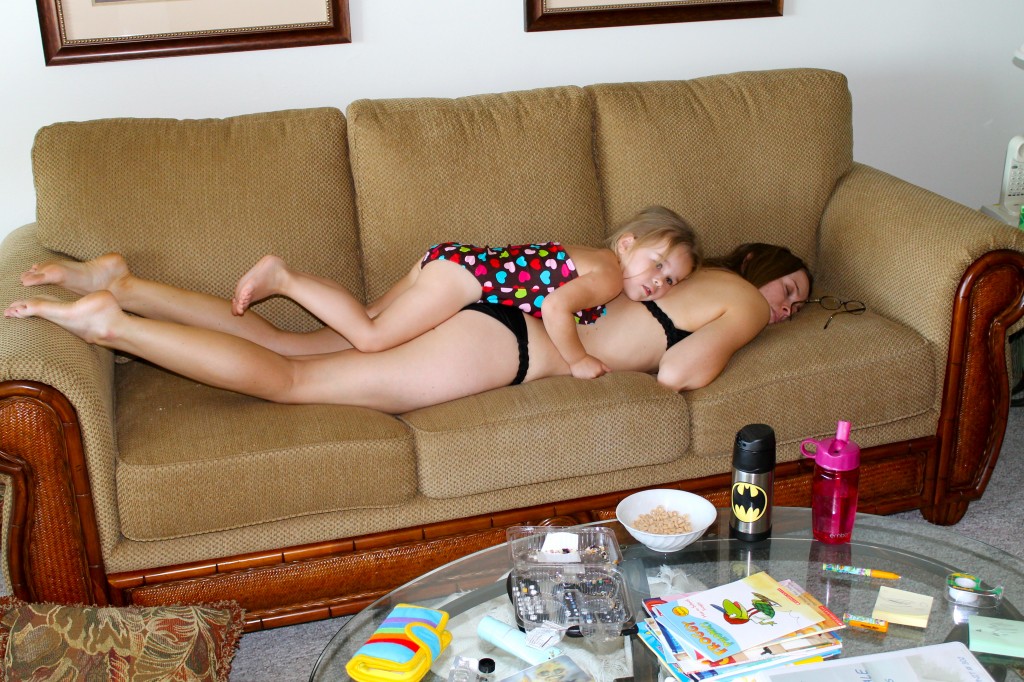 Surfer boy!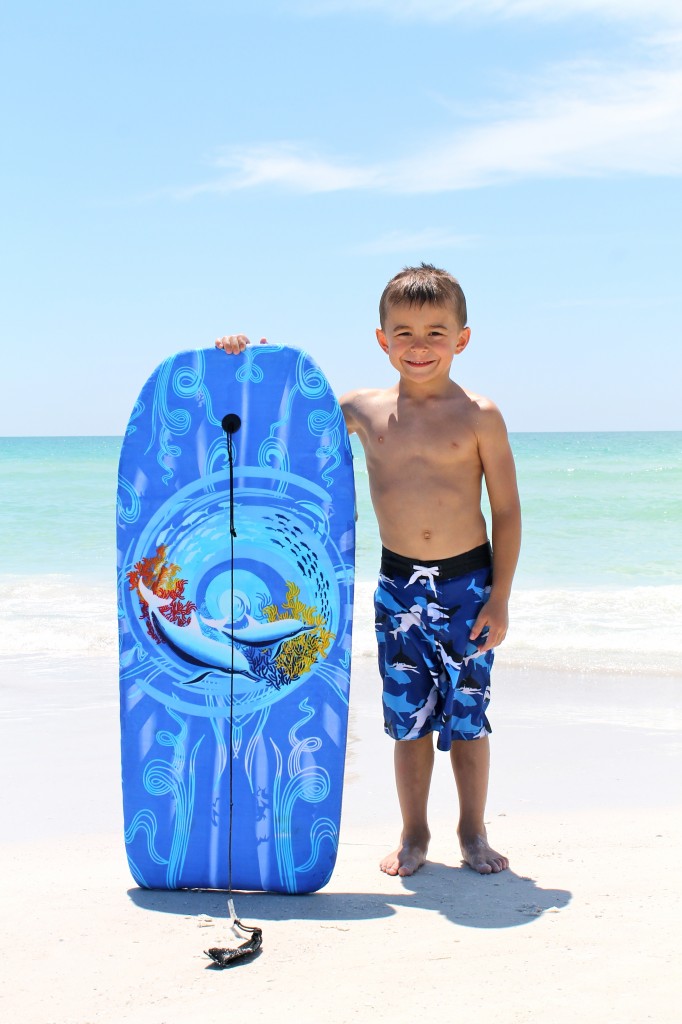 Beach girl!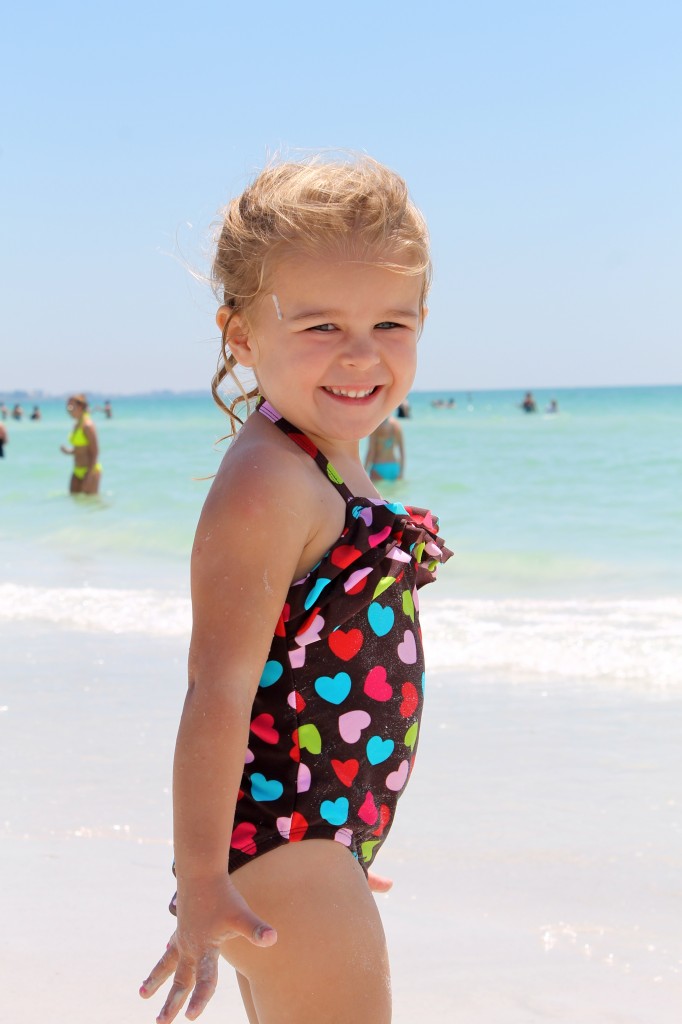 Birdie tried body surfing.  It was mostly unsuccessful (read:  she fell into the ocean and did not care for that one bit!) but she recovered and tried again.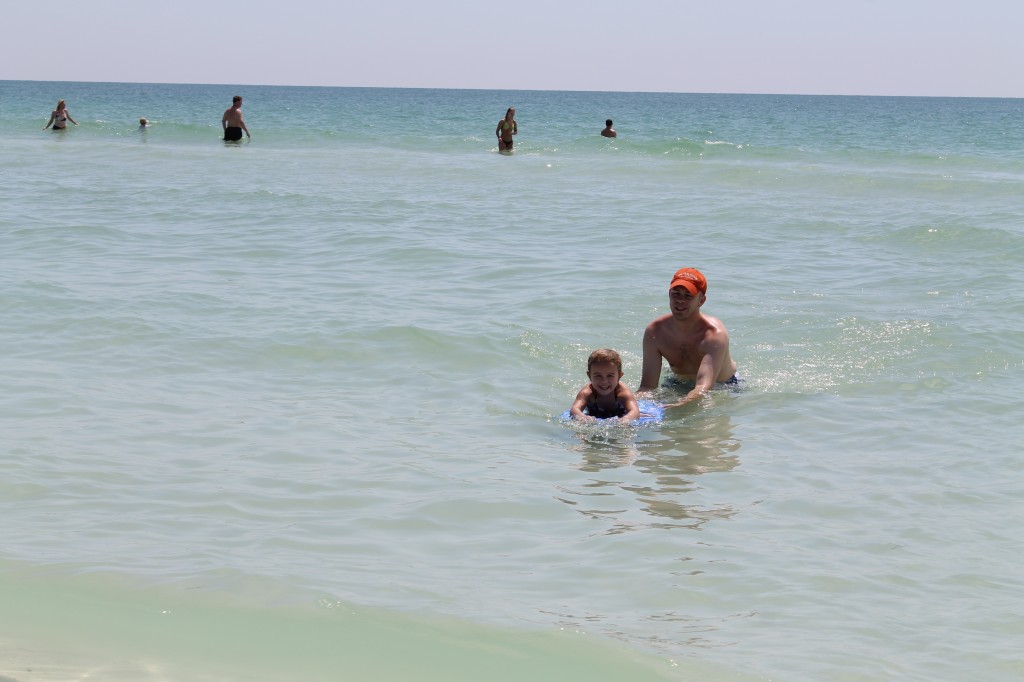 There was a lot of the expected sand play:  digging holes, building towers, hauling sand from here to there for no apparent reason.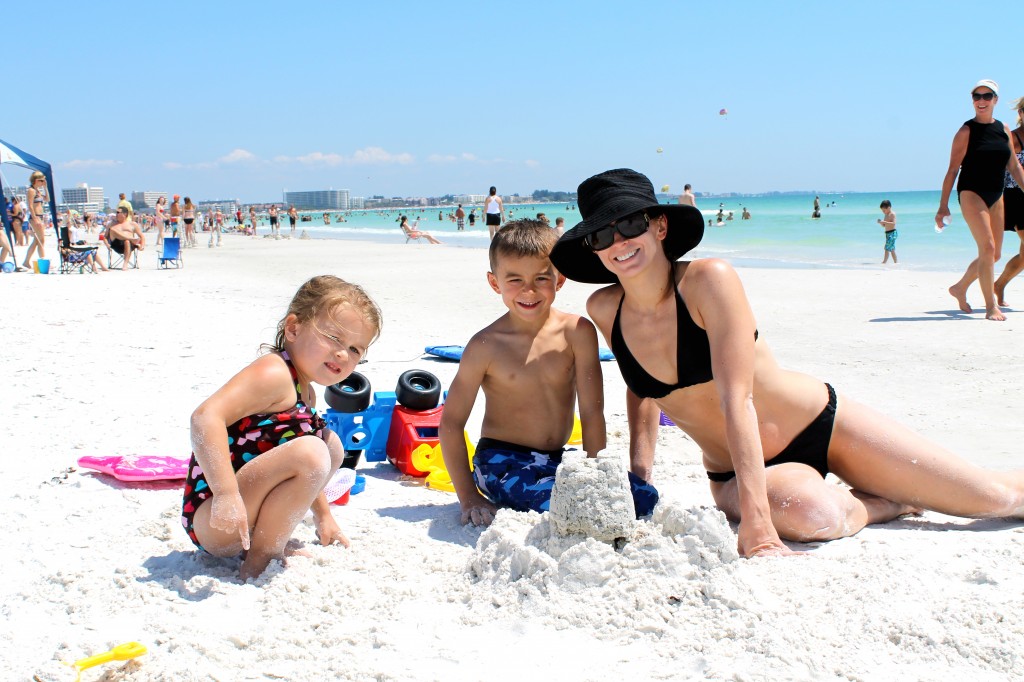 Oh, and lots of running away from the waves!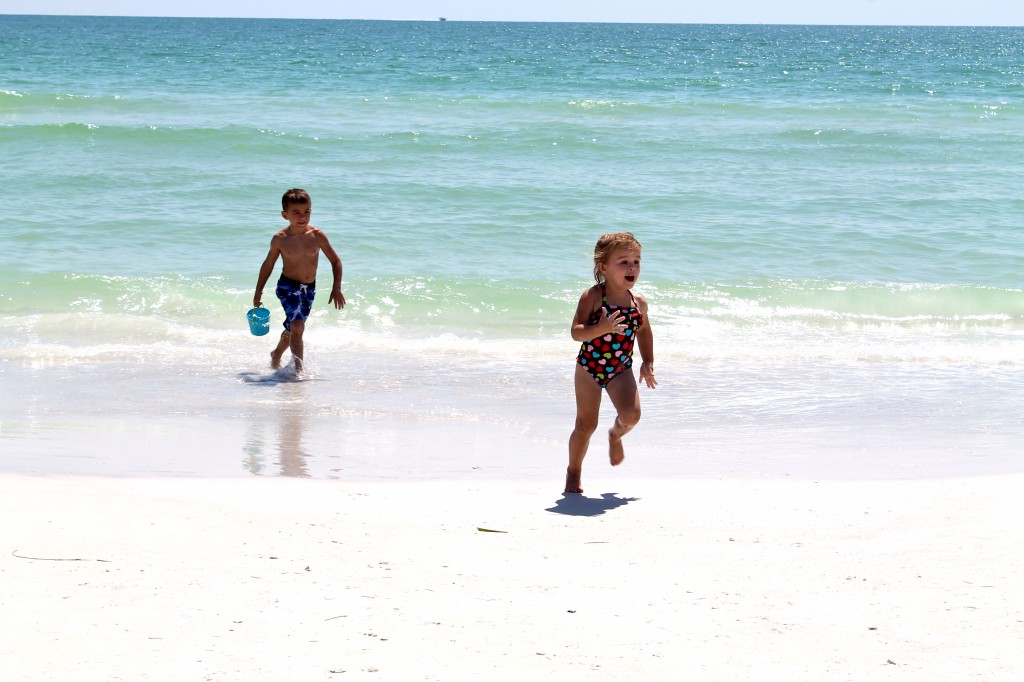 We hired a professional photographer to take our picture on the beach.  We were there for the eighth spring break in a row with my husband's parents as well as his brother's family. This was our last year going to this spot so we wanted to commemorate it with a great beach shot of all of us.  The pictures turned out beautifully.  This particular photo is NOT from the professional… we just snapped it really quickly before the photo shoot began.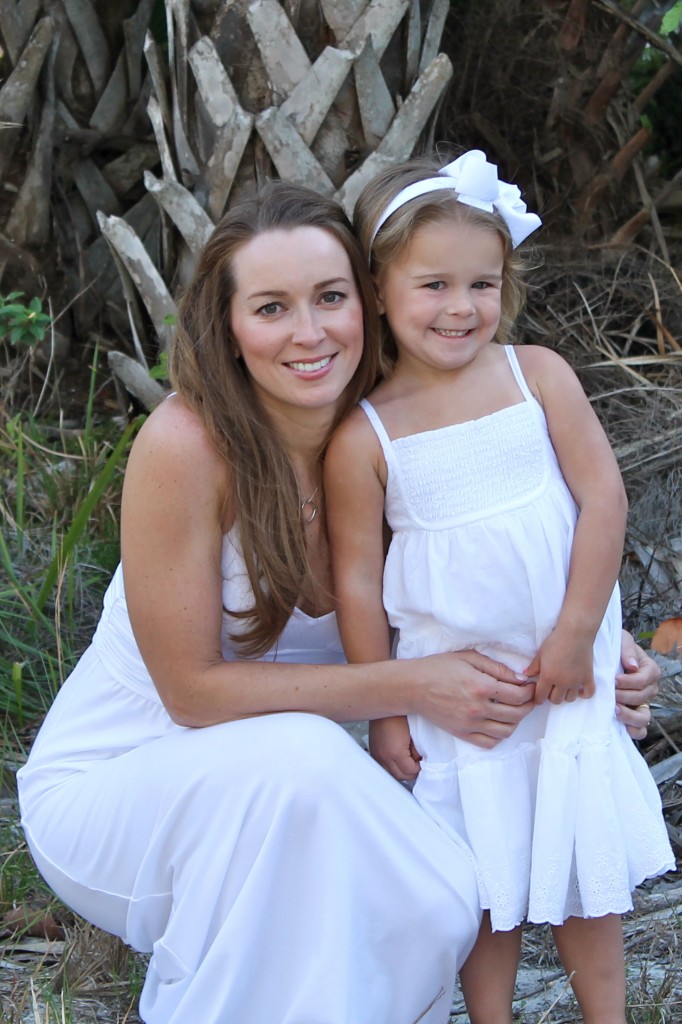 Again, this isn't a great one like the pro got of us, but it's the only picture of the four of us from the entire trip (tear!) so it's all I've got!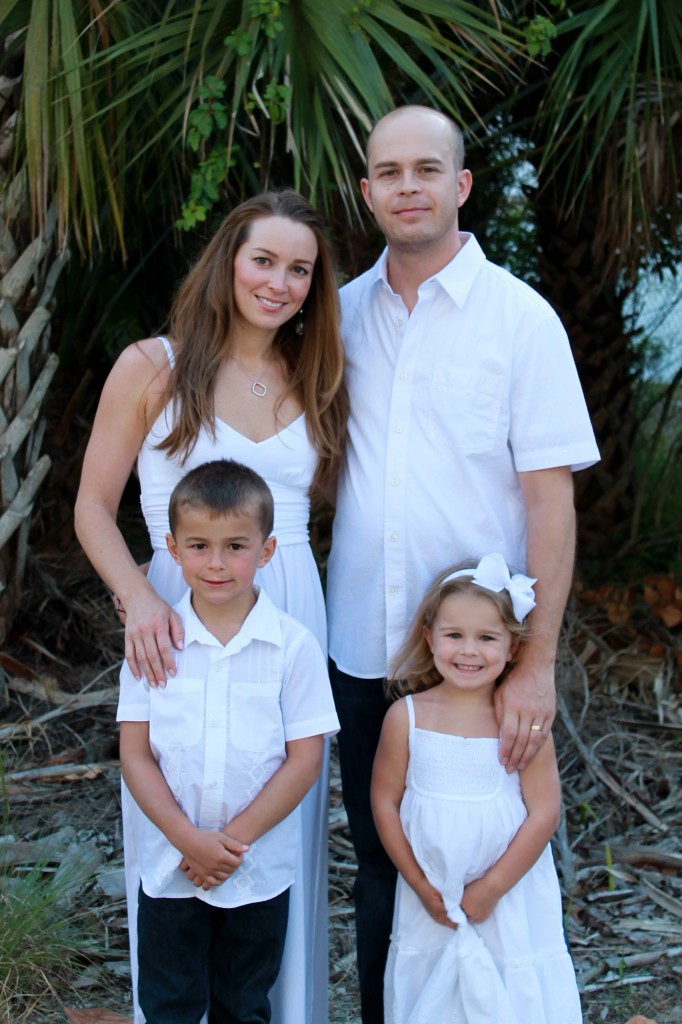 This is what Birdie does… such a silly girl!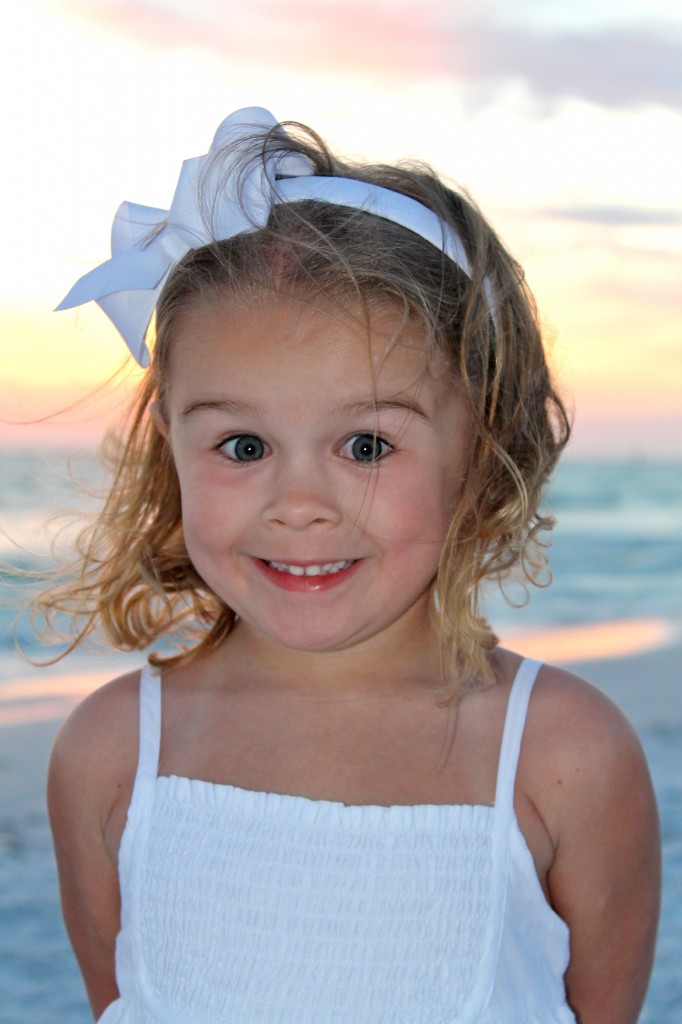 The extended arm shot… again, the only picture I have of Babe and I from the whole week.  I really need to get better at remembering to ask others to take our pictures!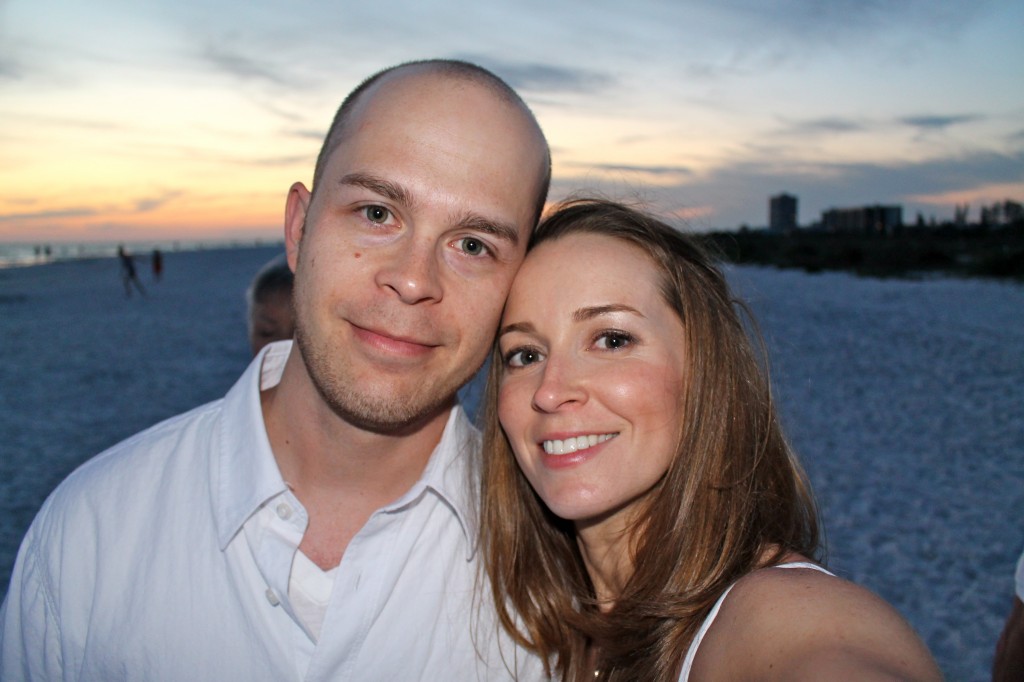 Typical lunch break back at the condo.  After swimming a few hours at the pool in the morning they are refueling in preparation for spending the afternoon out on the beach.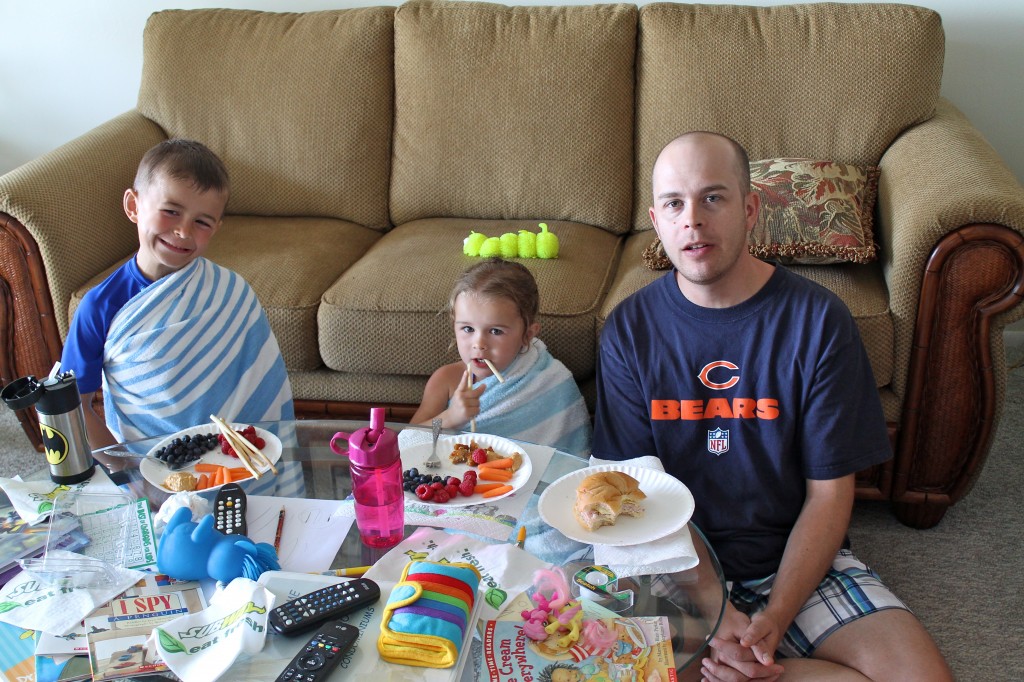 Yay!  Birdie loves Siesta Key!  (Did you know Siesta Key has been voted one of the top ten beaches in the country for several years now?  It really is fabulous.  If you're looking to plan a beach trip I'd recommend it!)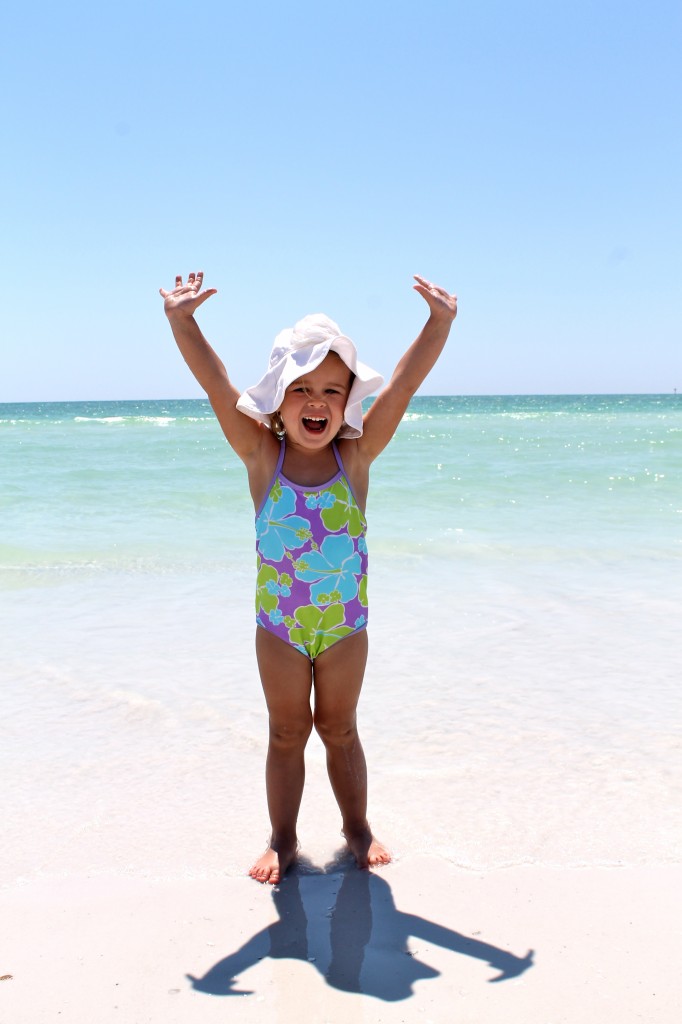 Birdie spent a lot of time making mud crystals.  I have no idea why she thought that was fun, but it certainly kept her busy!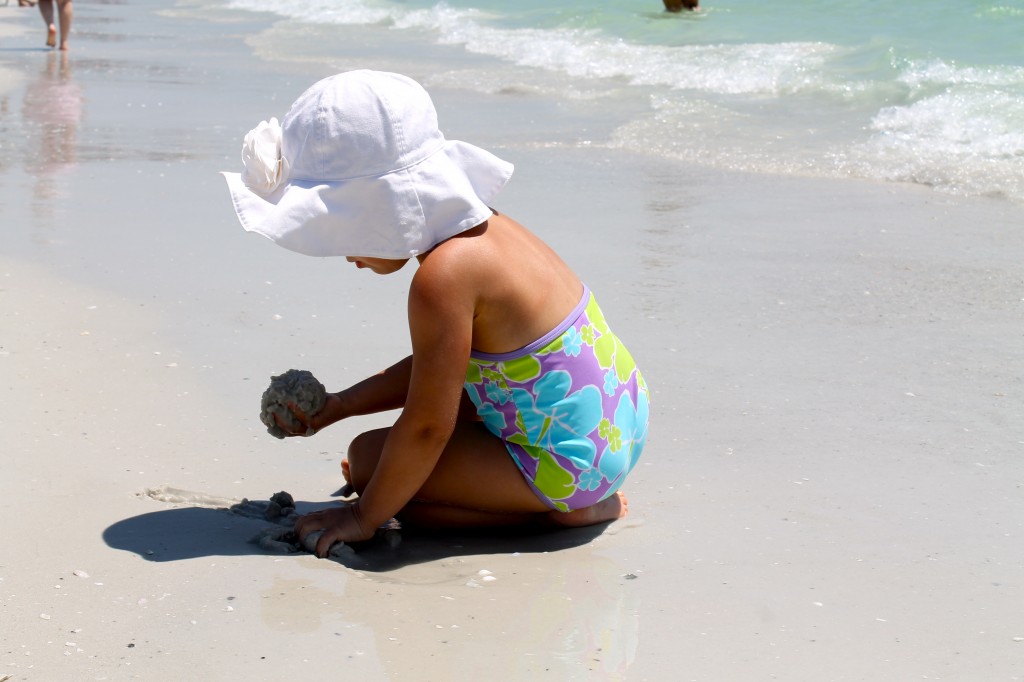 Every year we go on walks that we call "lizard hunts".  The kids get SUCH a kick out of finding these little guys!
I think it's a rule that you MUST go out for ice cream at least once on every family vacation. Or at least that's my rule.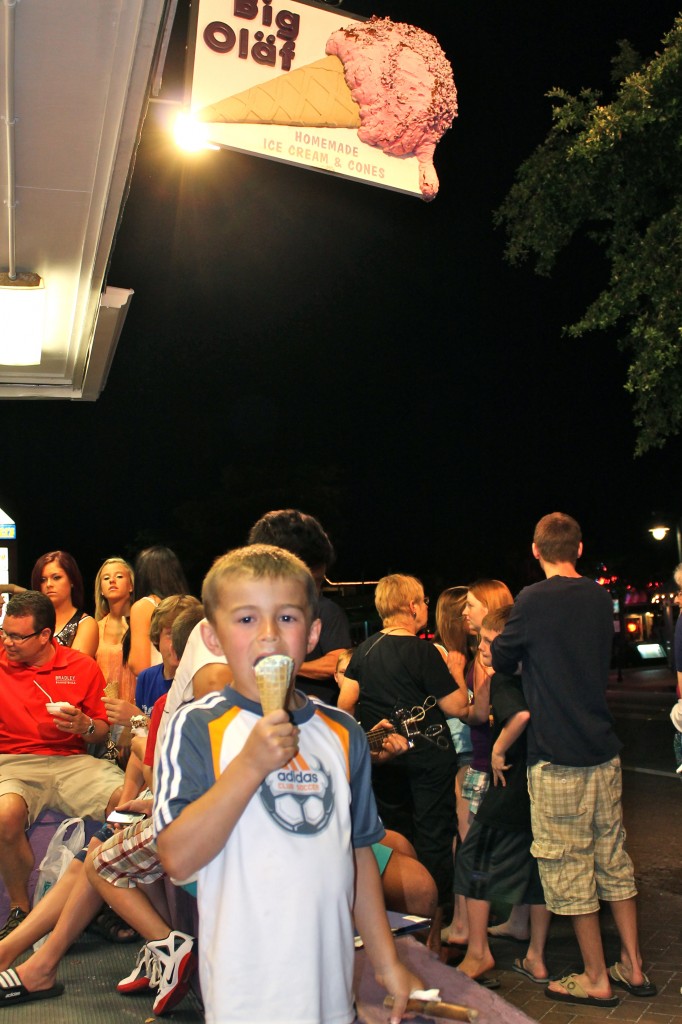 Well, I think she liked it!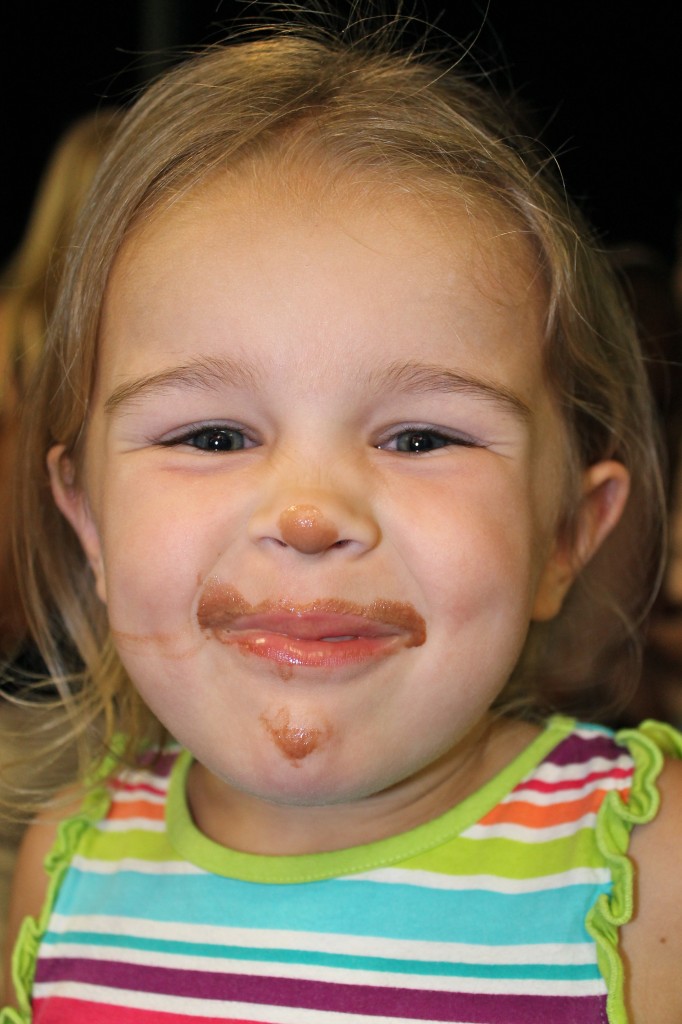 She is certainly not afraid of the water!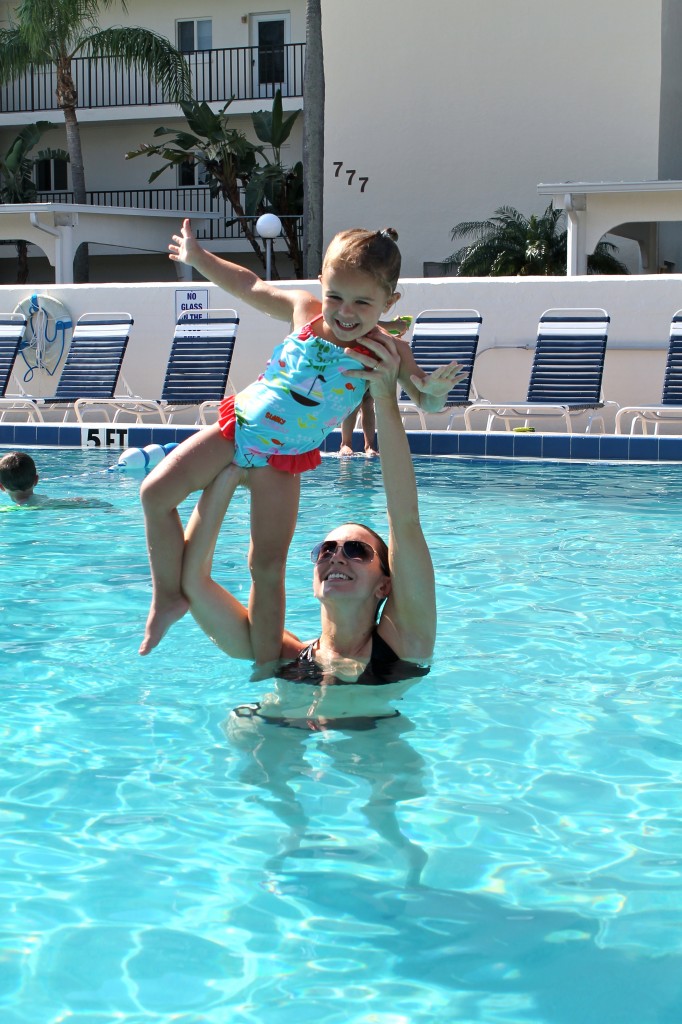 Some man on the beach taught Bubba the "dripping method" for turning wet sand into a castle.  He loved it and spent a lot of time crafting his castle.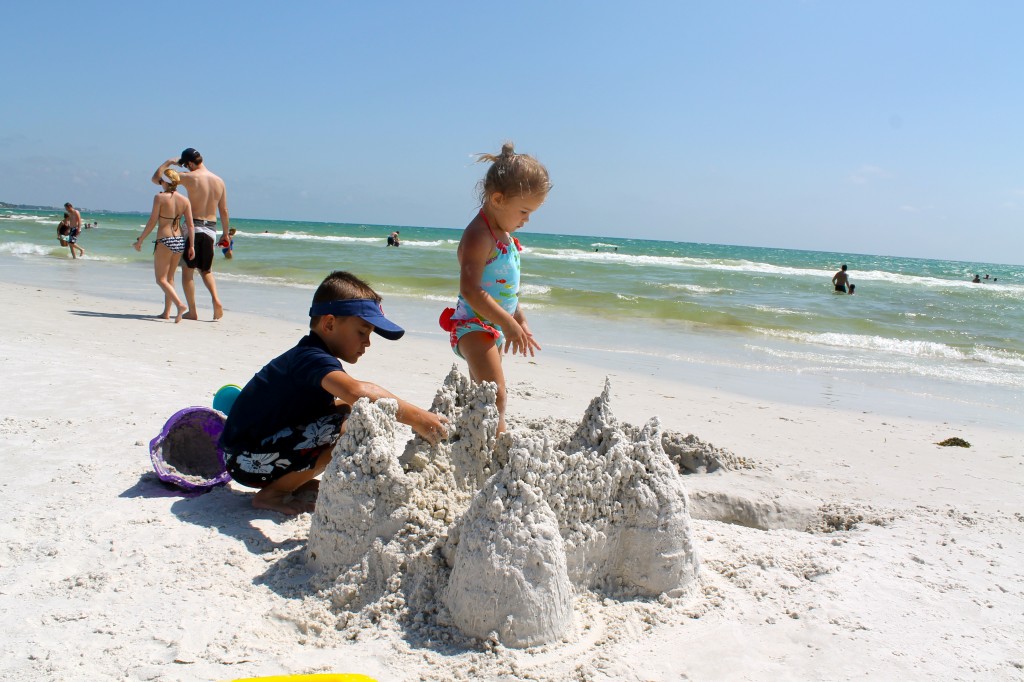 We saw a circus that was put on entirely by students.  I'd guess their ages to be 8-18.  They were nothing short of amazing.  I simply couldn't believe how good the show was and how much talent these kids had after only practicing for a few months.  Truthfully, they weren't that far off from real circus acrobats!  Bravo to them!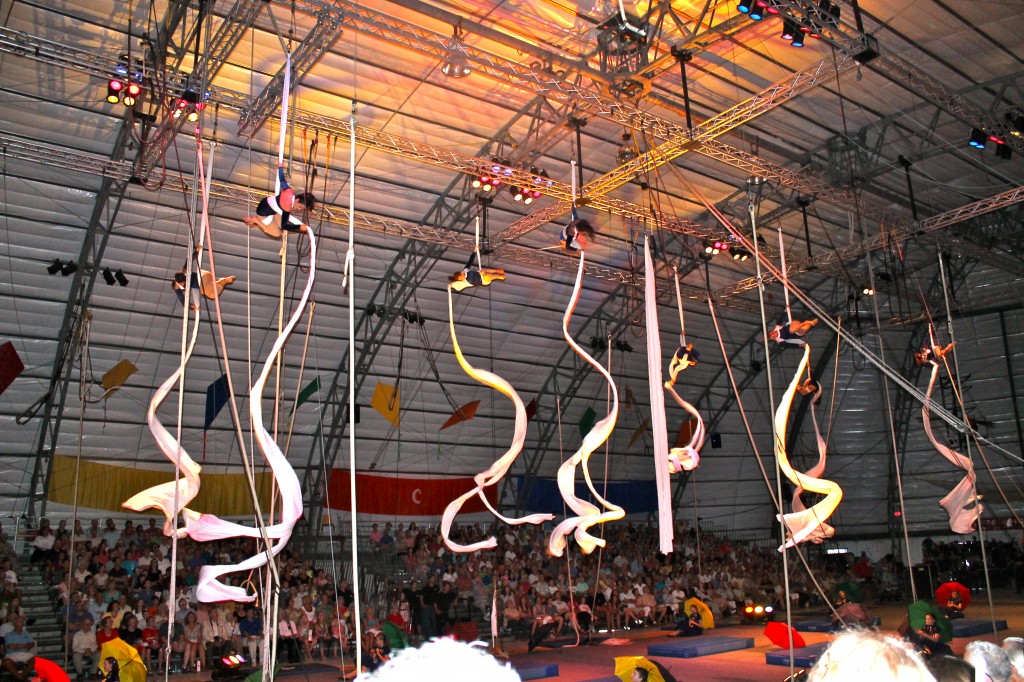 Bubba was probably happier about the popcorn than the actual show itself.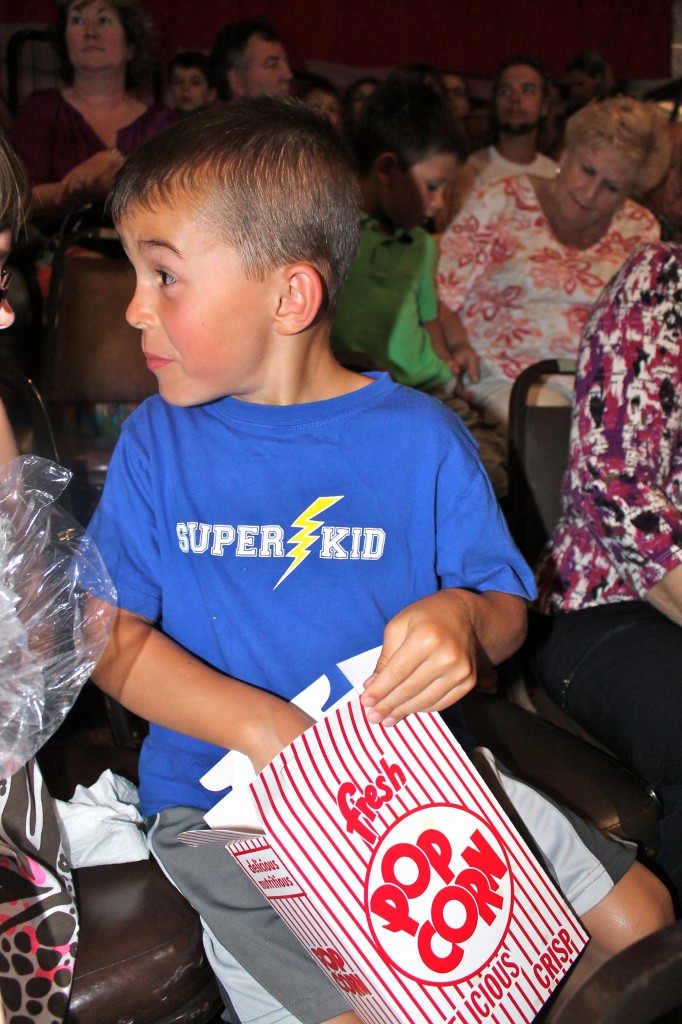 One of the special things that happened was that one morning Birdie announced, "I'm going to go on a run with Mommy today".  It was so cute.  I went out and did my run, then swung back to pick her up after she ate her breakfast.  Here we are posing for Daddy to show him that we are a couple of "strong chicks"!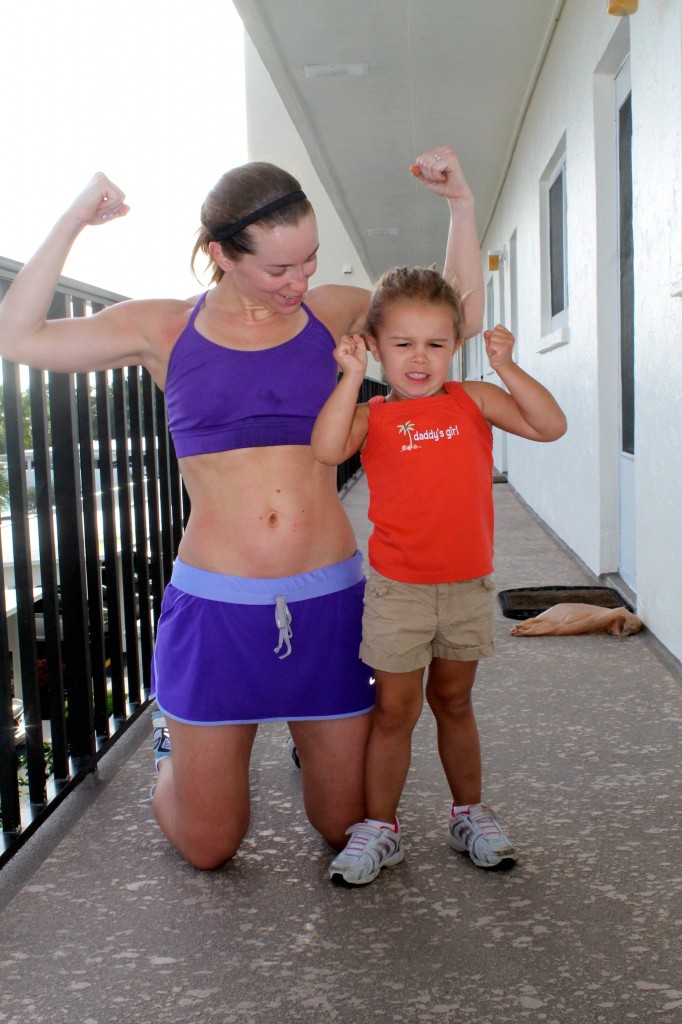 This is my favorite shot of the whole trip.  It was a short moment, but it meant a lot to me that she sees me doing this all the time and she decided she wanted to join me.  So special.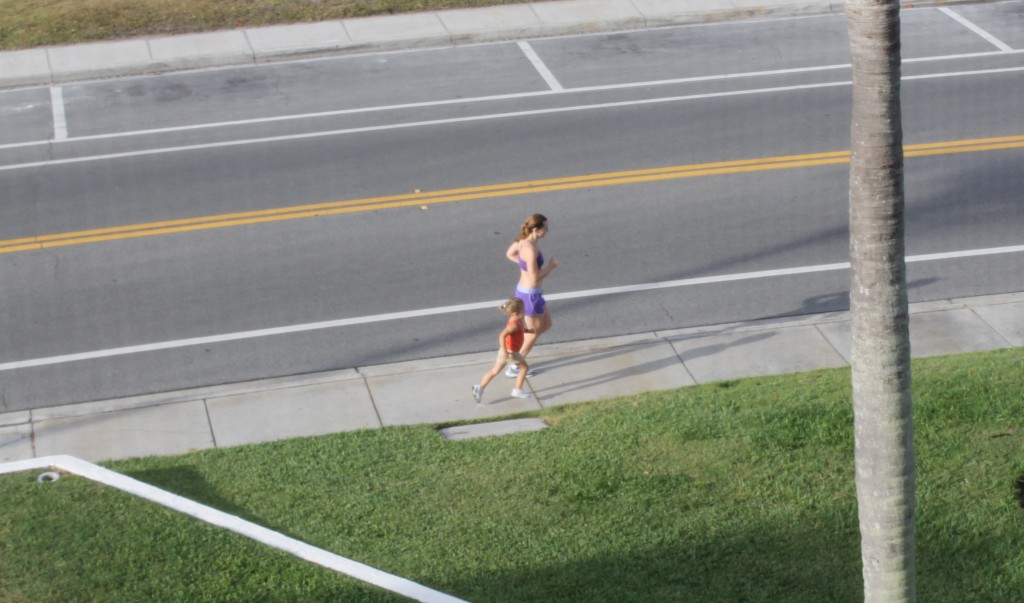 Bubba really got his swim on!  He was swimming all around the pool without assistance and by the end of the week he was even diving down the bottom to retrieve the sunken dive sticks.  Amazing.  A far cry from where he was back when I wrote this post.  (Although no one was asking him to swim on his back during this trip either!)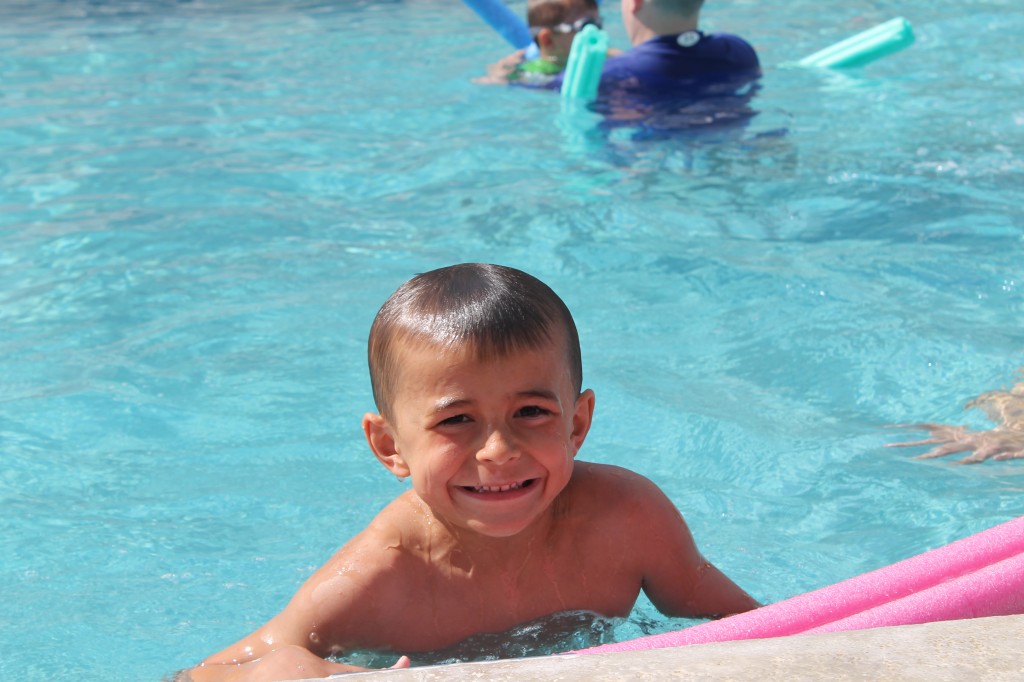 My two guys.  I love how much they love each other.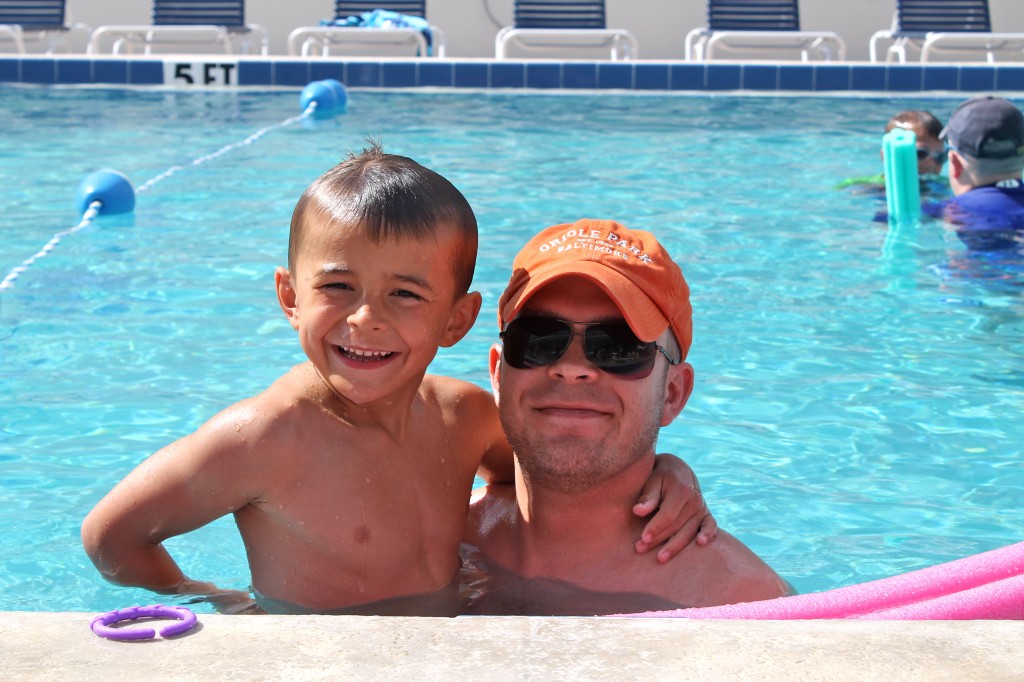 Birdie dancing poolside… shakin' her booty!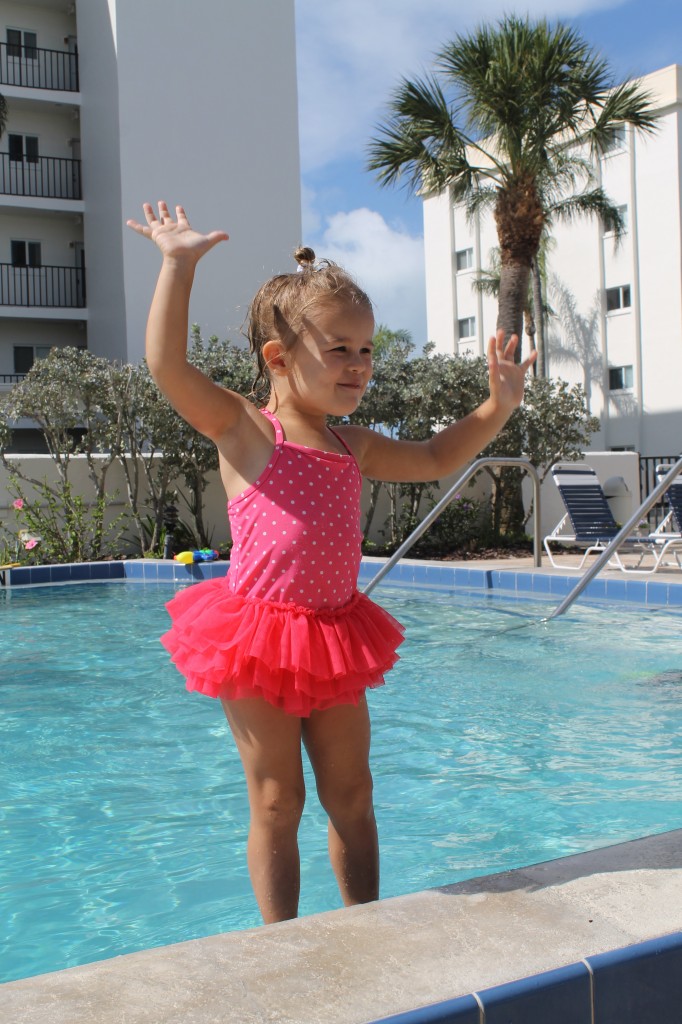 She is super silly.  It's funny because my boy was never very silly.  We never went through the potty talk stage with him, etc.  He just never did that.  Birdie on the other hand… she will speak in accents, do voices, tell butt jokes, etc.  So either it's a phase or I'm going to be attending a lot of parent-teacher conferences in response to my female class clown.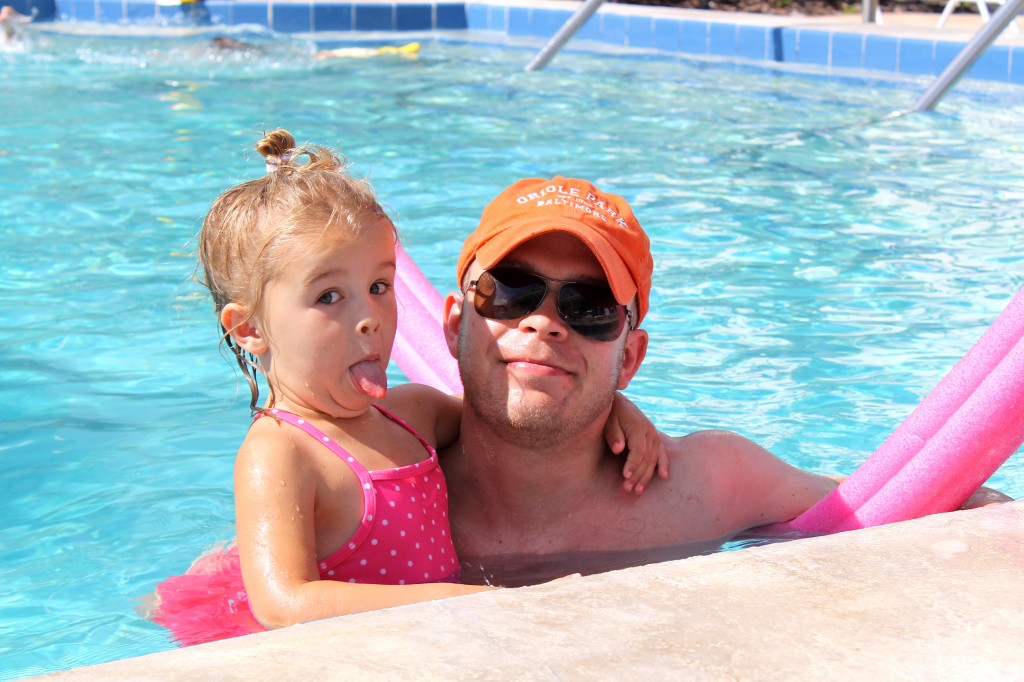 In my lazy attempt at playing catch with Bubba, I decided it would be a great parenting move if I just tossed the ball from my lounge chair.  Talk about laziness!  Whatever!!!…. it's my vacation too!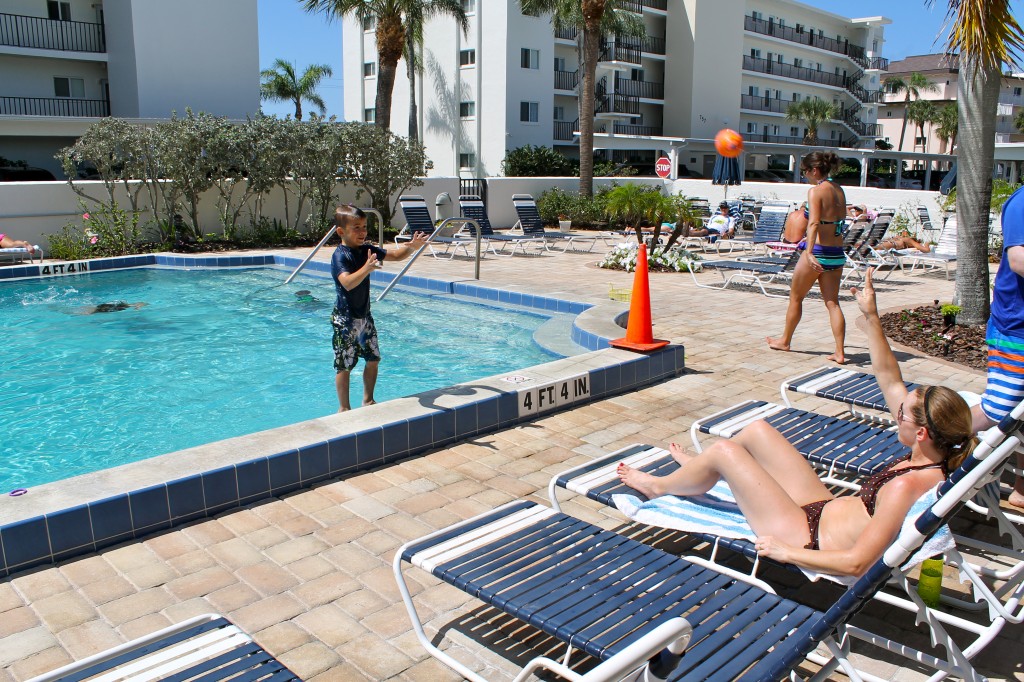 No trip to the beach would be complete without harassing the birds!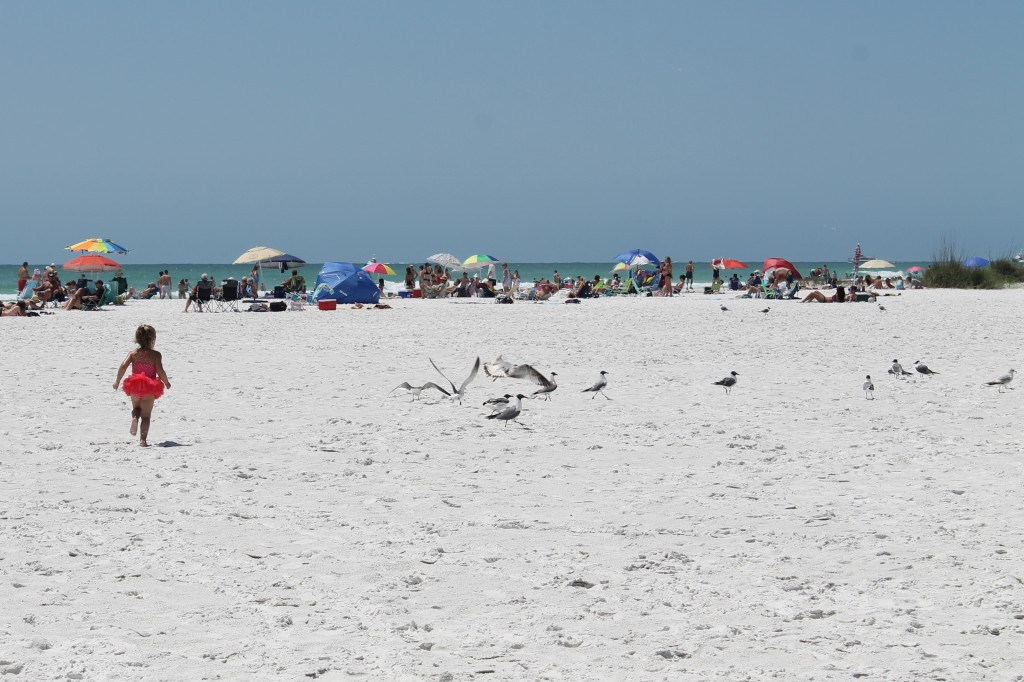 Triple-decker sand castle!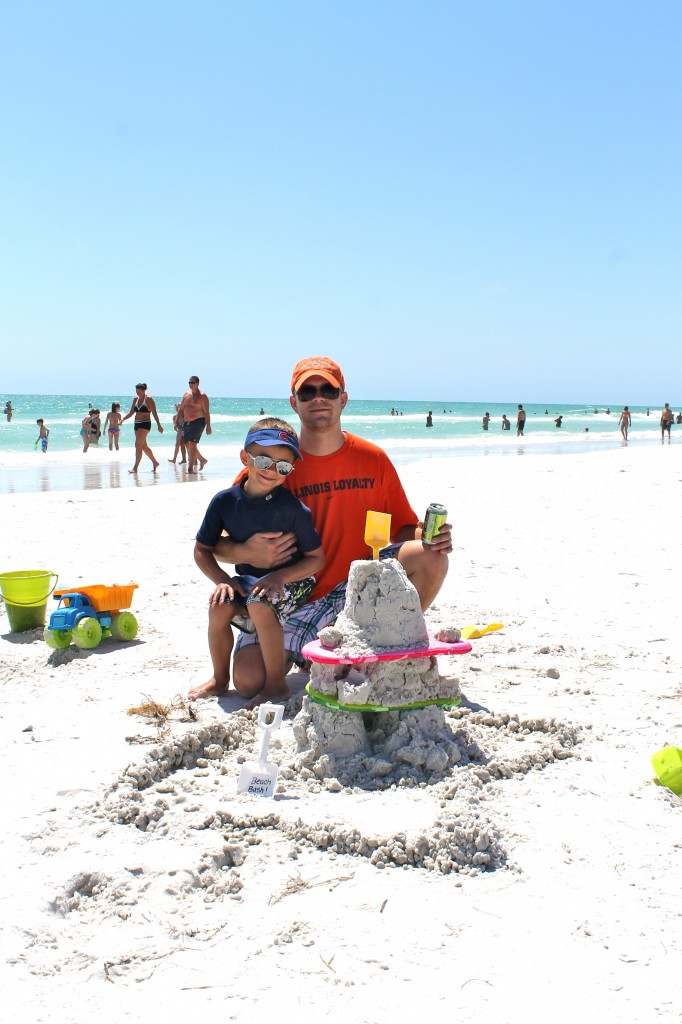 This is SO typical of Bubba.  He doesn't actually play on the play equipment… he just scales it.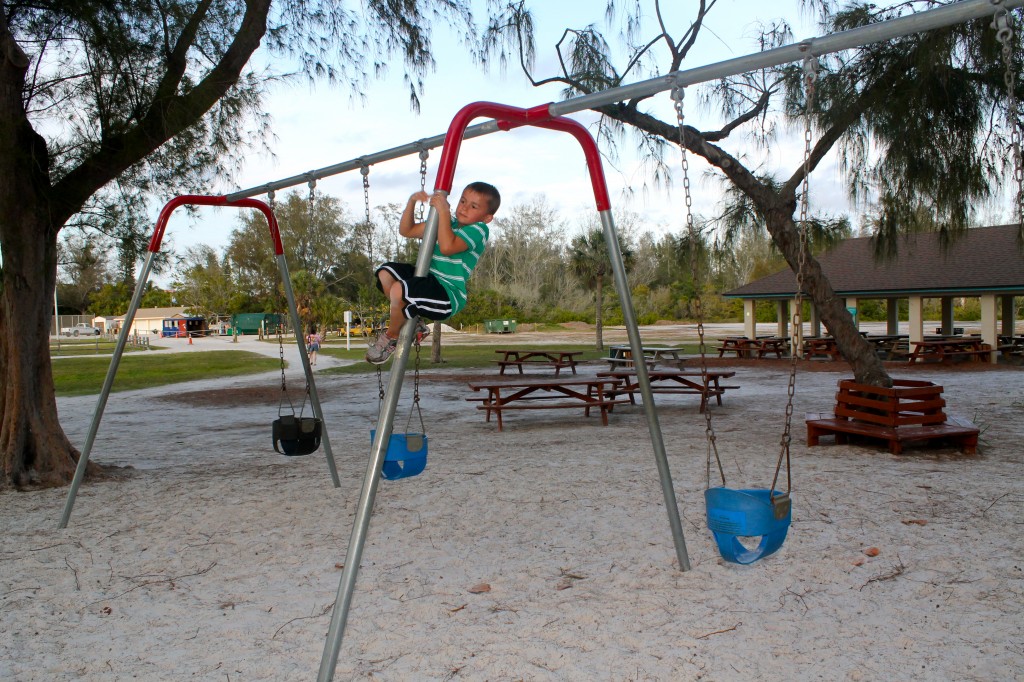 Again, why go down when you can use your fingers to climb up?!?!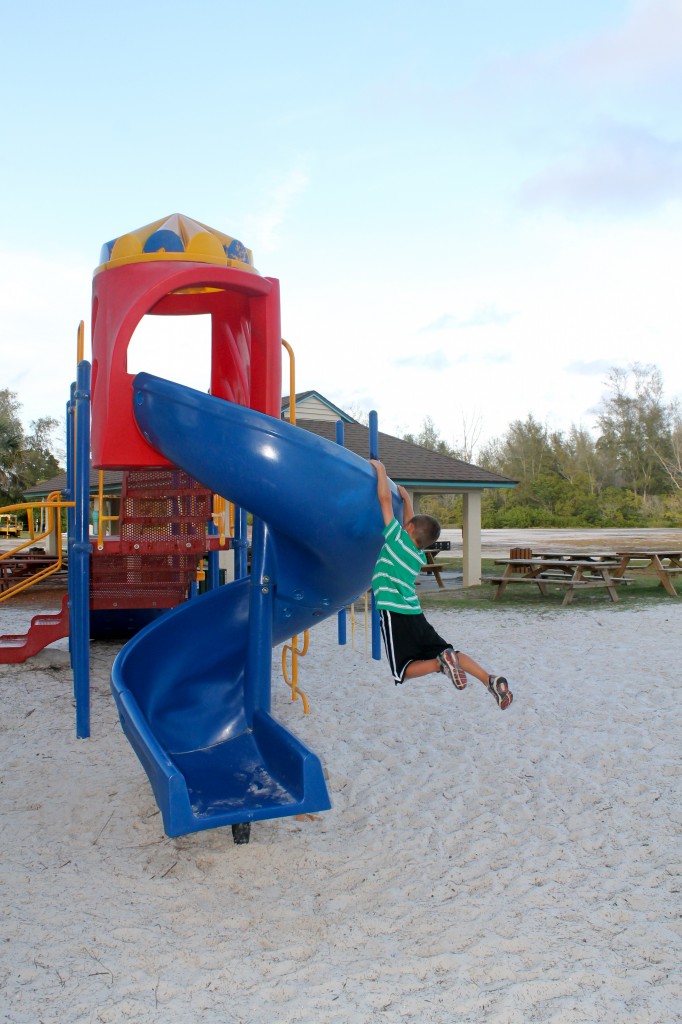 Most kids swing.  Not Evan. He pretends it's Mt. Midoriyama (sp?) and tries to get to the top of the apparatus.  Such a nut.  I think he's going to be a stunt man or something.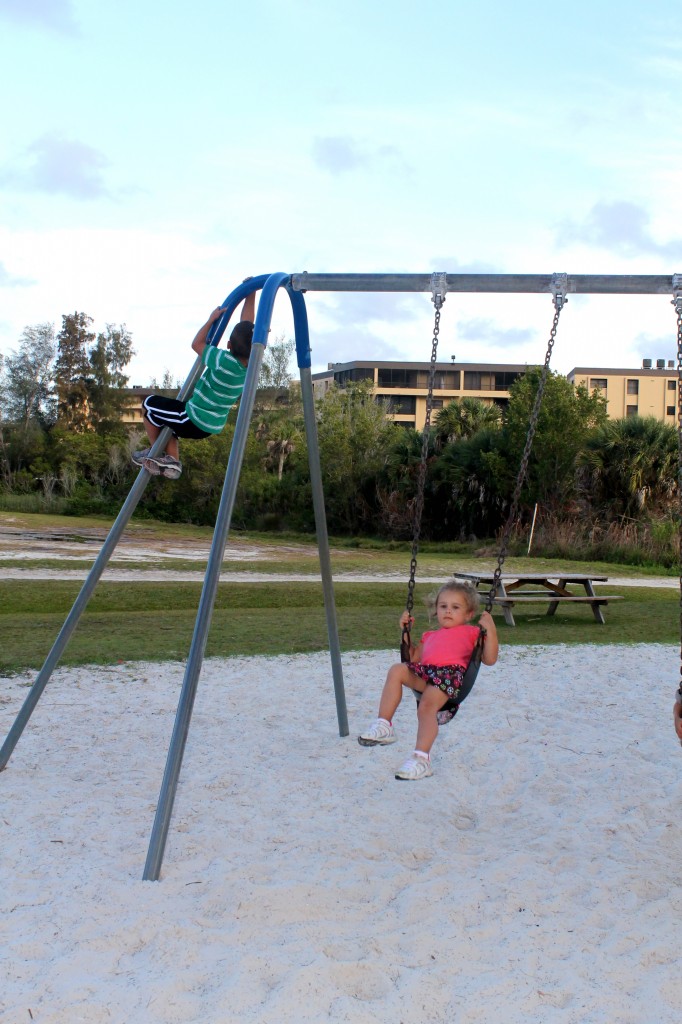 And not to be outdone by her big brother, Birdie completed her first ever set of monkey bars all by herself.  She was so proud.  I was shocked.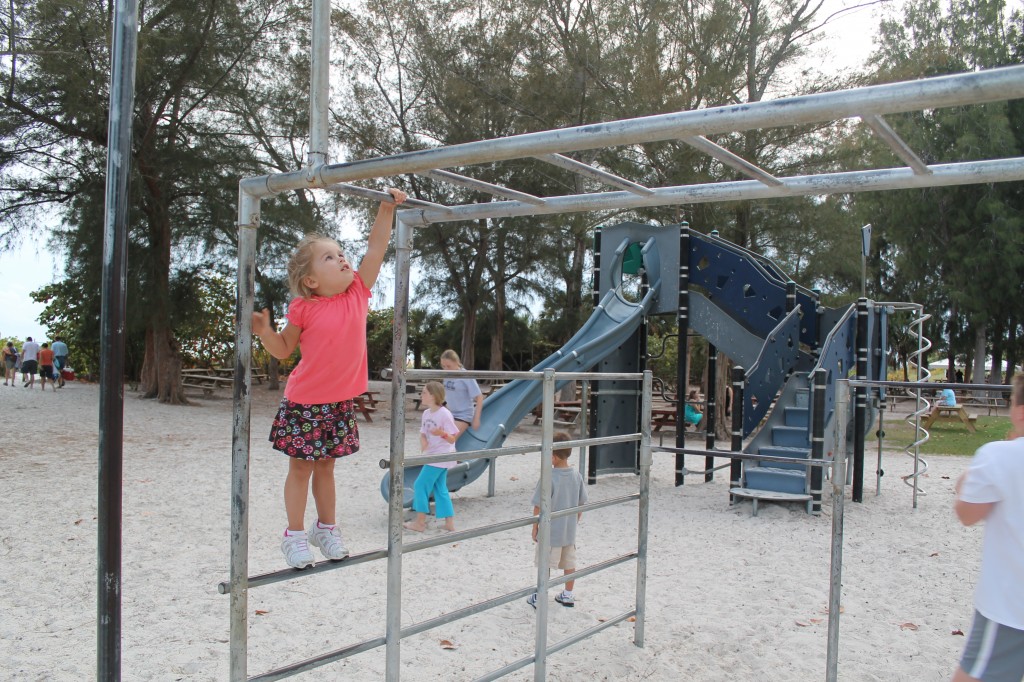 Me and my girl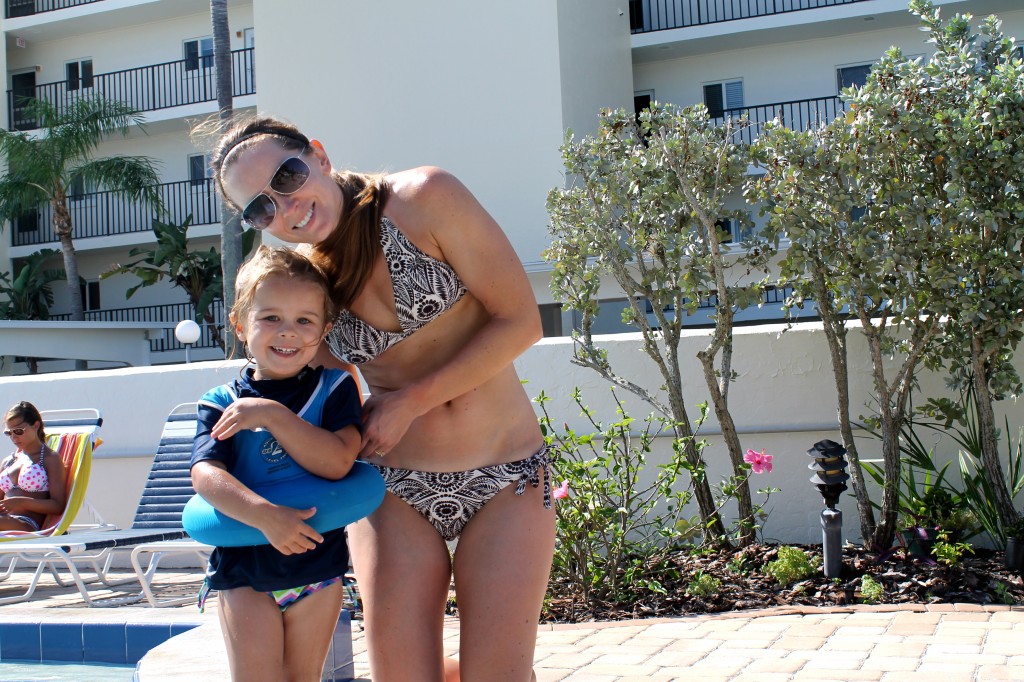 Birdie & Babe doing what they do best!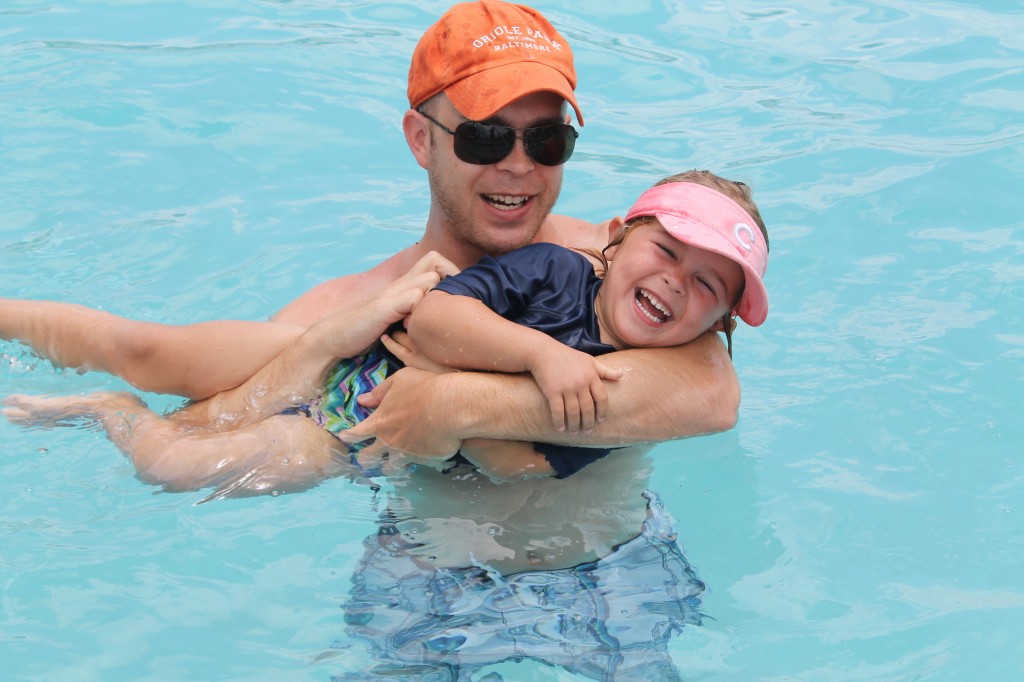 I think this is how we all felt at the end of the trip.  Exhausted from too much fun.  (And I'm sure that's how you feel from seeing all these photos… exhausted!)  😉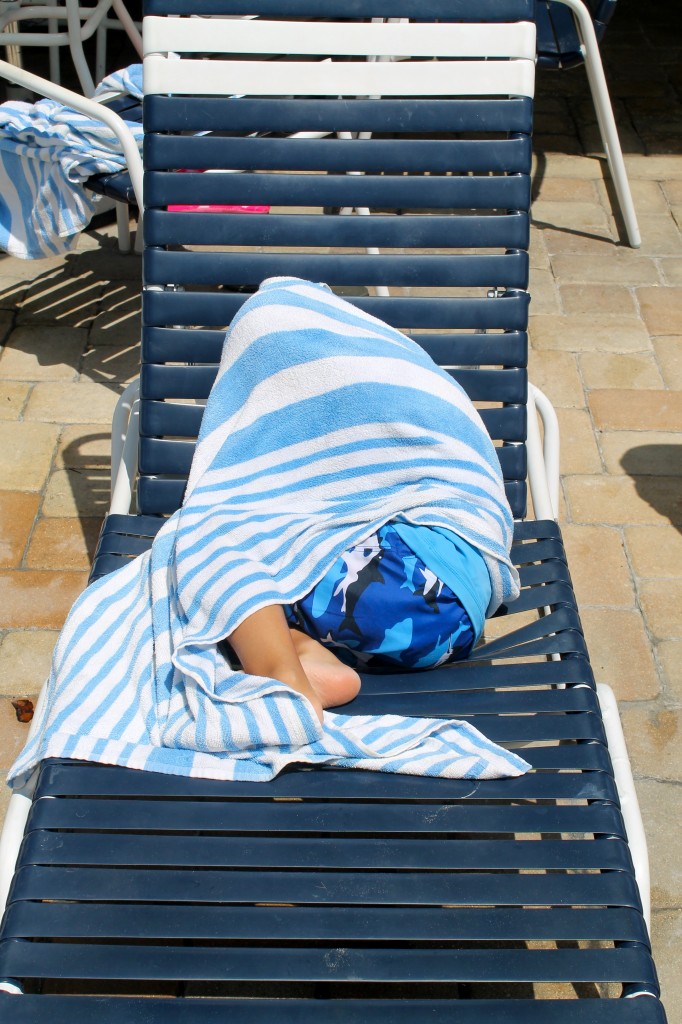 Well, we're back home now and already back into our routine.  I always say, it's called a "vacation" when you go away with just your husband.  It's called a "trip" or an "adventure" if you go with your kids too.  😉
I'll be back to posting as regularly as I can and I hope you'll come back here to visit.  Be sure to "like" the Bring Mae Flowers Facebook page to keep up with my new posts.
With love,
Mae