I mentioned a while back about how last year I made the switch to whole grain breads, whole grain flours, etc. and in that post I talked about how I still struggle with making the "right" choice when it comes to my beloved peanut butter.  It's hard, but here's how I straddle the line:
First of all, let me just say that I love peanut butter.  Love.  My favorite is warm peanut butter.  Mmmmm…  It may as well be dessert!  Lately I have been on a kick of using peanut butter in my afternoon snack:  a slice of toasted whole grain bread with a tablespoon of warm peanut butter and half of a banana sliced up on top.  It's the best!
I struggle with peanut butter though.  I grew up with versions of peanut butter that had various questionable ingredients – forms of high fructose corn syrup, etc.  These days I know better than that, BUT, I have not yet been able to go with what the purists think peanut butter should be, which is ONLY peanuts.  I struggle with it because, frankly, I just don't like the flavor of plain peanuts, therefore it makes perfect sense that I wouldn't like the flavor of plain peanuts that have been smushed up either.  Currently, I'm a JIF Natural girl.  That brand is certainly not perfect.  Though it's mostly peanuts and salt, it does have, for example, a little molasses in it, which the purists would say is a big time no-no.  I've tried the middle ground options that are peanuts and salt.  Still not a big fan.  I've tried other alternatives like almond butter, etc. and it just cannot replace my beloved peanut butter.  Below is a sampling of all the nut butters I had in my pantry today:
(Almond butter with sea salt, Jif Natural, an organic version that's just peanuts and salt, and a version that's peanuts-only.)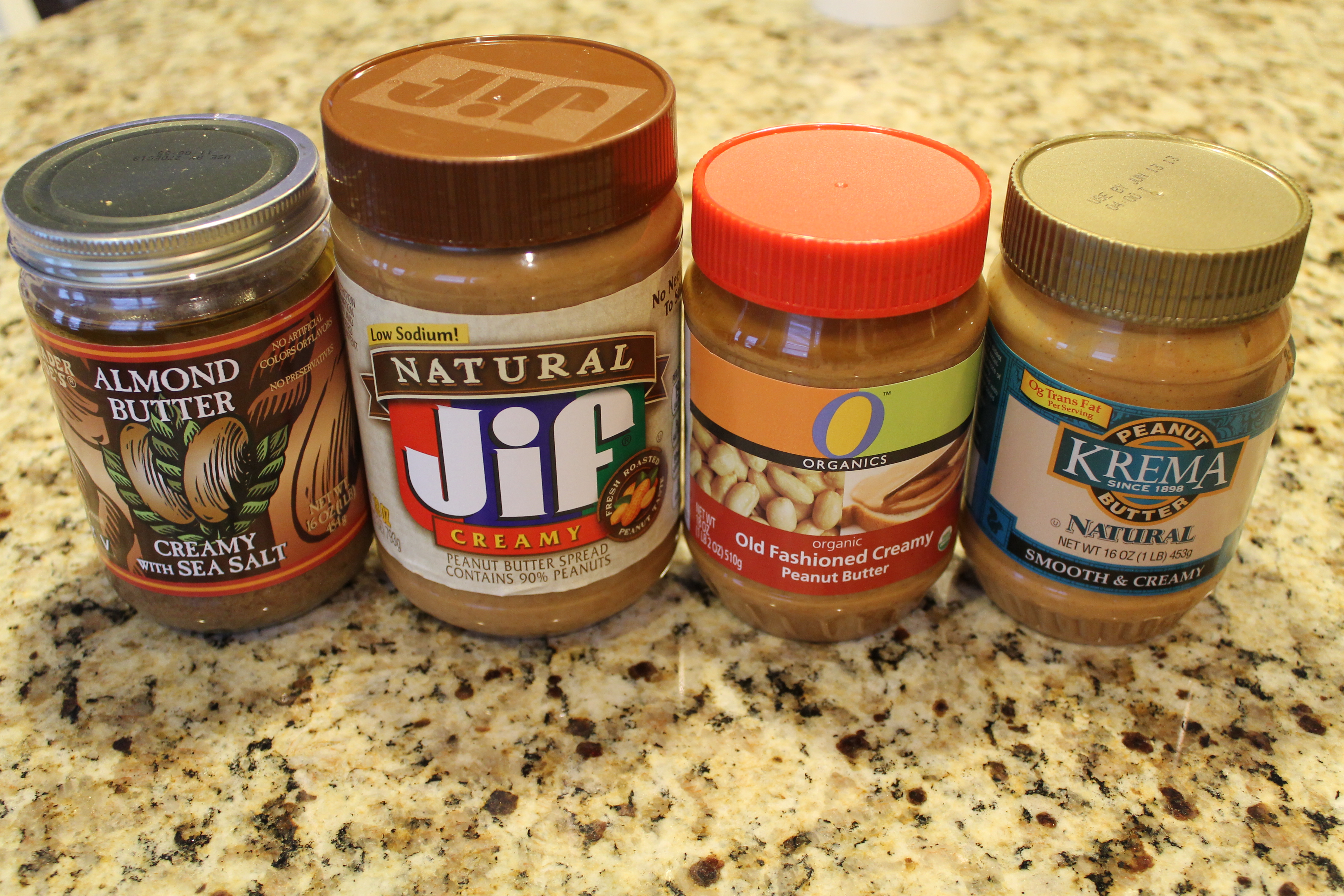 Why so many?  Well, let me tell you.  I have come up with a solution to my own personal peanut butter dilemma… the one where I know what I shouldn't be eating, I know what I should be eating, and I am stuck (pun intended) in the middle with Mr. Jif.
Here's what I do.  If I'm going to be eating peanut butter in such a way where there aren't many other ingredients to the snack/meal (for example, if I'm going to warm it up and eat it with some sliced apples or something) I choose the one that my taste buds prefer – in my case it's Jif Natural because it tastes like "old school" peanut butter but doesn't have quite as many "bad" ingredients.  If I'm going to be using the peanut butter in some other kind of way like putting a dollop into the blender to make a smoothie, using it to make my husband's energy bites for his quick breakfasts on the train, or if (in a dream world) I was going to make something like peanut butter cookies, I would use "real" peanut butter – the stuff where the ingredients are pure peanuts.  You see?
So that's my middle ground.  Use the imperfect stuff when flavor matters most.  Use the purest options when the plain peanut flavor will be masked by other flavor combinations.
It's not a perfect solution, but for now, it's me moving my family in the right direction.
What do you think?  Do you use different brands for different purposes?  I'd love to hear your ideas on this!
Be sure to "like" the Bring Mae Flowers page on Facebook so you'll see updates on future posts.  If you use natural peanut butters, you'll definitely not want to miss my next post about a cool way I mix my natural peanut butter.  (Hint:  It does not involve a traditional spoon.)