Well… I might have been doing some baking lately.  And I might have been feeling lazy by the time it was time to do all the dishes.  And I might have left one of the muffin tins in my sink – you know, "to soak".    And I might have left it there for a few hours.  And a few hours might have turned into the rest of the evening, overnight, and several hours into the next day.  And I might have discovered rust marks in my sink after such a lazy escapade.  Whoops.
The good news is… I knew the secret to fixing it and it only took me about 20 seconds.  Let me show my trick.
First, the sink: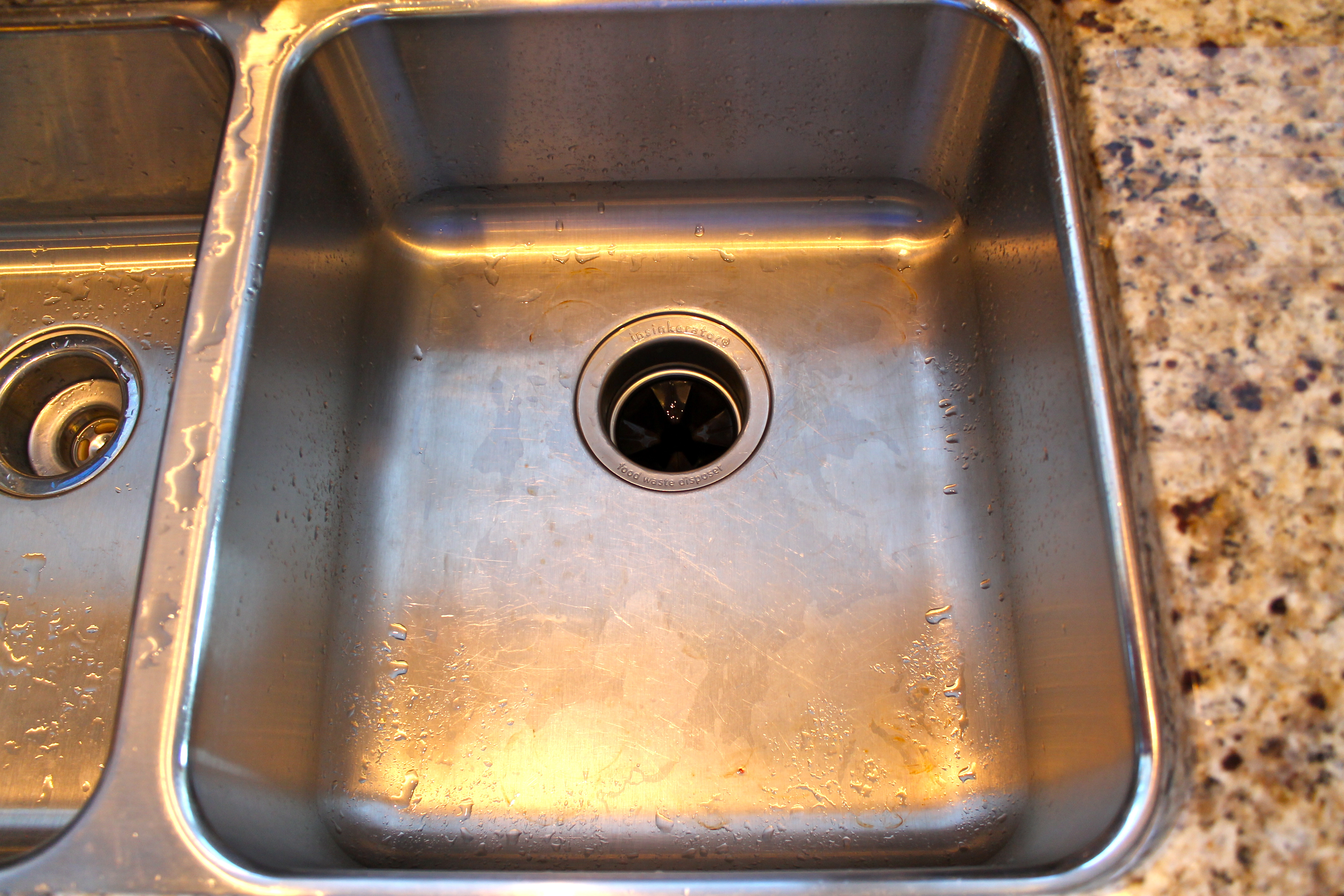 Here's a close up – see those circular rust marks in the upper portion of the sink from the bottom of my muffin tin?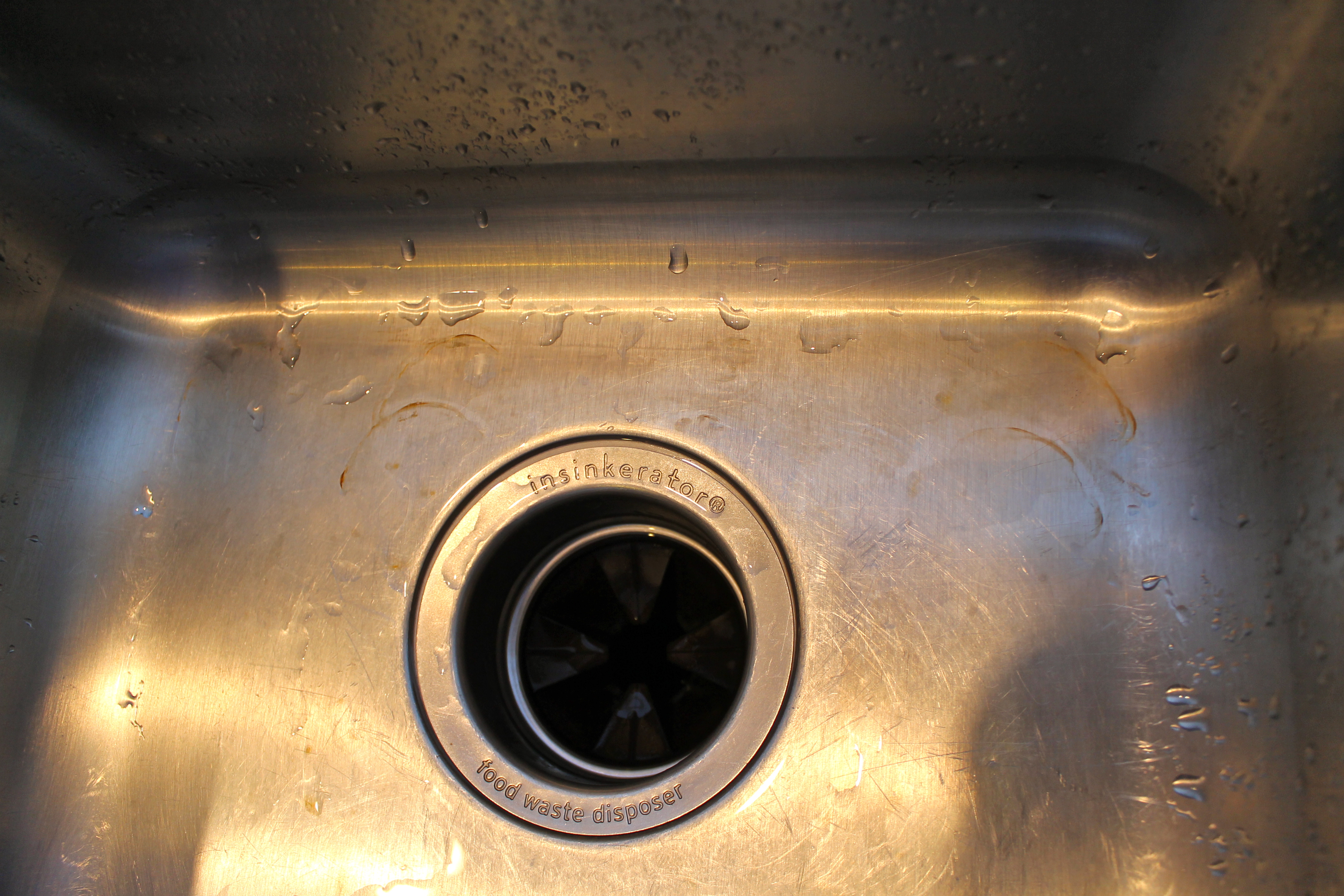 Well, I started the obvious – some of my favorite chemical-free dish soap – Shaklee's Dish Wash Concentrate.  It made my sink look nice, but it wasn't enough to deal with the rust.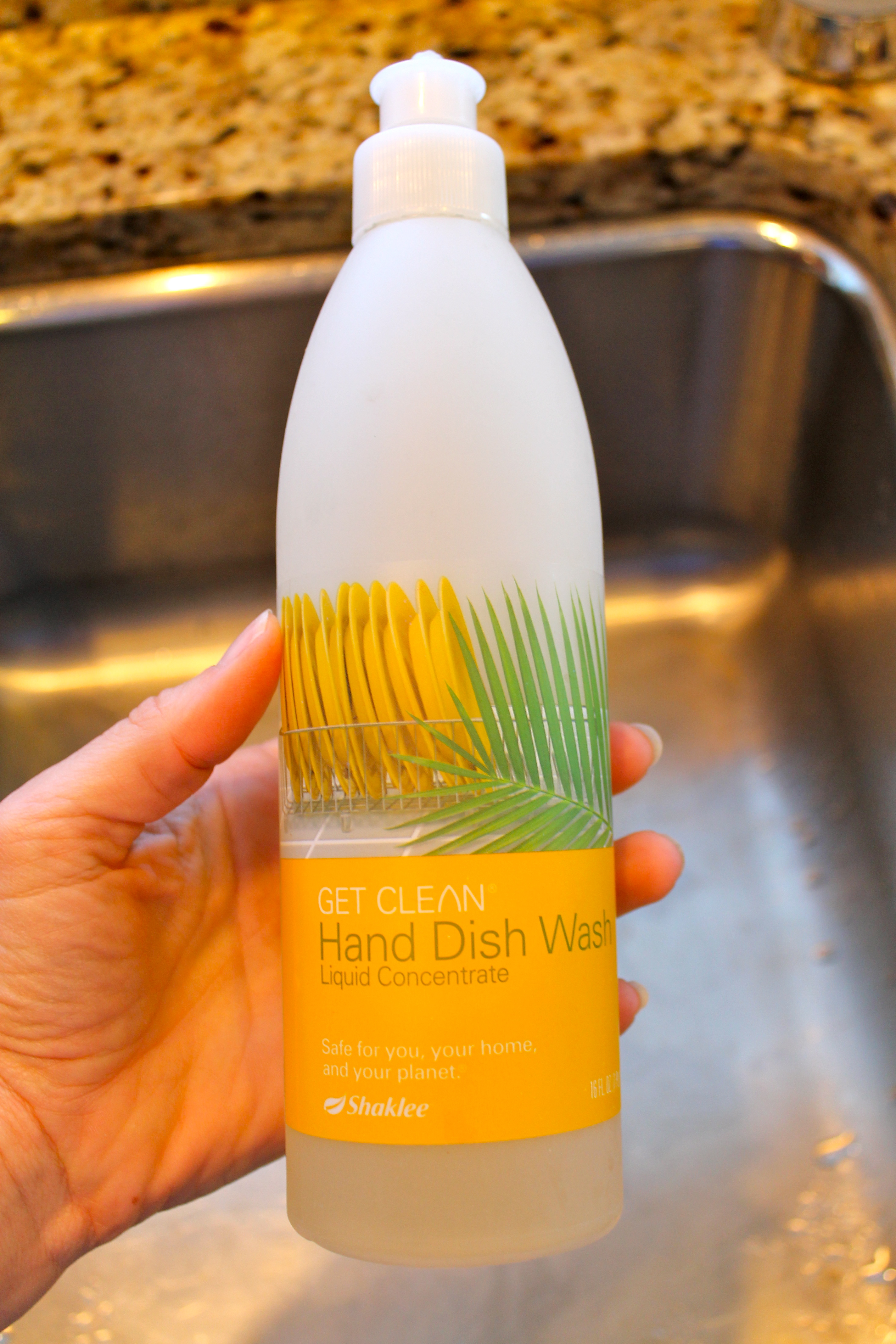 Out of curiosity, I tried the rough side of this sponge.  Didn't work.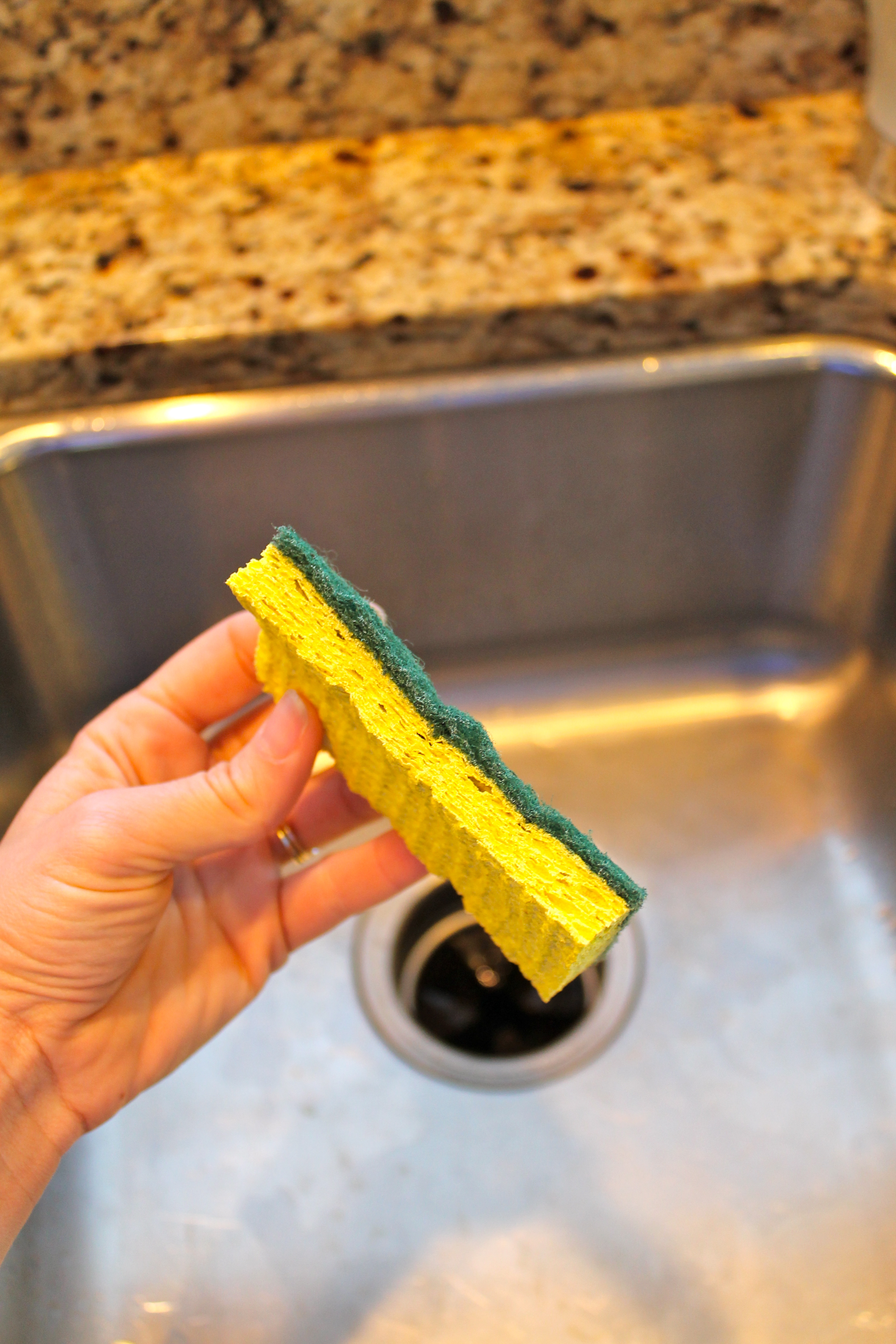 Then I thought I'd try the big guns… steel wool!  Nope!  The rust didn't budge.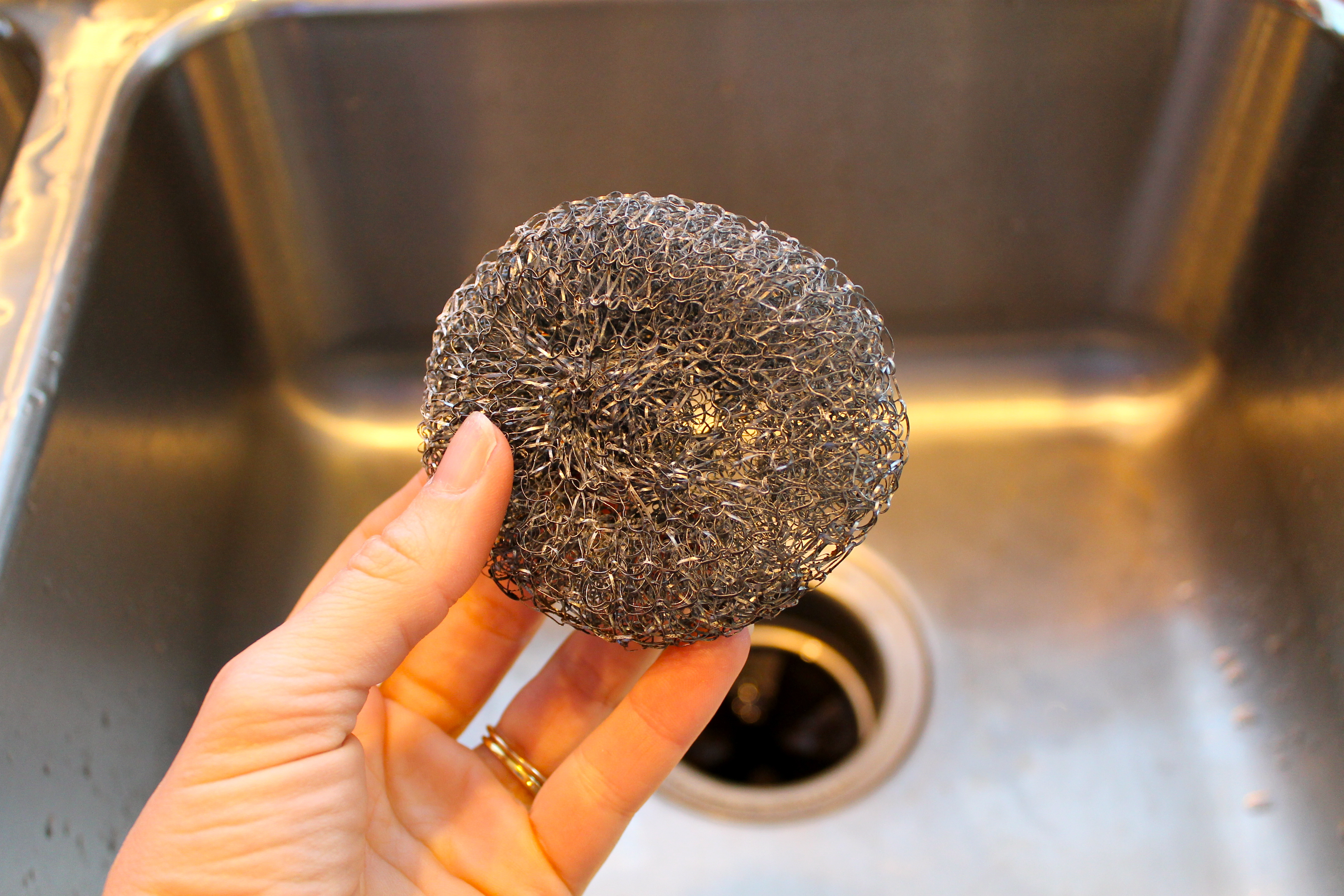 So, I busted out one of my favorite products EVER from Shaklee's NonToxic Get Clean line – it's called Scour Off Heavy Duty Paste and it is amazing.  No, seriously, this stuff rocks my socks off.  Here's what it looks like in its cute little tub: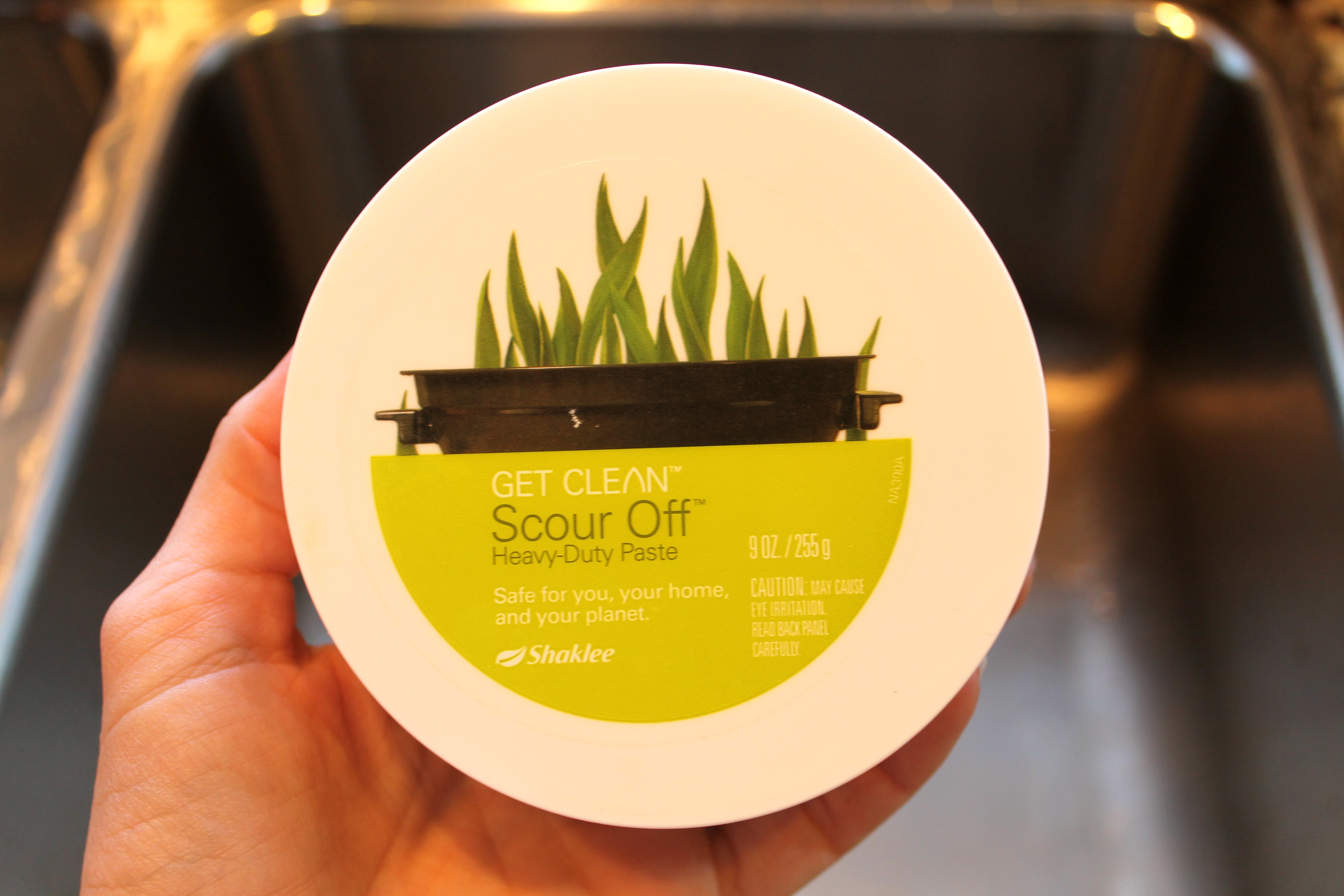 Here's what it looks like inside: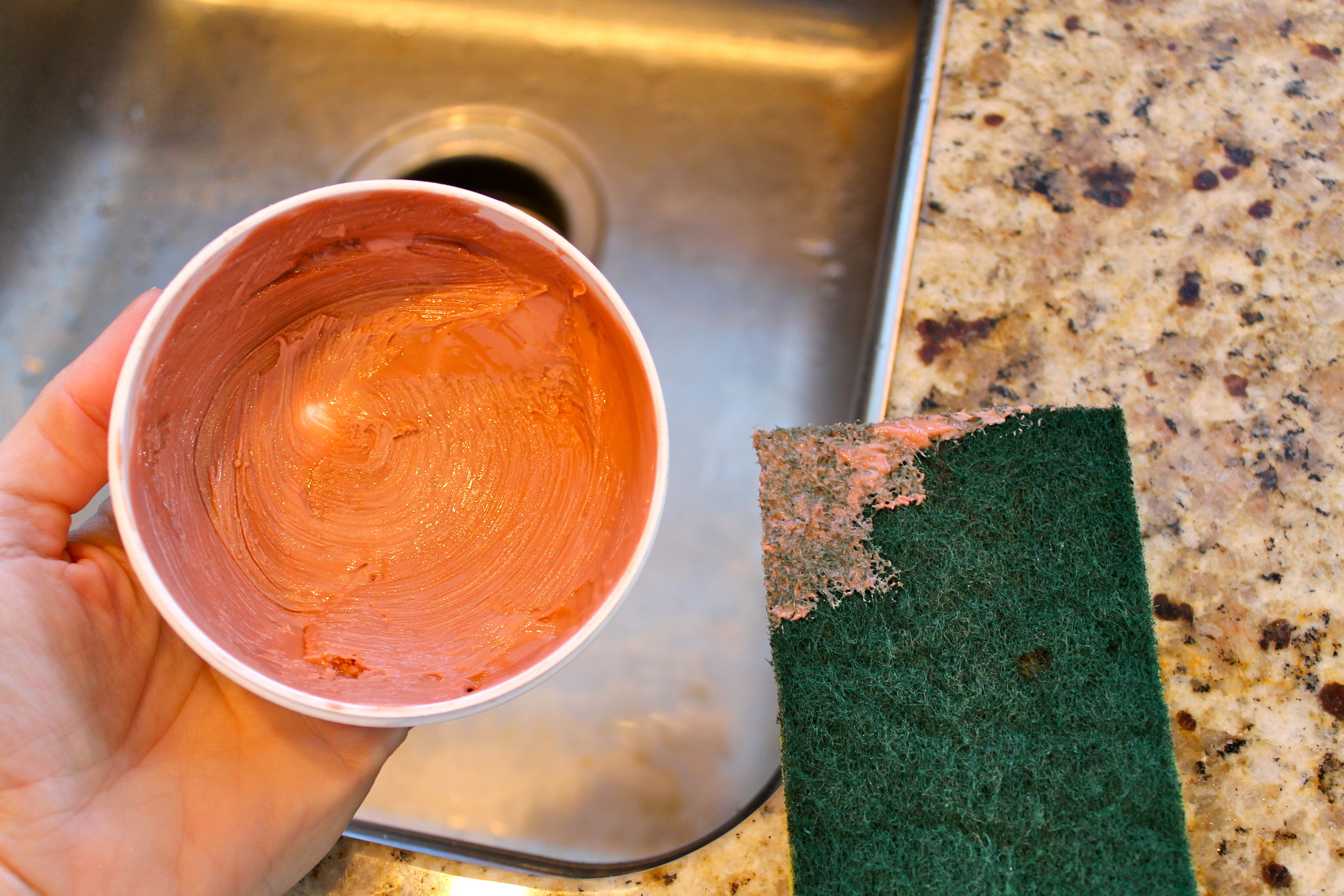 I wish computers could show you smells, because this stuff smells delicious.  It's made from ground up cherry pits, so you can just imagine the aroma…
And for the record, all I used was the amount you see on my sponge in that picture above. Just a dab will do the job – a little really does go a long way with Scour Off!  It took off the rust and shined my entire sink up beautifully in less than 20 seconds!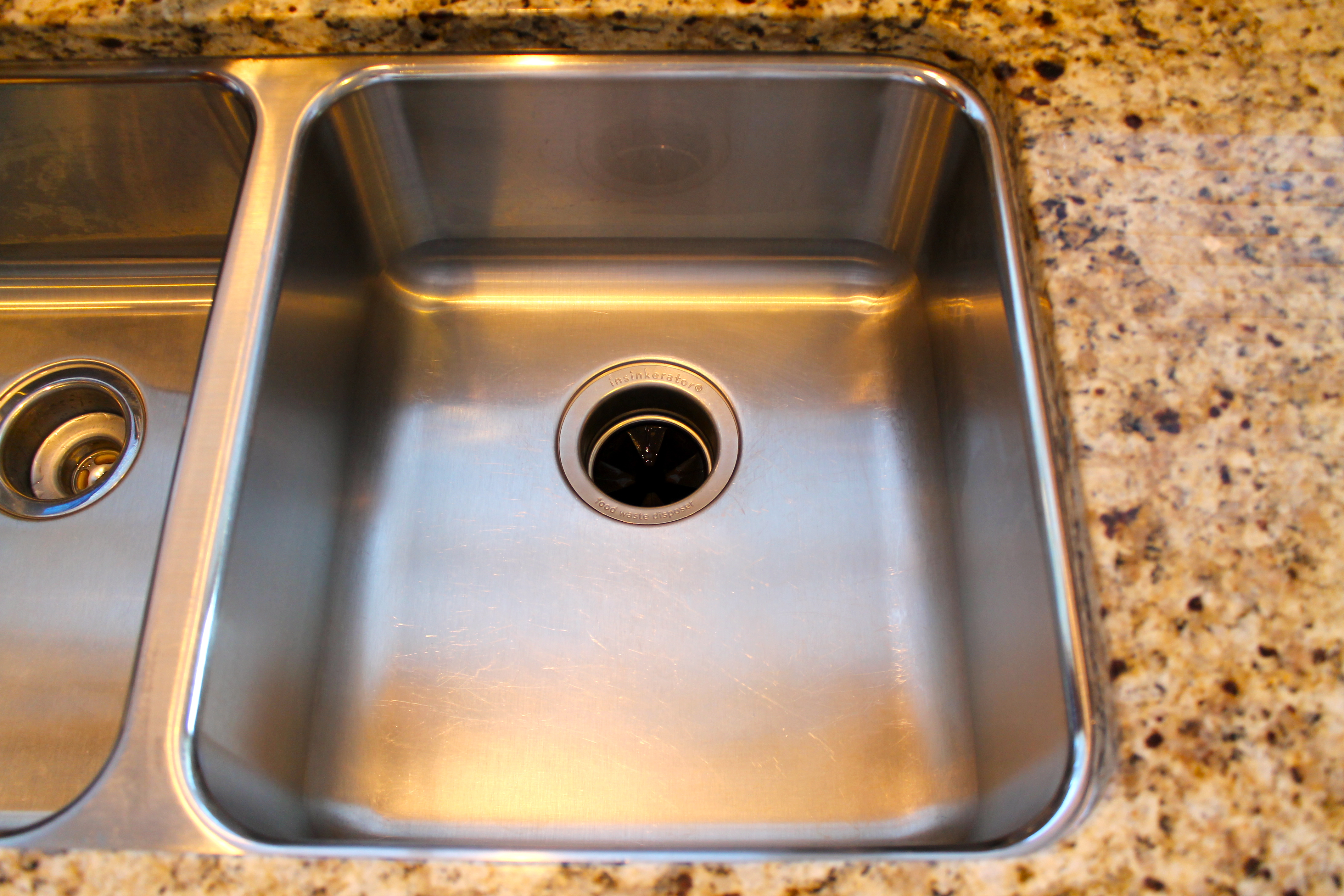 So much better!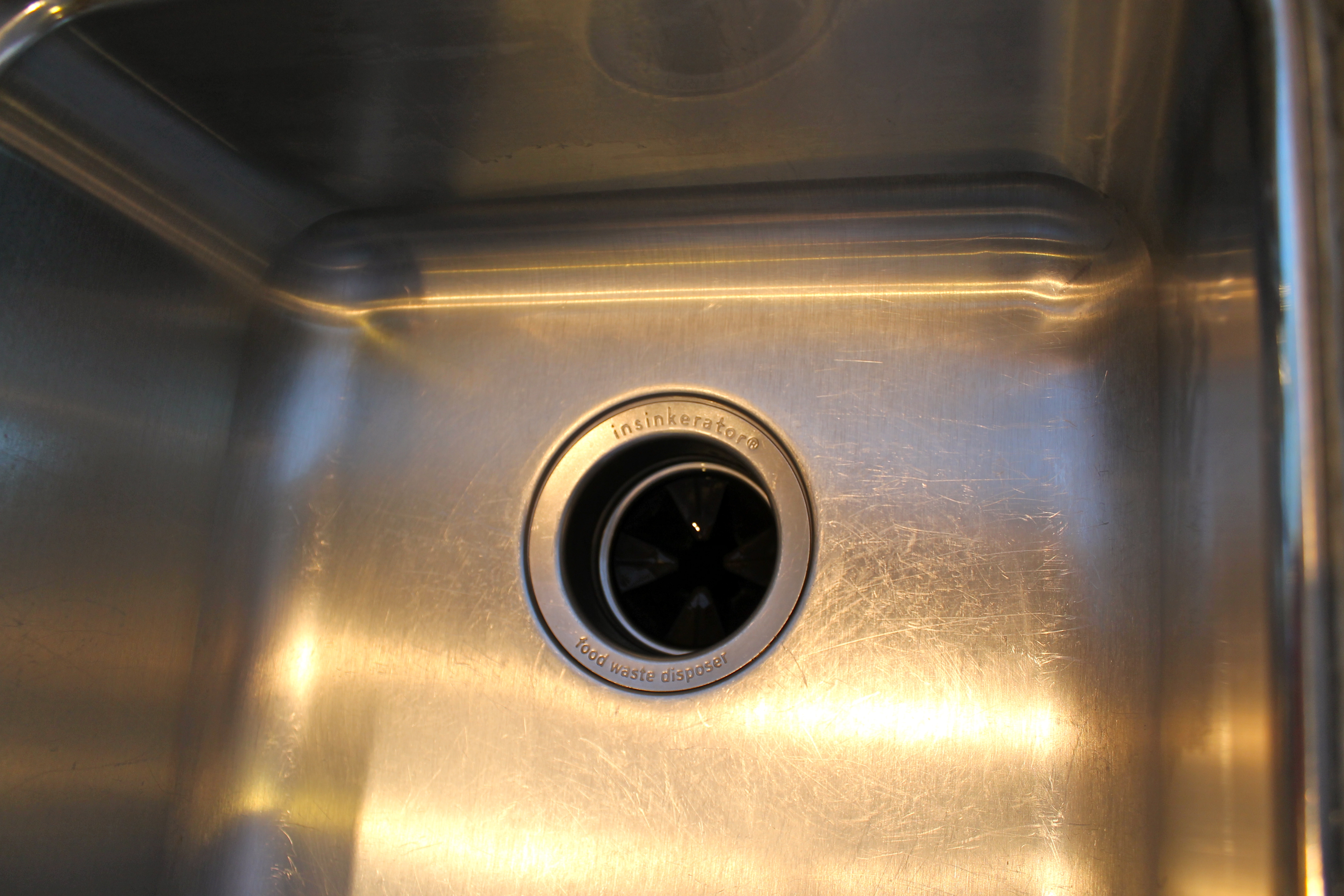 I love, love, love a shiny sink!  (Weird, I know, but it's true!)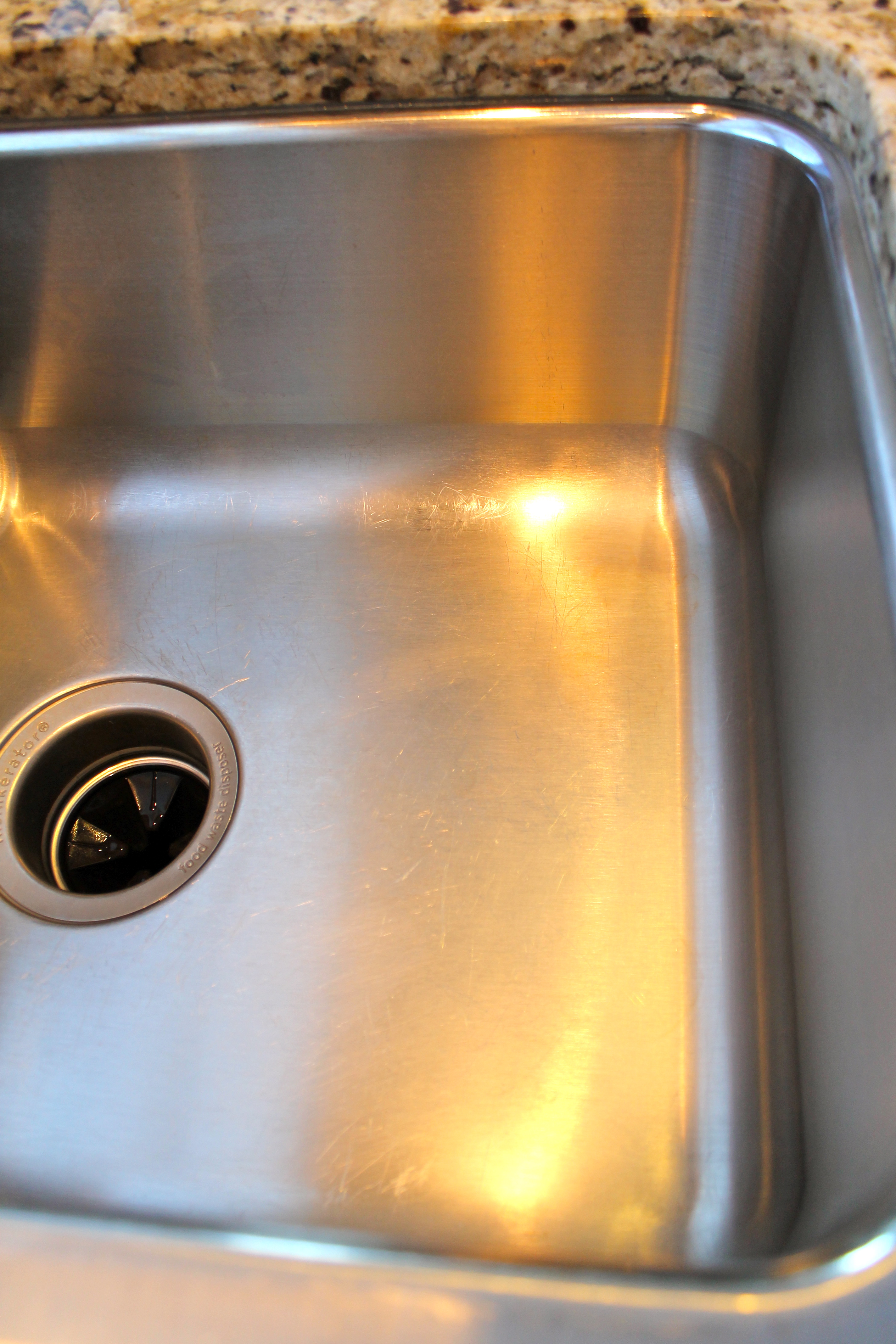 I love Scour Off.  I have used it for a zillion things in my house.  I've used it to clean out my oven (no nasty fumes from toxic oven cleaners for us!), get gook off my kids' art table, get soap scum off shower doors, get dried paint off my wood floors, get non-washable marker off my white kitchen table (why do they still manufacture non-washable markers anyway?  They should be outlawed!), get gook off the grates of my stovetop, etc.  I love that Scour Off is so useful, so easy to use, and most of all I love knowing I'm not using chemicals in my home that will harm my family.
Remember when I told you about the cleaning lady who was raving about Get Clean's products?  Well, I told you about how she was loving (and ordering!) the Basic H, but I didn't talk much about the Scour Off… she loved it so much she ordered two tubs of it.  It was so funny, she was like, "I can't believe it!" and said she just had to get some.  😉
If you are like me and are trying to remove as many harmful things from your home as possible, take it from me, you do NOT need any crazy products like CLR or anything crazy toxic like that!  The Get Clean line can do it all – plus it's cheaper, it's nontoxic, and it works like a charm!  (Shaklee stands behind all their products – if you aren't happy, you can get your money back – it's as easy as that!)
You can order yourself a tub of Scour Off (and all the other awesome Get Clean supplies) by clicking here.
That's it for today… I'd better go take care of the dishes in my sink… ha ha ha!  😉