A couple of days ago I posted about how my family's history of colon cancer is a very motivating factor in me placing a high priority on my own health and the health of my family.  I can't just tell myself to eat right and hope for the best.  I have to ACTUALLY plan, prepare, and follow through with doing that.  And a big part of me "eating right" is that I need to eat a diet that's high in fiber.
Depending on the source, the experts say most adults should be getting 25-35 grams of fiber every single day.  This means lots of vegetables, fruits, whole grains, etc.  I try to aim for the higher end of that spectrum.
I've tried a lot of different ways to keep track of this.  Today I want to share with you the easiest way I've found to keep track of my fiber intake (as well as other important nutrients, too!).  THERE'S AN APP FOR THAT!  No really, there is.  And it has made things so much easier!  It's a free app called "Lose It".  It's by far the easiest way I've found to help me be accountable for my own health because it does all the work for me!  Here's what Lose It was able to show me about my eating last week – this is an actual screen shot of the Lose It screen called "nutrients":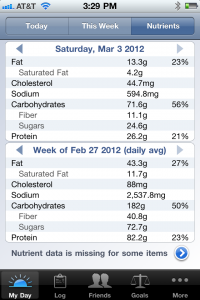 Ignore the top half marked "Saturday" simply because I took this screen shot in the middle of the day so it doesn't show a complete picture of an entire day.  Look instead at the bottom half of the screen called "Week of Feb 27".  Here it shows me a breakdown of my entire week's worth of eating.  So on an average day last week, I ate approximately 40 grams of fiber.  Go me!!
Now check out all the other goodies it computes for me.  I can see that I got most of my calories from carbs.  (Not that great.)  I can see that I had about 80 grams of protein on an average day.  (Decent.)  I notice that my sodium is on the high end of normal at 2,537mg… I'm guessing because I had soup one day but beyond that guess I'd need to go back into each day and take a peek at what I ate to end up with that number.
This app makes my life SO easy.  I punch in the foods I eat and the app does the rest.  The nice thing (aside from the fact that it's FREE!) is that it has many foods programmed in already, including simple things like broccoli, to more specific things like a certain kind of latte at Starbucks or a specific brand of shredded cheese at the grocery store.  In addition, it scans bar codes, so if I have a new food that the program doesn't already know about, I just scan the bar code with the camera of my phone and in less than a second it recognizes that item and will now have it saved forever in my food database.
If you are the type that counts calories, this would be a great app for you too because that's actually its main purpose.  Here's what the screen looks like as you enter foods throughout the day: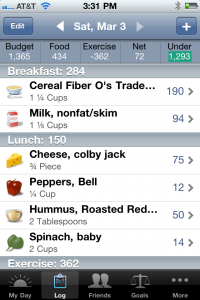 The Lose It app has really helped me be more aware of my fiber intake.  I have been using now for over a year and a half and I still love it!  It's way better than trying to keep track of all that information with a notebook and a pen!  I would highly recommend using this app for people in situations like mine or even just for an eye-opening look at overall health.
I hope this helps at least one person reading along with Bring Mae Flowers.  What do you think?  Is this something you could benefit from?
~Mae