Is "greenified" a word.  Not that I know of.  But I think it explains what I want to say here perfectly, so I'm using it!  😉  It's my blog, so I'm taking creative license to make up new words here.  😉
Earth Day is this weekend.  I'm not really a "save the planet" kind of gal, but a lot of the things I do to make my family healthier are actually good for the planet as well, so I'm going to share something about the dishwasher today.
Did you know that using the dishwasher instead of hand washing dishes is better for the planet?  And it's better for your bank account too?  Dishwashers these days tend to use only about 4 gallons of water.  That saves almost 5,000 gallons of water per year over hand washing.  Wow!  (And, really, who actually WANTS to hand wash anyway?!?!  NOT ME!!)  I don't know about where you live, but the area where we live, water is EXPENSIVE.  In some cases, it's 4 times as much as my neighboring communities.  Drives me nuts.
Think about it though, pre-rinsing plates negates all that savings.  Here's a way to get your dishes clean with your dishwasher, save money, be kind to the planet's resources, save yourself time…
I use Shaklee's Get Clean Dishwasher Concentrate in my dishwasher.  It does such an amazing job cleaning my dishes that I never pre-rinse.  NEVER!  (I'm too lazy for that anyway, so it's a good thing the dishwasher concentrate works so well!  Ha!)  Chunks of food?  Sure, I'll scrape those into the trash.  But I do not put even one drop of water on my dishes before they go into my dishwasher.
And for the record, I do NOT have a high-end dishwasher.  I have a very basic dishwasher that the builder put into the house when we moved it.  (In fact, I hate my dishwasher because it's SO LOUD, but I'll save my whining for another time.)
Here's a photo of my canister of Shaklee's Get Clean Dishwasher Concentrate:
This product is natural & biodegradable.  It does not contain any phosphates, chlorine, nor fragrance.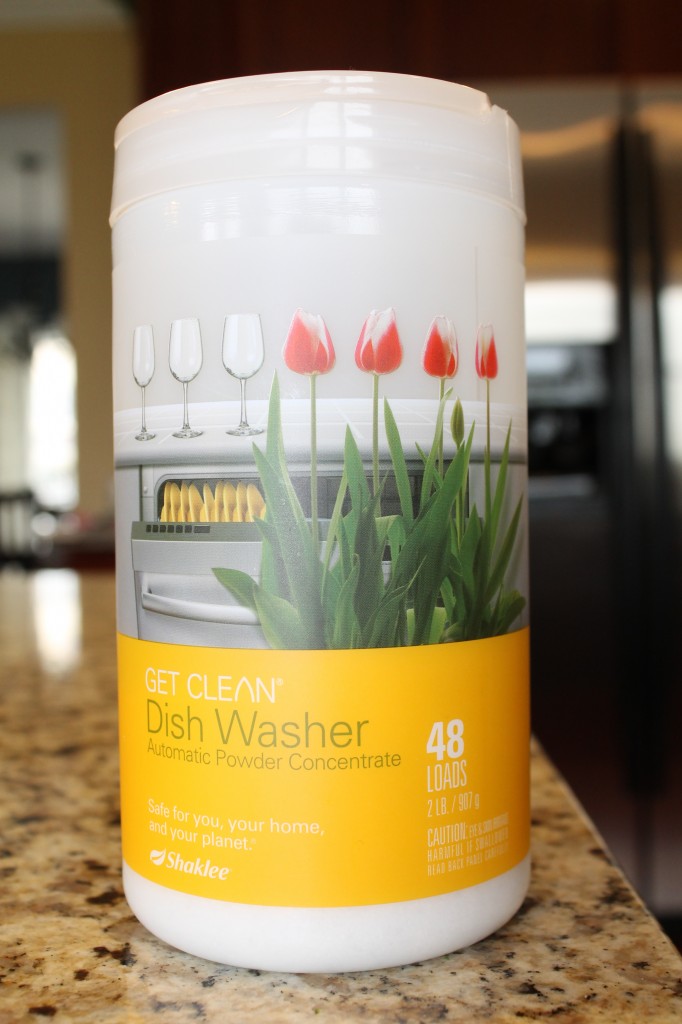 And speaking of the fact that the Get Clean Dishwasher Concentrate doesn't contain any fragrances… I shared with you a few days ago that my family went on vacation in this post. Well, we stayed in a condo and the staff at the condo left two little dishwashing soap "pellets" for us to use.  I'm telling you, the SMELL from the fragrance of that dishwasher stuff was so strong now that I'm used to using products without fragrances.  It was overpowering.  And it really grossed me out!  I swear I could TASTE the soap on the dishes!  Eeeew!  Anyway, back to what I was saying…
It says to use one scoop for each of the two little soap cups in the dishwasher.  That should get you 48 washes out of one order of the concentrate.
But I don't follow those directions… and I don't have to because Shaklee's dishwashing powder is SO CONCENTRATED!  (I guess that's why they used the word "concentrate" in the name!  Ha!)  I don't need a whole scoop at all!  I fill my scooper about 3/4 full for each spot in the dishwasher.  Saves me even more money because my powder lasts me even more than 48 washes!  Yay!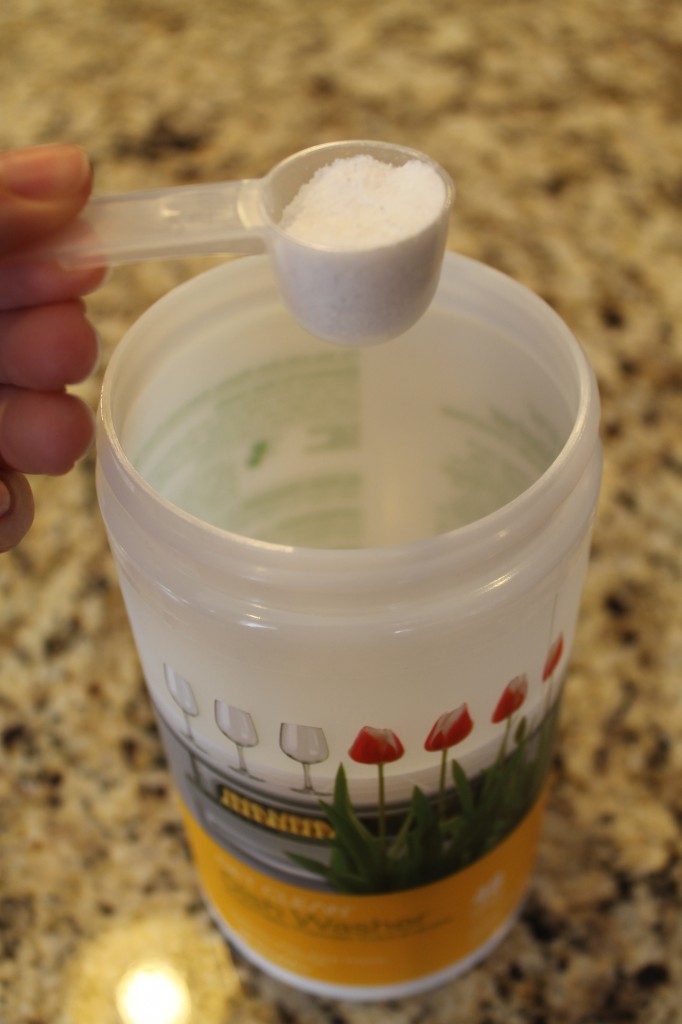 Take a look at what it looks like in the dishwasher itself.  It looks like I BARELY put anything in those little cups, right?!?!  That's 3/4 scoop in each one.  There's no need for any more that that.  It would just be wasting money.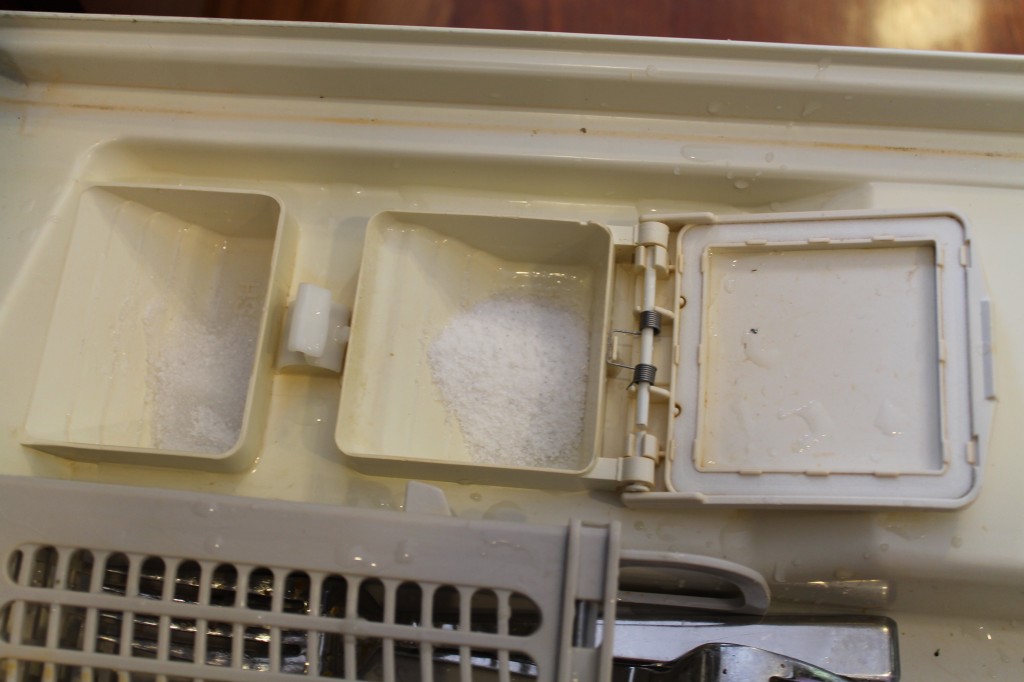 This is not the dirtiest load ever, but it's one from today so I'm going with it.  Like I said, I DO NOT pre-rinse (even stuff that's been dried on for hours) and the dishes come out sparkling every time.  Love that!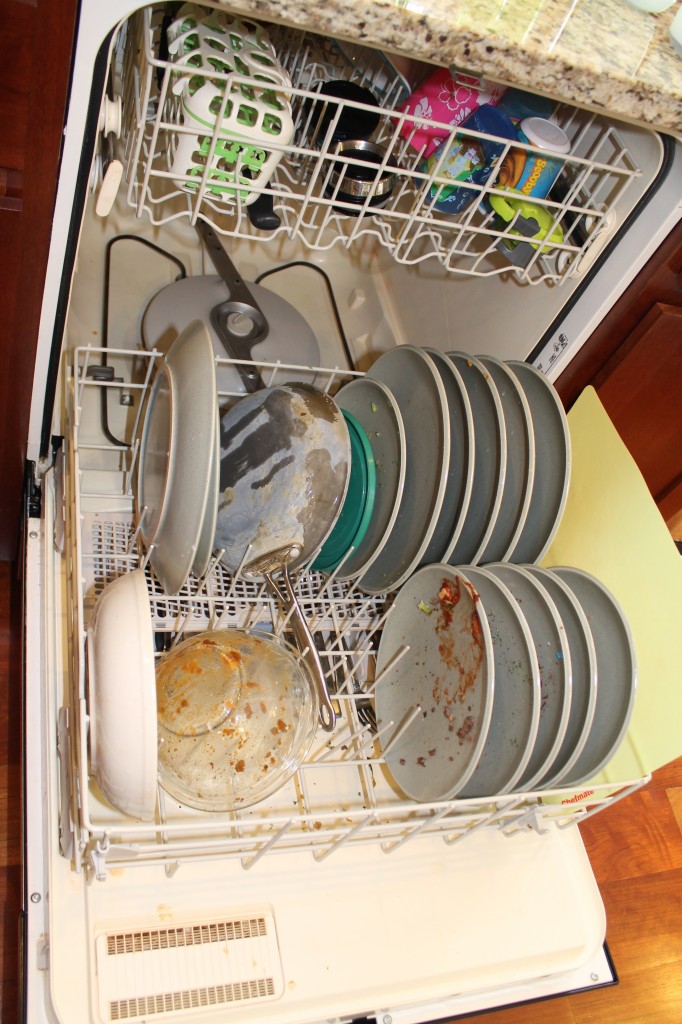 Here's the after.  Very little work/time on my part.  Very little money spent.  Yay!
Here's a close up side view of the plates that were basically caked with "stuff".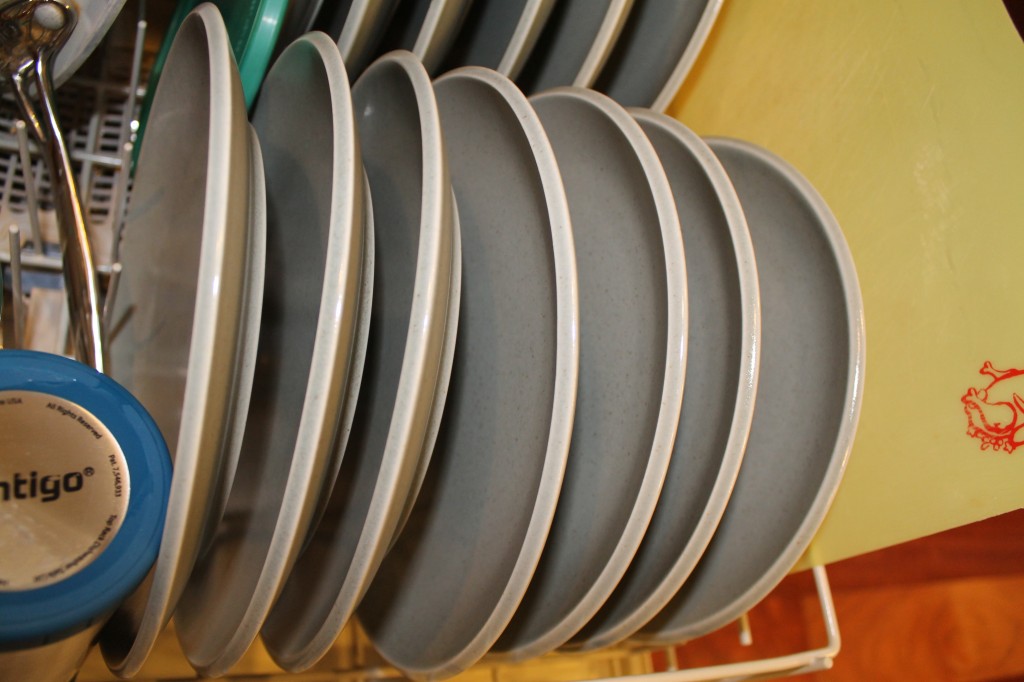 It works!  It's safe!  It's green!  And guess what… it's cheap!  Check out this cost comparison sheet.  The Get Clean Automatic Dishwasher Detergent costs 19.8 cents per load.  Compare that to something like Cascade Complete which costs 28.4 cents per load.  And compare to something "green" like a Seventh Generation which will run 40.4 cents per load.  The cost is a no brainer.
Plus, Shaklee guarantees your satisfaction with every single product.  If you are not impressed, Shaklee will give you a quick and easy refund.   So there's nothing to lose by trying it!
And it just so happens that for the month of April, when you make any purchase(s) from Shaklee, you'll receive your lifetime membership for FREE!  (It's kind of like getting a membership to, say, Costco for free, but even better because it doesn't have to be renewed annually… your Shaklee membership is good for the rest of your life!  Awesome!)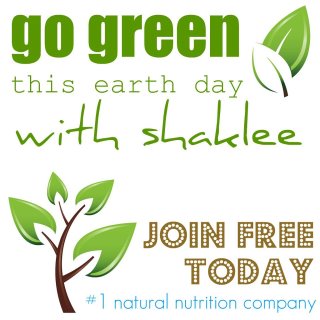 What's so special about a Shaklee membership anyway?  Well, by becoming a member of Shaklee, it means you'll receive 15% off the regular price of all of the great products Shaklee has to offer!  Sweet!
Take a look at Shaklee's products by clicking here to shop at my Shaklee site!
I hope you'll take advantage of this month's special and I hope it helps you on your journey toward a healthier life!  I'm glad you're journeying along with me!
With love,
Mae