Welcome to my little girl's bedroom!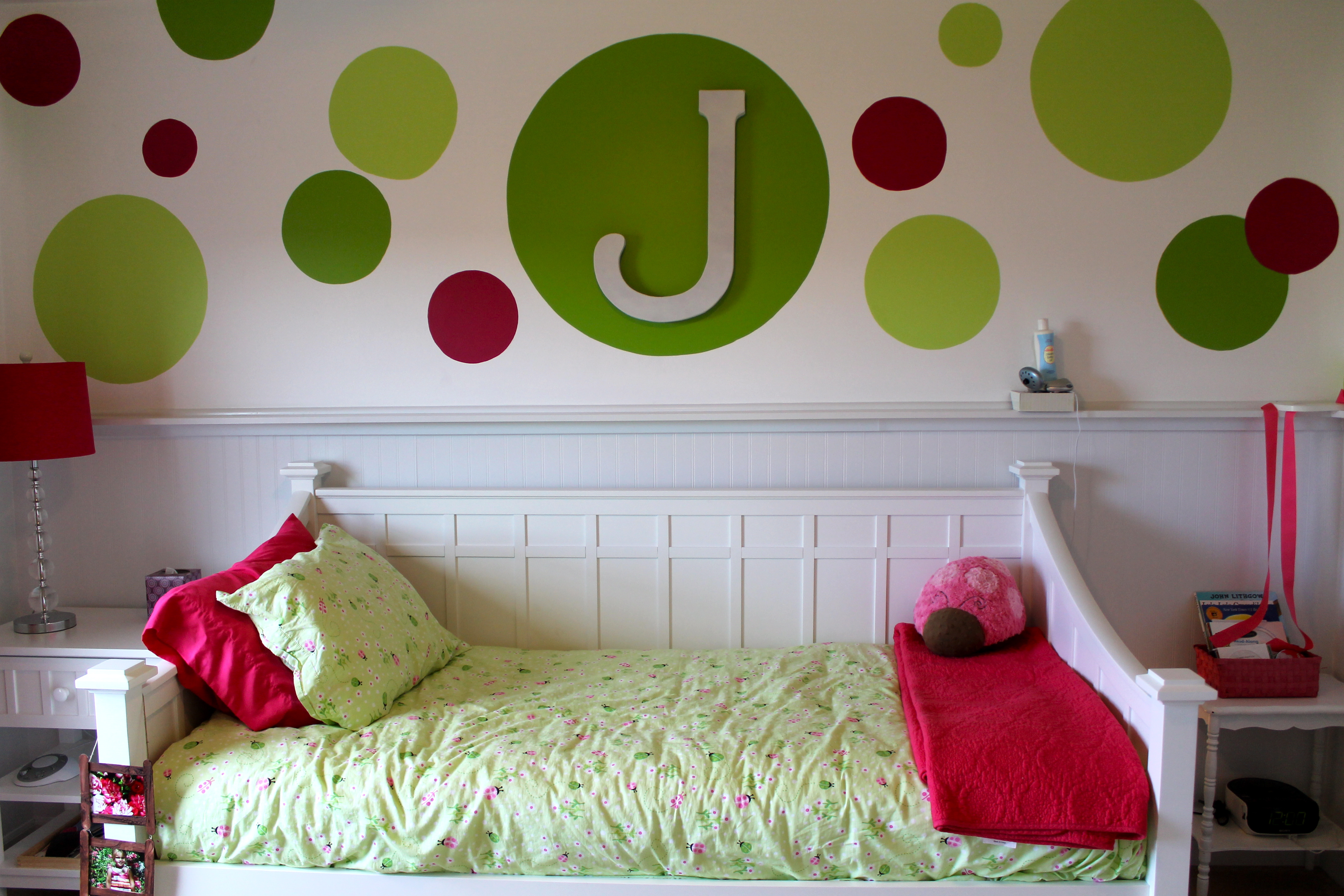 When my daughter, Birdie, started the transition out of her crib and into her toddler bed, I began the process of changing this room from a baby nursery to a room for a girl.  I probably would have put it off a year or two had I not sat on her toddler bed one day and realized how hard! her little mattress was!  I have no idea how babies sleep on those things!  I'm all for a nice, supportive mattress, but geesh, this was ridiculous.  I even made Babe sit on it and he agreed… time to get our girl a real bed with a quality mattress.
Because of the size/shape of Birdie's bedroom, I really wanted a daybed style bed for her because I felt that would maximize her floor space.  I really felt like keeping her room as open as possible was important for when she was a little girl and needed space to play as well as when she's older and needs space to spread out her schoolwork, etc.  Another thing that was important to me was a trundle.  I put a trundle bed in my son's room, and it has come in super handy when friends and guests sleep over, so I figured it wouldn't hurt to have another one.  I imagine once my children get older and they start wanting to have their friends sleep overnight a lot, these trundle beds will be of even more value.
Here's what the bedroom looked like before when it was our baby nursery.  (That nursery post is still one of my most popular posts to date!)  We chose a unisex nursery because we didn't want to find out the sex of our first baby.  I think the greens, white, and brown really served us well for those years that our babies were babies and toddlers!
This particular crib, though, was cool because it could be converted into a headboard/footboard for a regular bed.  Since I had my heart set on a daybed for this room, we weren't going to need the crib anymore.  So we chose to move this furniture into the guest room to make good use of it.
I didn't want to do much repainting in the room so I opted to keep the wainscoting bright white and to simply adjust the colors of the polka dots.  I found a daybed with a a trundle that was true white.  By the way, do you know how hard it is to find a "white" bed that is actually white?!  Everything in stores, catalogs, and online that's labeled "white" is most often actually "soft white", or "antique white", or some other creative adjecive that actually means off-white.  My son's furniture is off-white and it is fine because his walls are a khaki color, but in Birdie's room with those bright white walls, I was determined to find regular ol' white!  And I did!  Yay!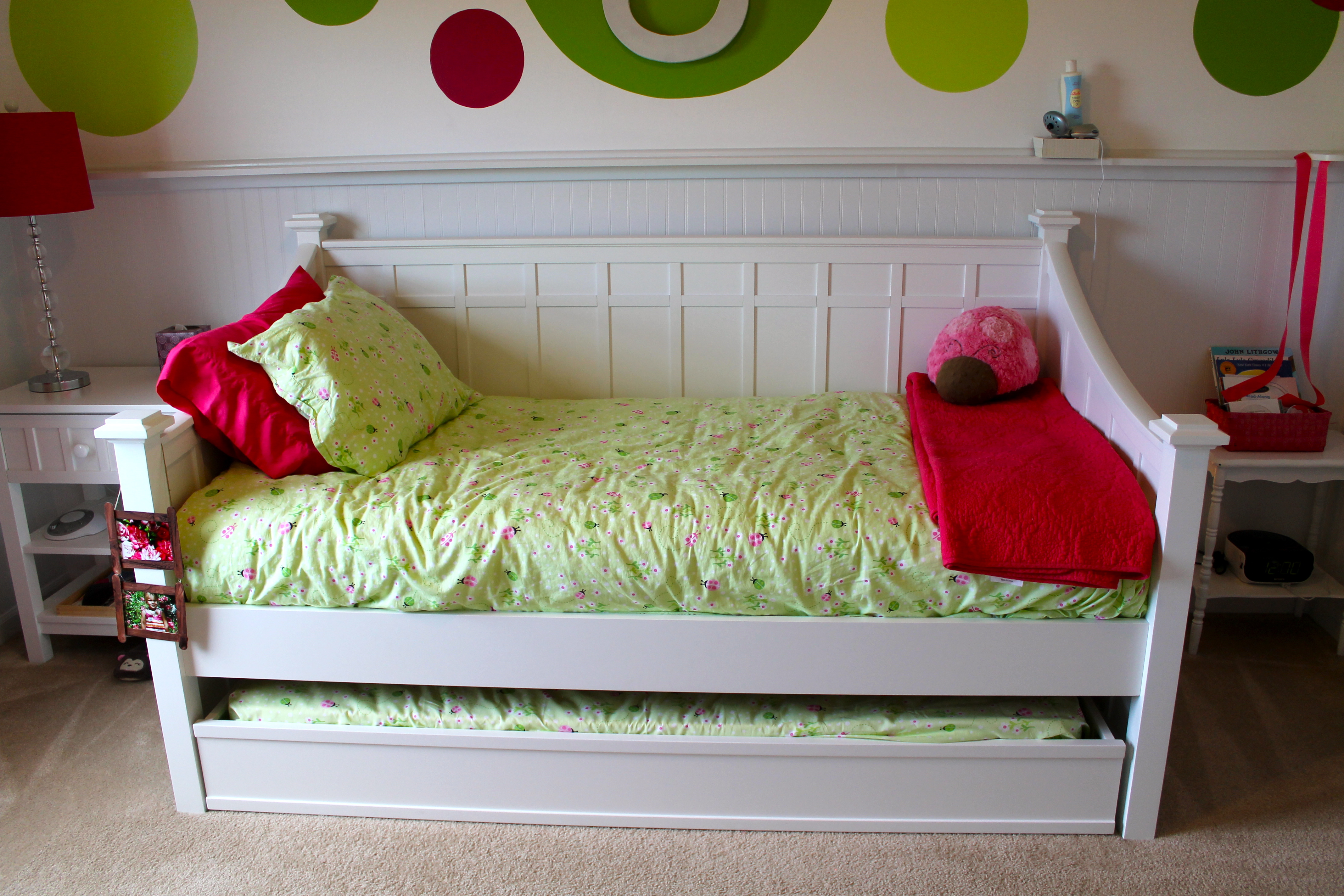 A white daybed with a trundle.  Hooray!
We got the matching bedside table: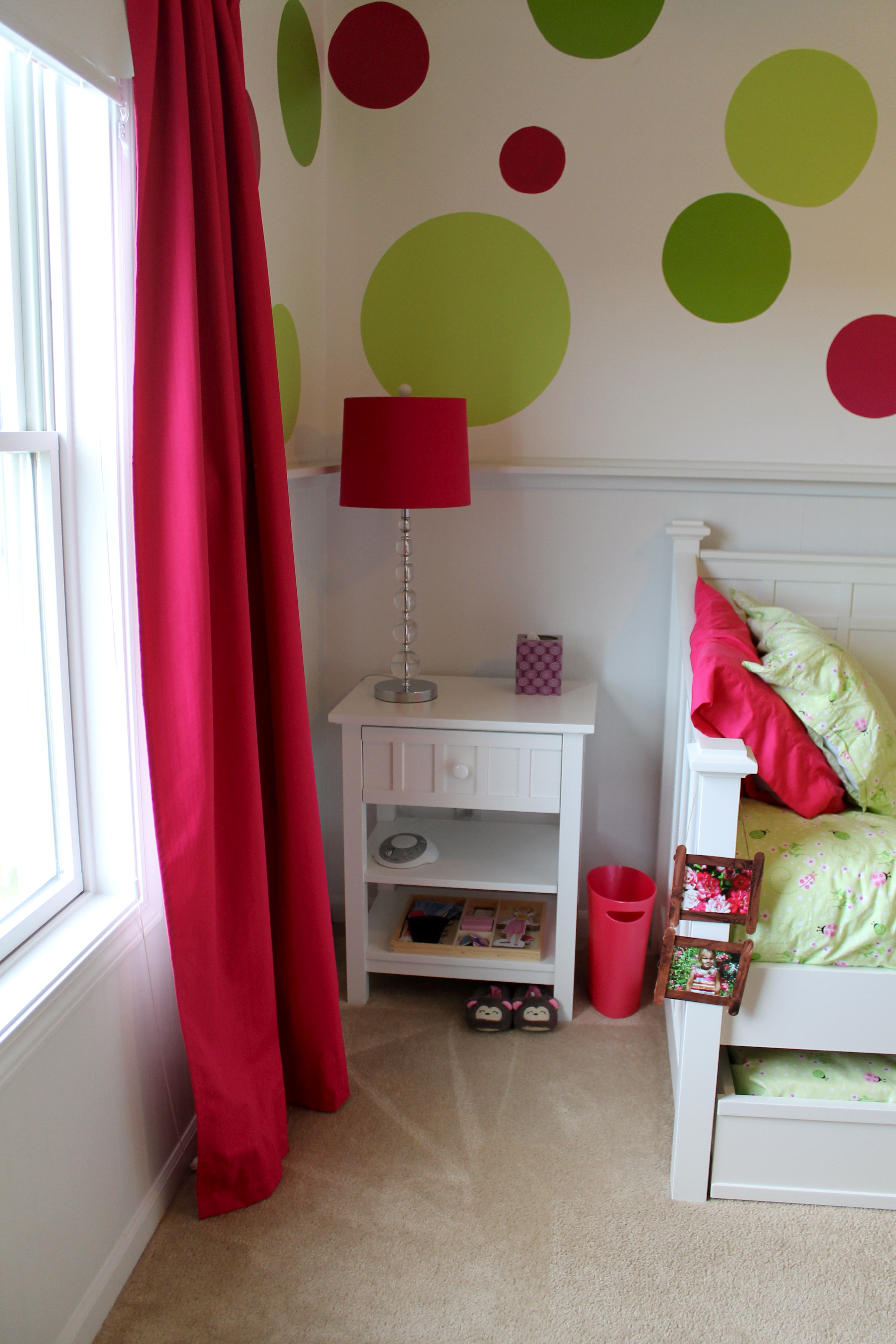 And a new dresser as well.  (I have a little project planned for the wall space above that dresser in between the doors, but it's not ready yet.  Check back for a post about that.  Or just "like" the Bring Mae Flowers Facebook page to stay in the loop on updated posts!)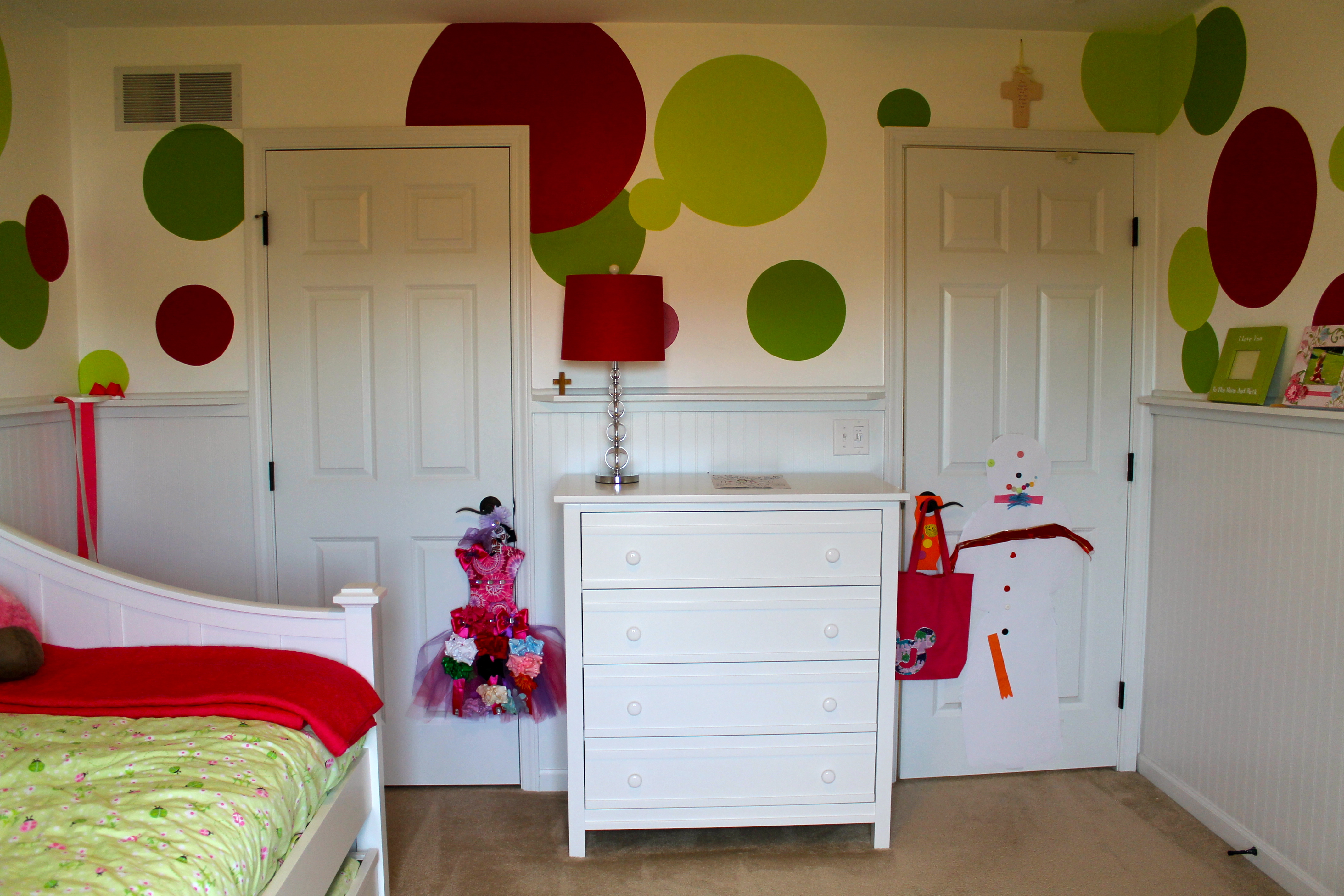 I thought about getting a desk or another long dresser with a mirror, but just wasn't sure about either of those purchases and didn't want to spend money on something I wasn't sure of, so I opted to postpone that decision.  That's why this wall of her room still looks kind of unfinished.  Someday maybe Santa will bring her a cute white desk or something, but for now, this works just fine.  (FYI those frames are not staying there.)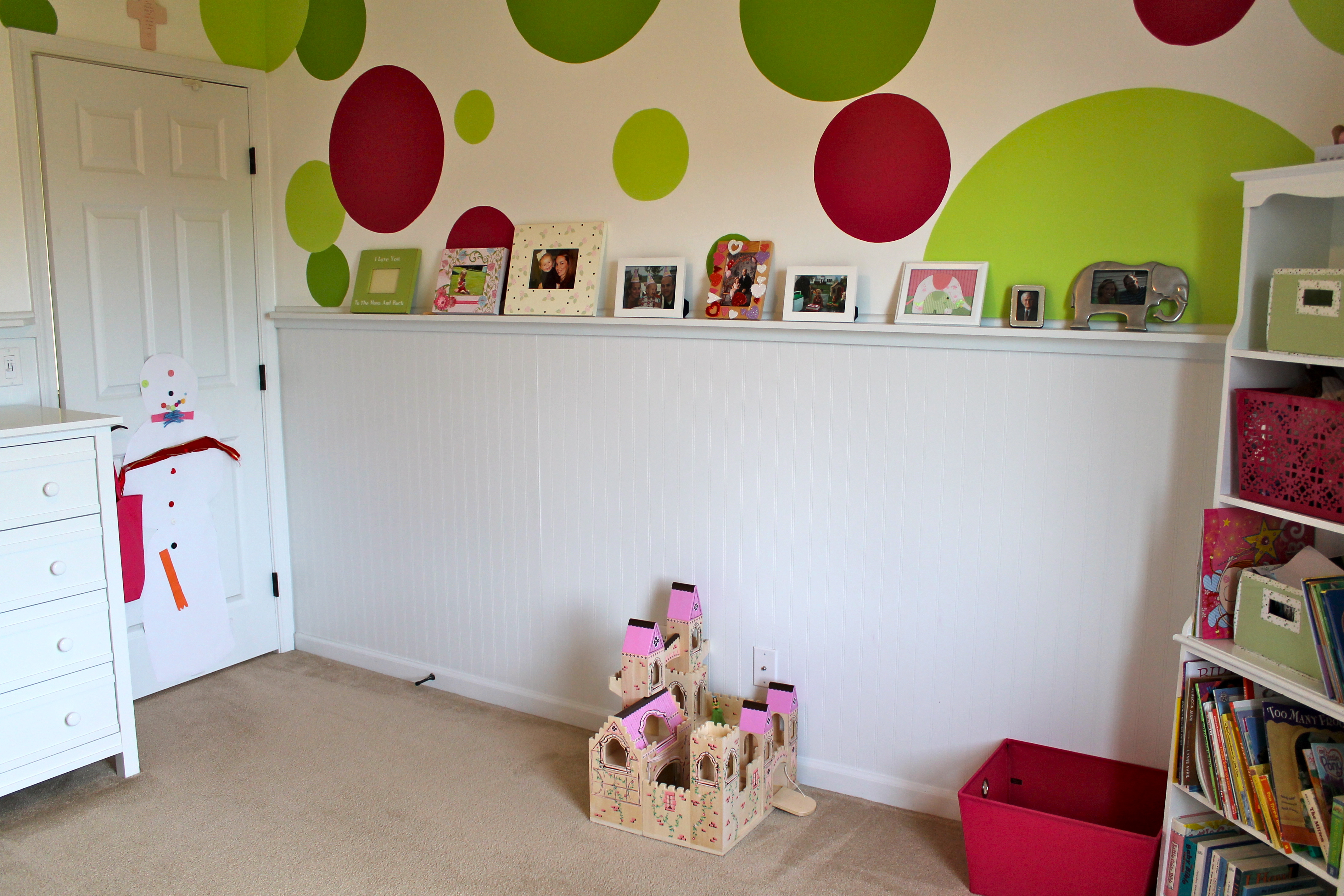 My other main goal for this room was to try to make it cute enough for my preschooler (age 4) but not too babyish overall, so that the colors and decor can last us at least a decade… hopefully all the way til she's in college!  (I had this same goal when I got my son's all-American boy bedroom put together… to make it last!)  I think decorating is kind of fun and all that, but I am always trying to find ways to spend less money doing so and to decorate in ways and styles that last so we don't constantly feel like we are re-doing a part of our house unnecessarily.  I like living in a home that feels beautiful and organized, but I don't like feeling like some part of our home is always "under construction".  Know what I mean?
For now, Birdie still has her little listening center where she can play music and listen to books on cd: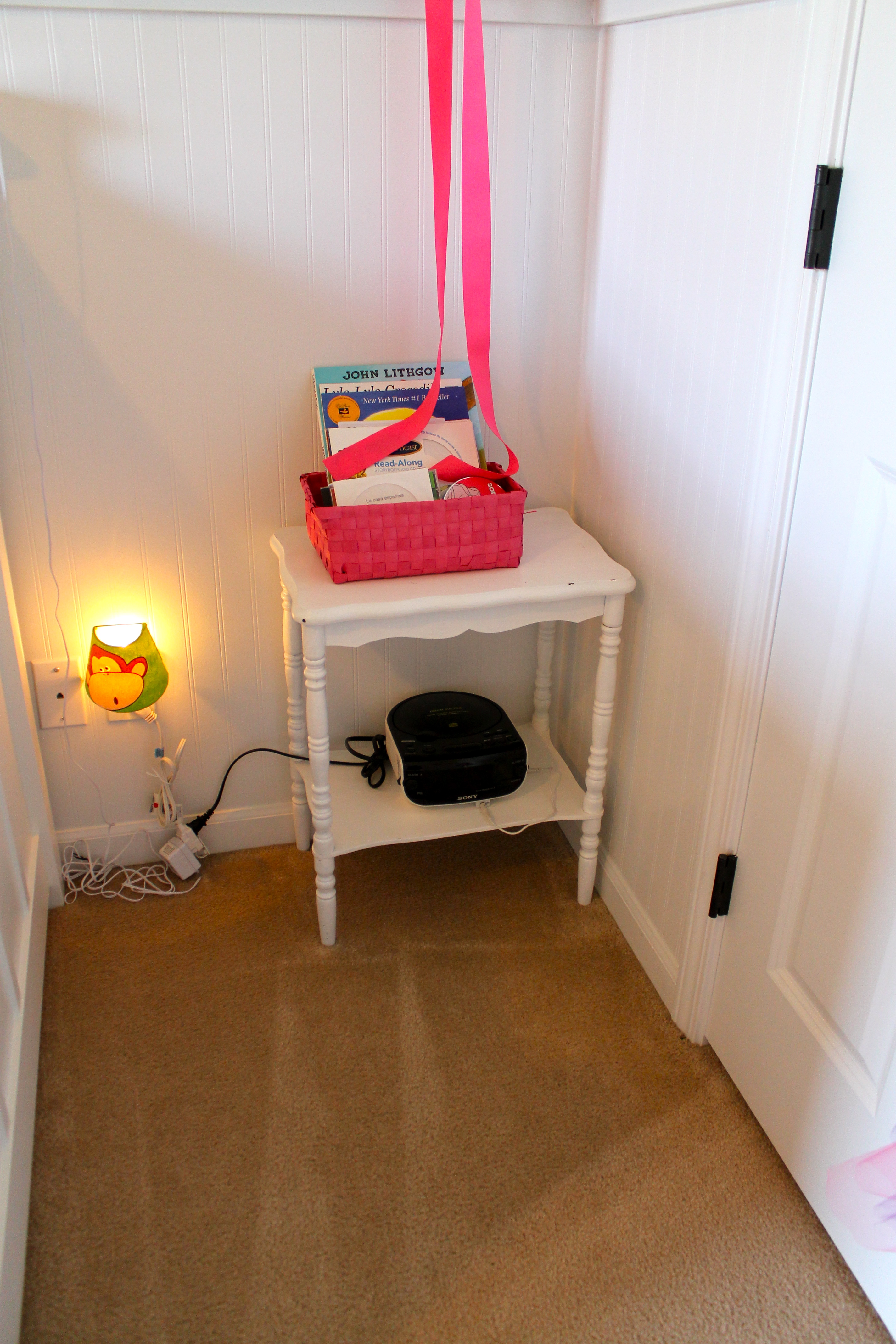 Still figuring out the best way to configure the bookshelf.  (Notice the stop light!  We don't use it anymore, but it was the best when our kiddos were younger!)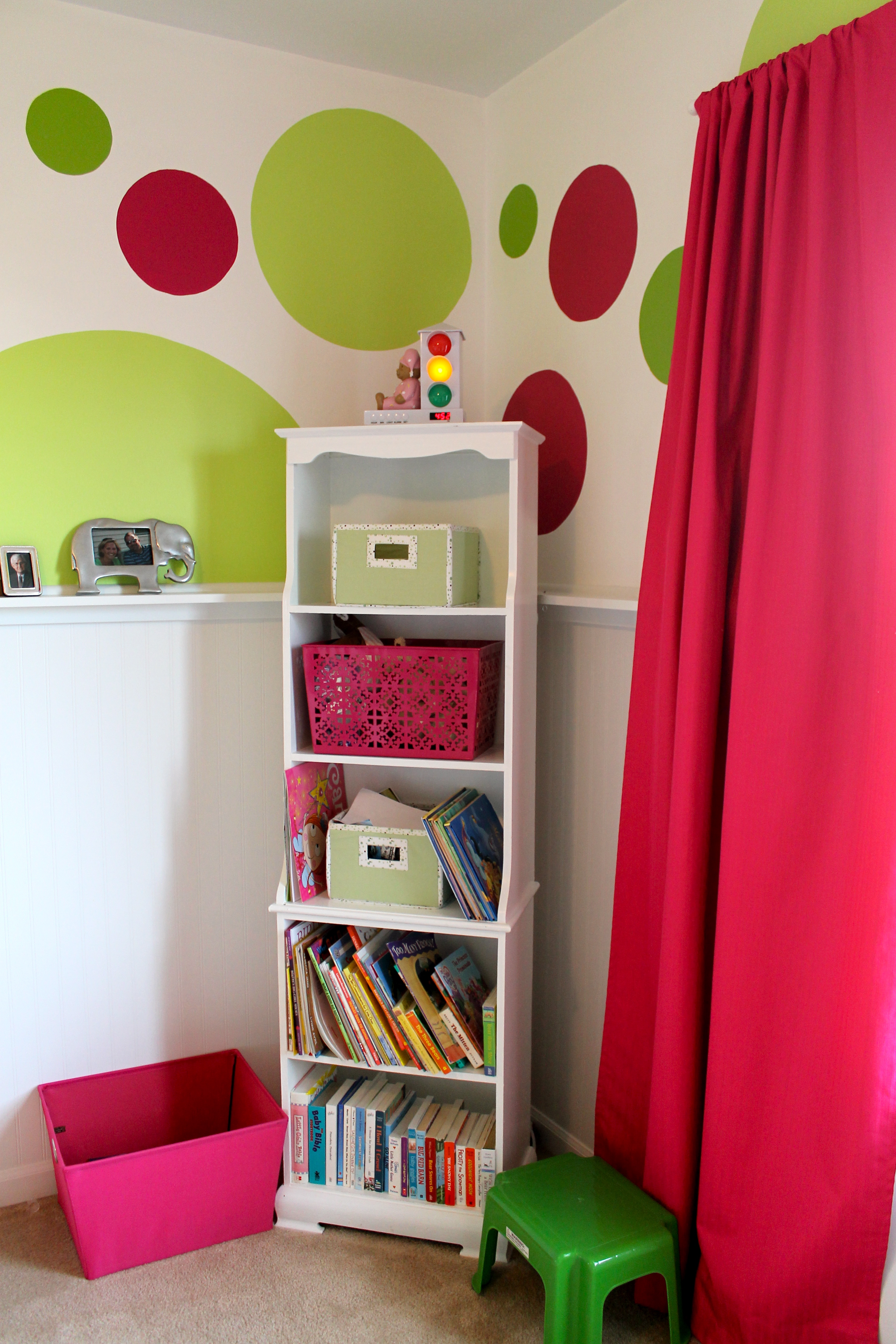 So there you have it!  My super sweet little girl's bedroom!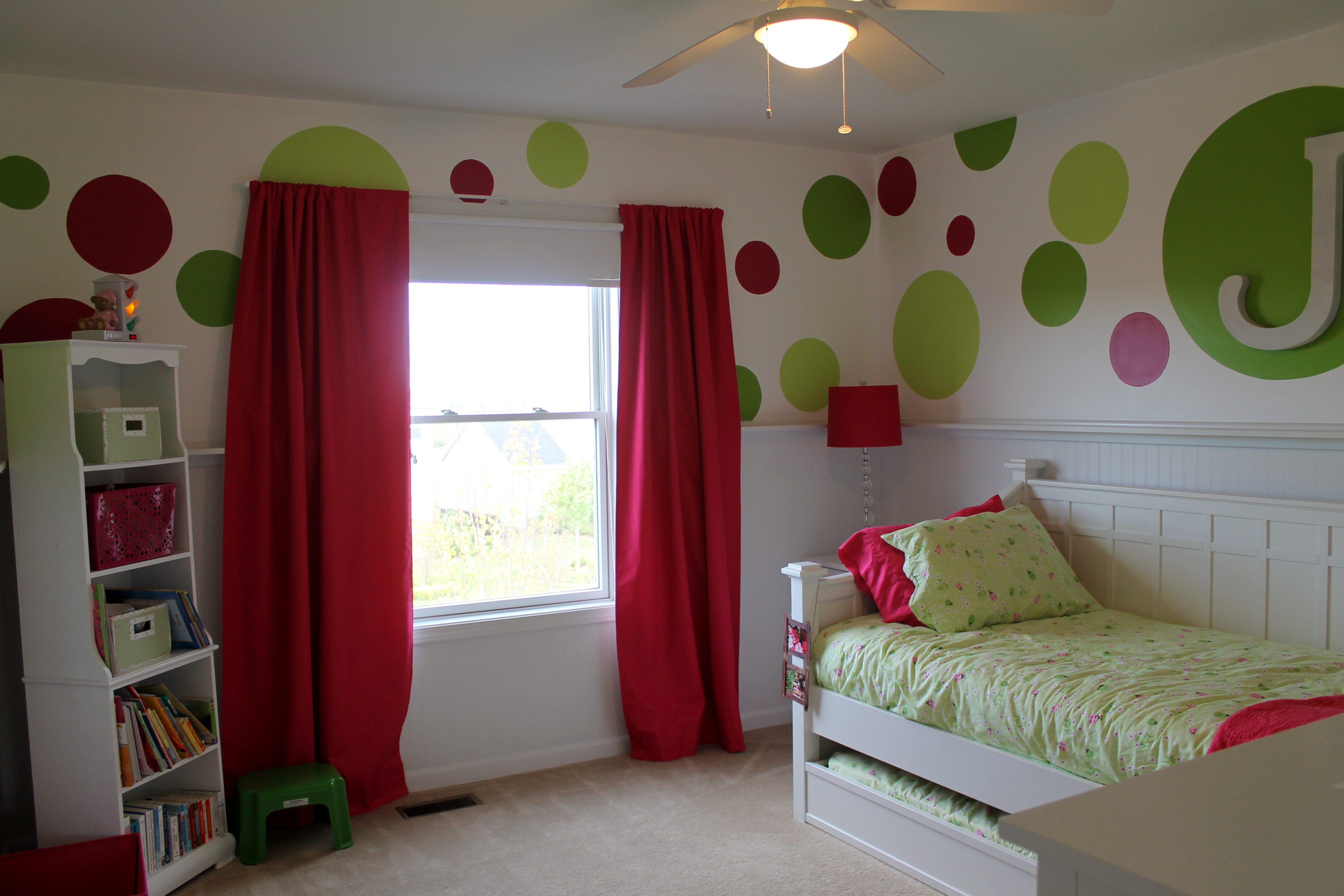 I hope you've enjoyed taking a tour of this room.  If you like blog "home tours" you might want to take a look at some other rooms I've shared like my laundry room, my dining room, my kids' play room, my son's room, and my guest room.
I love how my girl's bedroom feels now when we walk in there.  It feels cheerful and airy.  I hope she likes it for a very long time!  What do you like about your kids' bedrooms?  What do you think is important in kids' rooms?