I just love breakfast food, don't you?  Mmmmm… I look forward to a nice, warm breakfast in the morning and I also love that breakfast foods can be eaten for quick lunches and dinners, too!  I try to keep our breakfasts as healthy as possible – lots of whole grains, quality proteins, and some vitamin-rich fruits.  I still haven't figured out how to add much in the way of vegetables to our breakfasts (umm, does salsa count on top of eggs??  Ha!) but oh well, I think I've got us in a good breakfast groove now and I'm feeling pretty good about it.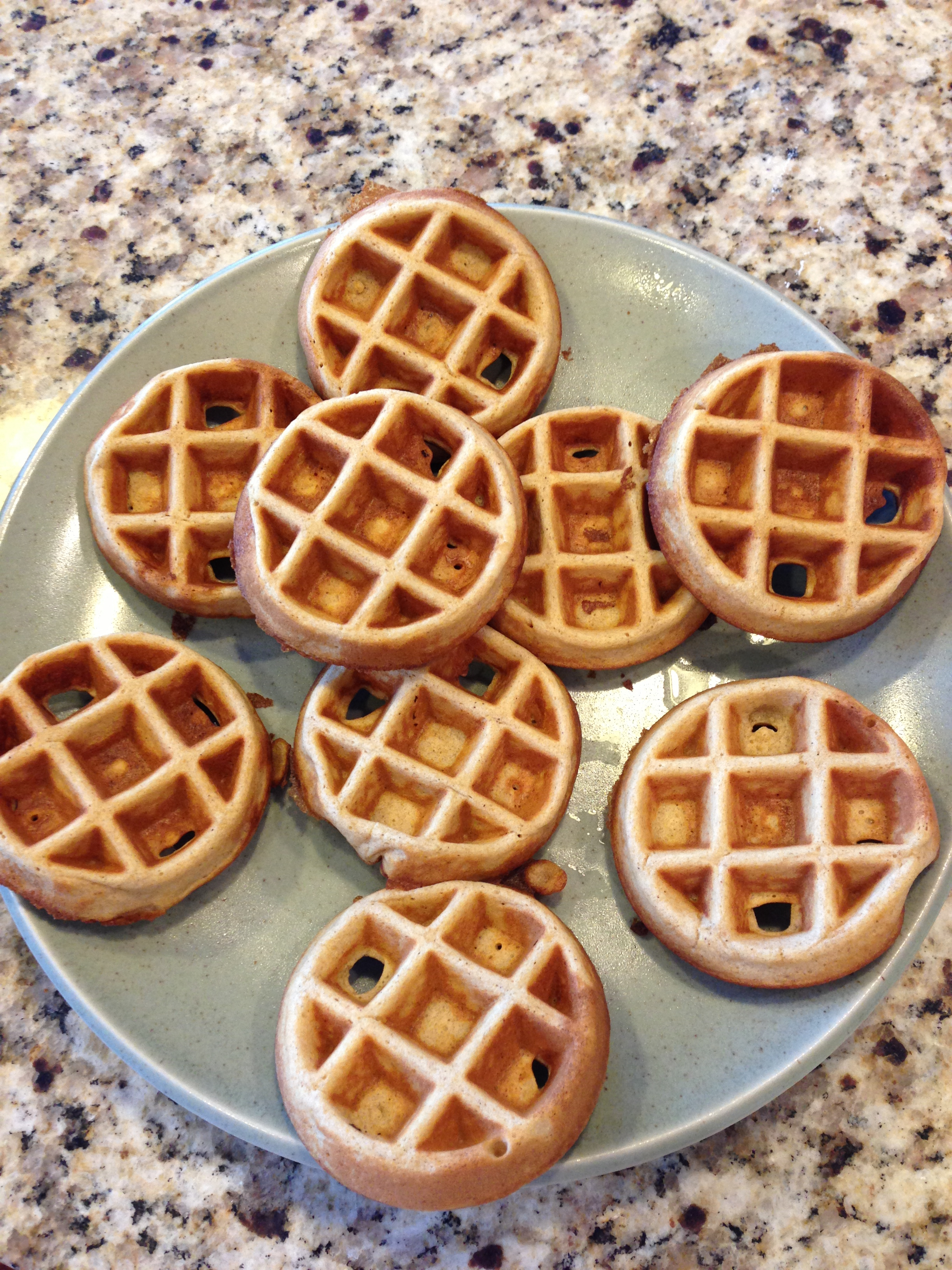 We rotate through all the normal breakfast fare:
eggs (These are great scrambled for adding in odds and ends from the fridge like a bit of leftover cheese, the ends of peppers that weren't used yet, or whatever else I can find in there.  Even on days when I start out making something like an omlet, I always end up screwing it up and it turns into scrambled eggs anyway!  Ha! )
whole grain pancakes (I make them myself and freeze the extras to be warmed up quickly just like store-bought frozen waffles on mornings when we're in a hurry.)
plain whole milk yogurt (I have taken to flavoring it myself with either honey or maple syrup and whatever berries I happen to have that day fresh or frozen.  My kids think it tastes like ice cream.)
cereal with milk (So far we stick to two cereal choices:  I buy both traditional Cheerios as well as an organic, high-fiber version from Trader Joe's since fiber is something I focus on.  It's not perfect, but it's a decent choice I'm okay with for now.)
whole grain muffins/breads (Just like the pancakes above, I have taken to making these myself and freezing the extras for future mornings.  And just like with the pancakes I use whole grain flour as opposed to traditional white, I leave out the sugars, supplement the sweetness with healthier options, and pump them full things like pumpkin, bananas, etc.)
toast (whole grain, of course, topped with whatever strikes us that day.  My favorite is  a tablespoon of quality peanut butter with sliced bananas.  Yum!  My daughter's most frequent request is peanut butter with honey.  My son's favorite lately is to have his toast made into a peanut butter and jelly "breakfast sandwich".  My husband is still loving that butter crock I told you about because he loves butter on everything – including his toast.)
steel cut oatmeal (I add diced apples, ground flax seeds, cinnamon, and maple syrup to mine.  Sometimes my kids want to sprinkle raisins on theirs.  I find oatmeal to be one of those foods that tastes much better when eaten as leftovers the next day, so I usually make a big batch and then we eat it three breakfasts in a row.)
fresh fruit (Just a small side of fruit starts the day off right.  We don't drink juice unless it's a birthday party or something because, again, to me the whole purpose of eating fruit, aside from the vitamins, is all that natural fiber!  When you drink your fruits, you don't get any of the fiber.
whole grain waffles (Last but not least – this is the recipe I'm going to share with you today!  Yay!)
Okay, on to the main point of today's post:  Delicious, Fluffy, Healthy Waffles!  I got a lot of response to this recipe on Facebook (like that page to see what's next!) so I wanted to share it here as well!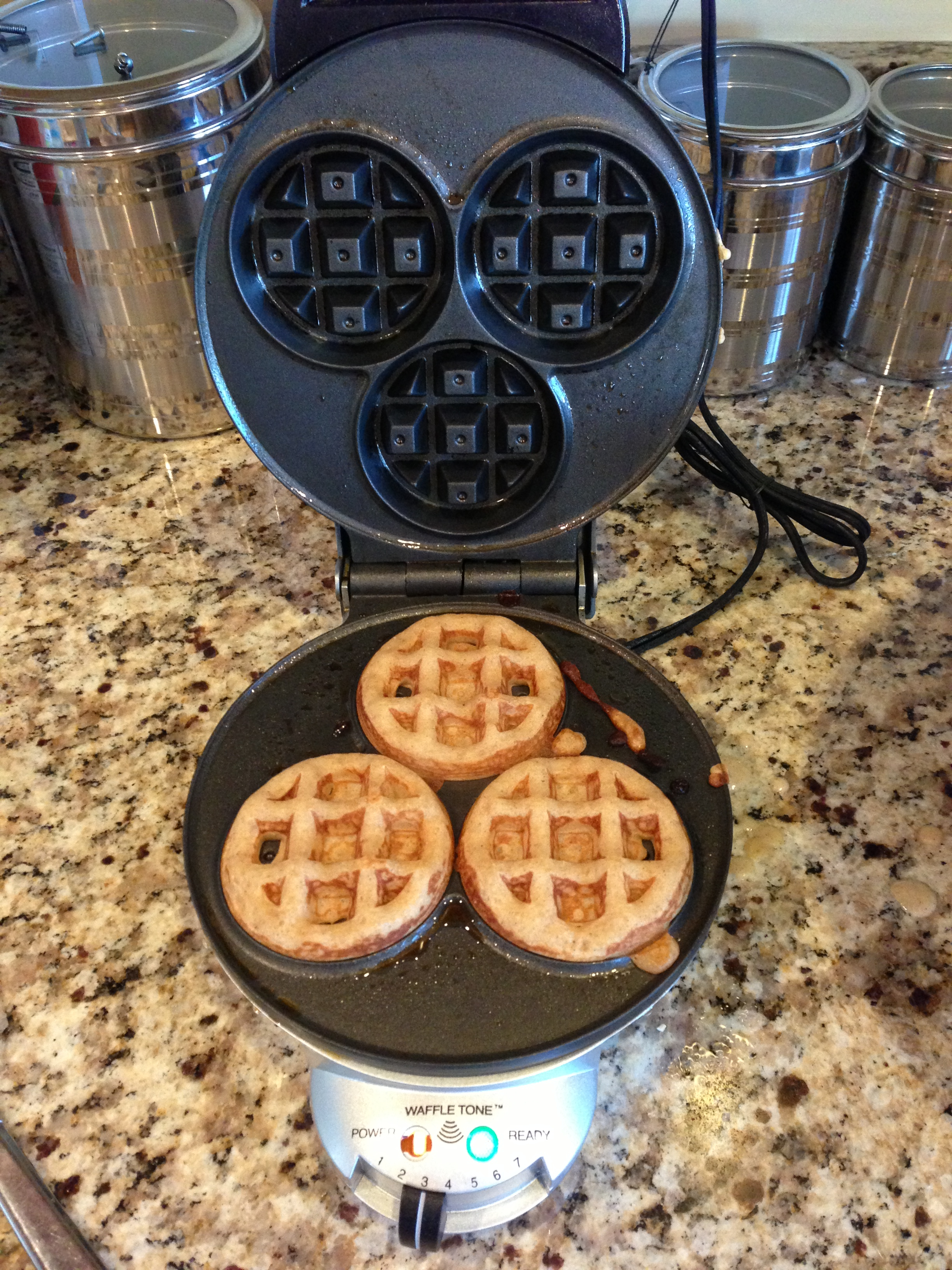 Below you will find the recipe I used to make these great waffles.  They are a soft batch of fluffy, delicious goodness and they are completely healthy. Bonus that my kiddos scarfed them down as if they were frosted donuts or something. Double bonus that I now have almost three dozen to freeze and use on other days when we're in a hurry.  I like to make these (and some of the items listed above like muffins, pancakes, oatmeal, etc.) in large batches to I don't have to make a mess in my kitchen cooking from scratch as often. These will last us months! Yay!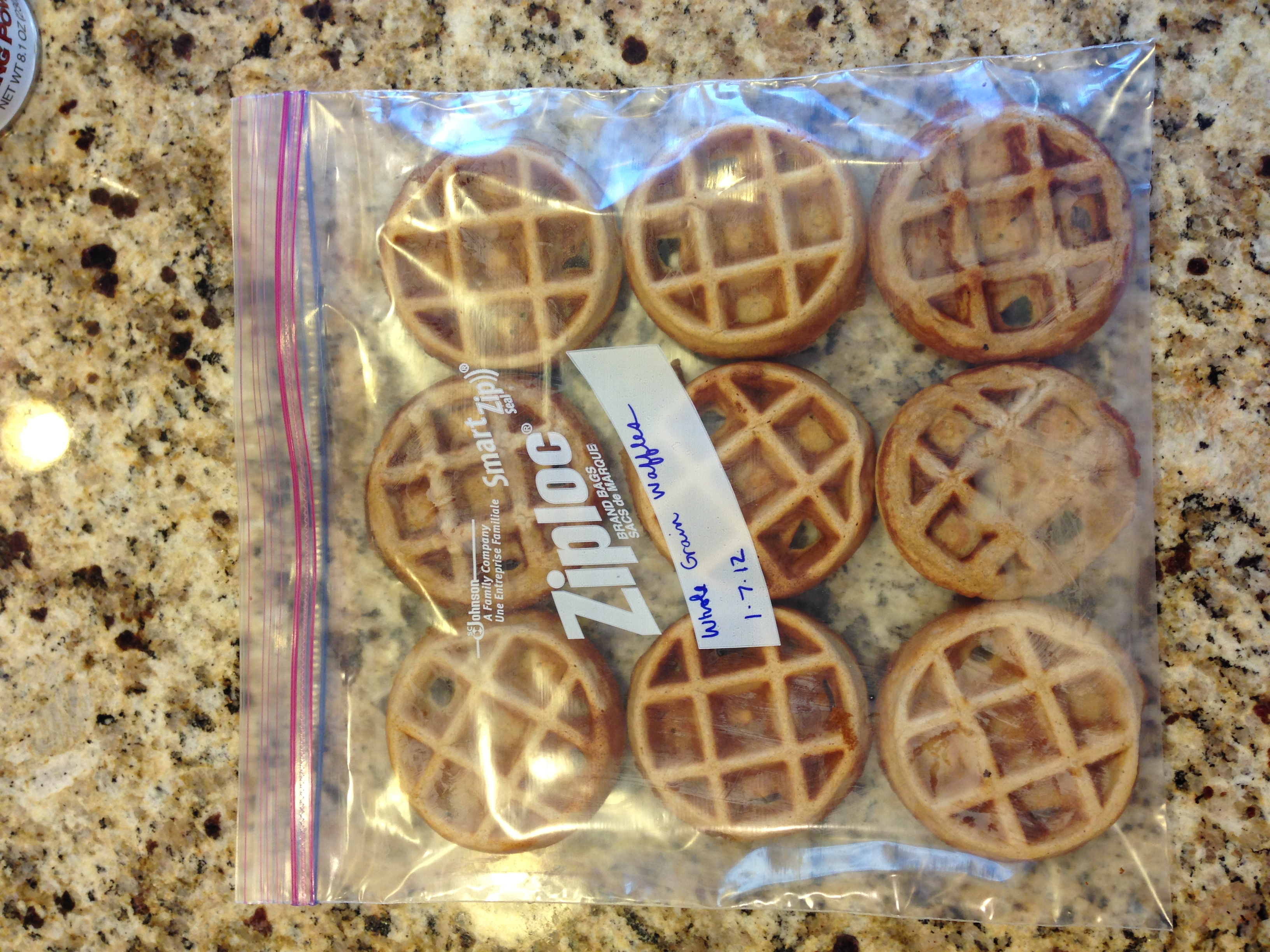 The above photo shows you the size of my waffles since all waffle makers are different – Nine of them fit in each gallon-sized ziploc bag. This recipe made 41 waffles of this size. My kids scarfed down 3 each, so I had almost 3 dozen to freeze. If you don't want as many, adjust the recipe as desired. They warm up just like store-bought frozen waffles do in a microwave or toaster oven. Serve with REAL butter and REAL maple syrup (none of that Mrs. Butterworth's nonsense). They are super fluffy and absolutely delicious!
Ingredients:
4 large eggs
3.5 cups milk (room temp or warmed)
1/2 cup coconut oil (warmed)
3 tablespoon honey
1 tsp vanilla
1.5 teaspoon ground cinnamon
1/4 cup ground flax seeds
1/2 teaspoon baking soda
3 cups whole-wheat flour
4 teaspoons baking powder
1/4 teaspoon salt
Whisk together the first 6 ingredients. Add in the last 5 and whisk until smooth. Ladle into your waffle iron just as you would any store-bought waffle mix. They will make you wonder why you never made healthy waffles before!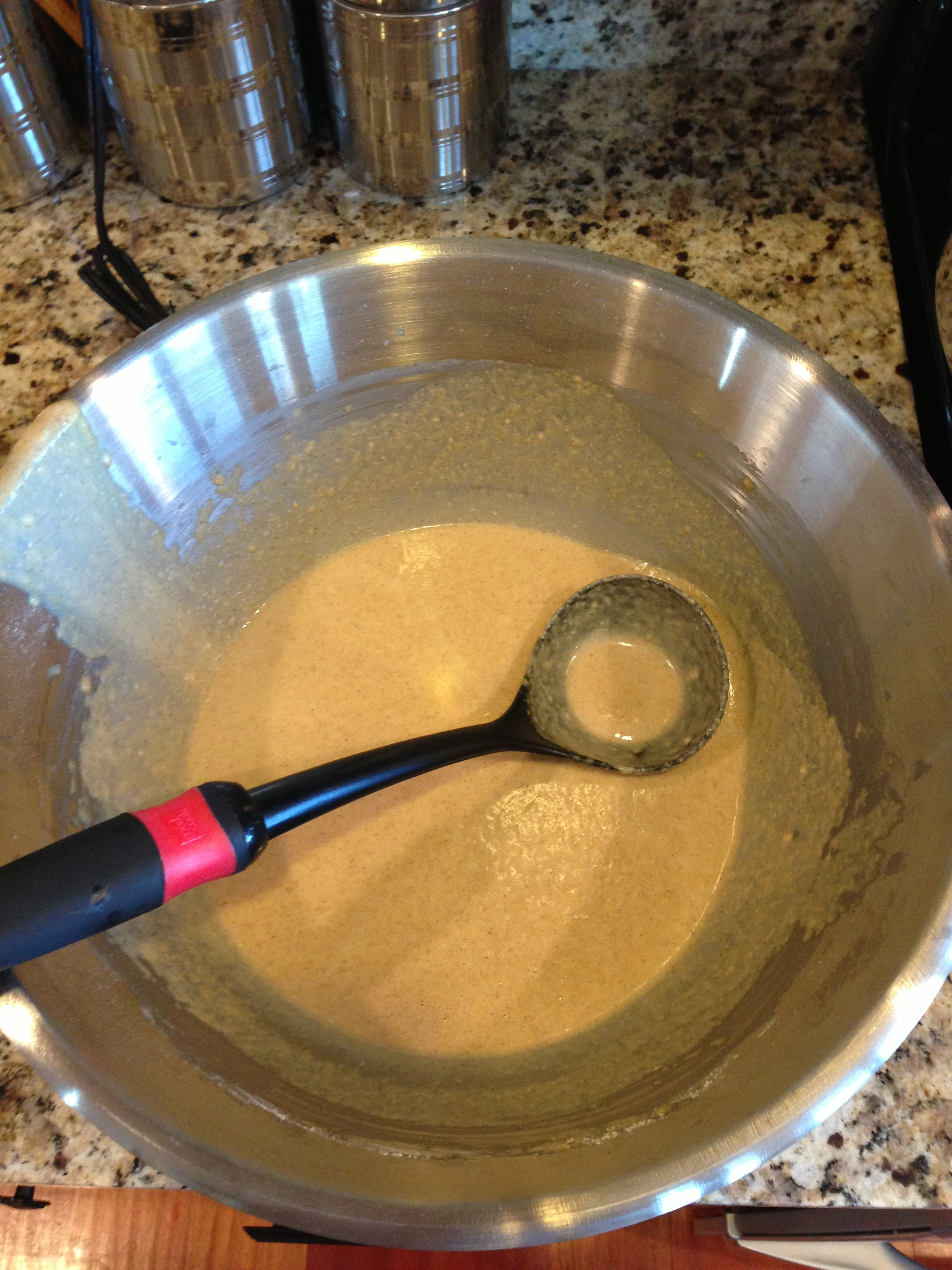 And for those of you curious about the nutrition information of these waffles, here you go!  (Again, this was based on the fact that the recipe above made 41 of these in my size waffle iron, so adjust accordingly if your waffle iron makes a different shape, etc.)
81 calories
3.7g fat (healthy fat from unprocessed sources)
21mg cholesterol
28mg sodium (FYI store-bought ones are in 300-400s)
9.7g carbohydrates (store-bought are 25-30s)
3g protein
1.5g fiber
2.3g sugar
And it all came from whole foods, whole grains, etc. 
No yellow dye #5, no enriched anything. Yay!
Does your family like waffles?  Do you ever eat breakfast-for-dinner?