I have had this post written for a while (as a sequel to this post about reorganizing my laundry room closet) and totally forgot to post it… whoops!  Oh well, better late than never…
Just wanted to share with you what I keep in my little handy dandy cleaning caddy.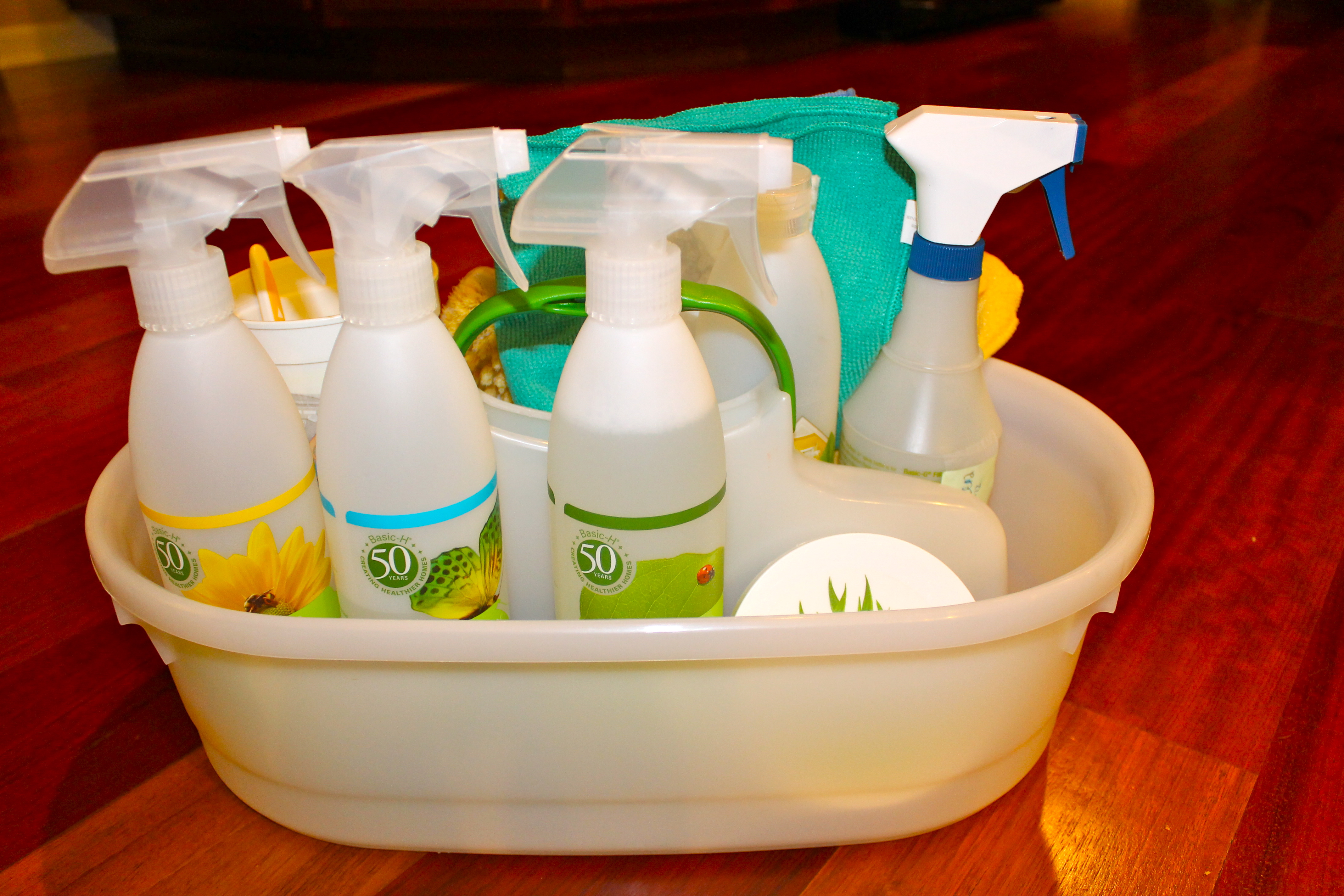 First of all, I received this great little caddy when I bought my very first Get Clean Starter Kit about 6ish years ago.  It works perfectly and has obviously held up well for that many years, but really I'm sure you could buy some type of bucket/bin that works at a dollar store or something.
And before I give you all the details of its contents, I'd also like to mention that since I have a house with two floors, I keep one set of cleaning supplies upstairs and one set downstairs.  (So, yes, that means I buy two of everything… but it's no big deal because it works out to be the same in terms of cost since by doing it this way I only go through the cleaning supplies half as fast.)  Having one of my little kits of cleaning supplies both upstairs and downstairs has made ALL the difference in making my cleaning life easier!  I just love this system!  If you have a two-story home, consider it!
So what's in there, anyway?  Well, here's what I've got: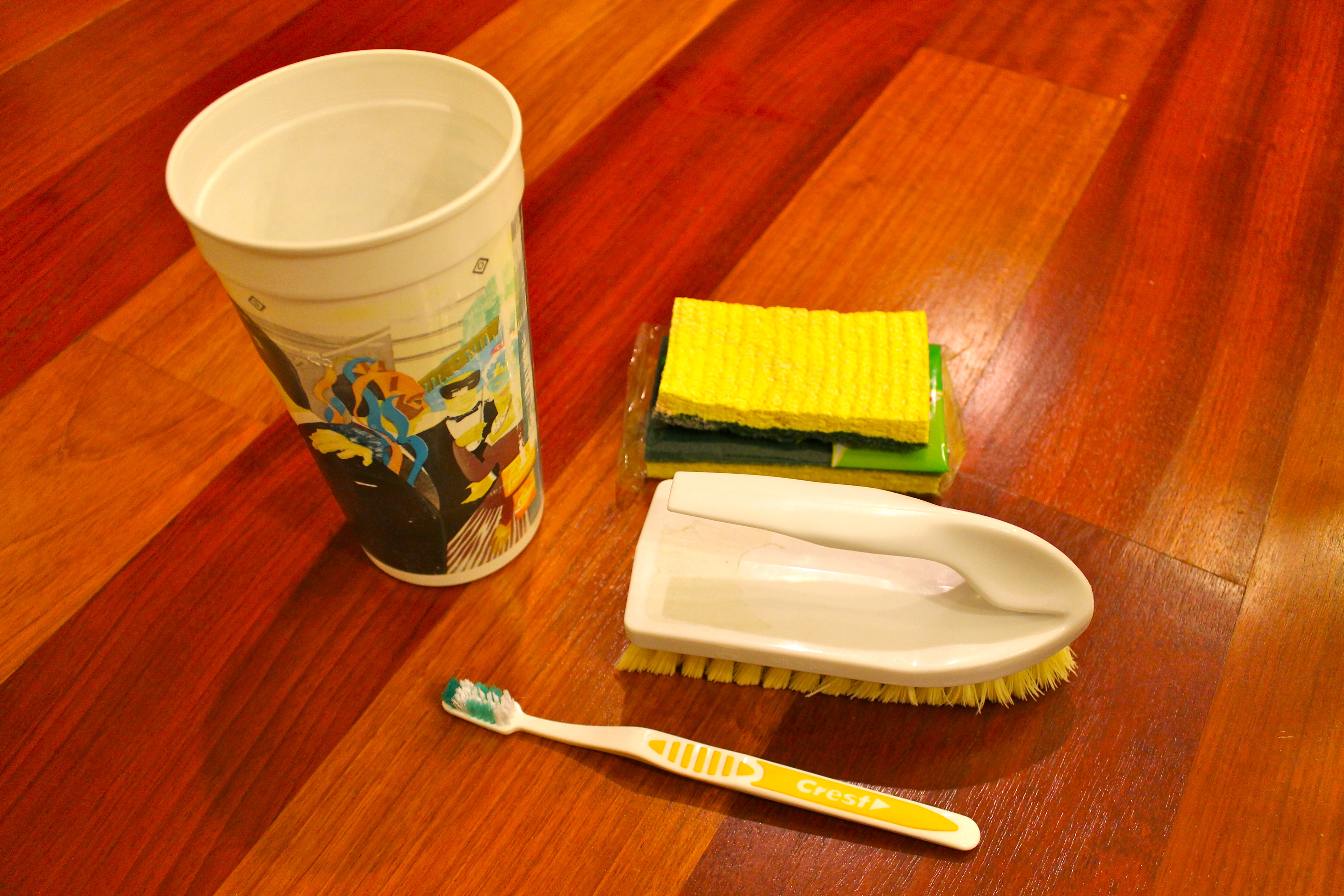 1.  an old toothbrush:  I keep this old toothbrush in here because there are a couple of little nooks & crannies (especially in bathrooms!) where it comes in handy!
2. a basic scrub brush:  I use this mostly for the floor of my kids' tub because it has "texture" and I feel a rag just doesn't get the job done.
3.  an old plastic cup:  I keep this in here for rinsing just in case I need it!
4.  a tablespoon:  I use this for measuring the Basic H Organic Cleaning Concentrate into my bucket so I can mop floors, etc.  I just bought extra tablespoons at the dollar store and keep them in the kit permanently.  It's much easier than realizing I need it and having to go down to my kitchen to dig one out!  (That last sentence gives you a window into my true laziness, doesn't it?!?!)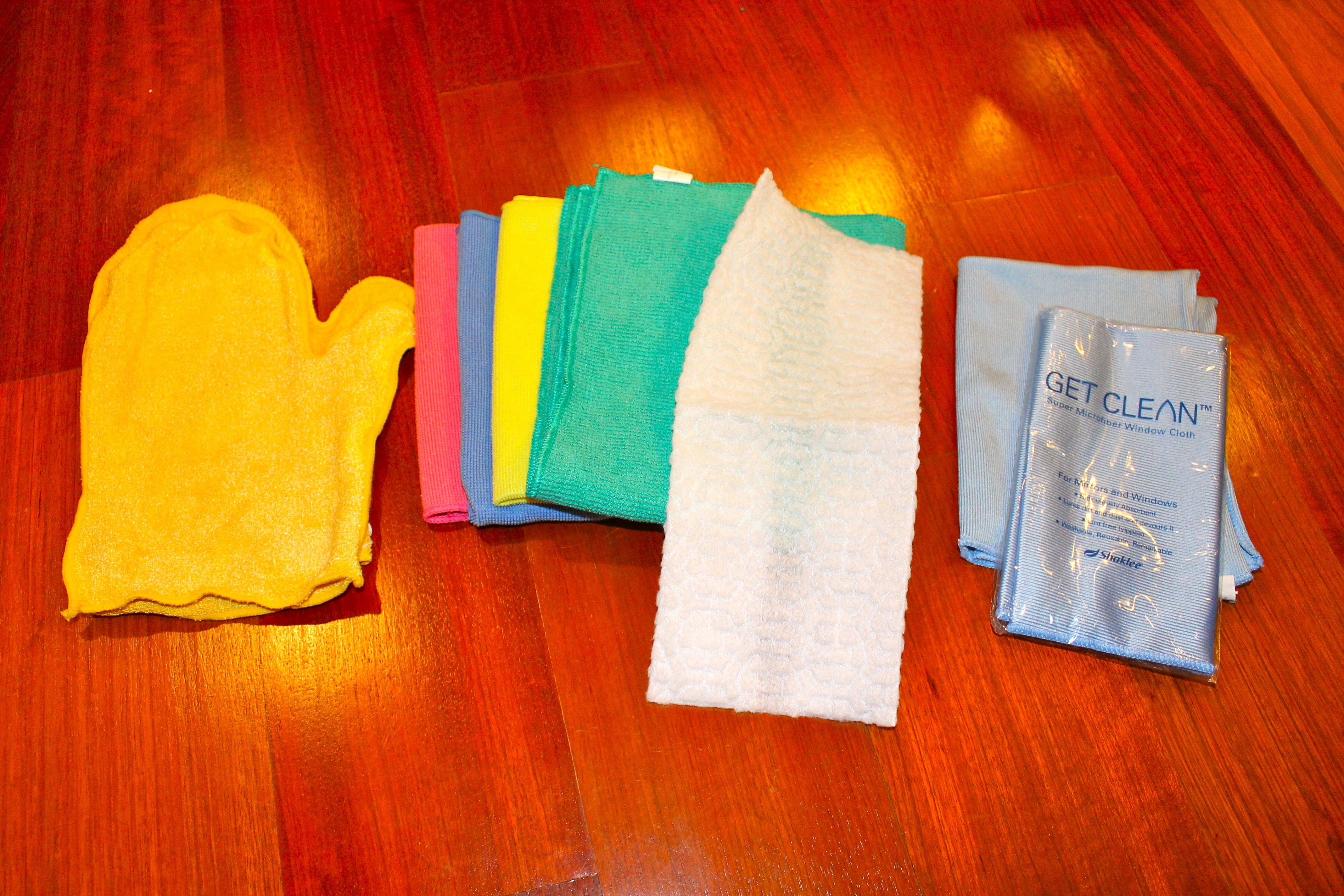 5.  a set of white wash cloths:  These are the same white rags I wrote about in this previous post about wiping up my messy kids, but I keep some here for cleaning as well.  These are just some I bought at Costco.  I like them because they don't leave any lint behind when I clean.  I actually think that cheaper rags are better for cleaning than more expensive wash cloths because the cheap ones don't leave fuzzies behind!  I use these for just about everything: wiping down the walls of the shower, countertops, walls, baseboards, floors, cabinets, etc.
6.  my blue Get Clean Window cloth:  I use this to go over the mirrors in my bathrooms.  I also use it when I wash my windows (Previous post link!) in the house… but let's face it, that's not a weekly kind of occurrence!  😉
7.  I go back and forth between the colorful washable microfiber cloths and the disposable Swiffers.  I KNOW the Swiffers are a worse environmental choice, but I just haven't been able to give them up entirely.  I just try to use them less often now.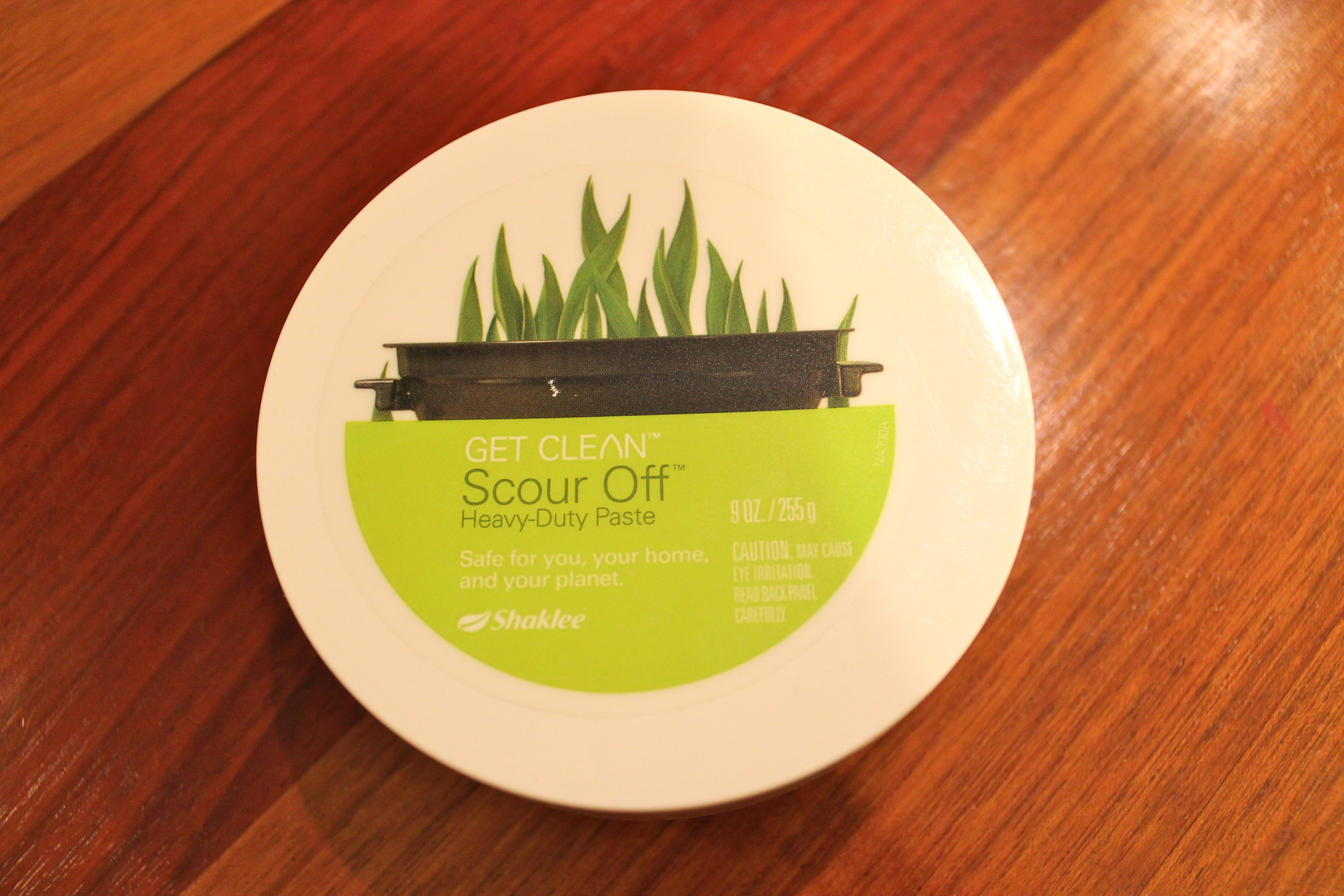 8.  Scour Off Heavy Duty Paste:  I am obsessed with this scrub!  It's like a natural version of something like Goo-Gone.  And it smells good too… it's made from ground up cherry pits.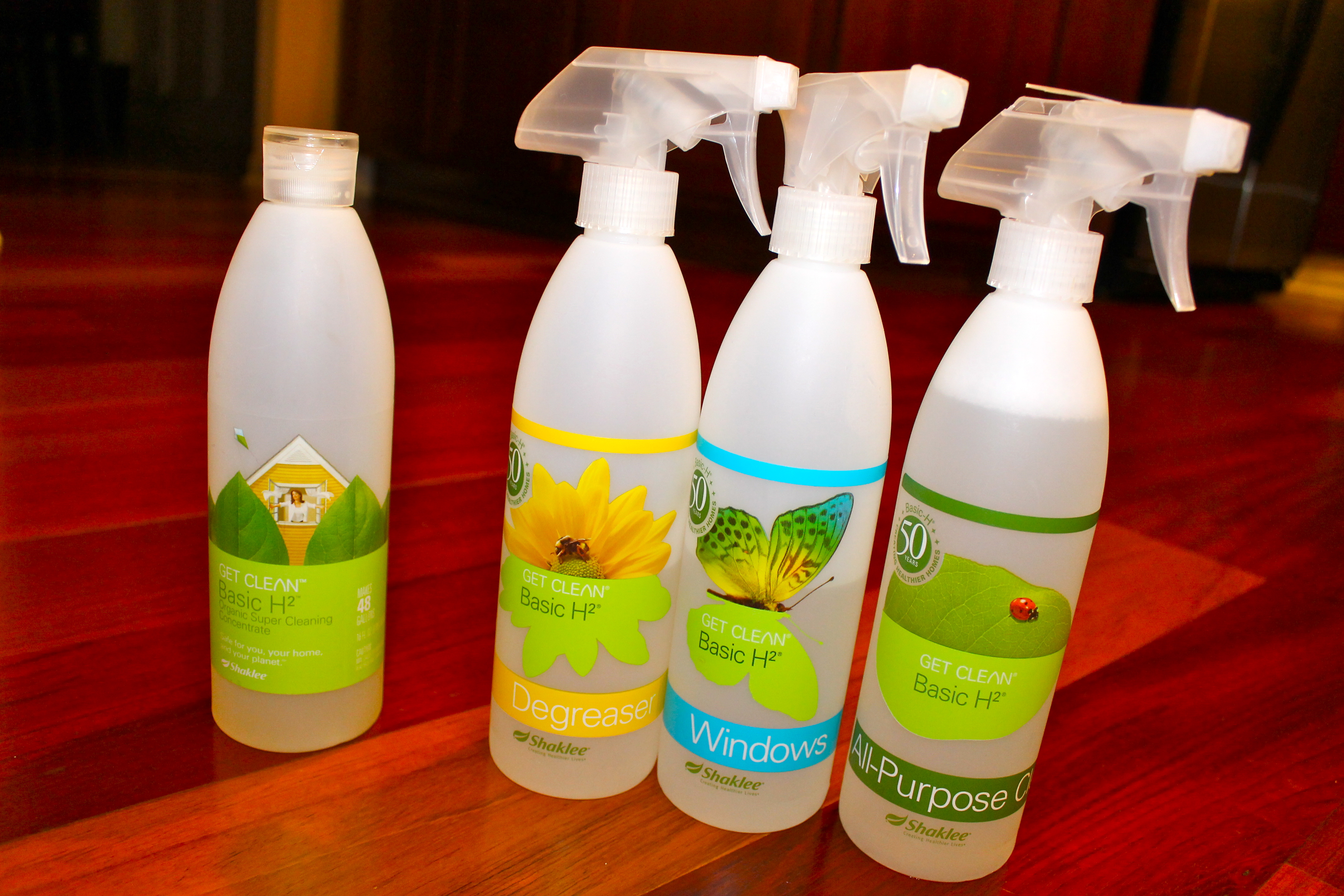 9.  a bottle of Basic H Organic Super Cleaning Concentrate:  I keep this in here because if I fill a bucket up with water to do the floors, I add a tablespoon of Basic H Organic Cleaning Concentrate to the bucket.  It's also what I use to fill the three spray bottles I'll mention next!
10.  spray bottle of Window & Mirror Cleaner:  This bottle contains 16 ounces of water and two DROPS (Yes, just two DROPS) of the Basic H Organic Cleaning Concentrate.
11.  spray bottle of All Purpose Cleaner:  This bottle contains 16 ounces of water and one-fourth teaspoon (yep, that's it!) of the Basic H Organic Cleaning Concentrate.
12.  spray bottle of Degreaser Cleaner:  This bottle contains 16 ounces of water and 1.5 teaspoons of the Basic H Organic Cleaning Concentrate.  I use this more in my kitchen than I do upstairs, but I like to keep it in both places just in case.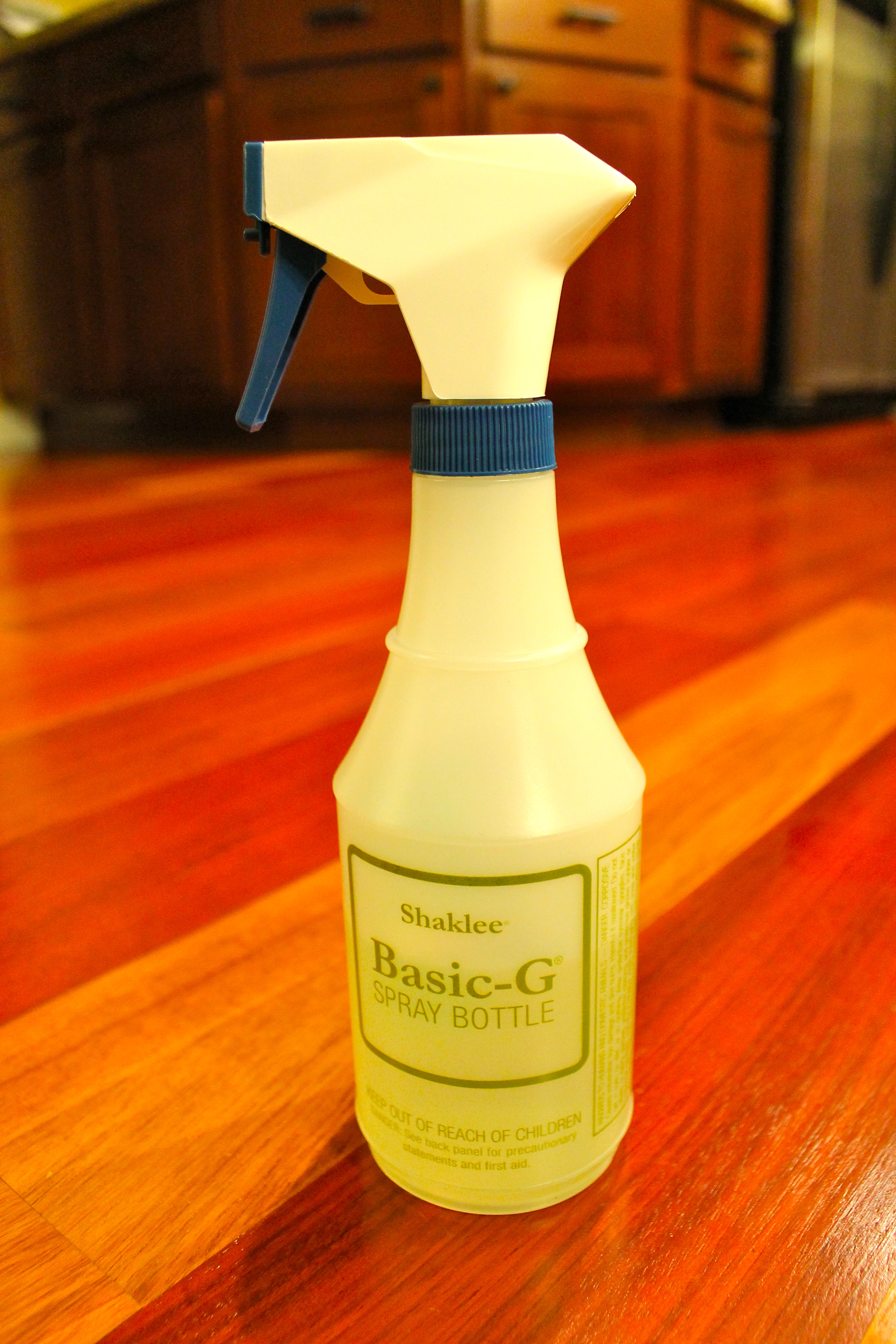 13.  a bottle of Basic G (germicide):  I use this on toilets and other particularly germy spots. You can see in the picture below how I keep track of when I need to make a new batch.  I write the date I made the mix (it lasts for 3 months) so I know when I need to mix a fresh batch.  (Usually what I do with whatever's left in the bottle before I make a new batch is run it through my washing machine to make sure I don't get any mildew smells, etc.)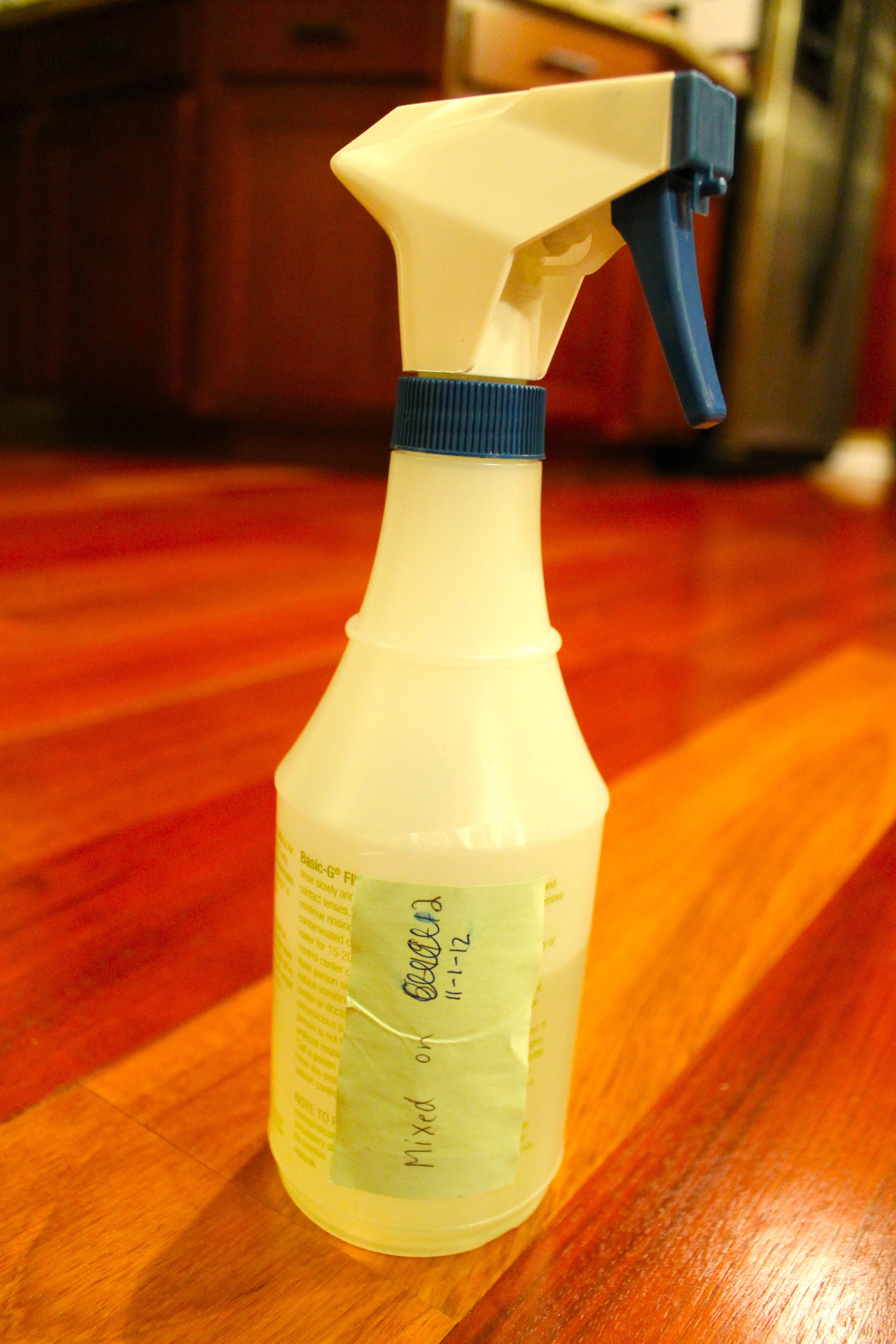 In addition, I keep my bucket and my toilet bowl brush right next to my caddy.  I am not a fan of keeping toilet bowl wands in the bathroom.  No matter how "nice" they are, I think it's gross to look at, so I keep mine in a closet so my guests don't have to see it.  (It's the white "stick" you see pointing out of the top of the bucket on the right in the photo below.)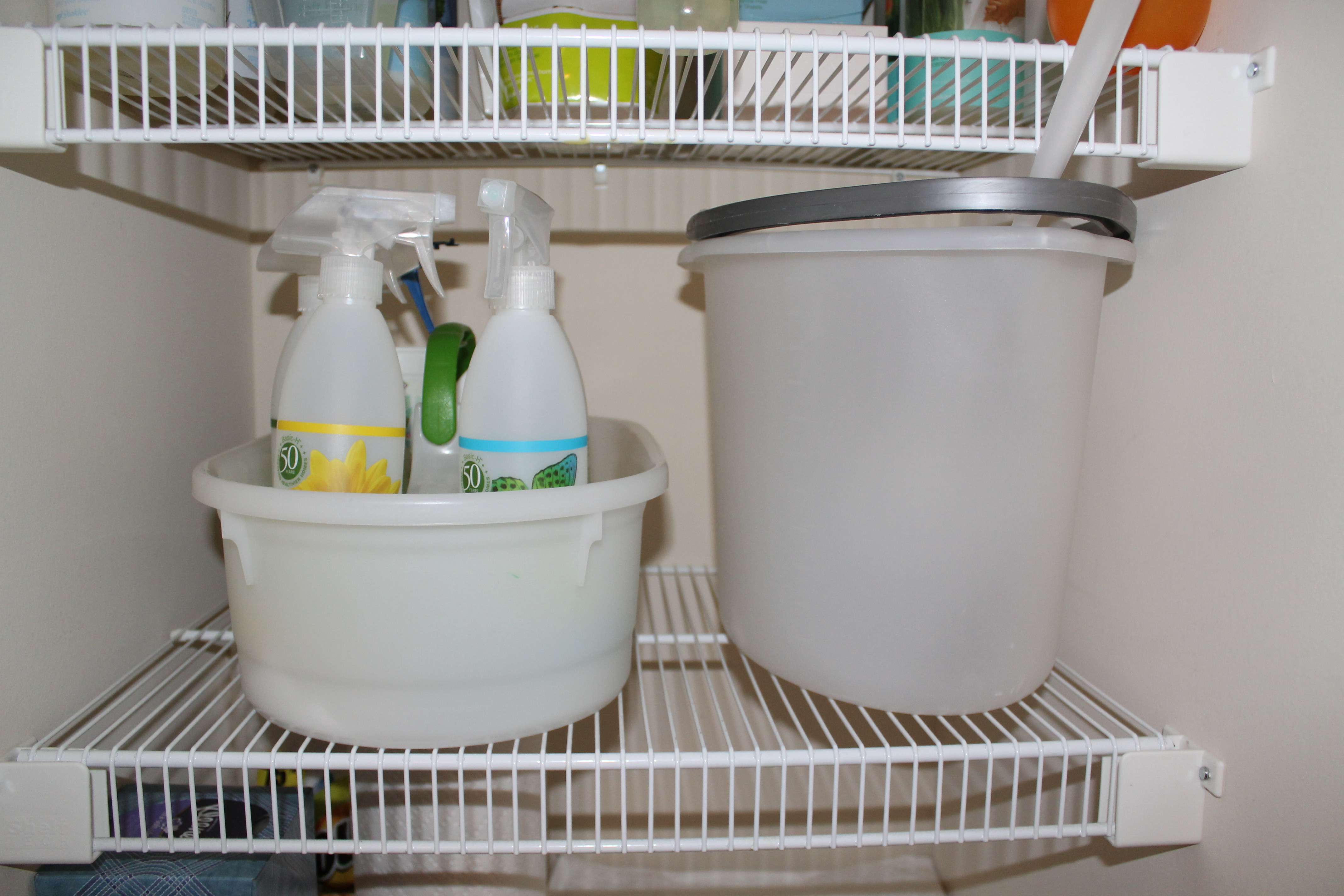 That's it!  Everything I need to clean whatever messes arise!  I just carry my handy-dandy caddy with me from room to room.  It makes cleaning way more efficient.  It also makes the thought of cleaning seem like less of a chore because I don't have a mess of supplies everywhere.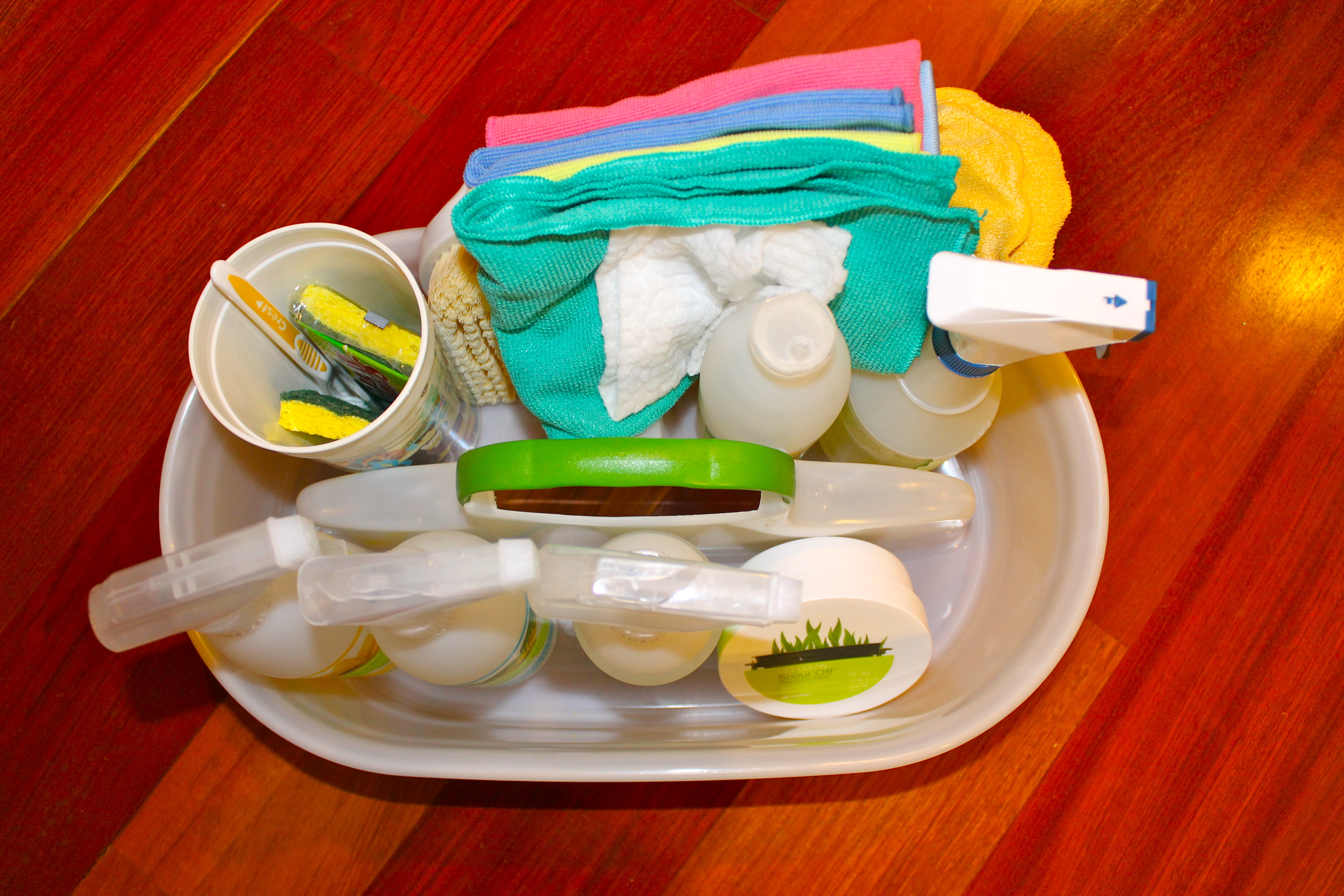 Do you keep a kit of cleaning supplies?
What's in yours?
Do you keep one on each level of your house?
If you have been considering getting on the "green" cleaning train, I would like to say, "Just go for it!"  Take the plunge and you will be SO happy you did.  I'm tellin' ya… it's cheaper, works great, and healthier for my family!  Check it out!
Check out some of my previous cleaning-related posts:
Shining Your Sink Without Toxins!
How I Greenified My Dishwashing
Cleaning Professional Raves About Shaklee Get Clean Line