I've been tackling lots of little tasks around the house lately.  Each one seems to make me want to do the next because solving these little problems makes me feel so much better.  I really dislike the feeling of disorganization and I feel so much calmer, happier, and content when my house is well organized.  I haven't shown you all of the little tasks I've been working on, but I have shared some.  (For example, the reorganization of my kitchen spices and the complete overhaul of my laundry room closet.)  None of these jobs are "big" so they seem really manageable to me.  Honestly, a BIG job would be my basement – a.k.a. "where the toys go to die" in my house, but that task is so overwhelming to even think about I just prefer to shut the door and pretend it isn't there than to actually put the effort into dealing with it!  Plus, I feel like I really can't commit to any bigger jobs in the near future simply because of my family's schedule this year.  The way my son's public school hours are in combination with my daughter's preschool hours plus our various sports, activities, classes, etc. means I pretty much have every one of my days chopped up into 30-45 minute increments.  That makes tackling any big job seem like it would take FOREVER.  So for now, I'm sticking to smaller jobs.  But I've found that these tasks may seem small, but they make a HUGE difference in how I feel about the state of our home.
Today I want to share with you my master bathroom cabinet job.  Just like the laundry room closet, this little task was years overdue.  It was one of those situations where I just kept adding things and never took anything out.  Like ever.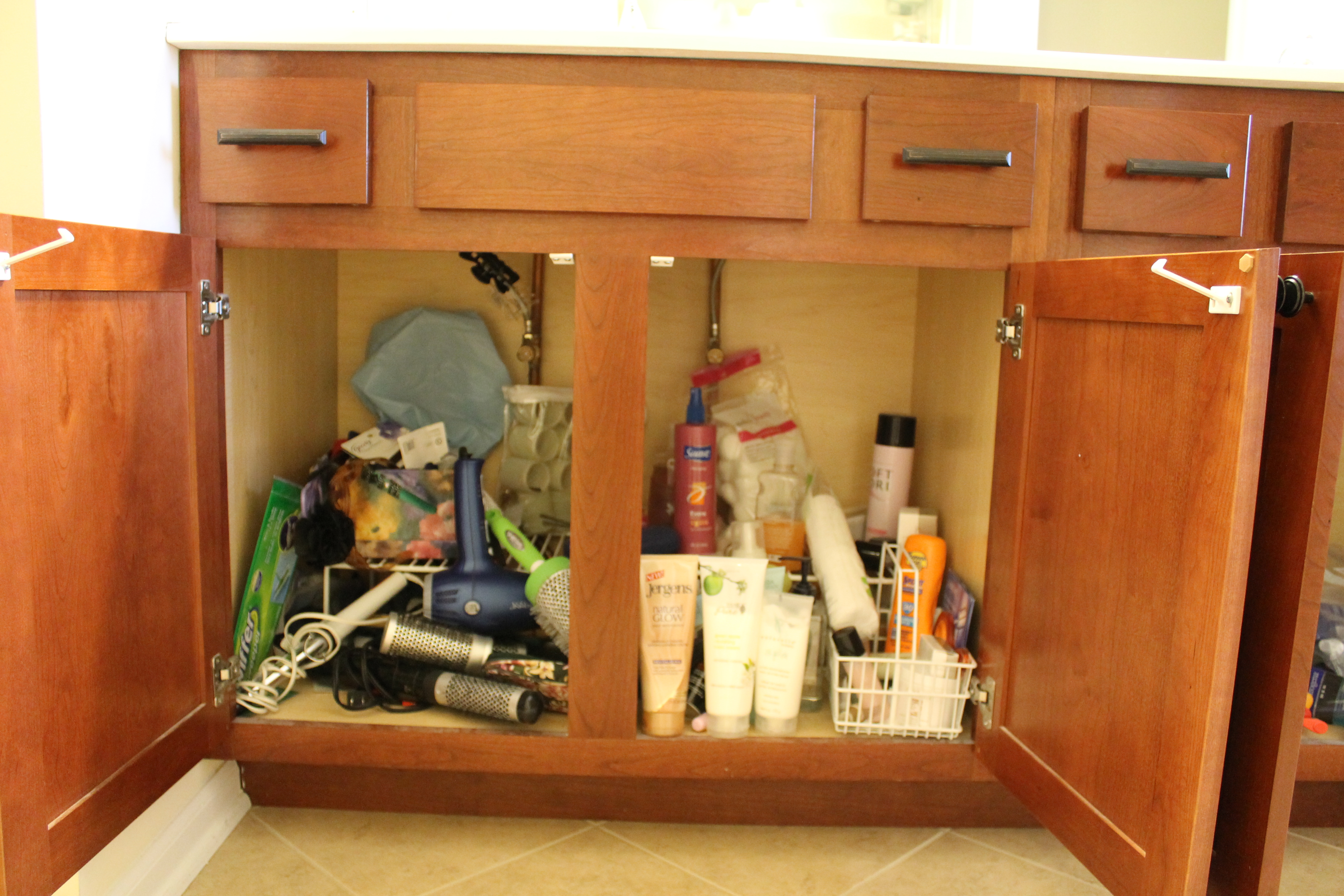 When I organized the cabinets my husband asked in a horrified voice, "You aren't going to show before pictures on your blog, are you?"  When I told him I was, he was like, "Well don't show my cabinet… I need to protect my brand!"  I laughed so hard!  But the truth is, the whole point of this blog is to show progress and not perfection.  While I meant that little tag line to mean progress toward a healthier lifestyle and not trying to give the impression that our family is "perfect" in terms of health, I feel that for me, being organized IS part of my mental health.
When I'm organized, I feel better.  Lighter.  More content in my daily tasks.  I can focus on my kids and feel more joy.
When I'm disorganized I feel grumpy.  Overwhelmed.  I feel like I can't focus on my kids because I have "so much to do".
So, sharing the imperfections of my bathroom cabinets with my readers seems like the best way of showing progress, not perfection.  I also hope it motivates people like me to see that being organized truly results in an increased quality of life!  If I take a few minutes to organize the parts of my home in need, I can spend the rest of my life in the moment with the people who matter most.  If I avoid being organized, I spend every moment consumed with frustration about the state of things around me.
Organized is just plain better!
I started by pulling everything out.  It was obnoxious.  (And I had a cute helper!):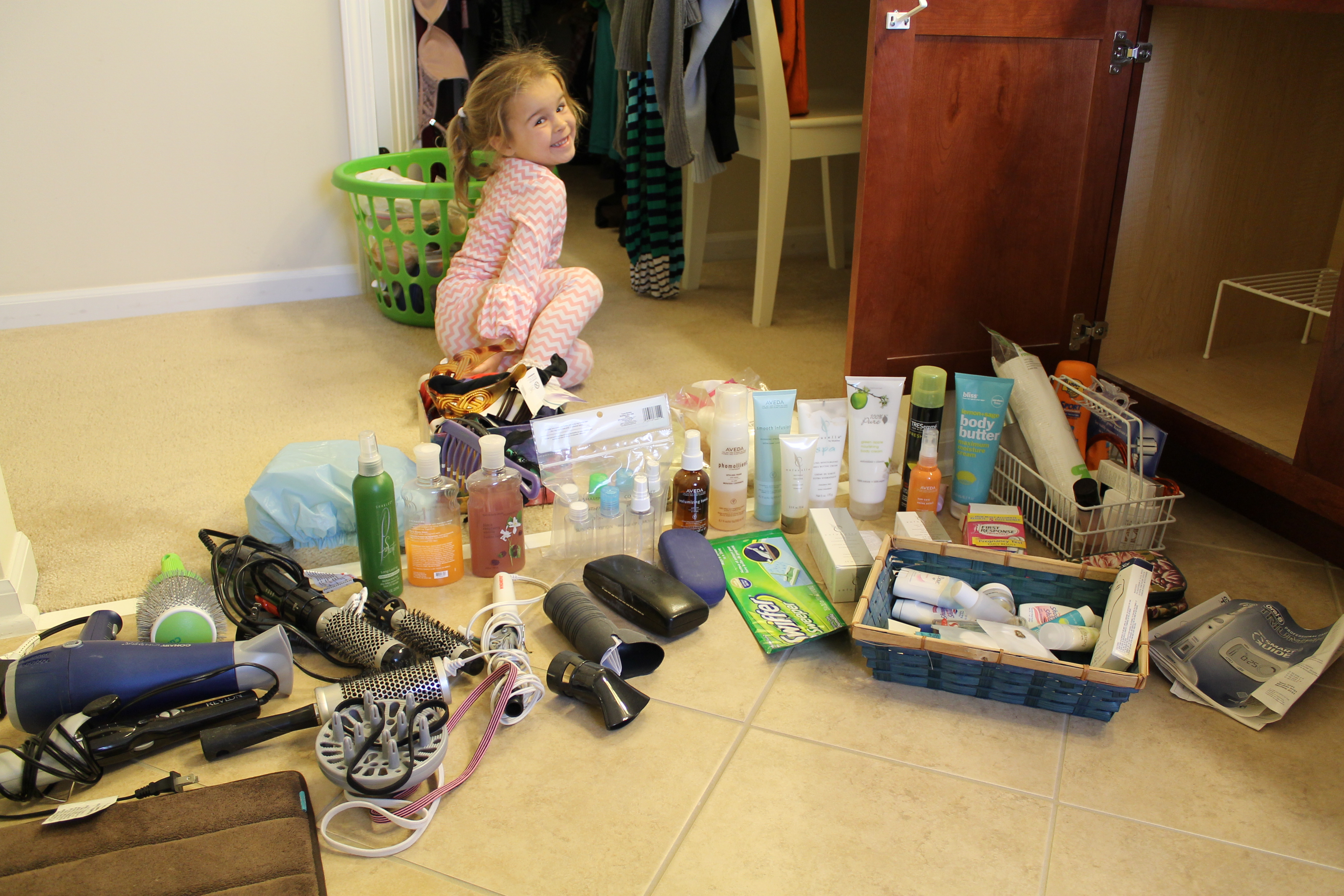 Someone please tell me why I had all that stuff under there that I wasn't even using!  I have no idea.  I just never got around to dealing with it, I guess.  Or at least that's the best excuse I can come up with at the moment.
These are the funniest things I found: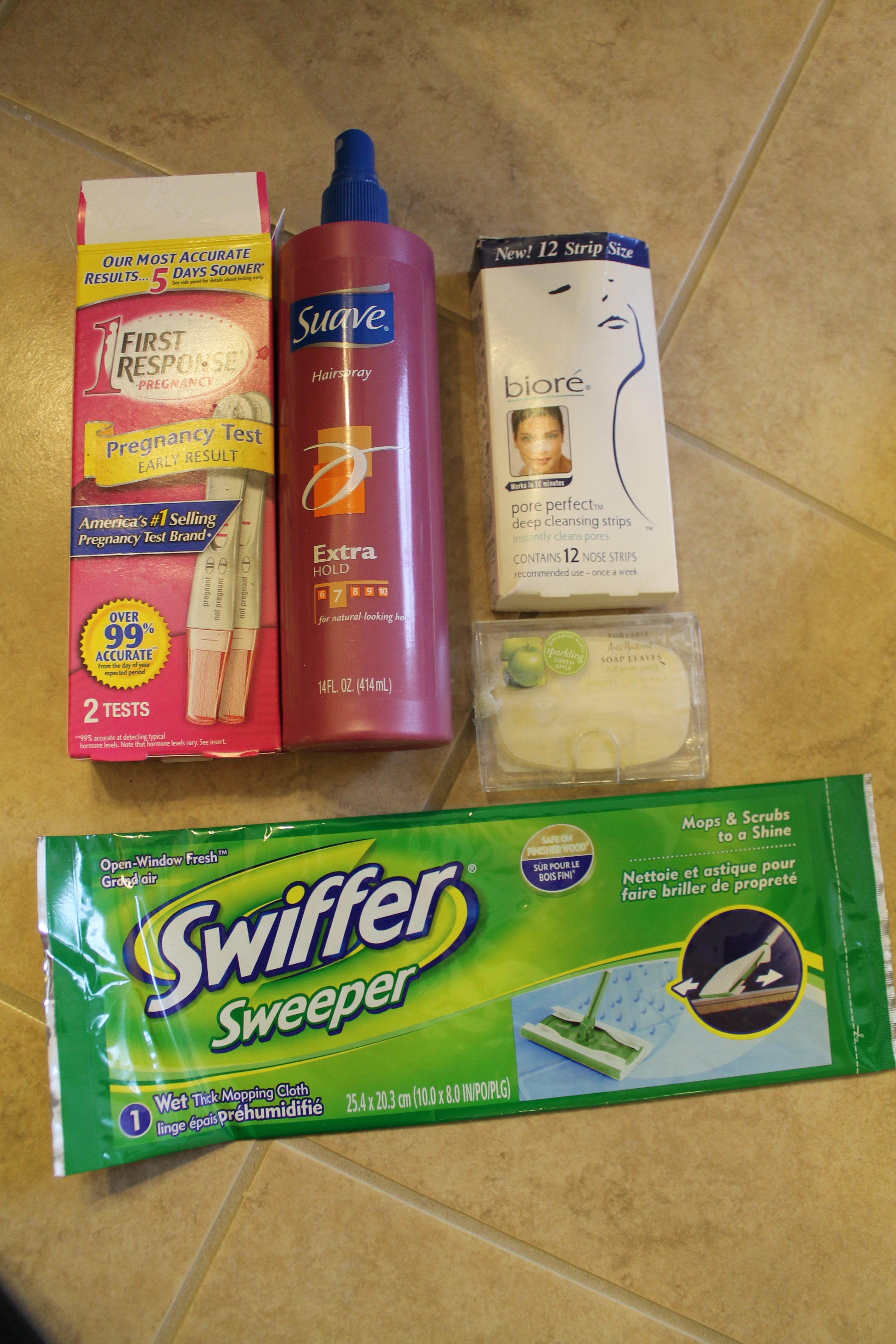 Why on earth did I have a sample of wet Swiffers under there?  I don't even USE wet Swiffers!  Those pregnancy tests were expired!  That bottle of hairspray moved here with us, which means it was at least 5.5 years old.  (Shows how much I use hair products!  Ha! Almost never!)  And I'm not certain, but I *think* the cleansing strips and little soaps were from college.  No, seriously!   I haven't used them in over a decade.  That's just gross!  What is wrong with me?!?!?
And here's another funny find…  Do ever have one of those glorious moments where you find yourself in Target all ALONE?  I love it.  I walk every aisle.  And apparently when I am wandering around Target and I have a few minutes to myself I have a habit of thinking I need more pony tail holders.  Look at how many partially used packets of pony tail holders I found.  It's ridiculous!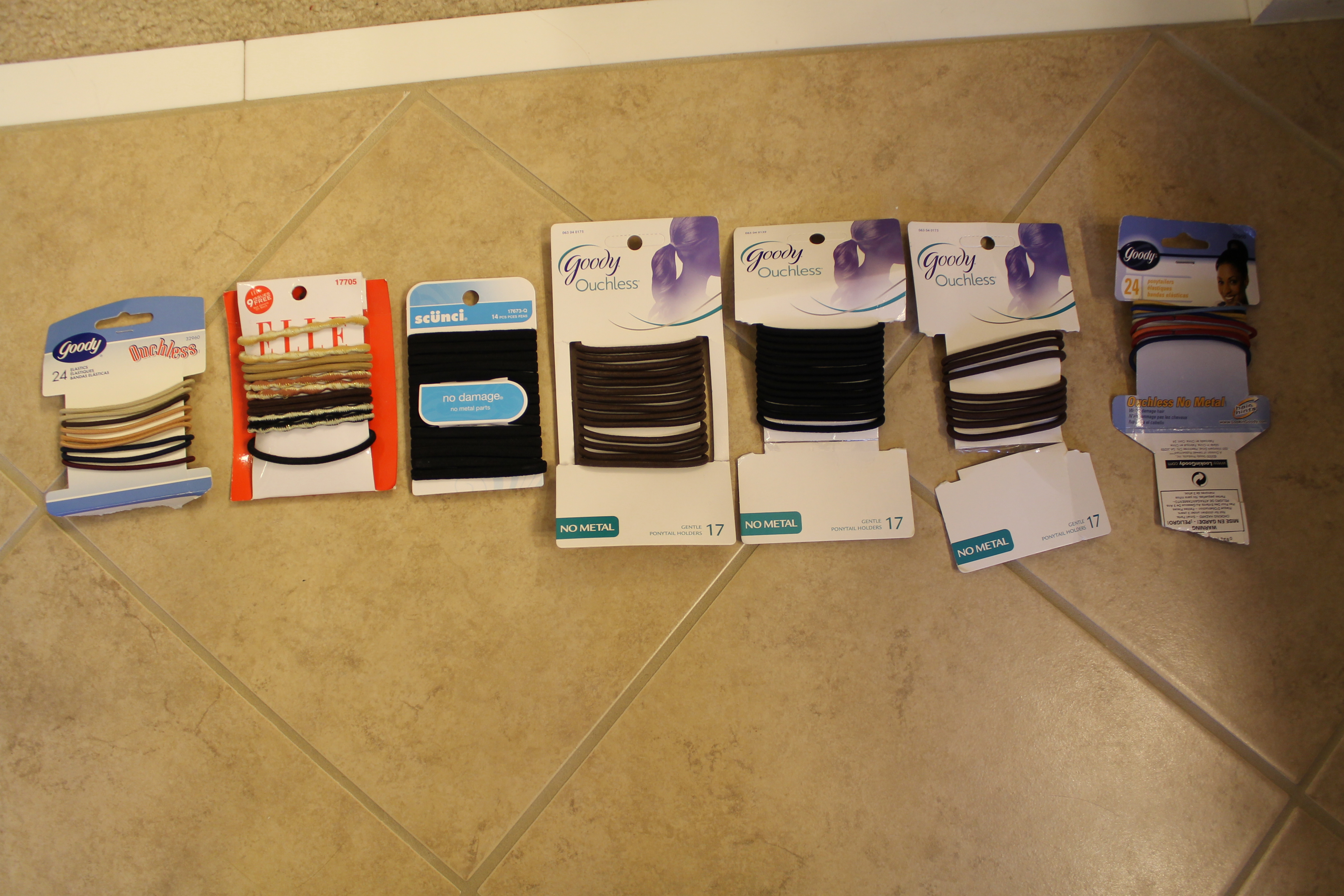 Anyway, it felt GREAT to toss most of the junk out.  Here's how much garbage I ended up with between my cabinet and my husband's: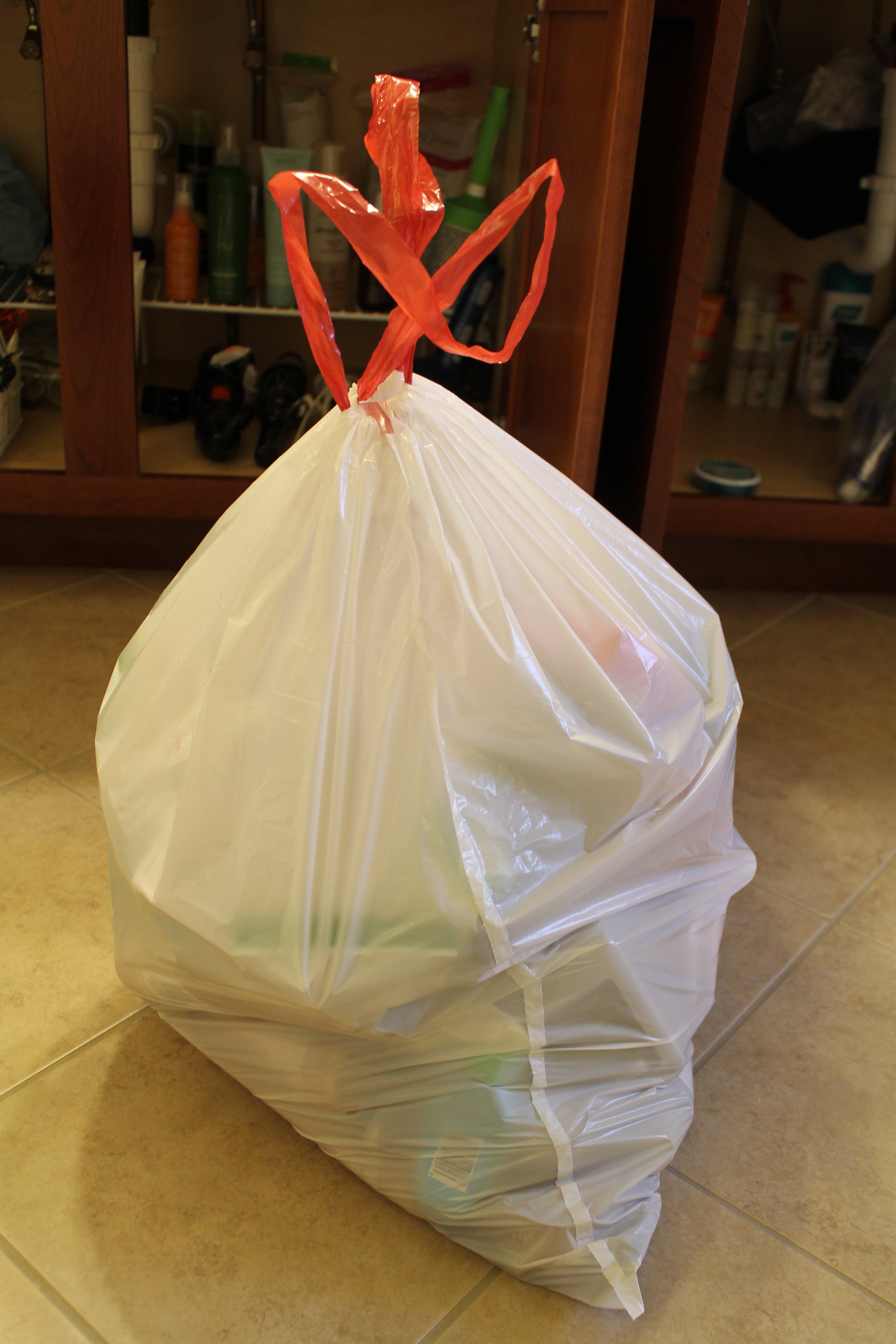 Before I put back in the keepers, I cleaned it all out with my favorite nontoxic cleaner!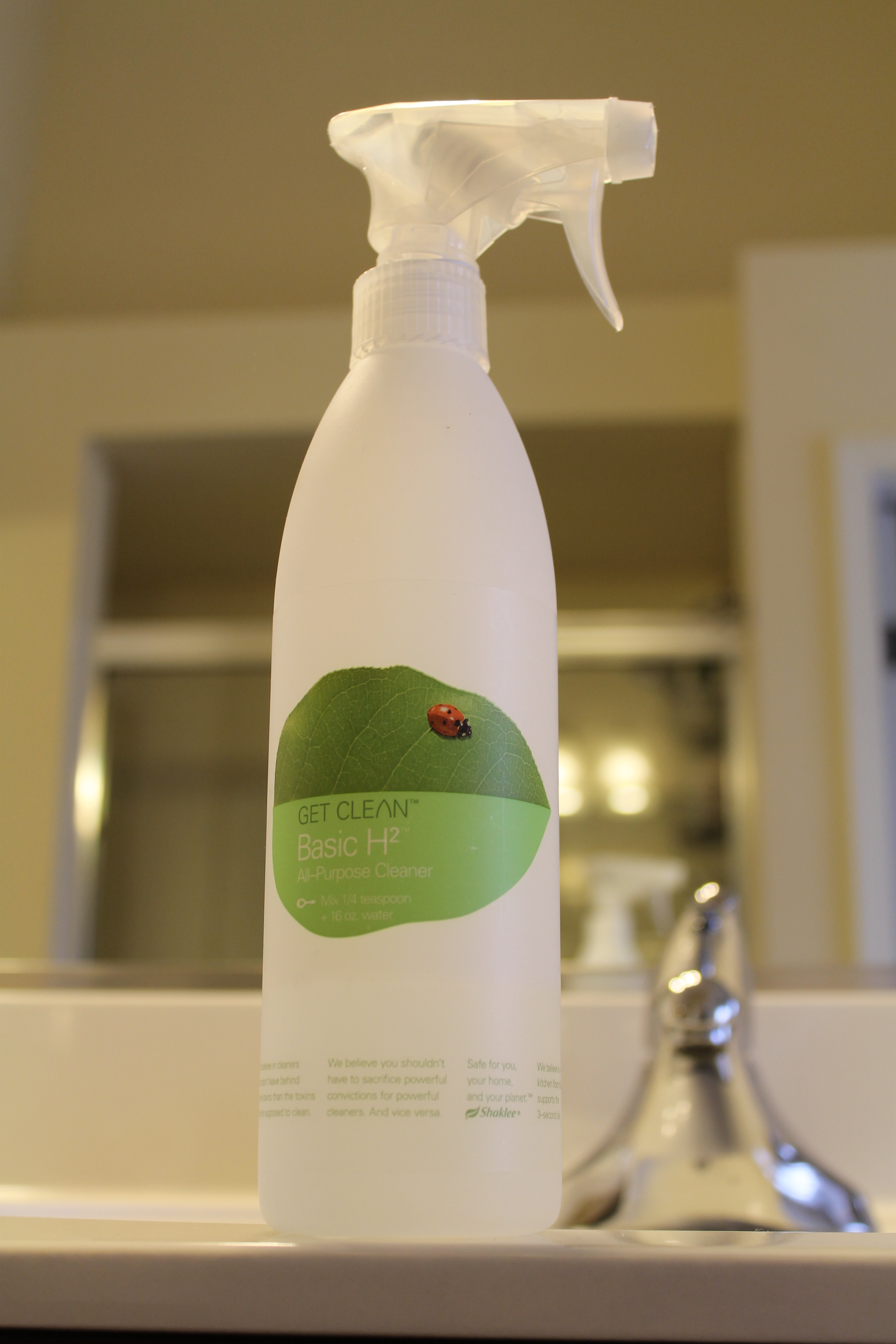 I am a big fan of clean and clear countertops, both in my kitchen as well as in my bathrooms.  I really don't like to walk into a bathroom and see hairbrushes, toothpaste, washcloths, bottles of lotion, etc. all over the counters.  I'm not sure why but it kind of grosses me out.  (Not to mention that it just looks messy!)  So I have a simple solution to keeping my bathroom counters clean and clutter free.  So simple, in fact, that my husband saw my way of doing it and has started using my solution as well!
The secret:  All you need is a bathroom caddy!  (I guess I must really like caddies more than I realized seeing as how I just posted about my cleaning caddy the other day!)  It doesn't have to be expensive nor fancy, because it will not be left out for anyone to see anyway.  My bathroom caddy is actually my old shower caddy from college!  Seriously!  That was a looooooooong time ago, and I'm certain it didn't cost more than a couple of dollars even back them!  My husband is using some old black plastic container as his bathroom caddy.  (My caddy is white basket on left:)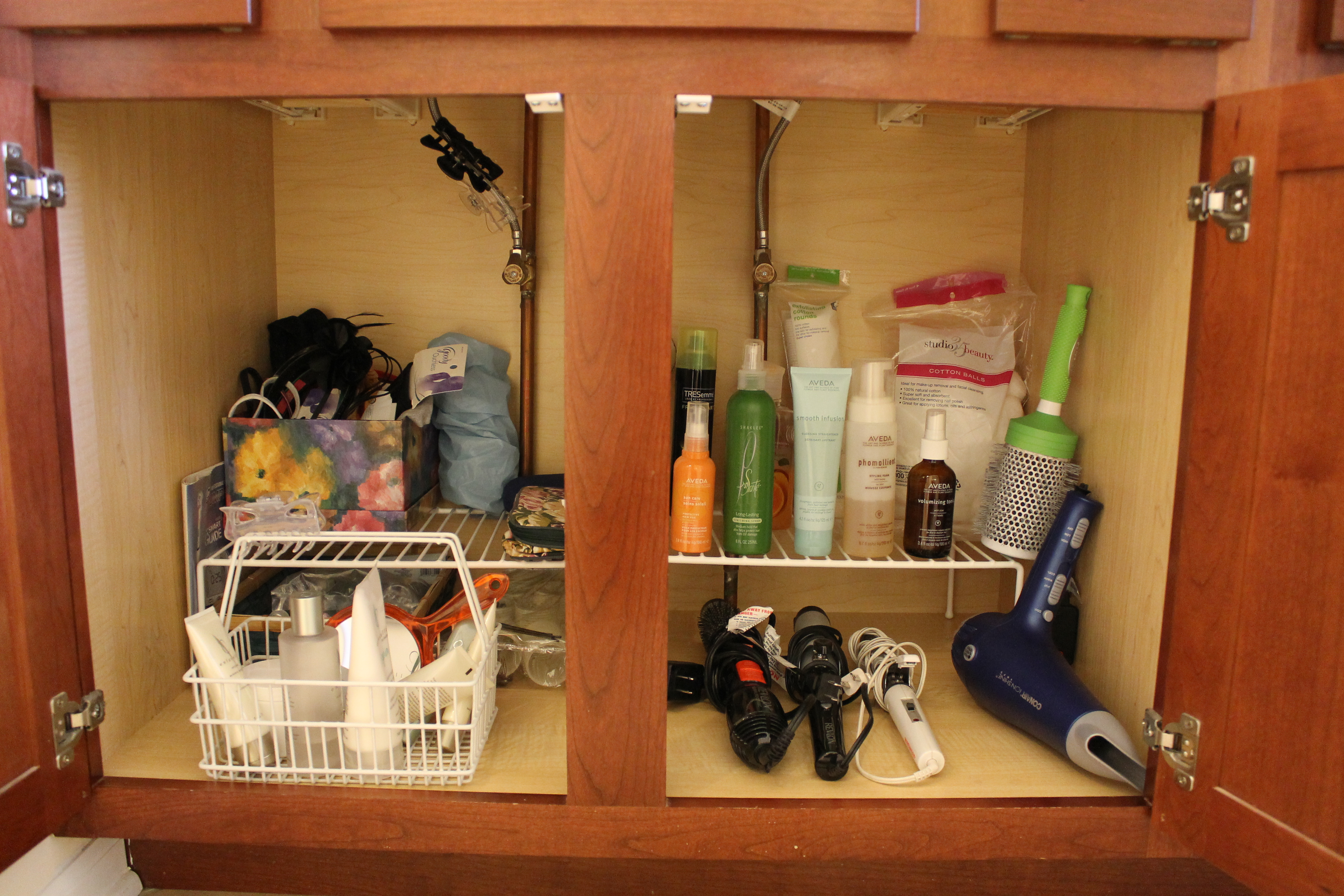 Like I said, it doesn't matter what it looks like, because the point of a bathroom caddy is that it holds all of your dailies out of sight, or all of the supplies you use to get ready in the morning or to get ready for bed at night.  For me, that means my caddy has only the basics:  Each day I use a hairbrush, clips/headbands to hold my hair out of my face when I wash my face, face wash, daily lotion with spf, nighttime repair lotion, eye cream, chapstick, toothpaste, floss, contact lens supplies, retainer, deodorant, etc.  So each morning when I wake up, I can lean down to get what I need out of my cabinet only ONCE, get myself all freshened up, and then put my caddy away.  The same thing for bedtime, I get out my bathroom caddy, it has everything I need to wash my face, put on my nighttime repair lotion, brush and floss my teeth, pop in my retainer (yes, I still wear a retainer!), take out my contacts, etc. and ALL my supplies are in ONE place.  As soon as I'm done, I just pop my bathroom caddy back under my sink and – VOILA! – my countertop isn't a big old cluttered mess!
Now, obviously, my bathroom caddy wouldn't work for everyone.  For example, I don't wear makeup every day.  For my makeup, I keep a separate spot filled with those supplies and it makes it easy for me to use them when I need/want to wear makeup, but I don't have to have makeup taking up space and in my way every morning/evening because for me, those are not "dailies".  If I did have circumstances where makeup was a daily item for me, I would still use this system… I'd just buy a larger caddy.
My husband keeps similar basic items in his bathroom caddy:  he has face wash, face lotion, deodorant, toothpaste and floss, and a couple of other things.  His is even more basic than mine… but I guess that's one of the benefits of being a man!
Check it out… clutter-free countertops!  Yay!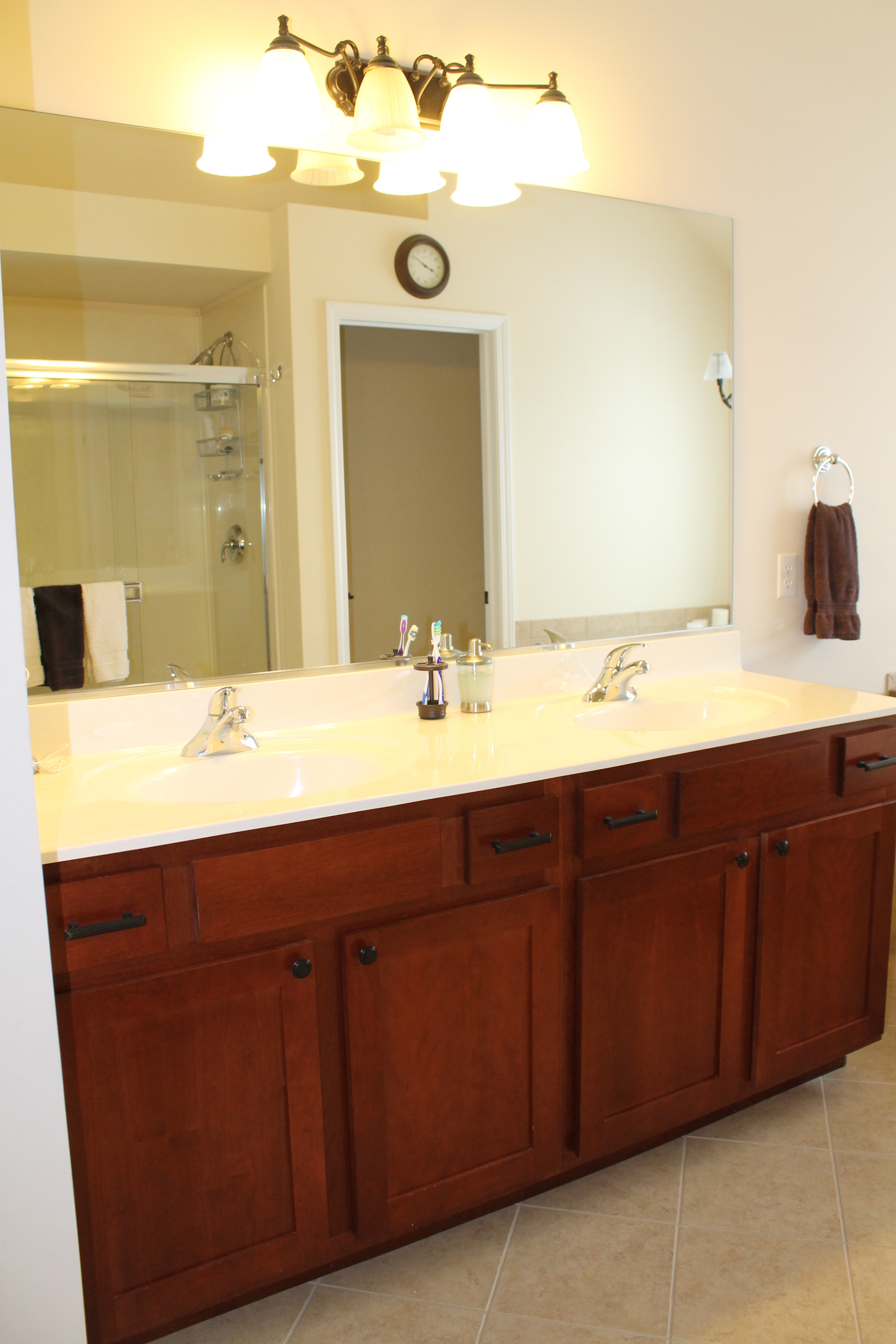 I'm so glad to be able to check these cabinets off my list!  Having less clutter in these spots makes me feel so much happier and calmer when I'm getting ready.  I wasn't even using half the junk under my sink in those before photos so it just was weighing me down and making me feel grumpy!  I love opening the cabinets and having a feeling of lightness.  (Is that even a word?)
How do you organize your bathroom cabinets?
Do you already use a bathroom caddy to hold your dailies or do you like to keep them out?
Do you think having all your dailies in a caddy would help you feel calmer when you get ready to start your day or to go to bed?